June 2012 Visiting Teaching Handout
Here is the June VT handout.  I thought with it now being summer that this "Bee" theme would fit perfectly.  Because we need to "Bee" better Visiting teachers.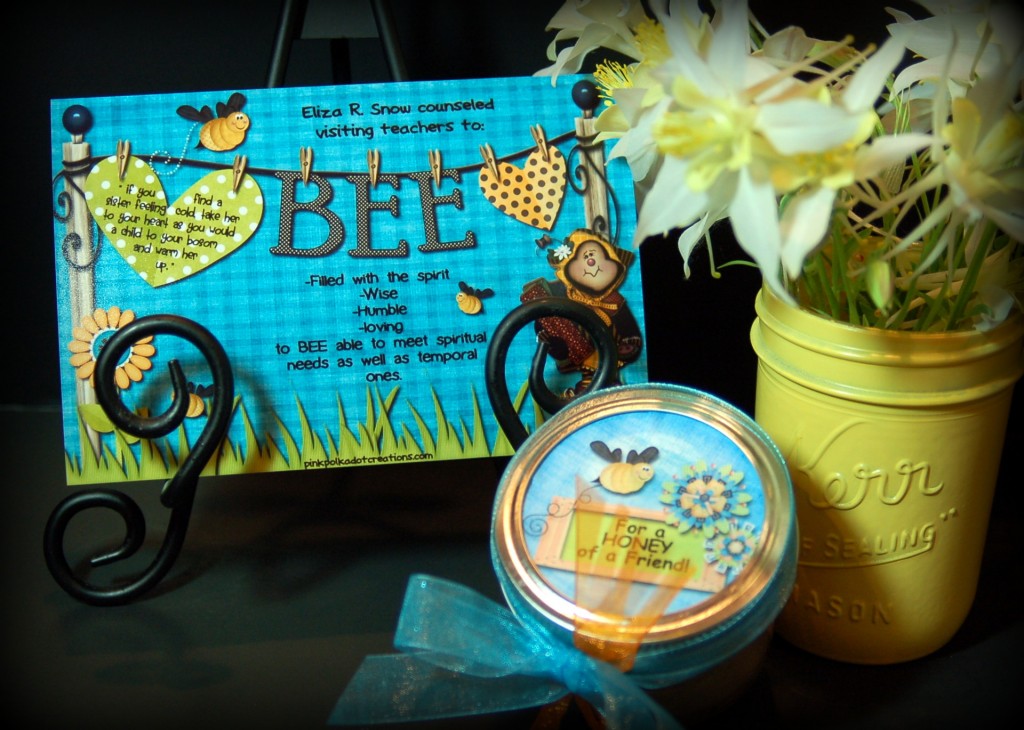 Here is the printable:  I did these is a 4 x 6 format and sent mine to Costco to be printed as a photo for 13 cents each!  I love the how the colors came out in the photo finish!
To print your own: Right click on image and go to copy, then open your favorite program like Word, or Presentations etc, then right click again and paste.  You can also change the size if you need to.  If you want to send it in to be printed as a picture, right click on the image and go to "Save image as"  and save it into one of your pictures files.
I added another printable to put on a jar lid if you want to.  I made some Cinnamon Honey Butter and put it in the little half jelly jars, but you could also fill a small mason jar with "Bit O Honey" candy pieces or put this with a regular bottle of honey, etc.  Another handout idea could be a Bee balm lip gloss.
These fit a regular size jar lid, not wide mouth.  You could also send these to be printed at your favorite photo place, or just print your own.  This is formatted for and 8 x 10 picture but if you are printing your own it will print out on a regular 8 1/2 x 11 sheet of paper.
Here is the recipe for the Cinnamon Honey Butter:
1/2 cup butter, softened
1/2 cup powdered sugar
1/2 cup honey
1 tsp ground cinnamon
Whip butter until it is nice and creamy, add the powdered sugar and mix it all in, then add the honey and the cinnamon.  Whip it all up really good.  You can store in the fridge or leave it out at room temperature.  It is going to spread much easier at room temperature, but it is up to you.  Serve on rolls, toast, bagels, pancakes, sweet potatoes, etc.
This recipe will fill two of the half jelly jars!
If you want a good roll recipe to go with this honey butter here is a link for a copycat recipe for "Texas Roadhouse  Rolls"  and I have to admit that they are delish!
Happy Visiting this month!
Pin It