Tulip Time
This is a Sponsored post written by me on behalf of iBulb for SocialSpark. All opinions are 100% mine.
I love this time of year because the tulips are just starting to peek above the ground.
 I have a very special place in my heart for these beautiful flowers because I have a son that lived in the Netherlands for two years and he talked of the magnificent tulip fields!  My husband and I also visited The Netherlands and one of the things that we remembered the most was the seemingly endless fields of multicolored tulips with the picturesque windmills in the background.  It was so gorgeous and such a breathtaking view!
   Because of that experience, I have several bunches of tulips planted in my yard and I love when they start peeking through the snow, because I know that spring is on the way!
I  love cut tulips and I bought this great little bunch at a local store to brighten up my kitchen.  Aren't they beautiful with the white tips!  It just really brightens my day and makes me happy to see these when I work in my kitchen!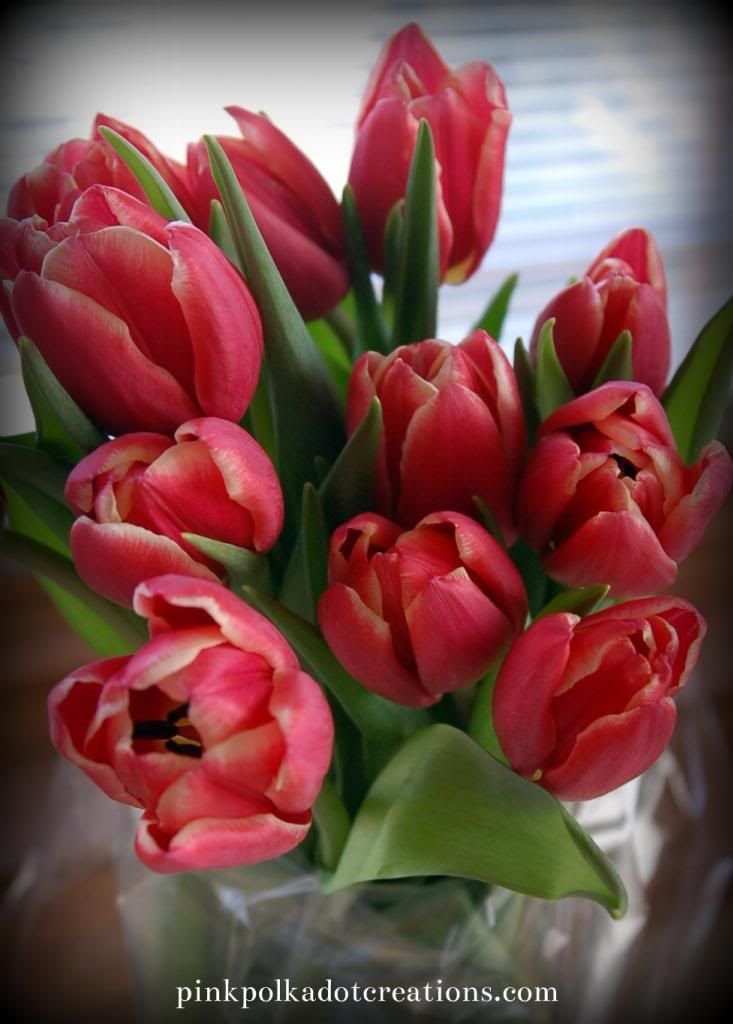 Tulips are so fun because you can plant the bulbs in the fall and have blooms in the early spring, or you can force bulbs indoors and have them anytime. You can also buy cut tulips have  these beautiful blossoms indoors in the winter!
Tulips are a great gift to give for many occasions like, birthdays, weddings, Mother's Day, Easter, or just to brighten your day.
To me tulips reprsent spring and I love that you can purchase them at the grocery store, garden centers or floral shops!   They are beautiful all by themselves or with other bulb flowers like daffodils and hyacinths!
Here is a fun way to display your cut tulips:
There are some beautiful ideas here at cut tulips and also on their pinterest page, if you want some inspiration you can visit these sites!
So go grab a bunch of tulips and brighten up your kitchen today!