So Lucky You're My Buddy!
St. Patrick's Day is just around the corner and here is a fun little idea that you could do for your family.
This is a yummy way to tell your family that you feel lucky that they are in your family!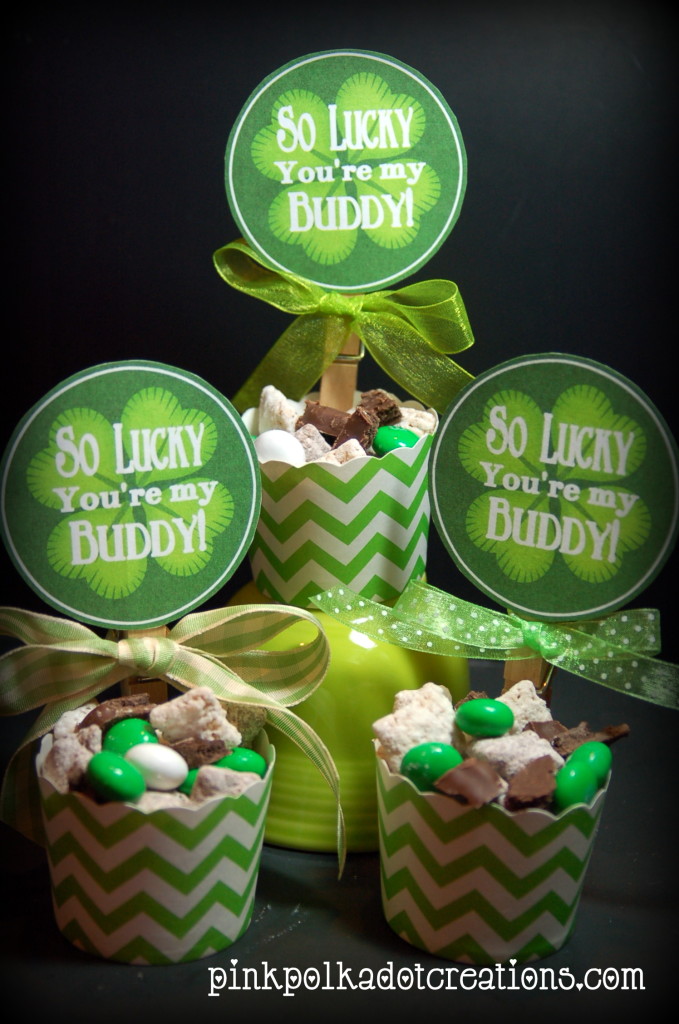 This is a yummy minty muddy buddy!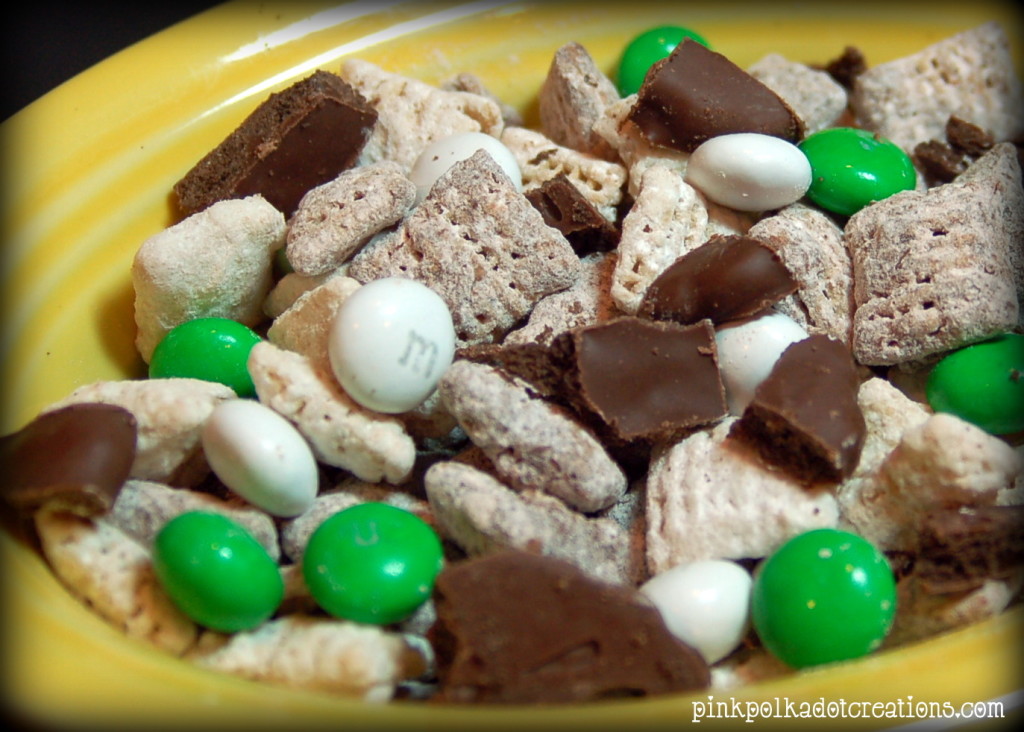 Here is my recipe for this fun "Leprechaun" food!
I did not want to make my regular recipe with the peanut butter because I don't think that PB and mint go together, so I eliminated the PB and so these are just plain chocolate!
Minty Muddy Buddies
12 cups Chex cereal-divided
1 1/4 cup white chocolate
1 1/4 cup milk or dark chocolate
1/2 cup butter-divided
3 cups powdered sugar-divided
1 tablespoon cocoa powder
mint candies
thin mint cookies
Prepare two large ziplock bags, one with 1 1/2 cups powdered sugar, the other with the remaining 1 1/2 cups sugar mixed with the cocoa powder. Set aside.
Put 6 cups each of cereal into two bowls.
Melt white chocolate and 1/4 c. butter in microwave on 50% power.  Stir until melted and then pour over the cereal, when the cereal is coated, pour into the prepared  ziplock bag and shake well until all the cereal pieces are coated with sugar. Pour out onto a cookie sheet to dry.
Melt the milk or dark chocolate and remaining butter in microwave on 50% power.  Stir until melted then pour over the cereal, when the cereal is coated pour into the prepared ziplock bag with the cocoa mixture and shake well.  Pour out on a cookie sheet to dry.
Combine the two cereals, the mint candies and cut up cookies!  Enjoy!
This recipe is good with other flavors of candies like the coconut M & M's or any other flavor!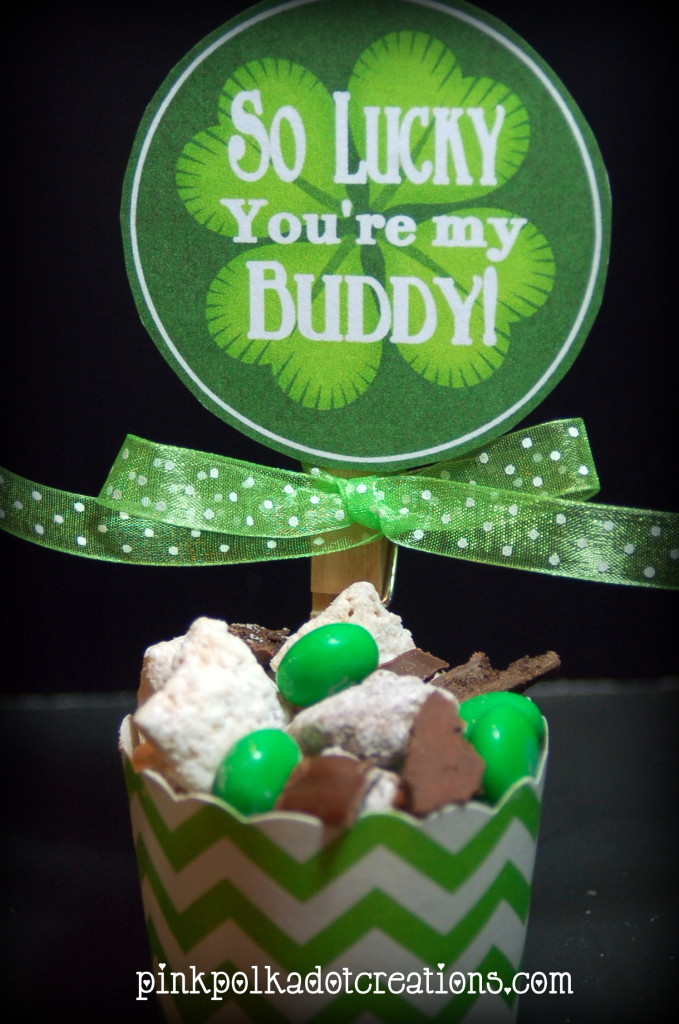 I simply printed these tags, cut them out and taped them to a clothespin!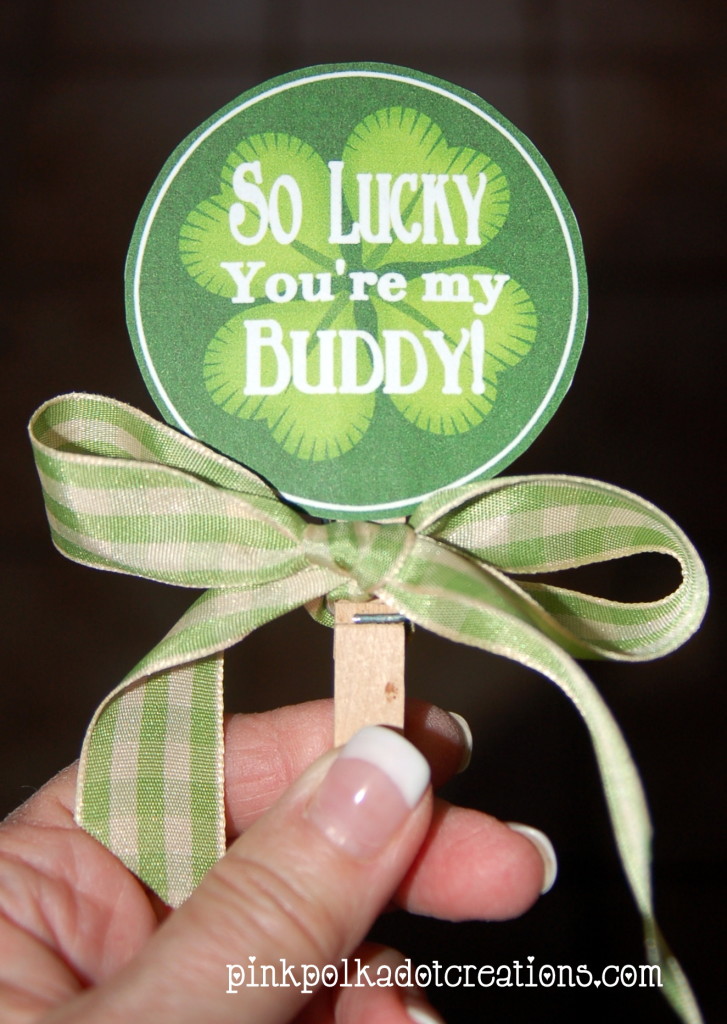 By taping these to the clothespin, I can just pull them off when I am done with them and use the clothespin for another project!  I got these cute cups from Pick Your Plum, but you could use any cute little cups!  Tie a fun ribbon onto the clothespin and clip to your cup. You could also tape these to a Popsicle stick.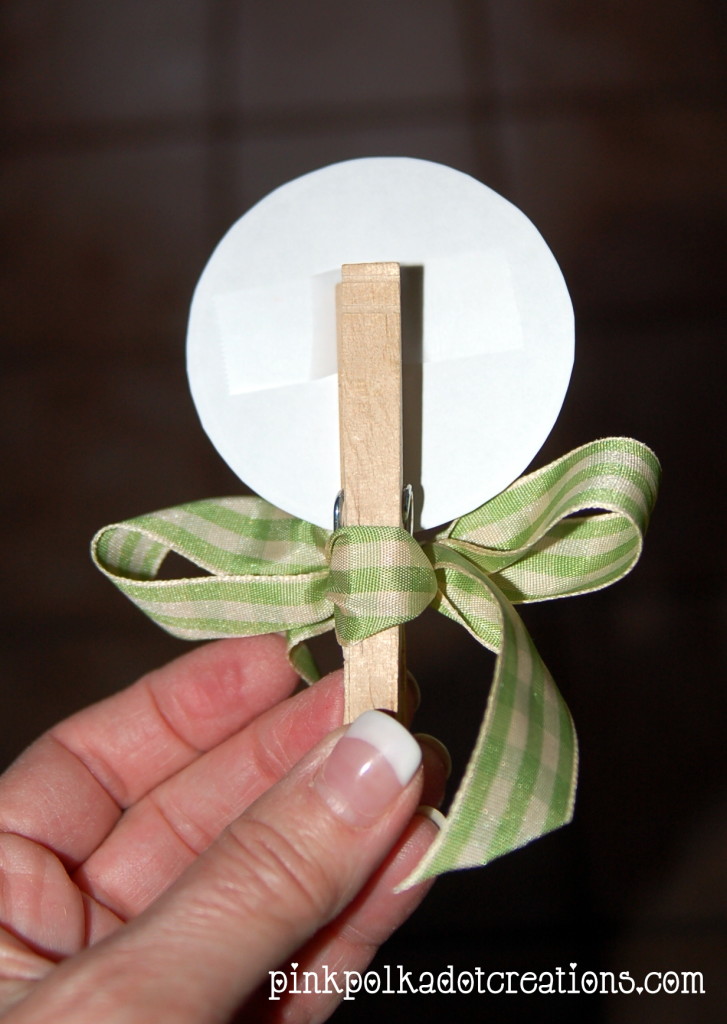 Here are the printable tags.  Just print, cut out and tape to a clothes pin.  These would also be cute with a hole punched and tied on a cellophane bag filled with muddy buddies.
To print these tags, right click over image and go to "save image as", then save in one of your folders.  These are formatted to an  8 1/2 x 11 page, so you can just print them on cardstock paper and cut out.
I hope that you have a "Lucky" day!  Love ya!
Pin It