Cupboard Makeover
I really enjoy doing furniture makeovers but I don't do a lot of them because my house if full of furniture and I really don't have room to put a lot more furniture pieces in my house. But I have had this little cupboard for years and when I moved some things around this summer, I saw this cupboard in a whole new light and just had to do a little makeover on it! This cupboard used to be in my scrapbook store and held all of our class samples in it, on it, and hanging from it, so it has been put to good use! I also wanted to try my hand at making my own chalk paint, so this was a great excuse to try it out.
I am loving how it turned out: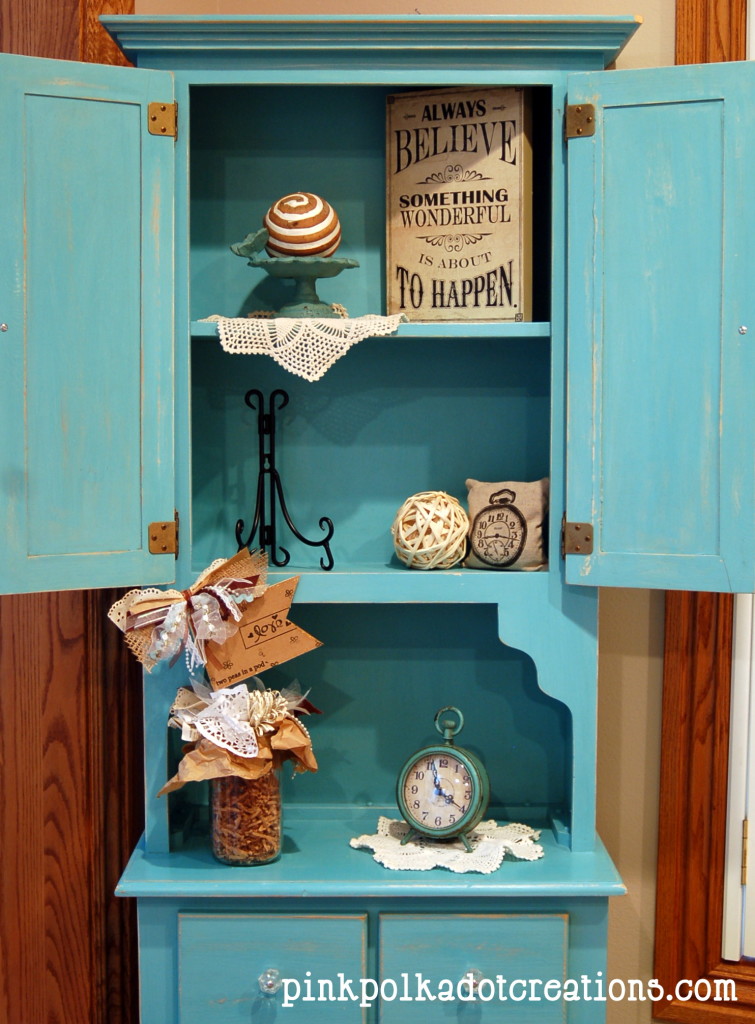 This is what I started with: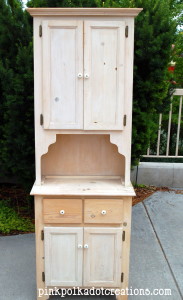 This is a tall narrow cupboard, so it was perfect for tucking into the corner in my living room. I love all the doors and drawers that can be opened or left closed, there are a lot of options with this little cupboard.
This is how I did this little makeover. I used the plaster of Paris method and I loved the results. It covered in ONE coat! It distresses really well and it was super easy to make! The wonderful thing about chalk paint is that you do not need to sand your project before painting it! It will cover most finishes which is great. This is the "recipe" that I used and there are great directions at this link.
This paint thickens and dries really fast, so you need to work fast. You can add a little bit of water to thin it down, (I had to do this several times) but you want it to be a little bit thick, because that is why it covers so well. I only made one batch of this and it covered the whole cupboard! I put it in an old glass jar with a lid, so that it would not dry out in between painting sessions. I painted one side of the doors and the drawers then the main body. I let that dry before turning the doors over and painting the other side. You should let it dry really well before distressing it. This is where the sanding comes in, you can distress as much or as little as you like. I like quite a bit! :) After I sanded it, I applied 3 coats of Johnson paste wax to give it just the right luster!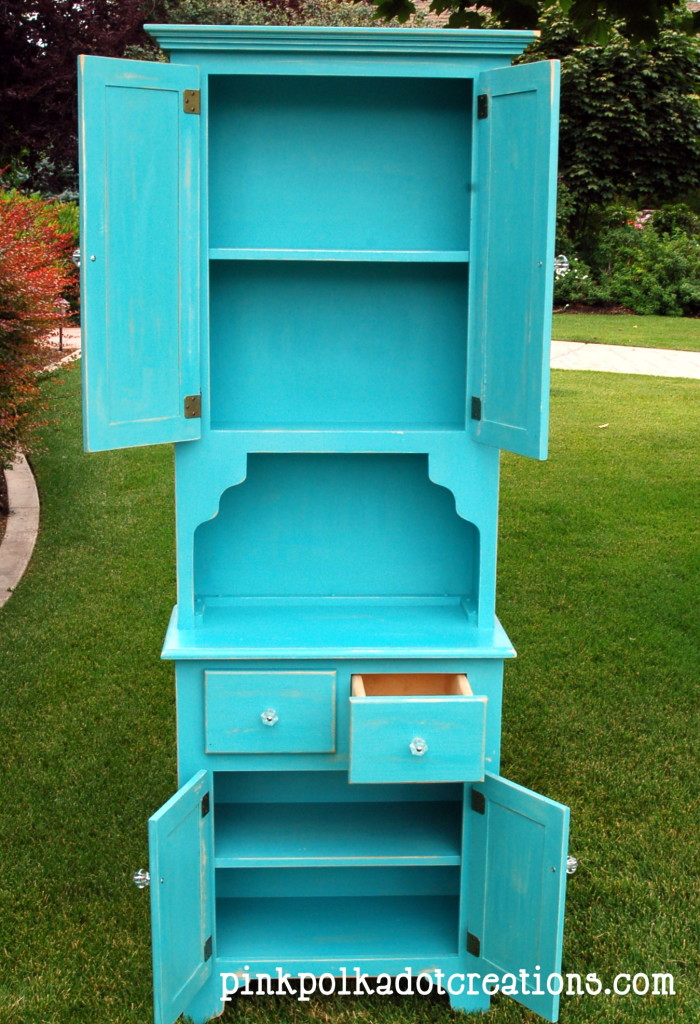 I love this color, I just took one of the pillows off my couch to Home Depot and matched it!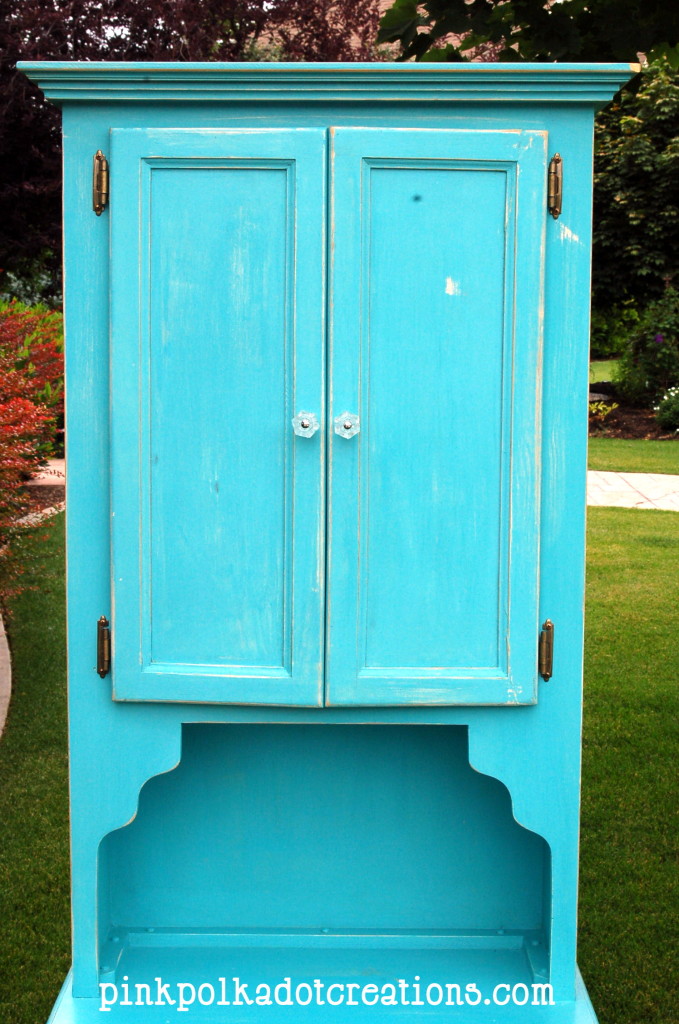 I took the old knobs off and added these glass ones. I am kinda loving them! :)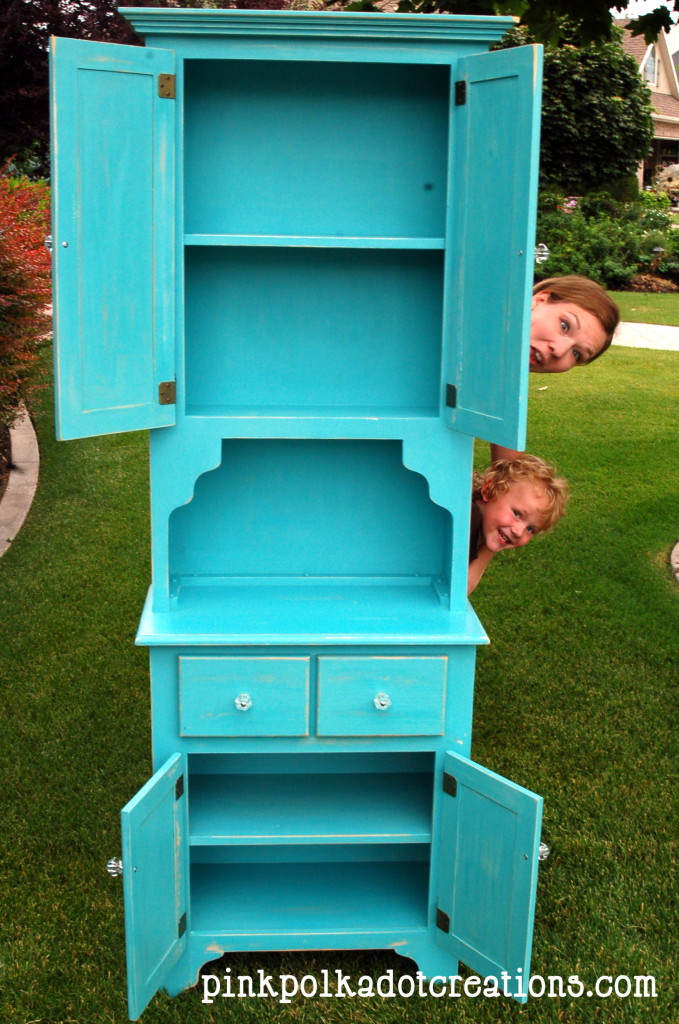 Photo Bomb!
There is a story behind this. I was all done with this cupboard and took it out on the lawn to take the pictures, I left to go grab my camera and I heard a big THUD! My neighbors were outside and they heard the big thud and then a scream… MINE! They came right over to see what had happened and one of the top doors had broken right in two and was laying on the ground. Well, my neighbor felt bad for me, because he offered right then to take the door to his shop and fix it for me! I have the best neighbors ever! He brought it back to me a couple of days later and I was able to touch up the paint and because I distressed it so much, you really don't notice where it is!
So when I took it out to take pictures for the second time, I was not about to take any chances of the wind blowing it over again, so I made my daughter stand behind it and hold it. Of course she had to have a little helper too, and what photo shoot is not complete without a little photo bombing?!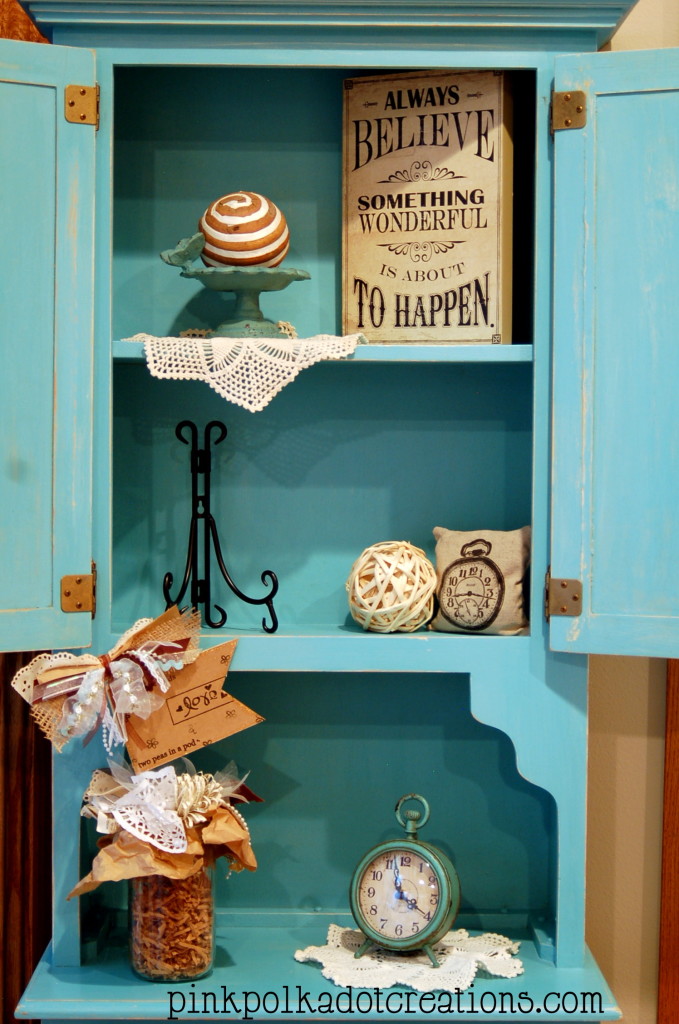 I have gotten a good start on decorating it. I think that I will use it for seasonal decorations too, so it will be fun to change it out with all the different holidays!
I am kind of loving the chalk paint. I don't really have room for more furniture, but I can think of some fun projects that I would like to try! I think that picture frames would be really fun because they distress so well! Have any of you tried the chalk paint? What has been your favorite project to paint? I would love to hear about it.
Hope that you all have a great day! Love Ya!
I have some new Christmas items in the shop now, if you get a minute, I would love for you to take a look. You can never start too early for Christmas, right?
Pin It