Breakfast Parfait
I know that it is officially fall now and that I should be posting pumpkin recipes and enjoying all the wonderful fall flavors, but I still have raspberries coming on, so I will enjoy them while they last!
Last weekend at our craft retreat, as part of breakfast, my sister made some wonderful breakfast parfaits using fresh raspberries and I enjoyed it so much that I came home and made up a batch of my Easy Crunchy Granola and went out and picked some more fresh raspberries and made myself another breakfast parfait!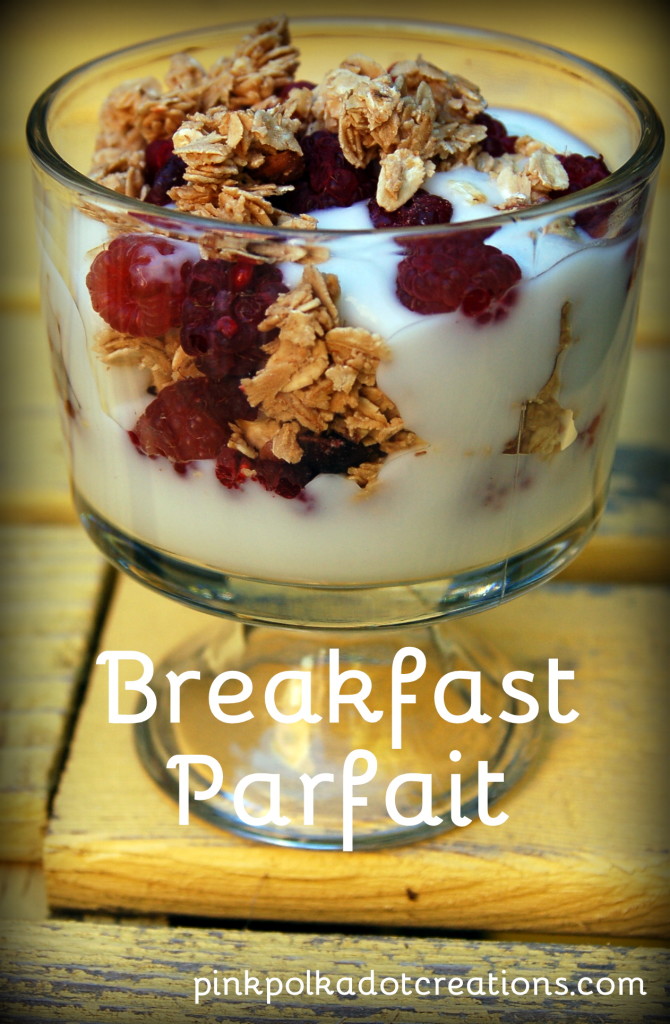 These are so easy to make and so refreshing and they are good for you! So you can't beat that!
There is really no recipe for these,
you simply layer your favorite yogurt,
then fruit (berries, bananas, peaches, canned apples, or pears)
then granola.
Repeat layers.
I love the Dannon Light & Fit vanilla yogurt, I am not into the Greek yogurt, but if you are then you could always use that! This is a great way to use some of your fresh berries or fruit, but you can also use frozen fruit so these parfaits make a great breakfast all year long.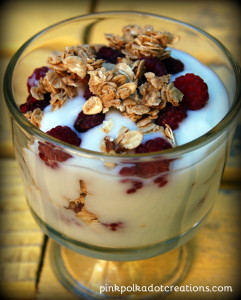 Do you have a favorite breakfast item that you love to use over and over?
I have had a couple of comments on our craft retreat and how I organize it and put it together. I go the easy route and make everyone help out! There are usually six of us and we have 3 crafts. So each group of 2 has to come up with the idea and the supplies for one craft for six people. We set a price on the crafts and each group purchases the supplies and prepares the craft so that we can assemble them at the retreat. I also assign a meal to each group and they are responsible for preparing and cleaning up that meal. It makes it so easy and no one person has to do all the work! This has worked for me, do any of you have any other ideas on organizing a craft retreat with your friends, I would love to hear about them!
Thanks for visiting today! Love Ya!
Keep in touch…Like on Facebook and Pinterest!
Come back tomorrow because I will have the pattern for the darling owls that we made! You won't want to miss this one!
Pin It