Oct 2013 Visiting Teaching Handout
Here is the visiting teaching handout for this month for The Church of Jesus Christ of Latter Day Saints.
This month they are starting a new series on the visiting teaching message: "This is the first in a series of Visiting Teaching Messages featuring aspects of the mission of the Savior."
The Divine Mission of Jesus Christ: Creator
This month the aspect that is being taught is that Jesus Christ is the Creator. I chose to feature the quote by President Utchdorf; "We are the Reason He Created the Universe! I love this thought and I hope that we can all remember this in times of trial and sorrow.
Here is the blank visiting teaching handout for those of you that would like to translate into another language. Or you can just use this for a fun card to give to someone!
These are formatted to a 4 x 6 card, so you can simply print your own, or save it and send it to your favorite photo processing center!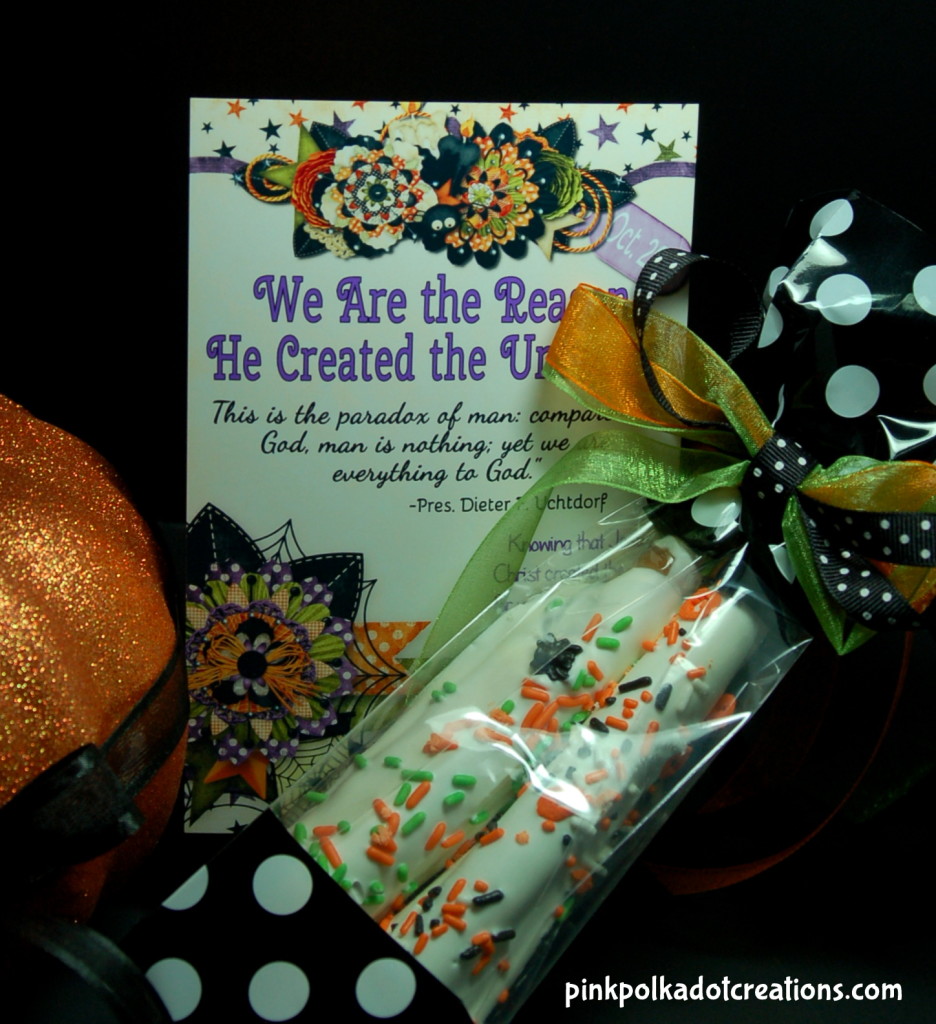 I found these darling pretzel bags at my local party store and knew right away that I would make dipped pretzels to give with my handout for this month. But with it being Halloween this month, there are tons of darling Halloween treats out there that you could make if you want to do something different!
These Dipped pretzels are as easy as 1,2 3! You simply dip pretzel rods in caramel and drain off excess. Lay out on parchment paper to dry. 2. Dip in your choice of chocolate. (I used a glass drinking cup to melt my chocolate in because it is tall and skinny) 3. Sprinkle with your favorite toppings or sprinkles! That is all there it to it!
But of course remember that the visit is the most important part, not what you take!
Happy Visiting Everyone! Love Ya!
If you have not had a chance to check out the new Halloween printables in my shop, I would love to have you take a look, there is a complete party pack and and fun new Halloween banner, together, you have everything that you would need for that perfect Halloween get together!
Keep in touch…Like on Facebook and Pinterest!
Pin It
Tags: Candy, caramel chocolate dipped pretzels, dipped pretzels, free printable, Halloween dipped pretzels, how to make dipped pretzels, Oct 2013 VT handout, Oct visiting teaching message, Oct. 2013 visiting teaching handout, Pres. Uchtdorf quote, printable, printable Oct. 2013 visiting teaching handout, printable visiting teaching handout, The Church of Jesus Christ of Latter Day Saints, VT handout