My dad gave me a bowlful of blackberries before we went on our trip and I put them in the freezer because I did not have time to do anything with them before we left. But in Washington and Oregon blackberries just grow wild everywhere and I kept seeing restaurants that had blackberry cobbler on their dessert menu. So I have had blackberry cobbler on the mind and have been craving this dessert ever since we got home.. I finally got the blackberries out and I had a couple of peaches that I needed to use up, and these two fruits together make the perfect combination for a cobbler!
I really love this cobbler because the topping has pecans in it so it has a nice crunchy, nutty flavor!
Of course you need a scoop or two of vanilla ice cream to top it off!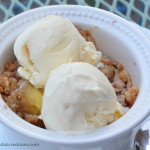 Blackberry Peach Cobbler
2014-08-27 21:33:26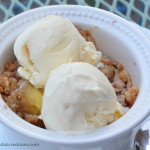 Serves 4
A wonderful combination of blackberries and peaches topped off with a crunchy nutty topping...makes this dessert out of this world!
Nutrition Facts
Amount Per Serving
Calories 308
Calories from Fat 150
Trans Fat 0g
Polyunsaturated Fat 2g
Monounsaturated Fat 6g
Total Carbohydrates 38g
13%
Sugars 28g
Protein 3g
* Percent Daily Values are based on a 2,000 calorie diet. Your Daily Values may be higher or lower depending on your calorie needs.
Ingredients
1 cup blackberries-fresh or frozen
1 1/2 cups peeled sliced peaches
2 tablespoon flour
2 tablespoon sugar
Topping
4 tablespoons flour
2 tablespoons sugar
3 tablespoons brown sugar
5 tablespoons chopped pecans
1/4 teaspoon cinnamon
4 tablespoons butter
Instructions
Preheat oven to 375 degrees F. Line a baking sheet with foil and set aside.
Combine blackberries and peaches in a bowl. Add flour and sugar and toss until coated. Divide the fruit mixture between 4 ramekins or other small baking dishes.
In a separate bowl, combine flour, sugar, brown sugar, nuts and cinnamon for topping. Add butter and cut into the flour mixture until it resembles coarse crumbs. Divide topping between ramekins.
Place ramekins on foil lined baking sheet and bake for 25-30 minutes, until topping is browned and crisp. Cool for a few minutes before serving.
Notes
These are best served warm with ice cream!
Pink Polka Dot Creations http://pinkpolkadotcreations.com/
I have a peach tree that is loaded with peaches this year and they will be coming on in the next few weeks…so I can see this dessert again in my future! :) YUM!
This is the perfect fall dessert because it has all this wonderful fresh fruit that is in season! Do you have a favorite dessert that you like to make with fresh fruit?
Thanks for visiting today! I hope you have a great weekend everyone!