This past weekend is one of my favorite weekends of the whole year! Every year on the Friday and Saturday before Labor Day, is Swiss Days in Midway, Utah. They have a giant boutique with really good quality products! It is always a mad house and it is the only time that I will go into the crowds to go shopping! I really do not like crowds all that much, but I look forward to this boutique in spite of all the people! :)
These are some of my treasures that I found. I will share a couple of my other fun finds in a later post.
I found this fun bag that I am going to use for a new church bag. My last one is getting pretty hammered and so when I saw this one…I kind of fell in love…then when I saw the inside of the bag, I was totally smitten! :)
I did not take a card from this booth, so I am so sorry, that I cannot tell you where it was from. :( I did do my homework on these other products though!
I usually do not buy very much clothing at Swiss Days, but I fell in love with these reversible skirts! The lace one reverses to a solid black like the waist band. You can also make these skirts longer or shorter by adjusting the waistband! These skirts are very comfy and I love that I really got 4 skirts! Check out their website: Latter Day Sister Missionary. You may just want to order one or two for yourself! The socks on the top left are boot socks with a darling ruffle and bow! I can't wait to start wearing boots again. Those came from Valshi, click on the link to their facebook page. I did not take a close-up of the necklace…but these necklaces are beautiful! Each piece is a one of a kind and one component comes from an estate sale or auction! They are really fun. I already have one of these necklaces and I always get compliments every time I wear it. You can find these at the Quilted Bear boutique in American Fork, UT or if you want more info here is an email: gbecky.lynn@gmail.com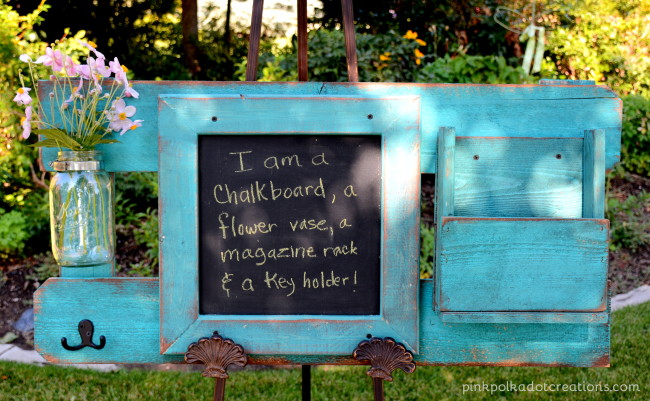 I LOVE this chalkboard/vase/magazine rack!
I actually made my husband go back for this on Saturday! I looked at it on Friday and loved it, but just could not think of where I would put it…then it dawned on me that I have a blank wall in my dining room that I had cleared a couple of months ago and just had not added anything yet! My lucky day!
This comes from Lot 77. You can look at their products at lot77.blogspot.com. I could not find a place to order anything from this link but here is an email that you could contact someone: rickjasoncox@gmail.com They have all kinds of chalkboards, racks, book shelves and hooks on fun boards!
I was very proud of myself because I did not buy one Halloween or Christmas thing!!! That was a major accomplishment for me. I picked several things up, but I put them back and I am quite proud of the fact that I showed so much will power. :)
So I had a fun weekend at Swiss Days and then my husband and I went on up to our cabin for the evening. It is so relaxing to just sit out on the deck and chill out. I had a darling visitor with me and she and I had a great little visit and some good bonding time!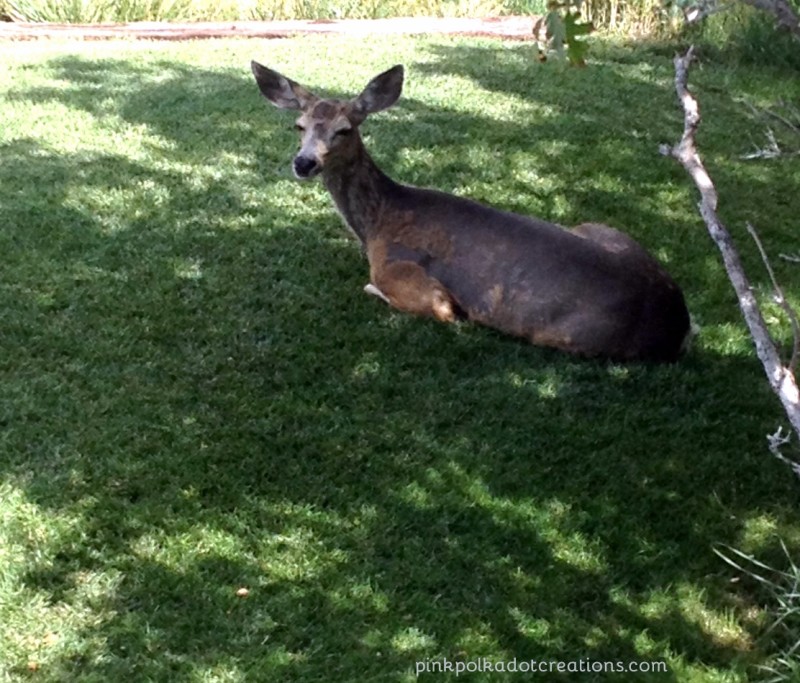 What did you do this Labor Day weekend? Whatever it was…I hope that you got to spend it with those that you love!
Thanks for visiting today!