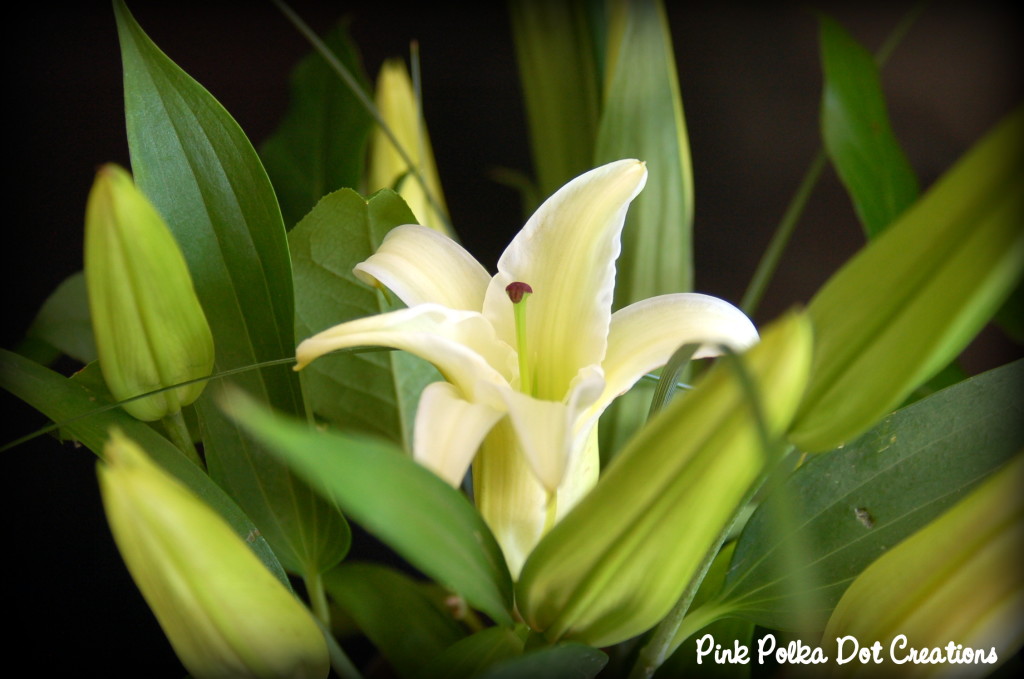 When I was just a little girl, I had to give a talk in church on Easter Sunday. I still remember that talk from way back then and every time I see Easter lilies it reminds me of this story that I gave.
AN EASTER AWAKENING
Death had come to the little house next to the large mansion.  Poor little Marie was left without the mother who had loved her so dearly.  She found no comfort in any of her brothers, and even Eudora, her best friend who lived next door could be of little help today.  Eudora, who had lived a very sheltered life in a large home, had never come face to face with death's mystery and she was at a loss to know what to do to help her dear friend.  Seeking help, the confused girl hurried to her mother and cried, "Mama, Mama, she is dead?  Marie's mama is dead.  She won't ever have a mother to speak or smile or to love her anymore!"
"There, there, sweetheart, you mustn't let things like this upset you so," replied the mother.  "She has her papa and her brothers and she should be thankful for that."
In her efforts to allay the child's fear of death, Eudora's mother took her to the garden where the gardener was at work at planting new bulbs.  "Do you see what this is?"  the mother asked, as she picked up one of the bulbs.
"It looks like a dried up old onion," replied Eudora.
"Yes it does, Eudora.  But plant the bulb in a pot and watch it for several days."
As Eudora was planting the bulb, she found a small brown cocoon.  When she showed it to the gardener, he told her to watch it as patiently as she watched the earth where the lily bulb was planted.  Excited, she asked her friend Marie, to watch with her.  Each day they came to look at the plant and the cocoon and they talked often of the surprises they felt might be inside.
Before the day came when the lily bloomed or the cocoon opened, a black crepe of mourning hung over the doorway of the great mansion.  Sudden illness had overtaken Eudora an in spite of all that love, wealth and skill could do, Eudora died.  In a darkened room sat the mother who could not be comforted in her deep despair.  For many long days she sat there, asking over and over again where God and his justice were.
Marie, too, was sad but she had been watching the lily and the cocoon and from them had found comfort.  Now she took them to the inconsolable mother.
"I've watched them ever since Eudora told me about them and now look!  They were dead when you first showed them to her, but this morning the lily opened up and I could see it's heart of gold.  It's perfume filled our whole house, just like my mama's used to do.  And look at the cocoon–it is coming alive too!"
As they watched, a beautiful butterfly came out of the cocoon and stood trembling as it's wings began to unfold.  Slowly it crawled along the girl's fingers and finally it fluttered up to the waxen petals of the lily.
"This is like my mama and Eudora," said Marie.  "I'm sure they are as beautiful as this flower and this butterfly-now see them both together?"
The mother looked into the mother-hungry eyes of the little girl and grief and bitterness melted from her heart.
"Come dear.  If Eudora is happy with your mama, then you must come to me."
The sunlight poured over them like a benediction.  The birds were singing and faintly there came the sound of bells.
"Listen, the Easter chimes!  They tell of the resurrection of our Savior.  But oh, my dear, there has been a special awakening of my soul-opened to a new and better life by the hand of a little child.
Happy Easter Everyone!  Love Ya!