Yesterday we had another one of our sewing classes for Relief Society in my church.  I taught them how to put in a zipper and we made these fun zippered pouches!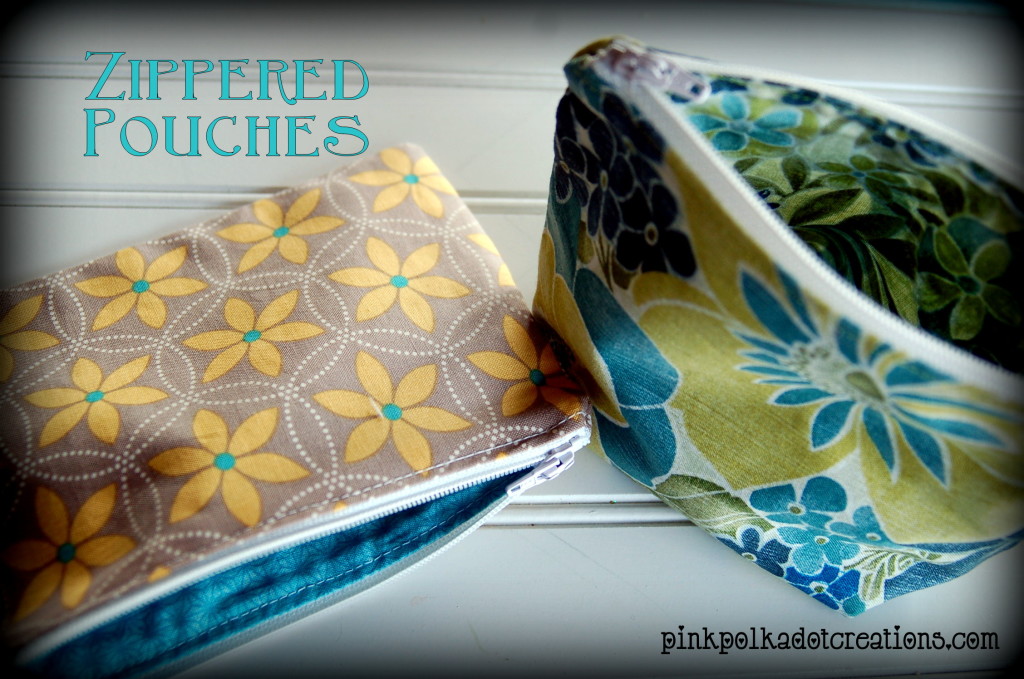 These are so fun to make and they are a great project to learn how to put a zipper in!   This is a beginning sewing class so all of the projects are simple to make.  There are a lot of pictures in this tutorial, but do not let that discourage you.  These are literally a 15-20 minute project once you have made one and know how to do them!
Once you have made one you will find tons of ways to use them and will soon want to make more!  They are super for organizing your purse, or your suitcase when traveling, or for organizing around the house, they are great for kids, teens and adults.  They are a fun, original gift for someone and you can personalize what you put inside for the perfect gift for anyone or any occasion!
I am going to show you how to make a flat pouch and a stand-up one!   So are you ready to start?
For a small pouch, you will need a 6 or 7 inch zipper and two coordinating fabric pieces.  (I bought 1/4 yard of each fabric and that is enough fabric to make 3-4 pouches, depending on how deep you make them!)
For the flat pouch, cut your fabric the width of the zipper including the tape.  You can make these pouches as deep as you want them, but for the sake of the class I had everyone cut them 5 inches deep.  So you will cut your fabric the width of the zipper x 5 inches  (in my case 7.5  x 5 inches)
Cut both the outside and the lining the same.
(For a stand up pouch, you will simply add 1.5 inches to the bottom measurement ,  so in this case cut 7 .5  x 6 .5 inches)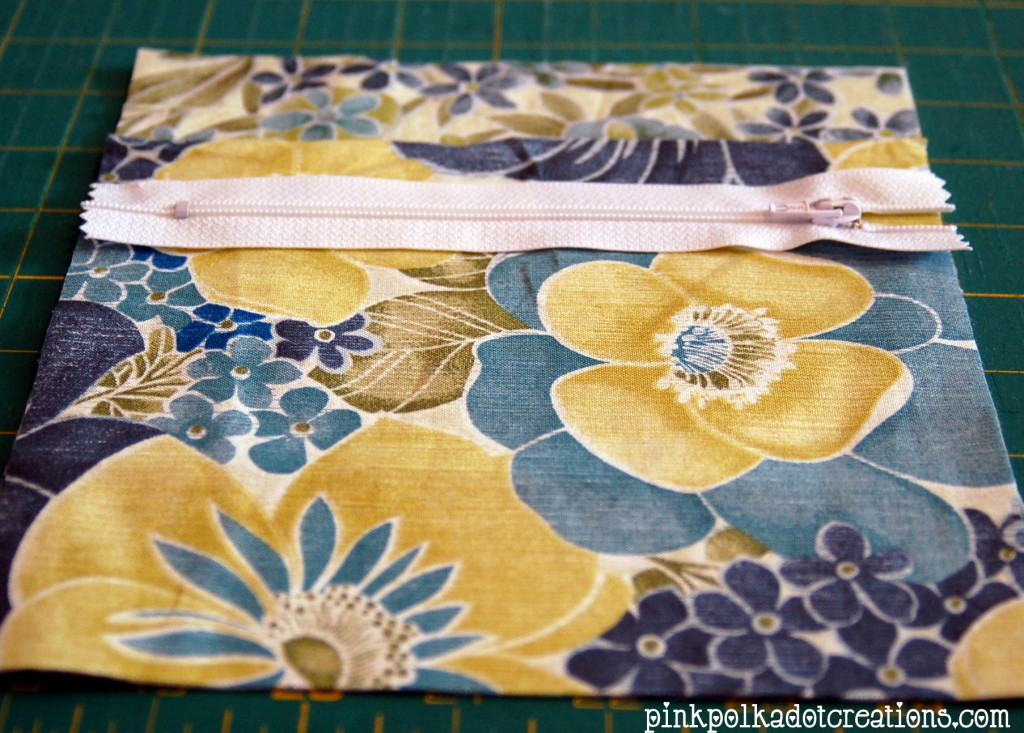 Now we will start to assemble:
Put lining right side up and lay zipper on top, also right side up like this: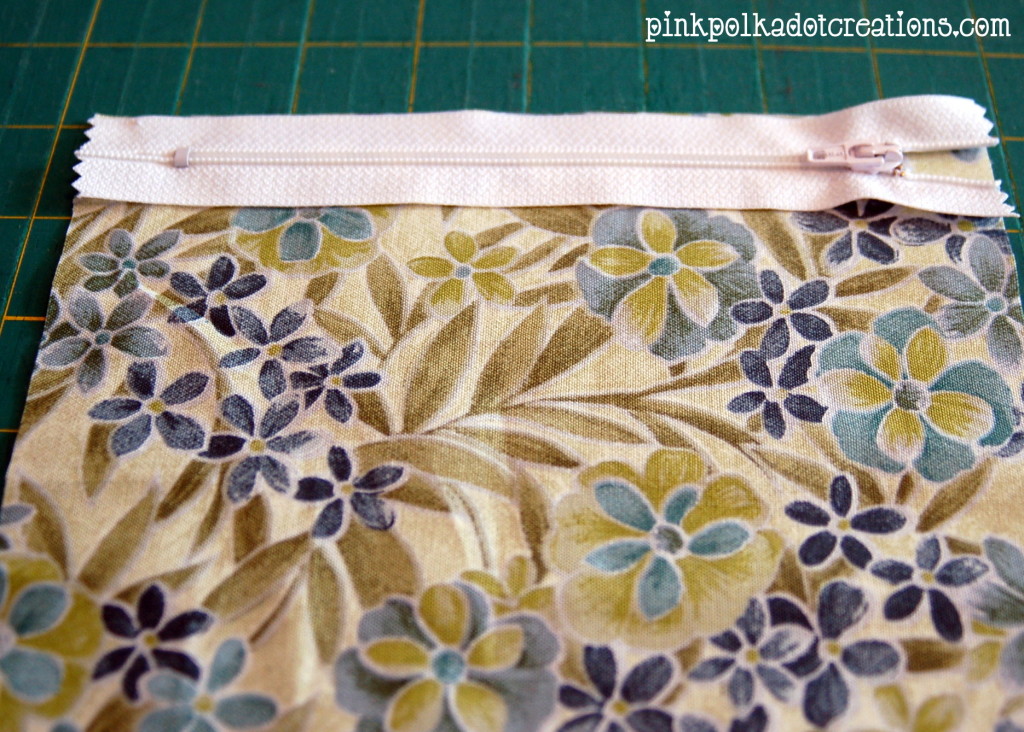 Place the outer fabric right side down over the zipper and pin.  You will have both fabrics right sides together with the zipper in the middle.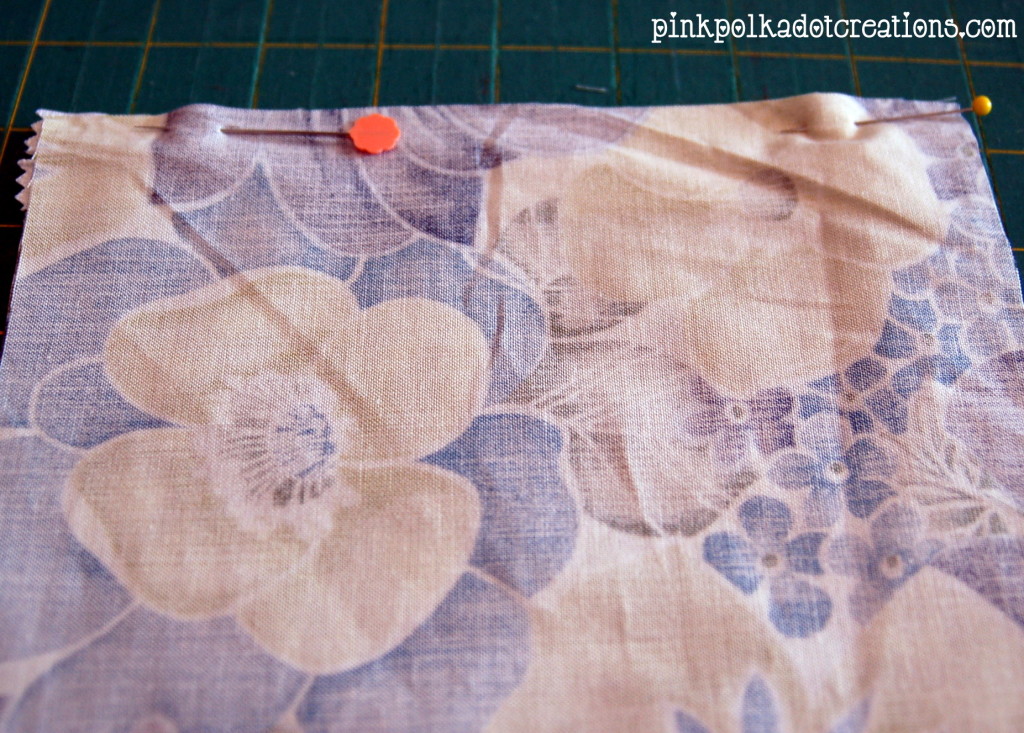 With your zipper foot on your machine, you will stitch right along the zipper.  When you get to the zipper pull, put your needle down and move the pull so that you are not sewing around it, then finish seam.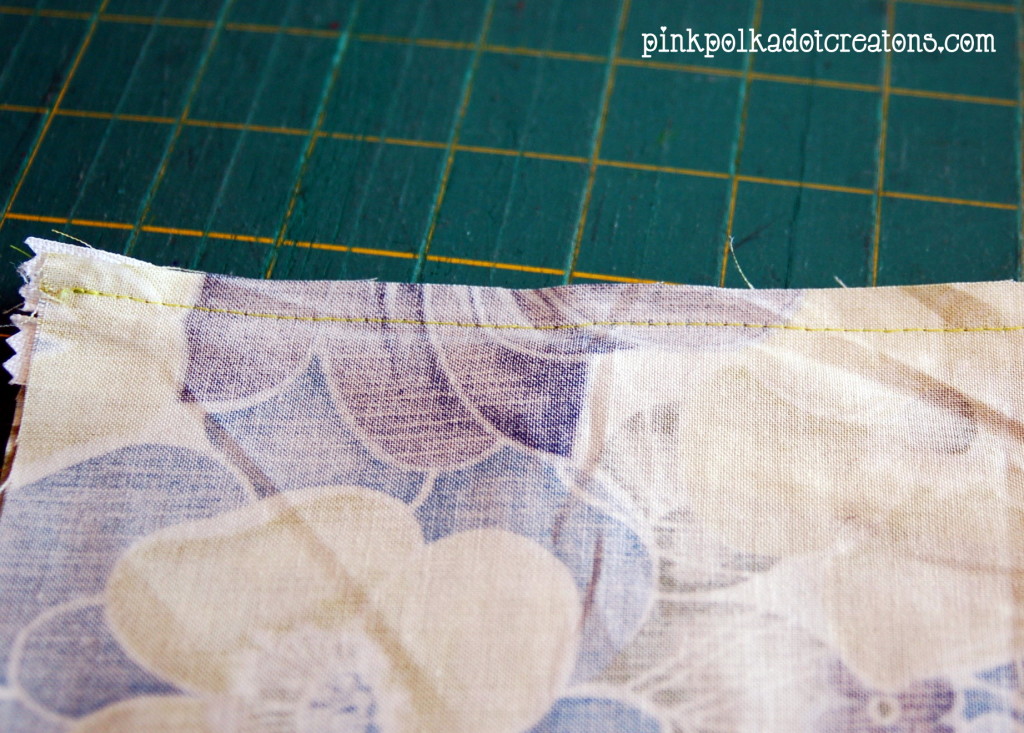 Then press your seam out flat.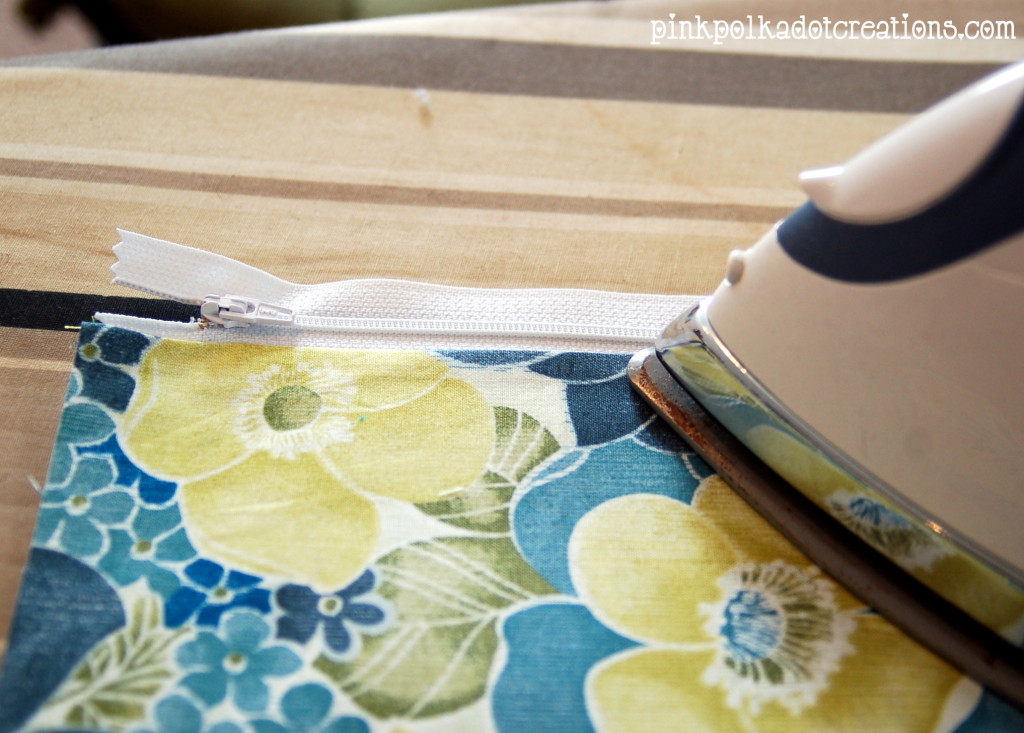 Repeat with the other side of the zipper and press flat.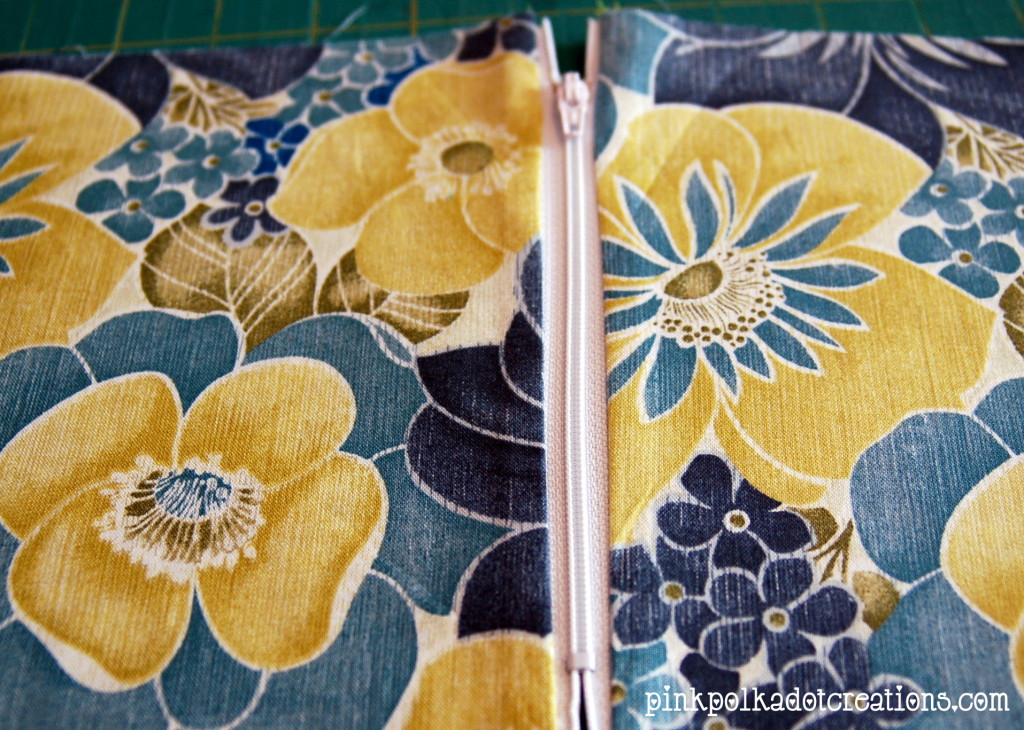 If you want to top stitch along the zipper you can, this is purely for decoration!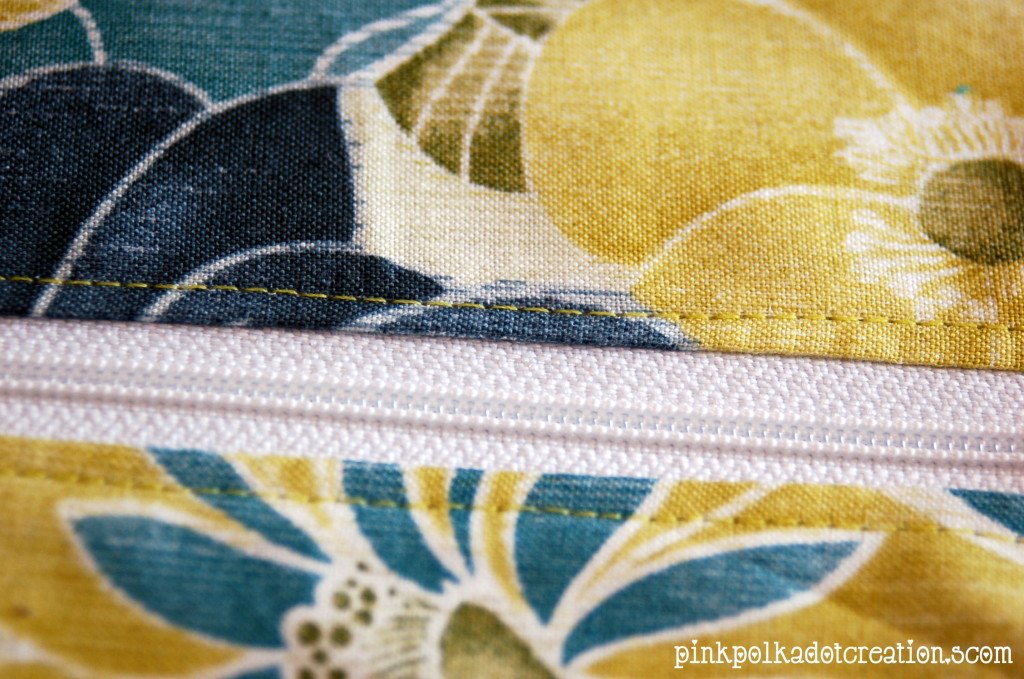 Next we are going to sew the bag together.  Open zipper up half way so you can turn the pouch!  Pull the top sides out and put right sides together, then open the lining out and put right sides together, forming a large rectangle with the zipper in the middle.  This next step is important to do!  Pin zipper teeth towards the lining side like this: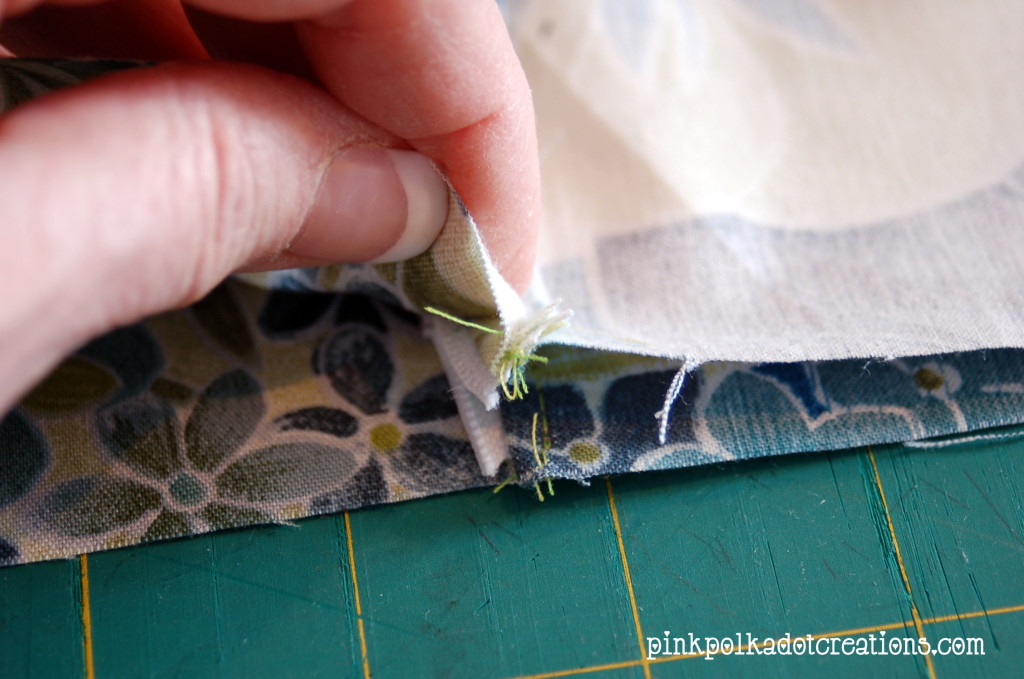 Then  starting on the lining side, sew all the way around the rectangle, leaving an opening to turn.  Clip corners and then make a clip on both sides of the zipper just a bit to make it easier to turn.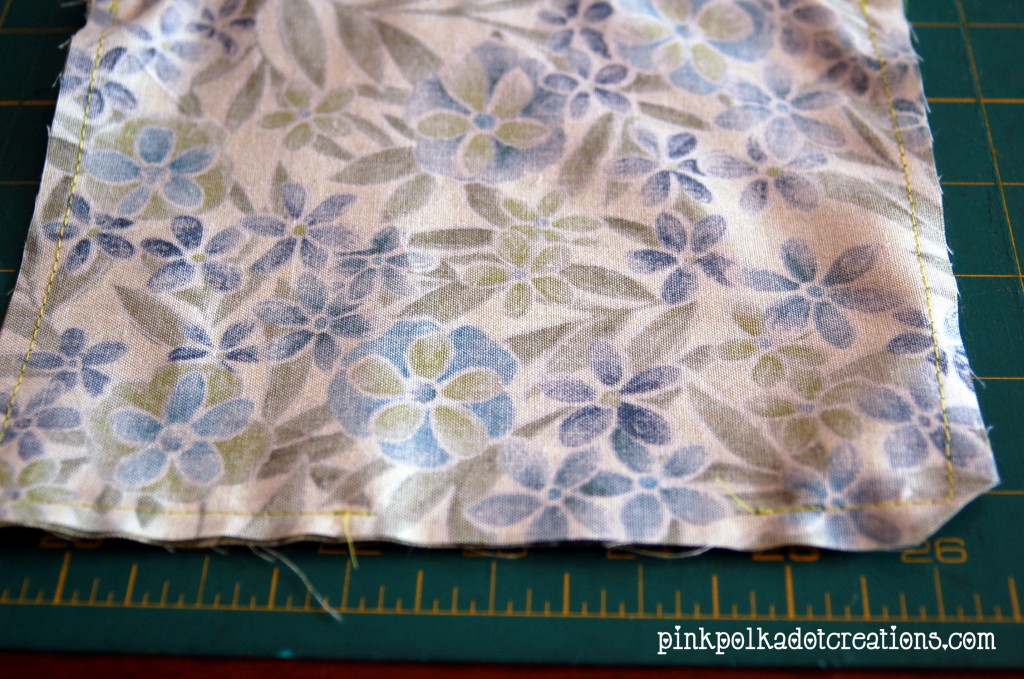 Turn bag to the right side.  Press opening closed and stitch shut.  Be sure to turn your corners so you have a nice point.  Press and you are done!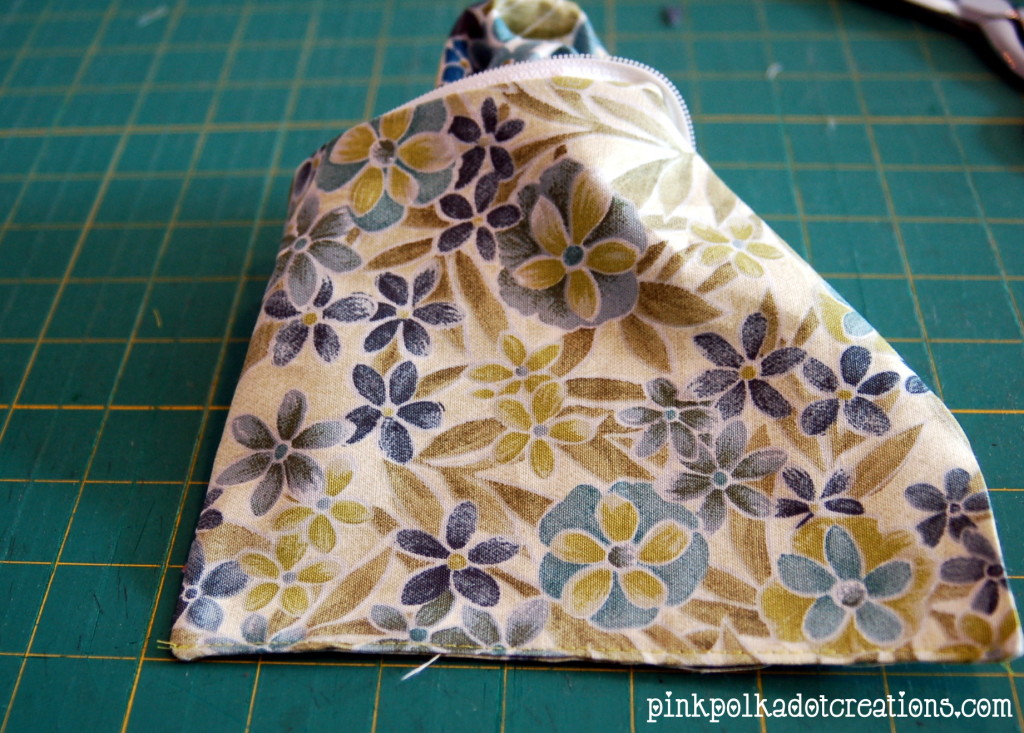 This is what a finished product will look like.  It is a flat pouch.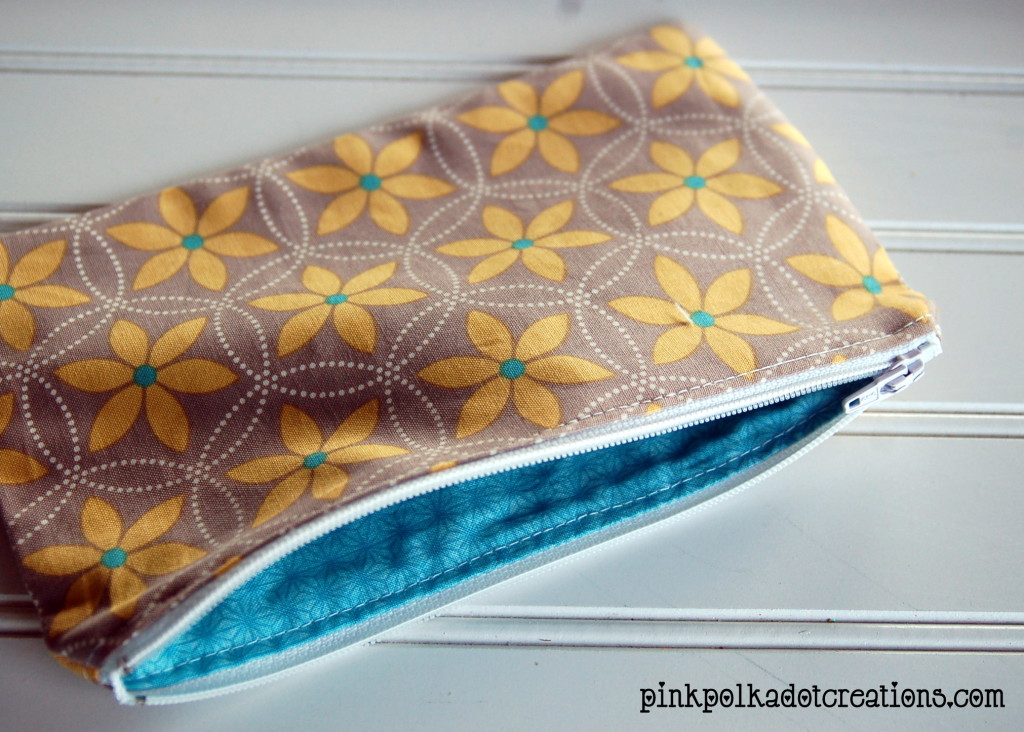 If you want a stand up pouch, there is one more step.   Turn the pouch to the inside, then take the corner and match the seams on the front and the back and pull out to a triangle.  Pin it at 1 1/2 inches from the point.  Make sure it is all smooth inside so you have no wrinkles when you turn it back out to the right side.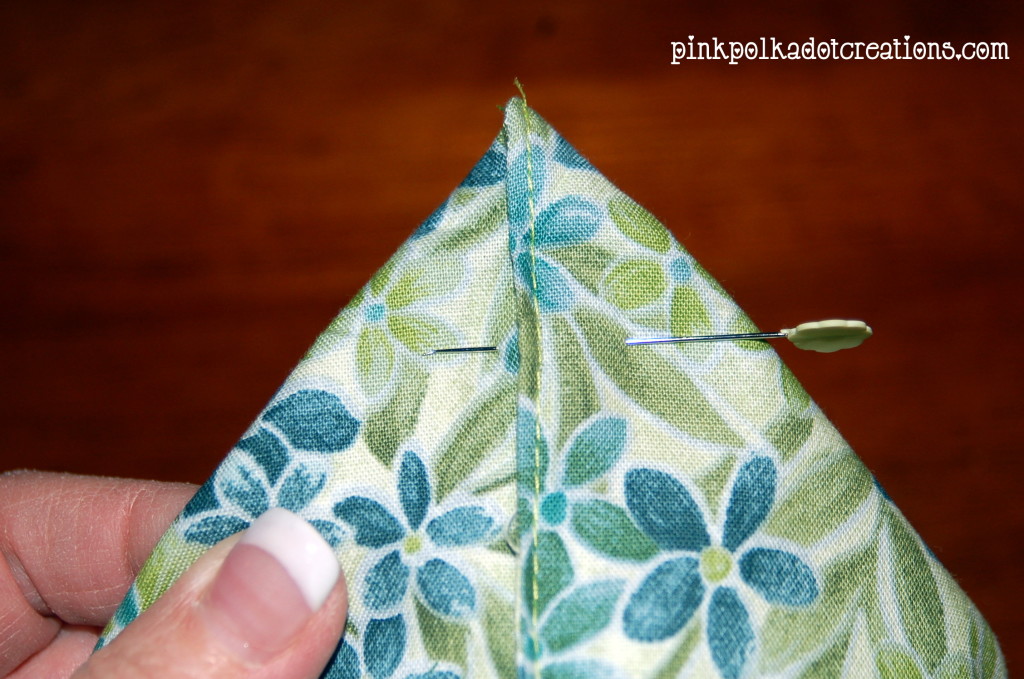 Sew across the triangle where the pin was.  Repeat for the other side.  That is all there is to it!  So simple huh?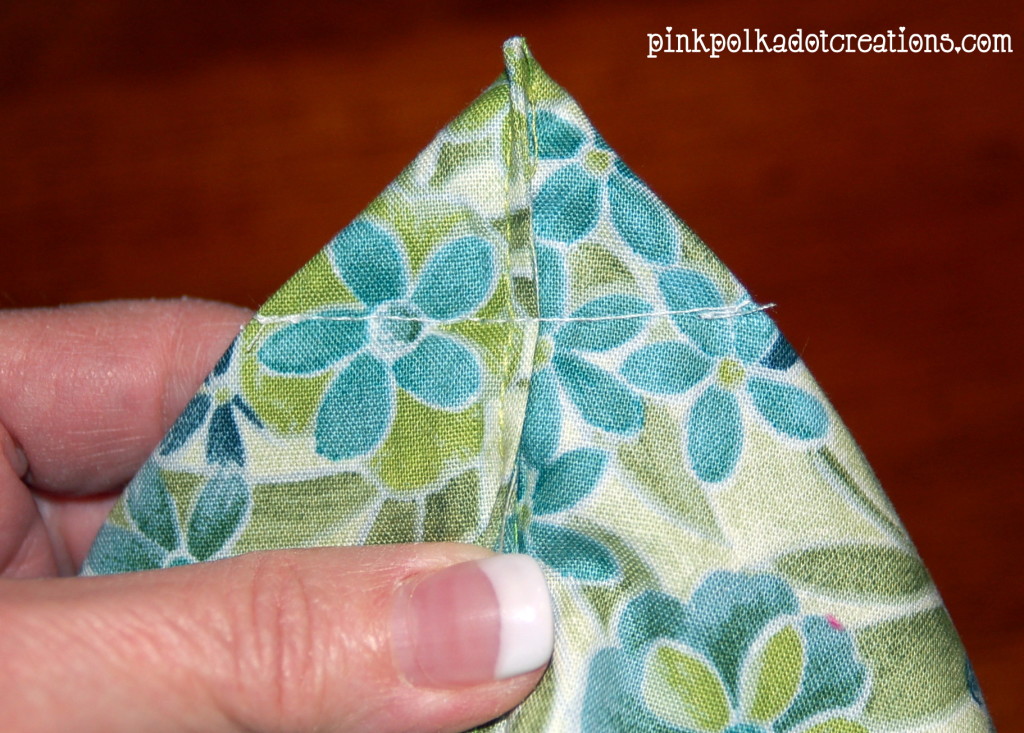 Turn back out to the right side and you are done!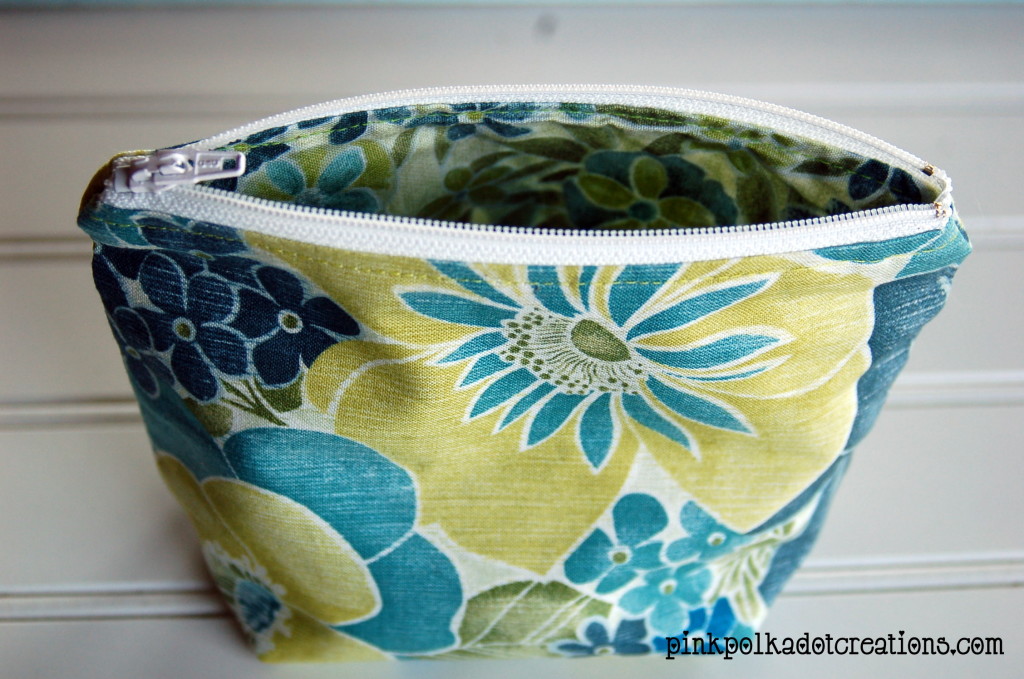 These are perfect for gift giving!  Fill it up with some fun little trinkets or purse items: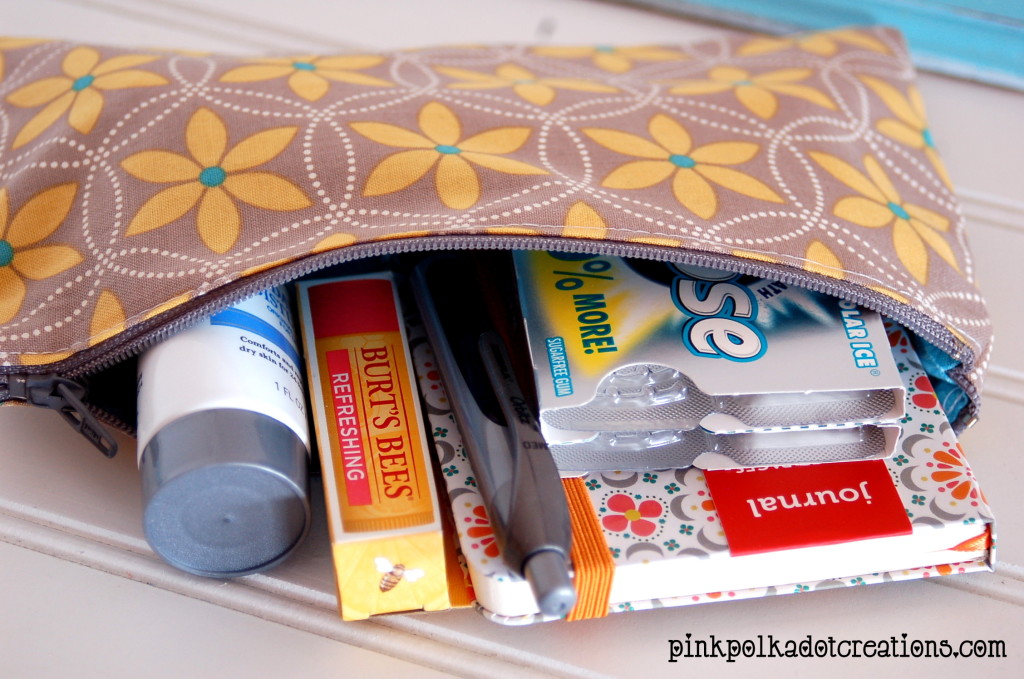 Tie with a big bow and you have the perfect personalized gift for anyone on your gift list!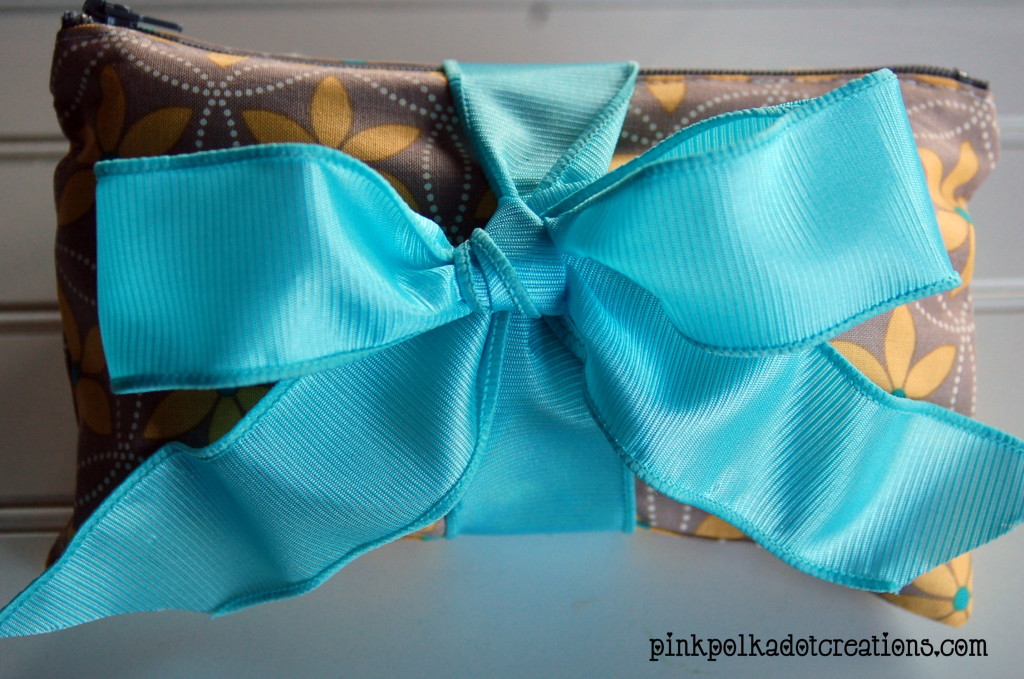 Wow, that was a lot of talking today, but I hope that I made it easy for you to see how to make these little pouches.  All the ladies that made them, loved them and talked of how many more they were going to go home and make!  So I hope that you will too!
Have a great sewing day everyone!  Love Ya!