Today I have a fun new printable in my shop! It is a full set of 1″ monogram bottle cap charms. This set includes a full alphabet, plus a fleur-de-lis, a bicycle, a blank circle and a darling butterfly!
These are perfect for making the beaded bottle cap charms.
You can find the other charms here.
These charms are perfect for inexpensive jewelry, zipper pulls, purse accessories, scripture pulls, key chains and so much more. You can also use these monograms in scrap booking, card making, or enlarge for a poster! Put a glass or resin circle on top for a fun personalized magnets for your magnet board!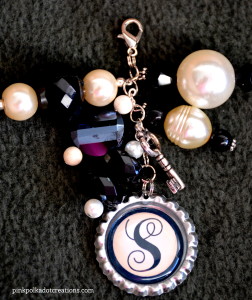 These make fun gifts for birthdays, Christmas, Mother's Day, Anniversaries, and the list goes on. They are great for a handout for a lesson or activity. They are also a fun project for your activity days or YW activity.
So there you have many ways that you can use these 1″ monogram charms. Check out the Monogram charms today! How would you use these versatile monograms?
Thanks for visiting…Have a wonderful day!