I got a new pom pom maker and my granddaughter and I have had a great time making this darling Pom pom Garland and Bouquet! We each made a set of these and my granddaughter got the hang of it really fast and could do make up the pom poms lickety split!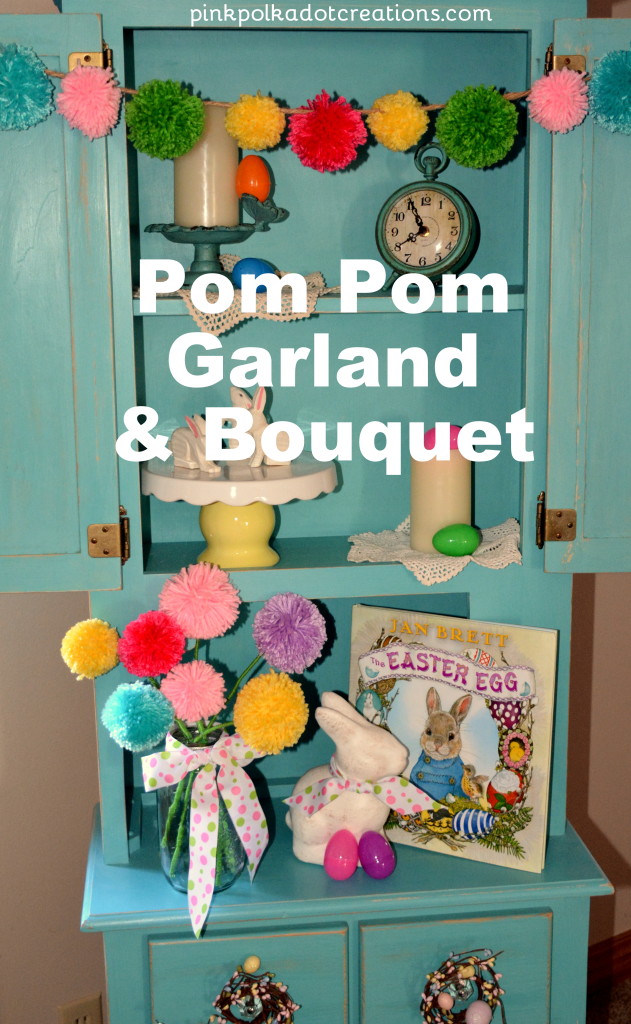 We used my new Clover Pom Pom Maker: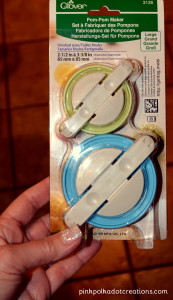 It is so easy to use and you don't have to do very much trimming with this pom pom maker, so I think that it was worth the money! I got mine at JoAnn's (with a coupon, of course!)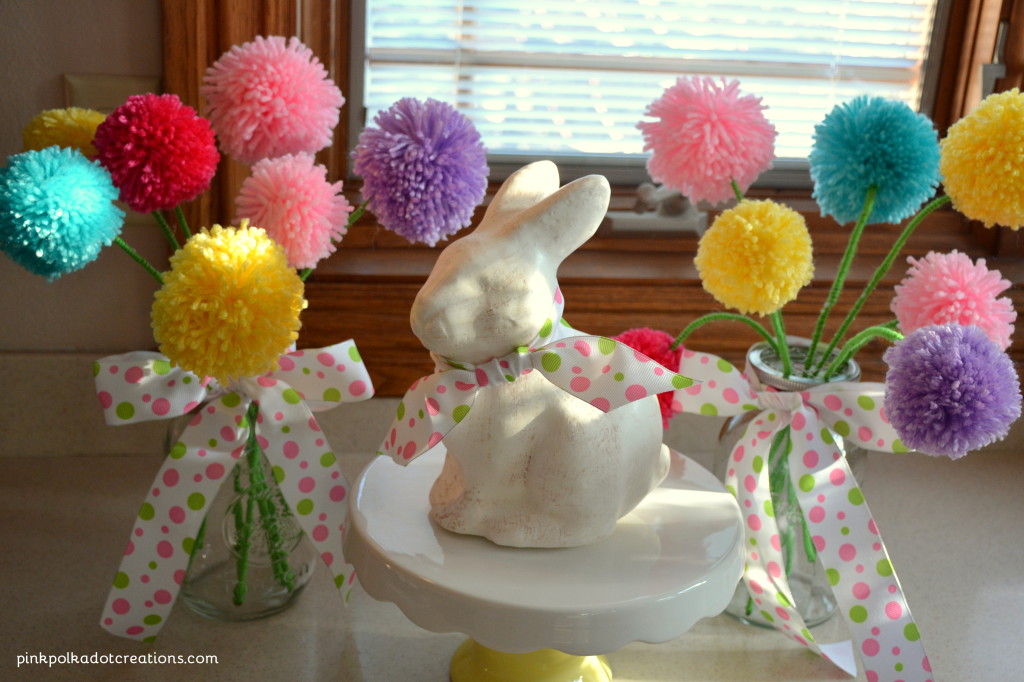 These are the pom pom bouquets! I love how whimsical they turned out. They look like lollipop trees!
This is how we made the stems…just use 18 ga. wire and bend over the bottom to the length that you want the flowers to stand. Then I wrapped green yarn around the wire. I just ran a line of hot glue down the wire and then wrapped the yarn so that it would stay in place! After all the stems were wrapped we simply hot glued a pom pom to the end and place it in our mason jar vase! So Easy!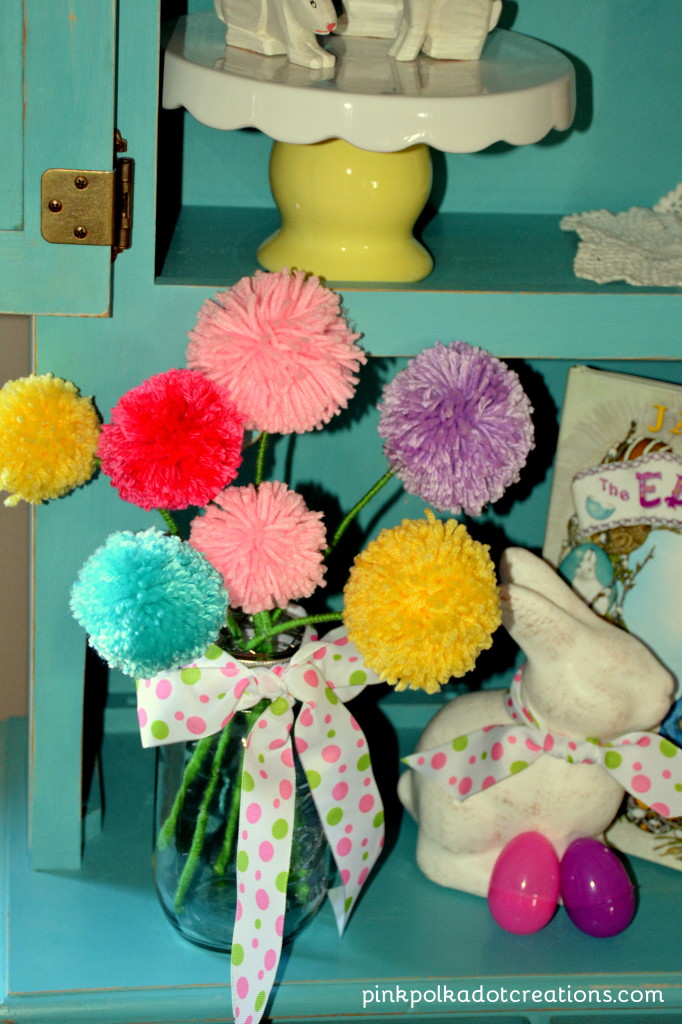 Tie a cute bow to the jar and you are done!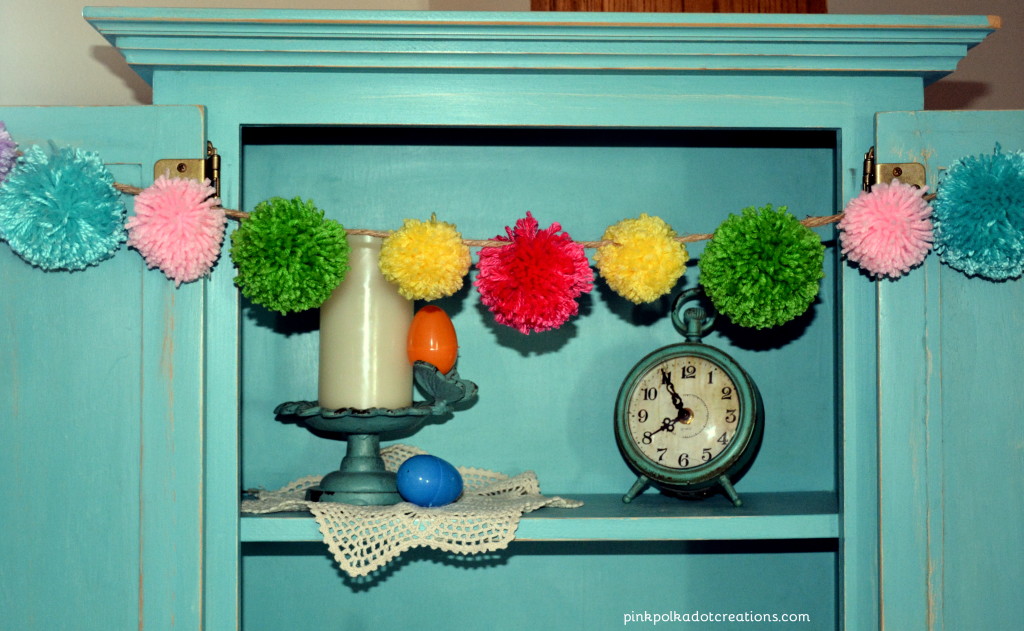 For the garland, we simply tied each pom pom to a jute string the length that we wanted, we could adjust how far apart the pom poms were after we hung it. We tied a bow on each side to finish off the garland. You could also use a ribbon, wire, bakers twine or even yarn to tie the pom poms to.
So that is my Pom Pom Garland and Bouquet. I thought that I would give you a small tour of the rest of the Easter/spring decor: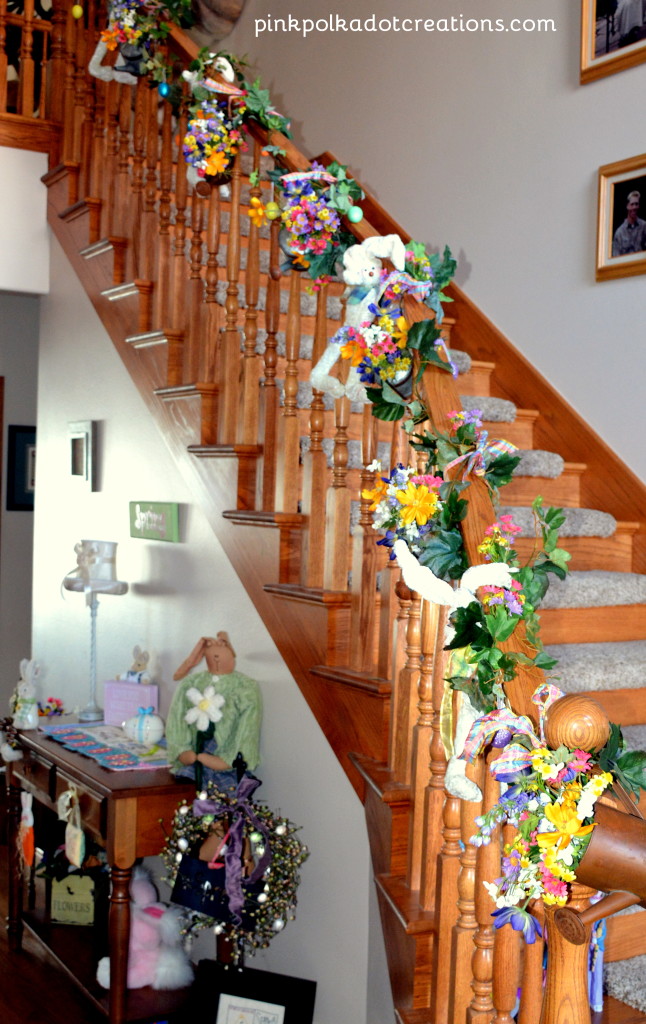 I used to own a scrapbook store and I had a fence across the front of the store with the garland that goes up my stairs, so this garland has gotten many years of use out of it! :) This is my front foyer as you come into the house.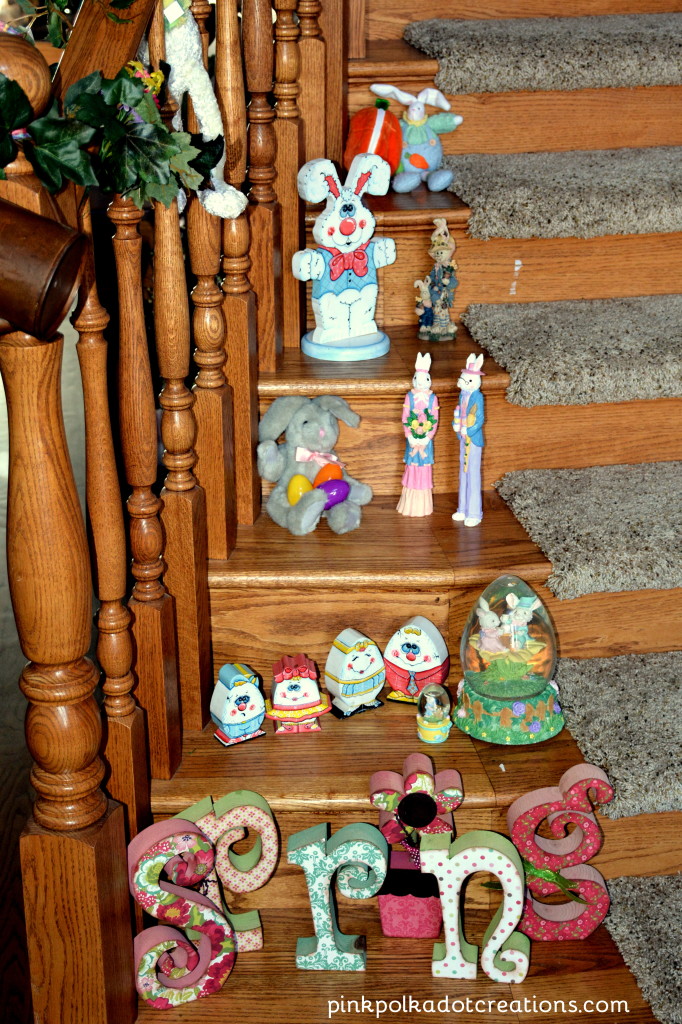 I usually decorate up the stairs for most of the holidays, because I don't have a place to put everything! That is pathetic…I know! A couple of my granddaughters helped me with all of the decorating and they are getting pretty good at it! All I have to do is supervise a little bit! It doesn't get any better than that!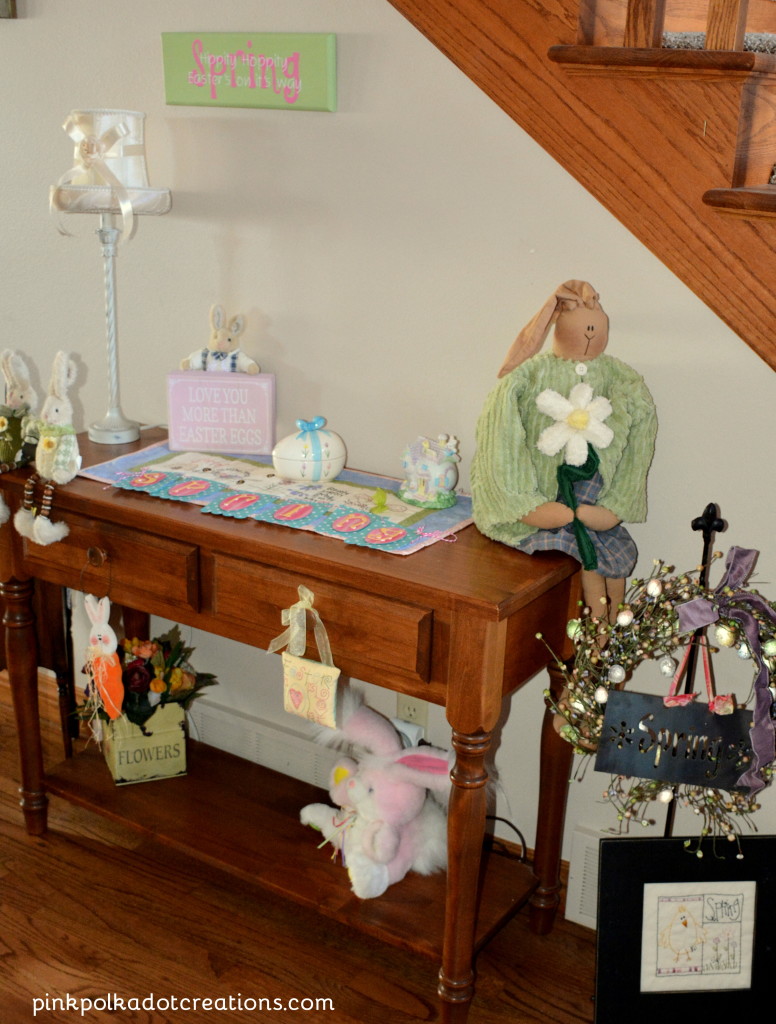 This is my table in the foyer, so I hope that people feel welcome when they come to my home!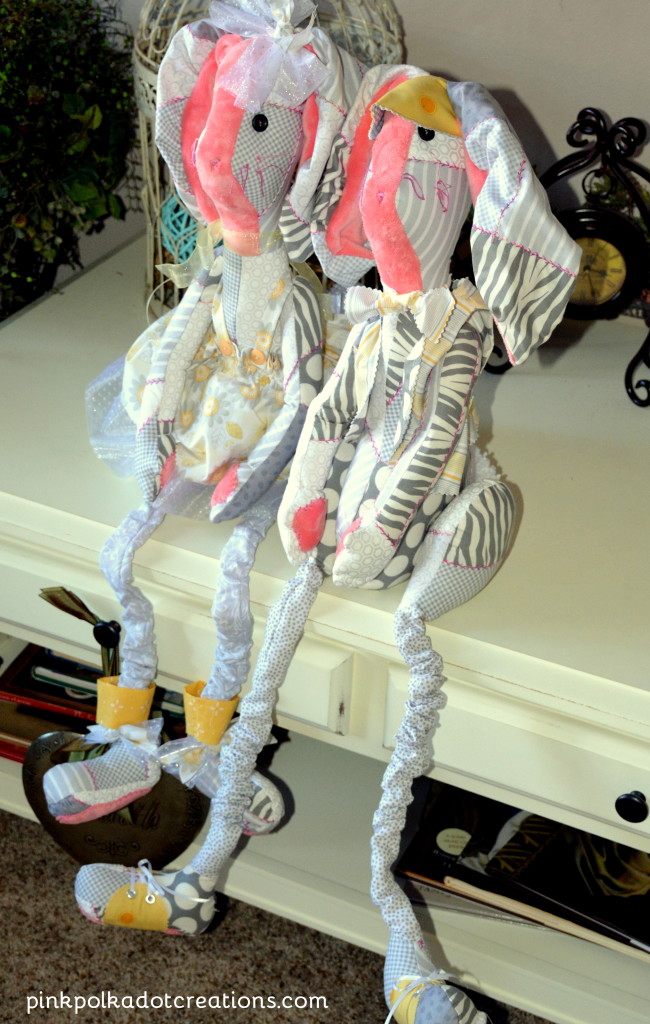 I couldn't leave out my welcoming committee...Prissy and Pete! They are some of my favorite spring guests. I made them a couple of years ago and some of the kids have re-named them! They love them as much as me! Or they are just as crazy as me, is probably more like it! :)
My daughter put her Pom Pom Garland and Bouquet in her front hall too! I think that it looks darling! I love the spring colors and I am ready for the weather to get warmer and for some color besides gray…outside!
This is my daughter's front door. I showed you this wreath for Valentines Day and told you that it was interchangeable. Look how cute it turned out for Spring! And she can change it again when it is summer! Such a great idea!
Well there you have some of my spring time decor. Easter is so early this year, that I decided I had better get it all out…and I am loving the colors and warmth that they all bring. They make my heart sing!
Thanks for Visiting Today!