I don't have a lot of Valentine decorations, so I decided to make this fun Pom Pom Valentine Wreath! I love the look of the yarn pom poms, they are the in thing right now and I love how this wreath turned out. Simple, yet striking!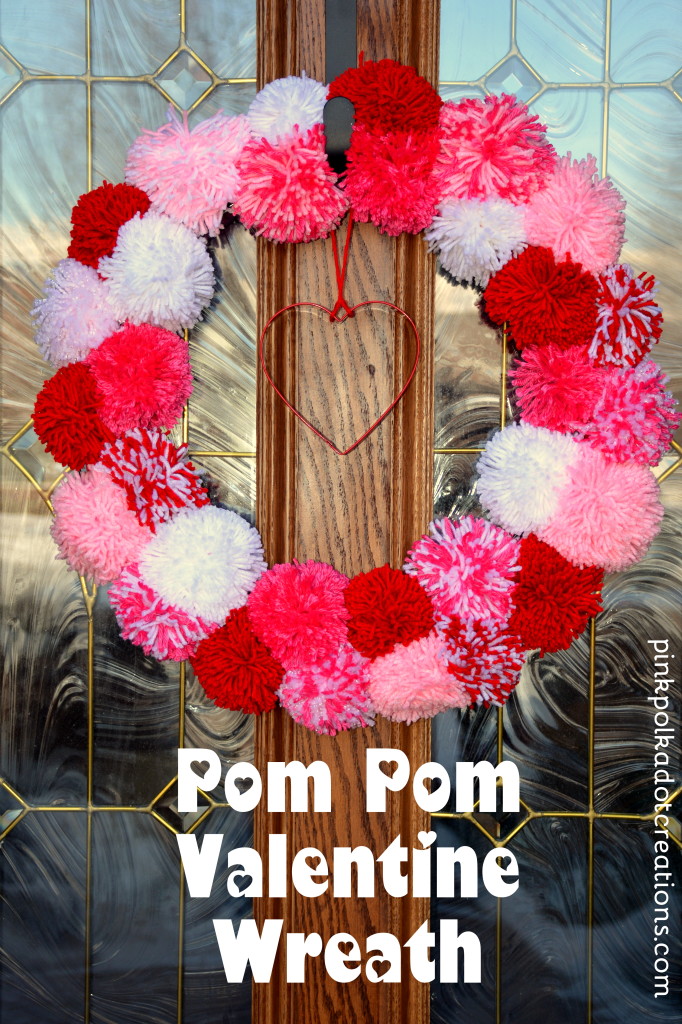 This Pom Pom Valentine Wreath was simple to make and is one of those projects that you can do in front of the TV or sitting by a nice warm fire in the evening!
I made this wreath the old fashioned way…with a piece of cardboard. I cut a piece of cardboard 1″ x 5″.
1. Lay a piece of yarn across the cardboard piece. (I used a double piece that is long enough to tie around the yarn.) Wrap the yarn around the cardboard piece -anywhere from 150-250 times, depending on size of pom pom you want.
2. Tie the middle piece of yarn around the middle. Pull as tight as you can and tie in a square knot.
3. Cut down the middle of the yarn on the opposite side of the knot and fluff out.
4. Trim the pom pom to a nice round shape. You can trim as much or as little as you want to determine the size of the pom pom. I trimmed my pom poms over a paper sack to catch all the trimmed pieces, but it was still a little messy!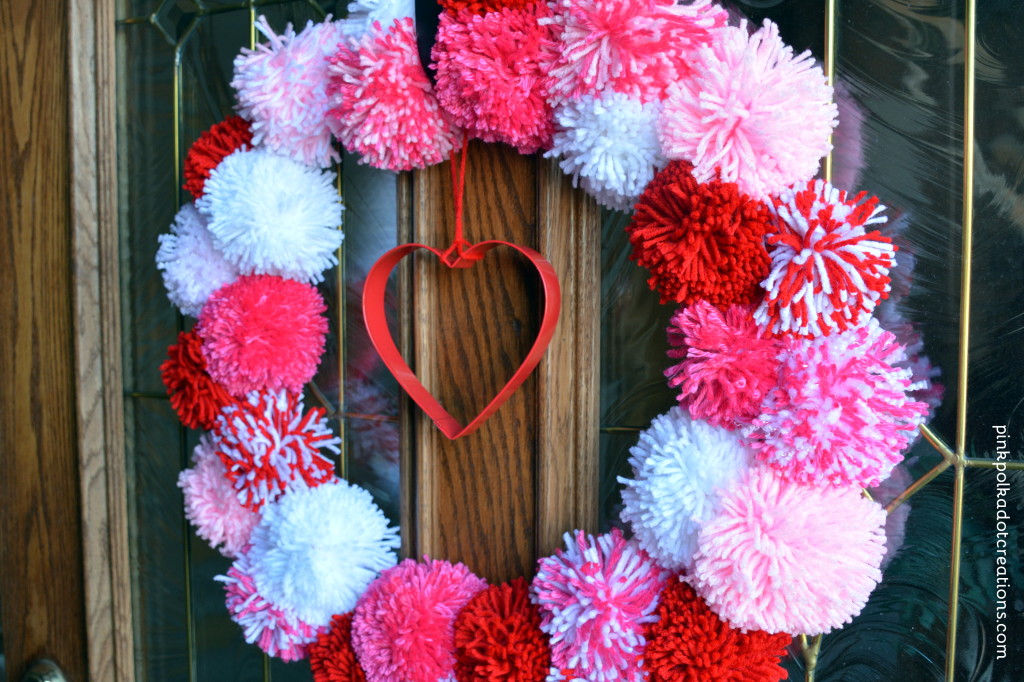 I used light pink, white, red and dark pink yarn. I did a combination of different colors to make a nice variety of pom poms. I hot glued all the pom poms to a wire wreath and tied a red heart cookie cutter to the hang in the center.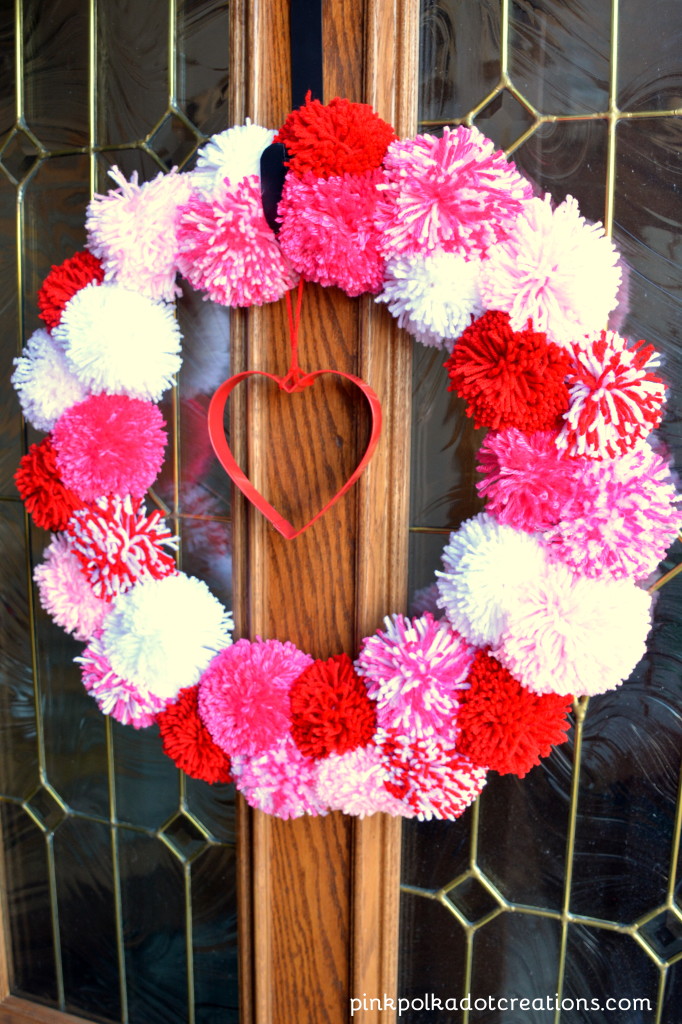 So that is my Pom Pom Valentine Wreath! I love the simplicity of this wreath! Do you decorate for Valentines? I have a few things but not like I used to…I use to decorate for every holiday when my kids were little!
My friend Kathy, made a Winter Pom Pom Wreath and Garland! I love these colors too!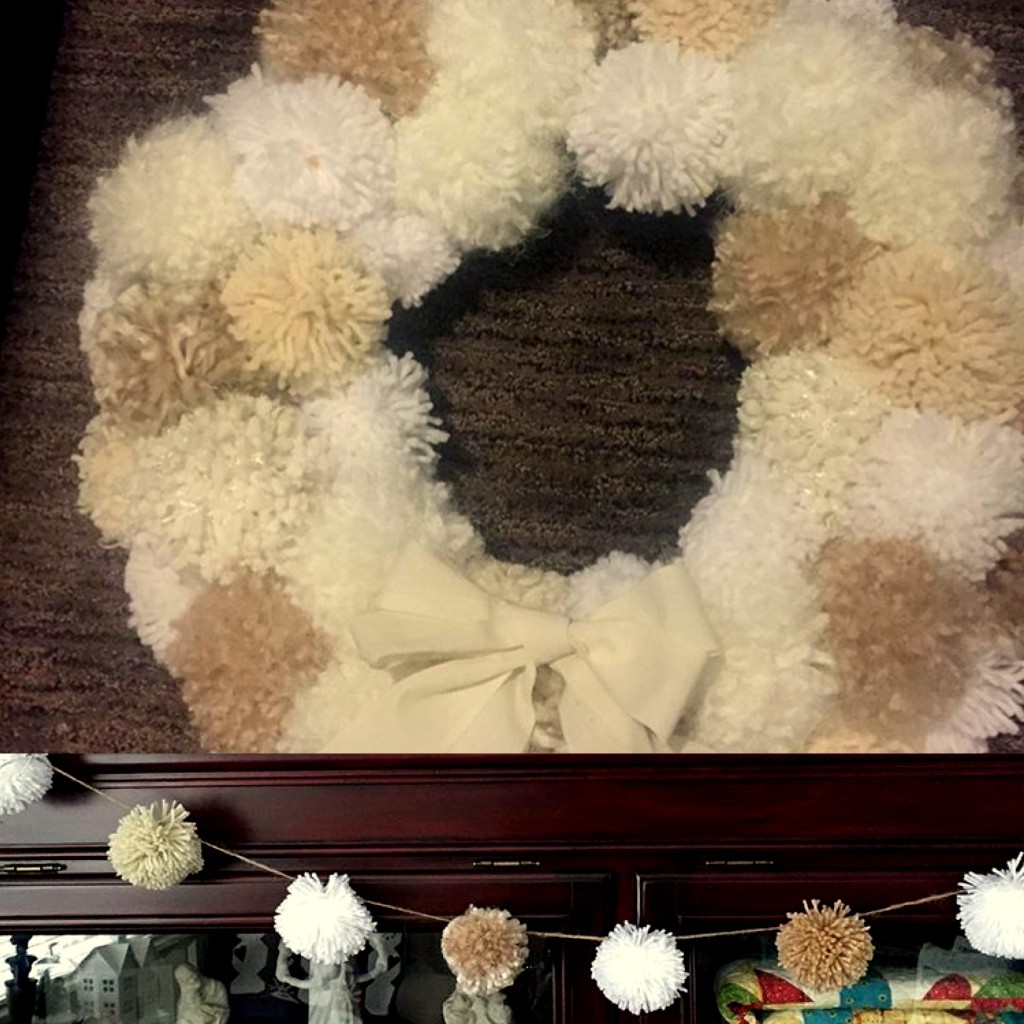 She used a pom pom maker, and I am thinking that I might need to get one of those! She said that it was really easy to use. I love the neutral colors of this wreath and the simplicity! So now you have a couple of ideas to use these fun yarn pom pom's with. Do you see a new project coming on?? I hope so! :)
Thanks for Visiting!