Hi everyone.  Today I am doing a guest post over at The Wood Connection.   I am showing how to make this fun whimsical Christmas frame.  Be sure to visit them to see a full tutorial on how to paint and glitter this cute little project along with a  great technique on how to paint and glitter the wooden dots!
If you are visiting from the Wood Connection…Welcome!  I am glad that you are here and hope that you will stay a while and take a look around and that you will want to come back again and again!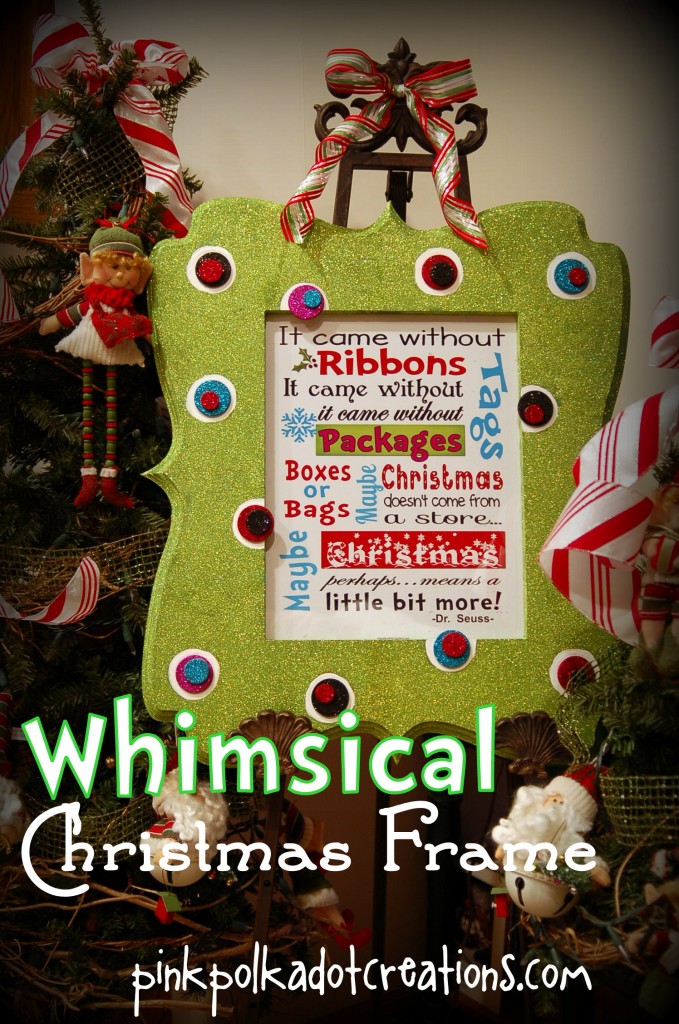 Here are the printables for this frame.  I have done both 11 x 14 (which is the size frame that I did) and 8 x 10 sizes.
11 x 14 size
8 x 10 size.
I did a couple of different traditional variations, if you are not into the subway art style.
11 x 14 size
8 x 10 size.
And the same one with a white background.
11 x 14 size.
8 x 10 size.
To print these, right click over the image and go to "save image as" , then save in one of your pictures files.  I sent mine to Costco and I found out (the hard way, after printing several) that at the very end of your order there is a place to click that you do not want auto color adjustments!  Be sure to click that or the reds will be maroon!
Now for a fun giveaway!
The Wood Connection has given me a $25 gift certificate to their store, to give away to one LUCKY winner!
To enter this drawing, all you have to do is leave me a comment  about what is your favorite thing about Christmas.  Is it the decorations, the movies, the food, the presents, the lights, or do you simply feel like the Grinch and hate Christmas?  Leave me a comment and let me know, I love reading about how you feel!
This drawing will end at midnight MST on Monday, Nov 26th, 2012, so be sure to enter today!
(This drawing in for those who live in Utah or are planning to visit sometime soon, because it is a brick and mortar store.  They have no online ordering yet.)
Thanks for stopping by today!  Love Ya!