Have you ever tried Apple Cinnamon Cake with Salted Caramel Frosting?
This cake is to die for!
It is a very moist, dense, cake full of wonderful flavors! From the tart apples to the nuttiness of toasted pecans to the salted caramel frosting. The flavors just keep going on and on!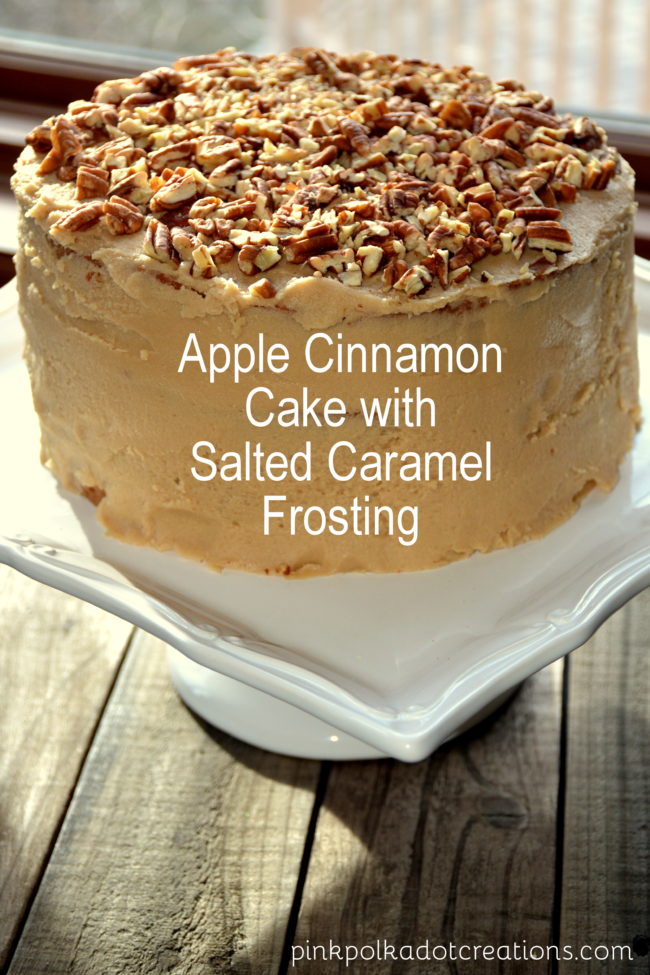 Apple cake is the perfect fall time dessert and would be a wonderful addition to your Thanksgiving desserts!
I made this cake last week and my husband ranted and raved about it. It is quite rich , so you only need a small slice.
With this in mind, I decided to freeze the cake in three different sections. And guess what??? It freezes beautifully. It tasted just as great the second time around!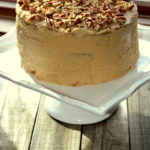 Apple Cinnamon Cake with Salted Caramel Frosting
2017-11-05 20:43:56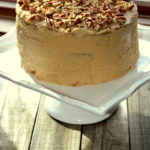 Serves 16
A deliciously moist apple cake topped with a wonderful salted caramel frosting! Your taste buds with be jumping for joy with this delightful treat.
Nutrition Facts
Amount Per Serving
Calories 586
Calories from Fat 283
Trans Fat 0g
Polyunsaturated Fat 6g
Monounsaturated Fat 15g
Total Carbohydrates 72g
24%
Sugars 51g
Protein 5g
* Percent Daily Values are based on a 2,000 calorie diet. Your Daily Values may be higher or lower depending on your calorie needs.
Cake
3/4 cup pecan halves
3 cups flour spooned and leveled
2 1/2 teaspoons ground cinnamon
1 teaspoon kosher salt
1 teaspoon baking soda
1/2 teaspoon ground nutmeg
1 cup packed brown sugar
1/2 cup granulated sugar
3 eggs
3/4 cup canola oil
3/4 cup sour cream
1 teaspoon vanilla
4 cups diced, peeled apples such as Granny Smith
Frosting
3/4 cup unsalted butter
1 1/2 cup packed brown sugar
6-9 Tablespoons heavy cream, divided
1/3 teaspoon kosher salt
3 3/4 powdered sugar
1 cup toasted, chopped pecans (optional for garnish)
Cake
Preheat oven to 350 degrees F. Grease 3 (9 inch) round cake pans and line bottoms with parchment. Spread pecans on a rimmed baking sheet and toast just until fragrant, 7-8 minutes. (If using toasted pecans for garnish on top of cake, toast them all at the same time) Cool then chop.
Whisk together flour, cinnamon, salt, baking soda, and nutmeg in a bowl. Beat sugars, eggs, oil, sour cream and vanilla with an electric mixer on medium speed until combined. Reduce mixer speed to low and slowly add flour mixture, scraping down sides of the bowl as needed. Fold in apples and pecans. Divide batter among prepared pans. Bake until a toothpick inserted in the center come out clean, 20-25 minutes. (may need to bake a bit longer) Cool in pan on wire rack for 5 minutes, then invert onto racks to cool completely.
Frosting
Melt the butter in a small saucepan over medium heat. Once melted, add brown sugar and 3 Tablespoons of heavy cream. Whisk constantly until sugar is dissolved. Add kosher salt. Allow to bubble for about 2 minutes, whisking every 30 seconds or so. Remove from heat, pour into a heat-proof mixing bowl and allow to cool. (about 30 minutes)
In your mixer with whisk attachment, beat in 3 cups powdered sugar and 4 more Tablespoons of heavy cream. Slowly add 1/2 cup more powdered sugar until you reach the desired consistency. Add 1 more heavy cream if you find the frosting too thick.
Place 1 cake layer on a cake stand or serving platter. Top with Salted Caramel frosting. Repeat 2 more times. Frost sides with remaining frosting and garnish with chopped toasted pecans if desired.
Notes
This cake freezes well!
Pink Polka Dot Creations http://pinkpolkadotcreations.com/
Apple Cinnamon Cake with Salted Caramel Frosting is such a treat!
All of these wonderful flavors together in your mouth are such a party for your taste buds!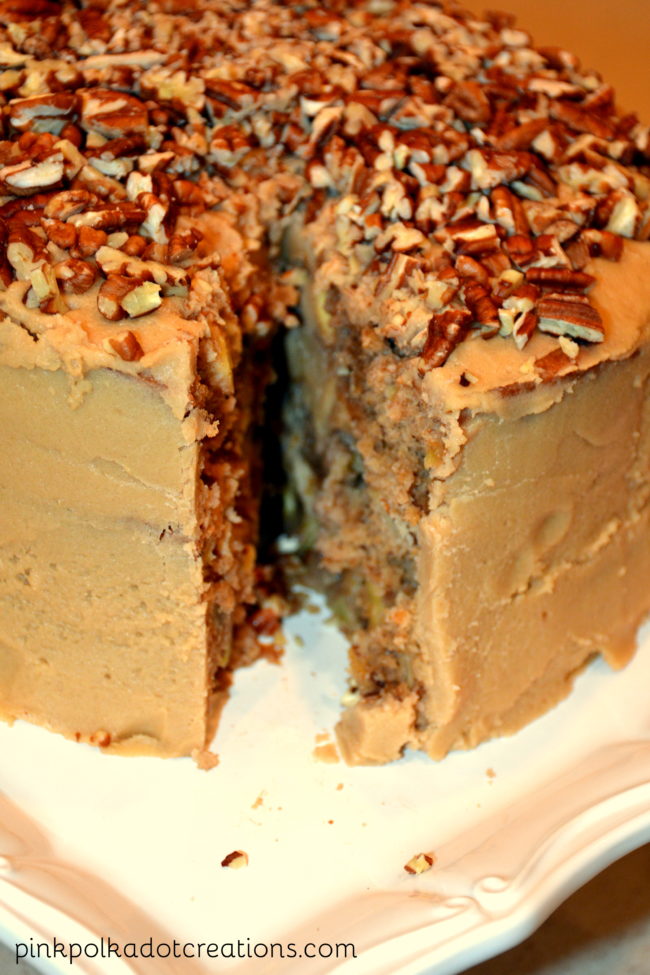 As you can see, this cake makes quite a statement! It is perfect for a party, family gathering, work party, or for a church gathering!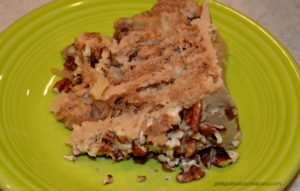 Is your mouth watering yet?
Just looking at this picture, made my mouth water for another piece of this delightful masterpiece!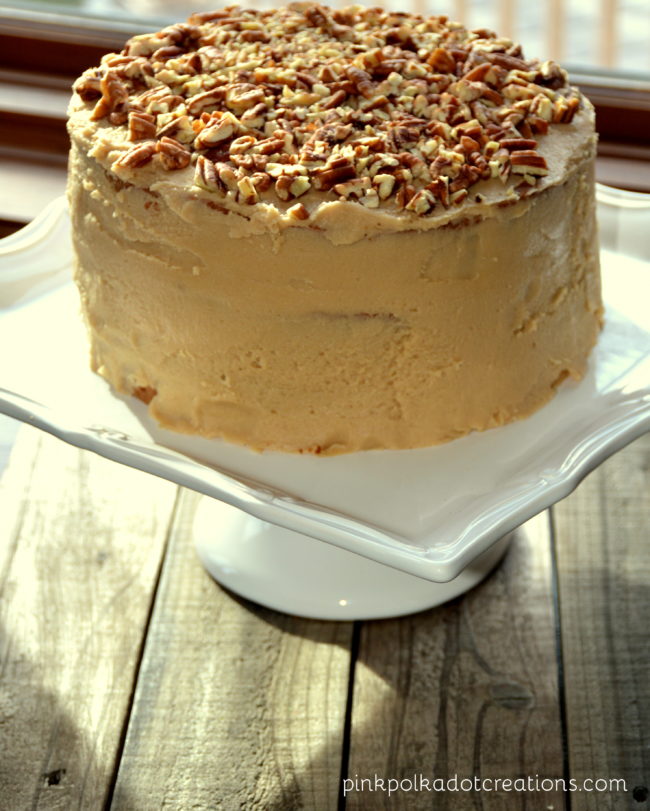 So this is a delightful Apple Cinnamon Cake with Caramel Frosting.
Are you ready to make this little masterpiece?
Thanks for Visiting! Hope you are having a delicious Monday!