My neighbor gave me some fresh blackberries from her garden, so I decided to try making a Blackberry Nectarine Cobbler! It was so delicious! I loved the tartness of the fruit with the sweetness of the crumble topping and the creamy whipped cream…Pure Heaven!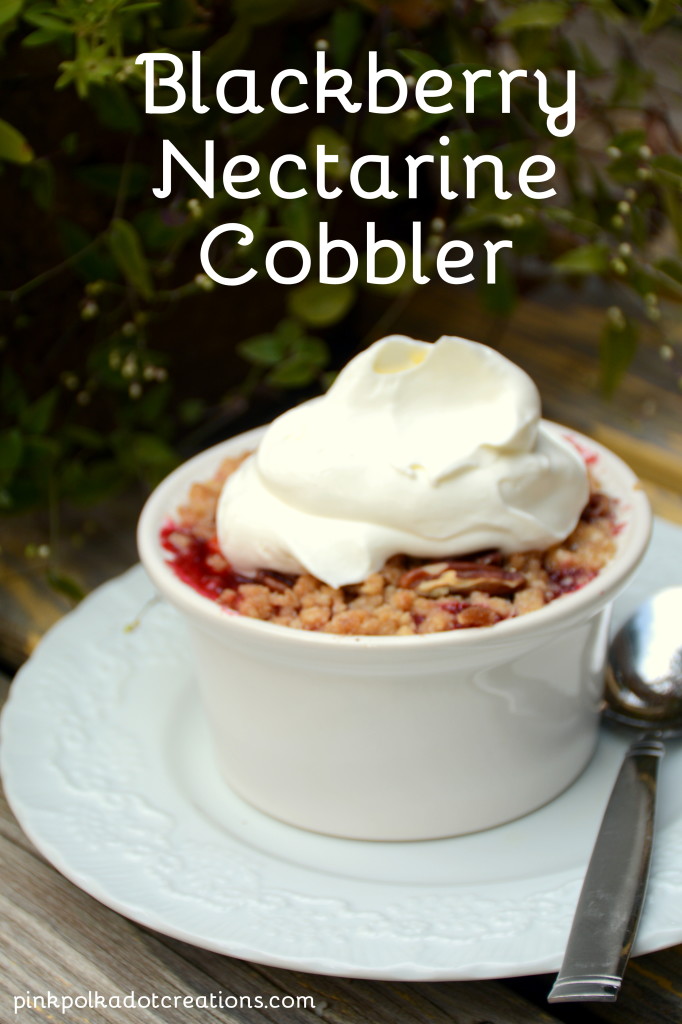 I saw a version of this cobbler on the Food Network, during one of the Pioneer Woman episodes. She used blueberries and nectarines, but when my neighbor gave me the blackberries…I just decided to try out those two combinations and as I already said…Pure Heaven! I just made this recipe up and it is a keeper.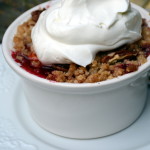 Blackberry Nectarine Cobbler
2015-08-06 20:53:07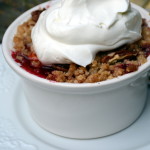 Serves 4
A wonderful combination of sweet and tart in this cobbler! The blackberries and the nectarines give this cobbler an amazing flavor. Top it off with whipped cream or ice cream and you have the perfect dessert!
Nutrition Facts
Amount Per Serving
Calories 541
Calories from Fat 218
Trans Fat 1g
Polyunsaturated Fat 2g
Monounsaturated Fat 6g
Total Carbohydrates 77g
26%
Sugars 46g
Protein 6g
* Percent Daily Values are based on a 2,000 calorie diet. Your Daily Values may be higher or lower depending on your calorie needs.
Filling
2 cups fresh blackberries
2 cups fresh nectarines-cut up
1/3 cup sugar (can add a little more if you prefer)
1 heaping Tablespoon cornstarch
pinch salt
1 teaspoon lemon juice
Topping
1/2 cup all-purpose flour
1/2 cup oats
1/4 cup granulated sugar
1/4 cup brown sugar
1/2 teaspoon cinnamon
pinch salt
1/2 cup cold butter (1stick)
1/4 cup pecans-chopped
Instructions
Preheat oven to 350 degrees F. Butter 4 individual ramekin dishes. In a bowl combine the nectarines and blackberries. Add the sugar, salt, lemon juice and cornstarch and toss gently. Divide the fruit among the 4 ramekin dishes.
For the Topping
In a bowl, add the flour, oats, sugar, brown sugar, cinnamon and salt and mix to combine. Cut 3/4 stick of butter into cubes, then cut the butter cubes into the flour mixture using a pastry cutter or 2 knives. Spread the topping over the 4 dishes. Top with the chopped pecans. Cut the remaining 1/4 stick of butter into small cubes and dot the top of the cobbler with it. Place the filled ramekins on a cookie sheet and cover loosely with foil. Bake for 20 minutes. Uncover and continue baking until the top is browned and the fruit is bubbling, 20 to 25 minutes. Let cool a bit before serving.
Notes
These cobblers are great topped with sweetened whipped cream, or a scoop of ice cream!
Pink Polka Dot Creations http://pinkpolkadotcreations.com/
This is my cobbler before I put them in the oven. (I also added the pecans after I took this picture) These look good enough to eat right now!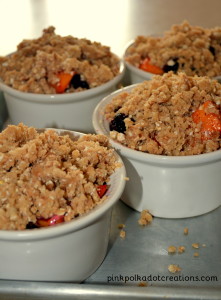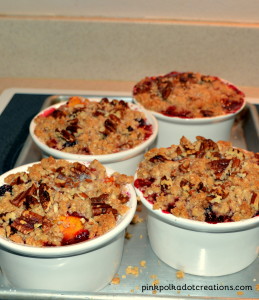 You can see the pecans in this picture. They are what really send these blackberry nectarine cobblers over the top! The toasted pecans give this a delicious nuttiness!
Do you have any blackberries in your garden, or a farmer's market near you? You really need to try out this delicious blackberry nectarine cobbler. The taste will have your mouth singing! This is such a refreshing summer treat…I think that I am going to have to go looking for blackberries again!
Thanks for visiting…have a great day!