I am starting a bedroom makeover in our Master bedroom, so I started with the smallest pieces! This is the nightstand makeover!
They turned out even better than I thought they would! The dark stain on the top is a wonderful contrast to the light oak color that they were before!
This is what the nightstands looked like before the make-over. They were an all-over oak color and the tops were getting pretty worn down and looked old. A little sanding on the tops of the nightstands and a coat of dark walnut made the perfect top to the antique white bottom!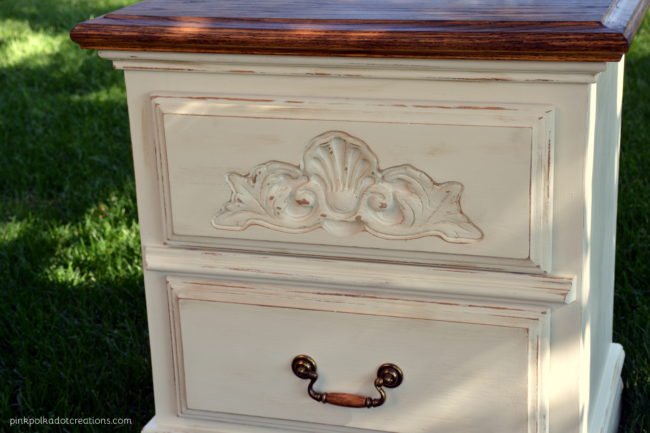 Annie Sloan chalk paint is what I used for the bottom. My husband and I did 3 coats of paint. I mixed pure white and old white together to get this color. We let it dry good and then I sanded the edges to distress it and added some soft dark wax to emphasize the antiquing.
To finish off the pieces, I added a coat of Chalk Paint Wax-Clear. It gives a wonderful luster to the pieces without being too shiny! I love this finish! You apply the wax with a soft brush and then buff it with a soft cheesecloth! It is simple to do and gives your wood pieces a beautiful luster and a water repellent finish.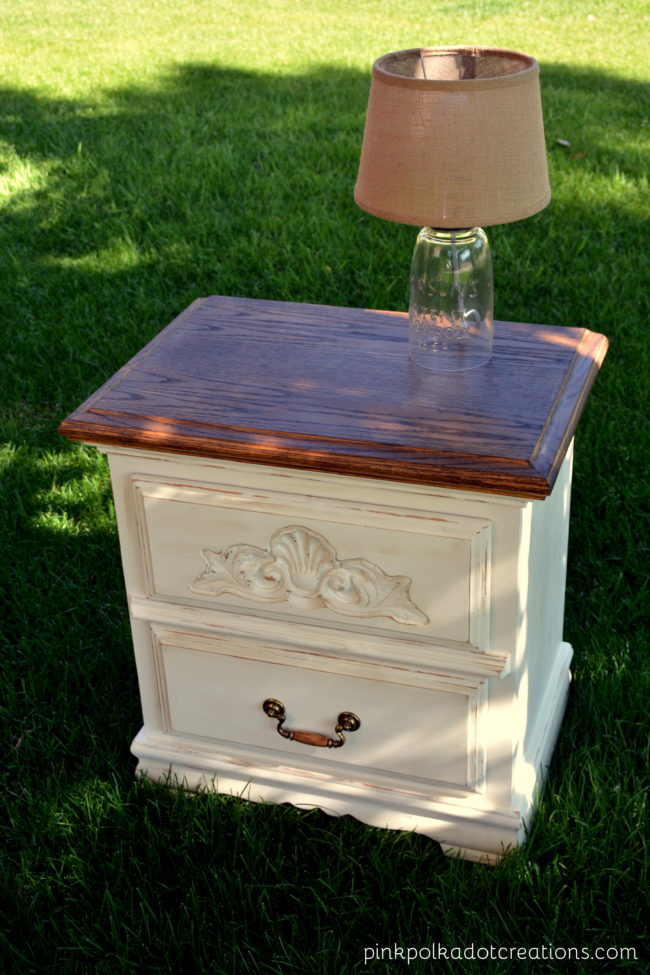 We did a make-over on two nightstands, but for some reason…I only took pictures of one!
The mason jar lamp comes from World Market. I love the vintage look of these lamps and the fun they add to our bedroom makeover.
Now, I need to do the head board and the foot board!
I sent my wool applique quilt to the quilter a few weeks ago and I am just waiting to get it back! It was going to be a bedspread, but I finally decided on a wall hanging because it will show up better on the wall!
That is my Nightstand Makeover.
So…now I need to get the rest of the make-over done! (I just have too many irons in the fire right now!)
Do you like to make-over furniture? It is so much fun and I love the look of an old piece brought to new life!
Thanks for Visiting!