My best friend, Kathy, and I went shopping and to lunch last week and I want to show you all of the Easter Finds that we found! We are kind of bad to go shopping together because we both like a lot of the same things and we feed off of each other with our ideas…but boy is it fun! :)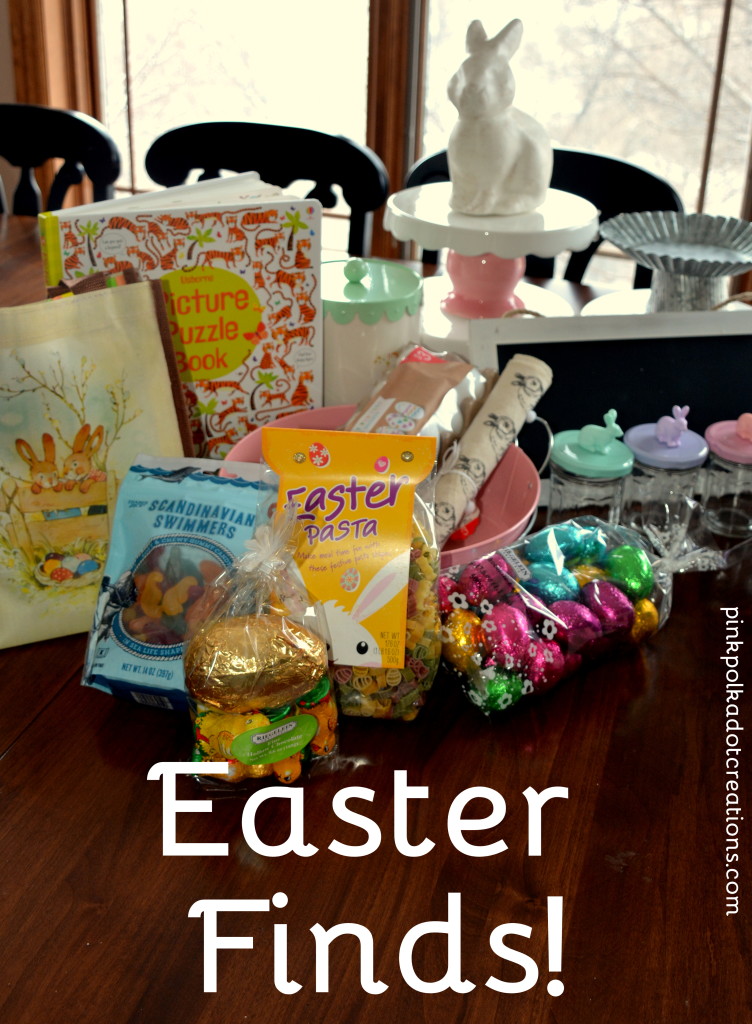 So here are a few of my Friday Favorites Easter Finds! I have quite a few ideas of what I want to do with each of these items, so let me share a few of them with you: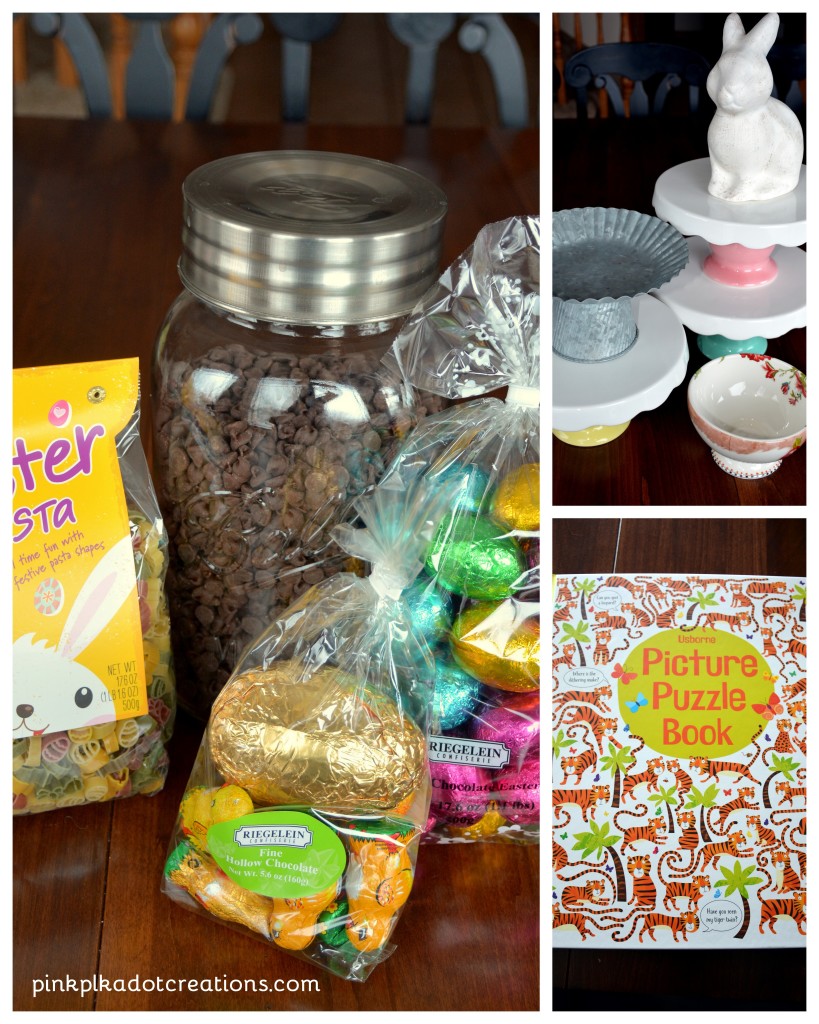 In the picture on the left, I love to make pasta salad with these fun shaped pastas. My grandkids love it too, and what a great way to get kids to eat their veggies! I found the gallon Ball Jar at World Market and I knew right away that I would fill it with my big bag of chocolate chips that I purchased at Costco. It is perfect and I love the filled jar of chocolate chips! What could be happier? The foil eggs and chicks are going to go in tall glass vases for the Easter season. The picture in the upper right have some happy dishes. We found the cake plates at the dollar section at Target! We were so happy because the Target close to our homes are always so picked over that we never seem to find anything, but we hit the jackpot at this Target in Fort Union! I love all of the cake stands, they are great for displaying things as well as for…cakes. The metal cake stand will be perfect for placing pots of plants outside to give them a bit of height when displaying several pots together! I am going to tie a fun ribbon around the neck of the paper bunny and put him in my front cupboard! The fun bowl is from World Market and I am just a sucker for cute dishes! You will probably see this bowl in a future recipe post. The picture book in the bottom picture is just a fun picture puzzle book, I love children's books and this is a fun seek and find book! We have loved looking through this already and I am sure there are many more times to come!
The picture on the left has some fun jars that will be fun to fill with jelly beans, chocolate eggs, or Easter gummies. The pink and galvanized pans are going to be so fun to plant in the spring with flowers or succulents! I can't wait for the weather to get warmer, so I can start planting! Next is some Easter eggs for the kids to color with markers, a fun bunny table runner and a darling chalkboard sign all from the Target dollar bins! I told you we hit it perfectly that day! The canister on the right is from World Market and it was just too cute to pass up, I will put it in my kitchen with a fun vignette! The bag on the bottom is also from World Market, I can't decide if I am just going to fill this with flowers and hang on a hook out on the front porch…or if I am going to cut it up and make some darling pillows! I wish I had purchased two of them now because I can't decide!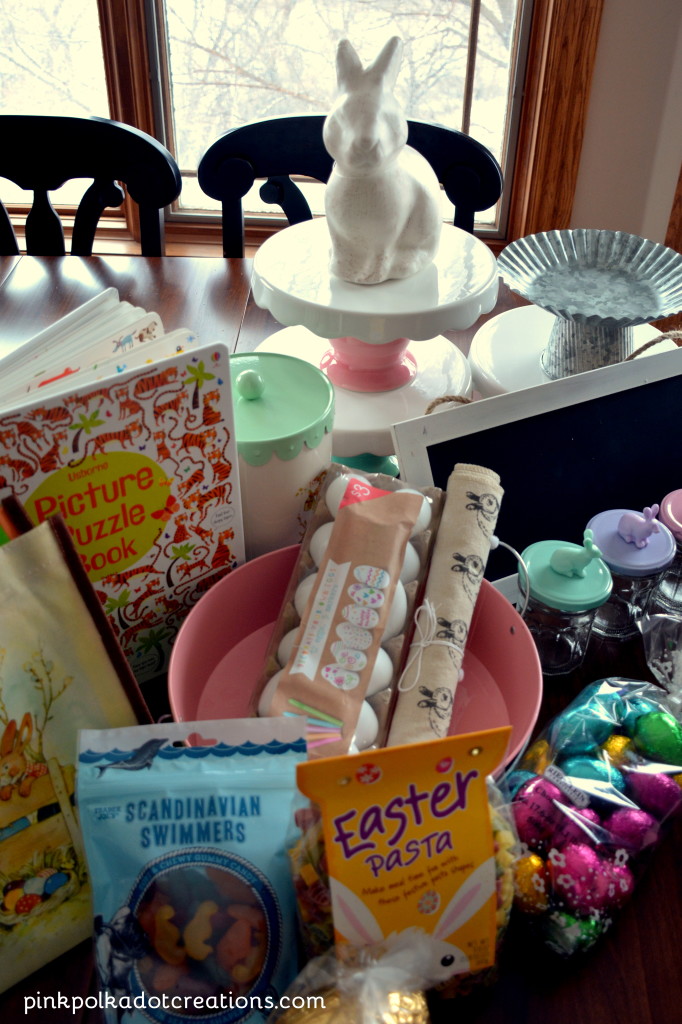 So there are all of my Easter Finds! I am excited to get out all the Easter Decor and since Easter is early this year, I will be able to decorate pretty soon! I am glad that I have a granddaughter that loves to decorate as much as I do…it is always more fun with a buddy!
Thanks Kathy, for a fun day and for being such a great friend!
Thanks for visiting. Hope you have a Happy Weekend!
How is everyone doing with the 40 day Conference Challenge?? I loved the talk yesterday titled "What Lack I Yet?" It really made me stop and think of ways that I can improve! It is so great to go back through these talks and be encouraged with things we are doing and things that we can work on!