Today I thought it might be fun to do an
Easter House Tour!
I had some of the grandkids help me put out all of the Easter decorations. They are such a good helpers and can carry some of the boxes now, so it makes for less trips up and down the stairs for me!
This first picture is in my living room and front foyer.
The bunnies were made a few years ago. They are named Prissy and Pete and they are some of my favorite makes! If you want more information on them, just click on the link.
The cupboard is one that I have up all year round. We put up our pom pom garland and bouquet and they are so springy! I love the pop of color!
The bottom picture is all of my spring pillows that I lined up on the couch in the living room.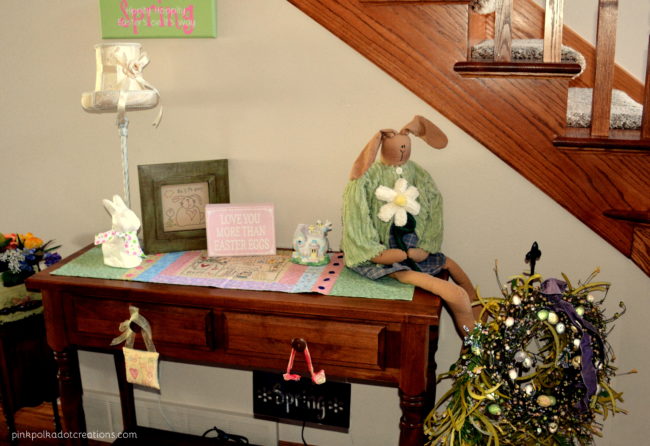 Next, I have the entryway.
And up the stairs!
All of the decorations on the stair railing are from my old scrapbook store. There was a decorated fence in the store window and we changed the decorations every season. So, I brought them home and decorate my railing now! :)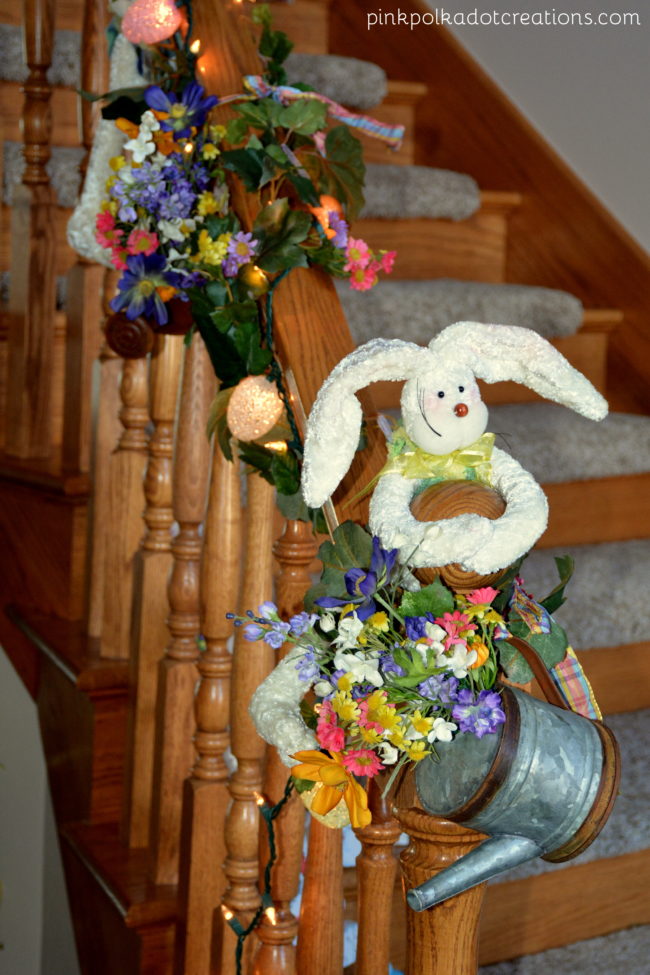 A close-up of the railing!
Then on the stairs, I have my bunny/spring collection!
Then going on into the kitchen…is the chick quilt from a Lori Holt pattern. I made this last year and added a few more Easter decorations!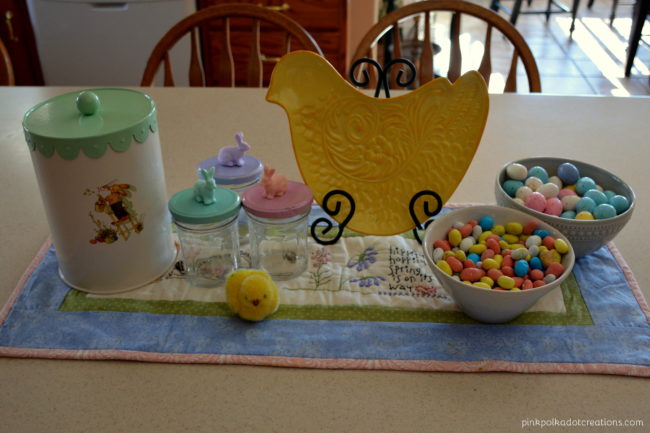 Lastly, I have this collection on the island in the kitchen!
I just purchased the bowls from Home Goods. The rest of the collection is from Target, World Market and Ross's. But, they are several years old.
So that is my Easter House Tour. Do you decorate for Easter?
What is your favorite decoration?
I love the fact that Spring is coming. The weather is getting warmer and the sun is shining! I even love getting out in my yard and working in the dirt! (At least till it gets really hot, then not so much!)
Thanks for visiting…Have a great weekend!
PS. Happy St. Patrick's Day! Here is a link with a few ideas, if you are still needing something!