Today I have a round-up of a few FUN Thanksgiving printables.
This first printable is for Thanksgiving Place cards and you can print them here.
There are 4 different ones to choose from or you can do a variety of all of them!  These are just a fold-over, so you just need to print, cut, fold in half and write names, or you could have everyone write one blessing, and have everyone guess who wrote what blessing!   So easy!
This next one is a Give thanks banner that I did last year, you can print it here.
This picture is not very good.  I guess it is good to see that my photography is improving  just slightly! :)
But the printables are really cute and each letter has a different image on it!  I printed them and then laminated them before I tied them together with the ribbon.
These next two are from a fun blog called
This one is a "Don't Eat Tom" game.  I was going to make one up but this one is so cute that I will just give you the link here and you can print it out.  This is a Thanksgiving version of  Don't Eat Pete!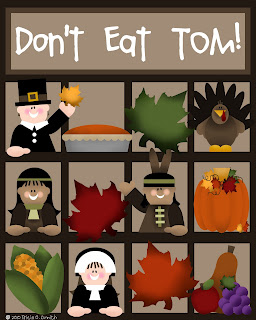 She has another fun game called:  Tick Tack Turkey
She actually has several other games if you just go to her blog and search under Thanksgiving!
I have one last printable for you:
This one would be fun to print and put in a frame on your kitchen counter or for your Thanksgiving display!
I hope that we can all have Thankful Hearts at this time.  I know that I have so many blessings and I am so grateful for family, friends, health, freedom and so many other things.  I count each of you in my blessings and I thank you for your support!
 My readers are the greatest!
Have a GRATEFUL day!  Love ya!