I just got finished with a new porch makeover and I am thrilled about this new outdoor living space! This is my new little retreat and I cannot wait to spend many summer days and nights out here!
I was able to do this make over with only a few hundred dollars! I found this furniture at Costco and it was even on sale when I bought it. I love that it is all sectional pieces and I can re-arrange it any way I want. The center table can also be an ottoman for either the couch or the chair and I can take the couch apart and make a love seat and two chairs! We have changed it several times and love it any way that we change it to!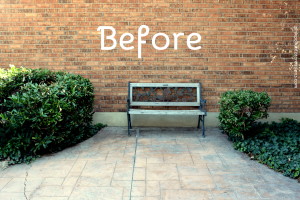 This is what this area looked like before we did the makeover. Pretty blah. I took this bench and put it downstairs on the patio, so it will still get plenty of use.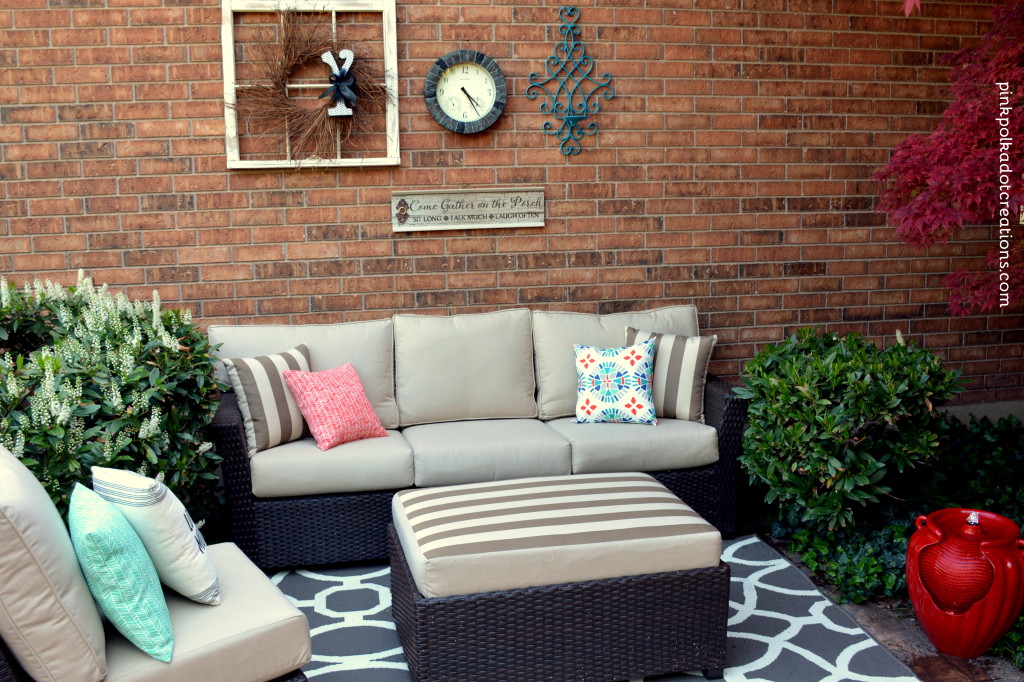 This post has many pictures, so I apoligize in advance!
I got several of the fun decor items as gifts and I love every single one of them. The red water fountain on the right is one of the gifts! The monogram window frame is one that I already had. I bought the clock and sign and repainted the old metal sconce. The pillows are all from Target and Gordman's.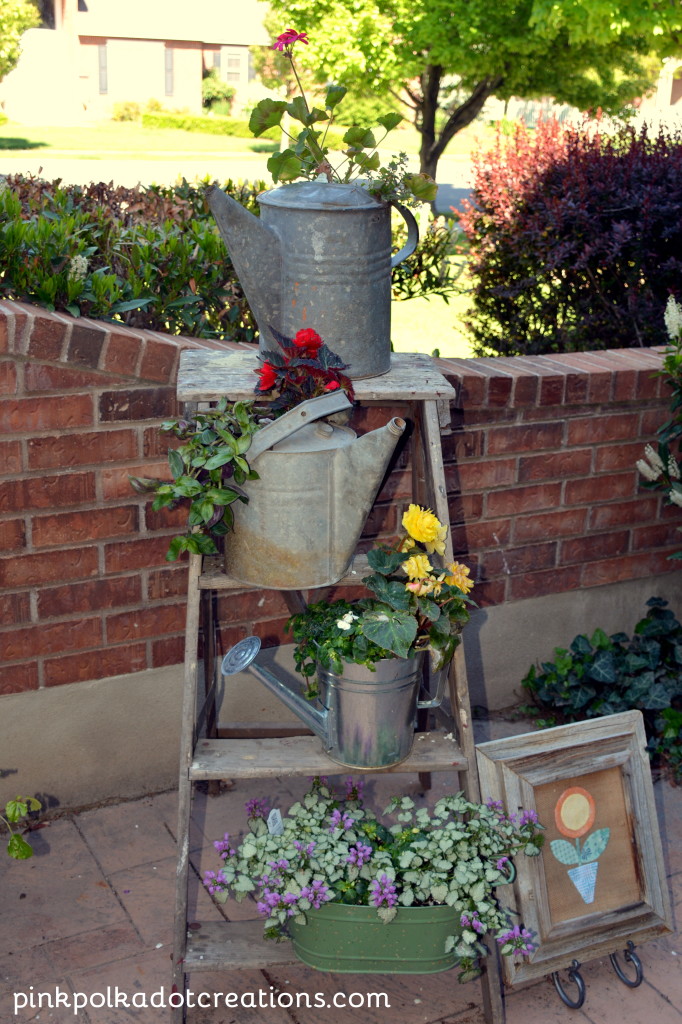 I brought my antique ladder that I got last year, up from the downstairs patio and added it to my new outdoor living space. The applique picture is the one that I made last week.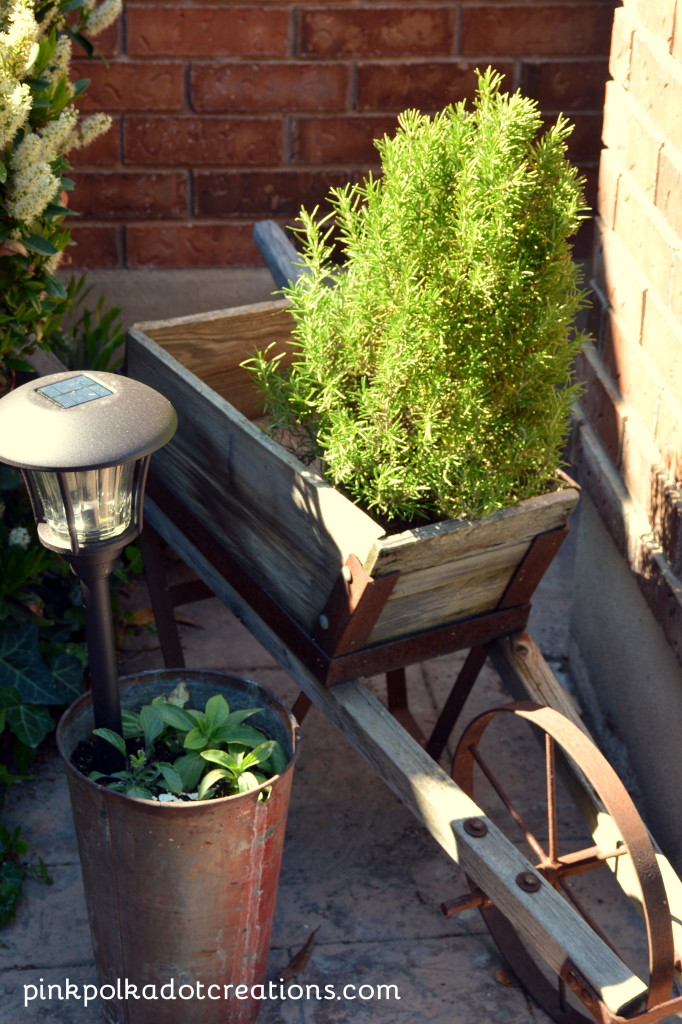 I have had this old wheelbarrow for years. I found this rosemary "bush" at Trader Joe's a couple of weeks ago and I just cannot walk past it without rubbing it between my fingers and savoring the wonderful rosemary aroma! The antique tin in one that I found last year and the solar lamp in it is so pretty at night!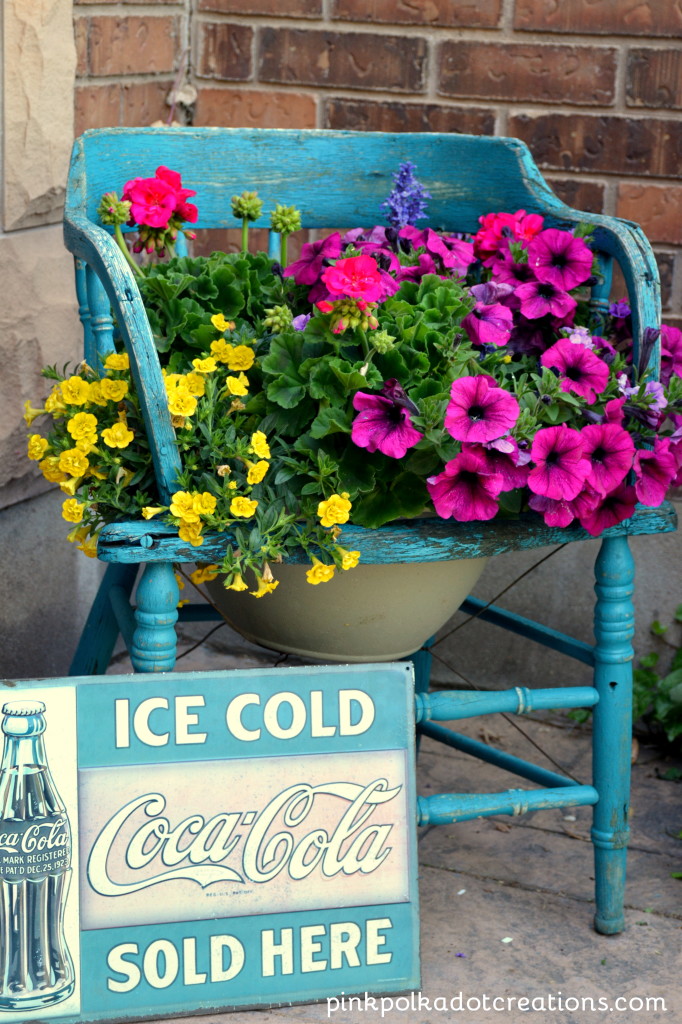 This is my antique chair that I found several years ago. It always has a place on the front courtyard every year! It is one of my favorite pieces!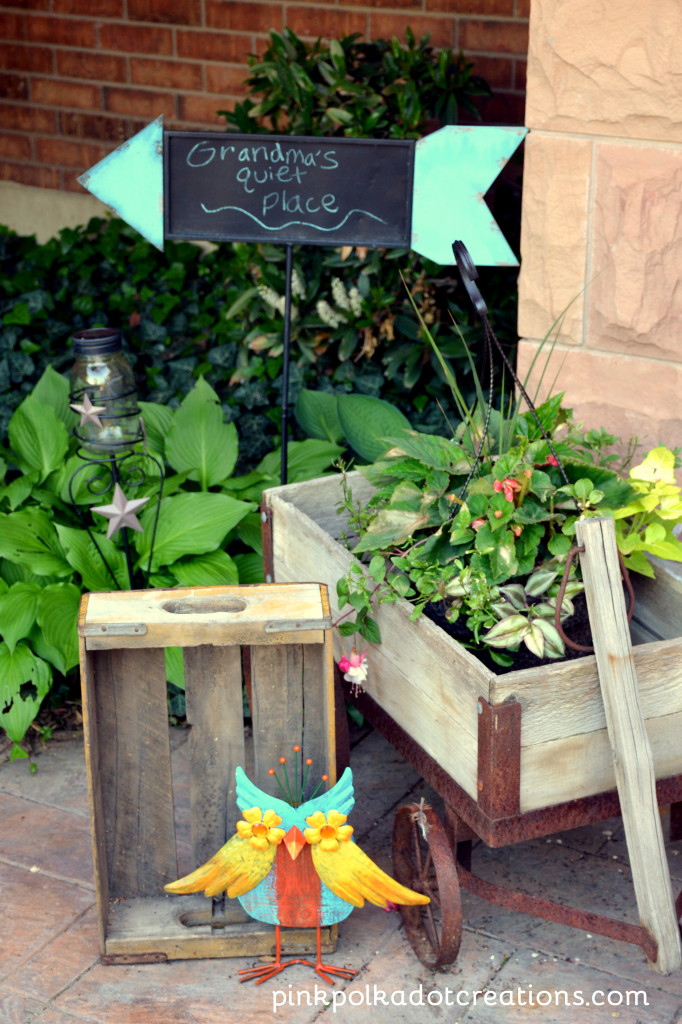 I got this wagon the same time as I got the wheelbarrow. An old neighbor built them many years ago…and I still love them. The darling owl was another one of the gifts that I recieved and isn't it just darling! The mason jar solar light looks so cute at night and it lights up this little corner!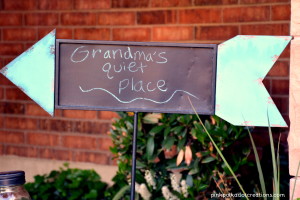 My granddaughter wrote on this chalkboard sign…and I think she hit it right on the nail!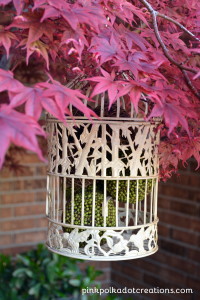 This cute little birdhouse is a recycled one and it looks perfect hanging in my Japanese Maple tree.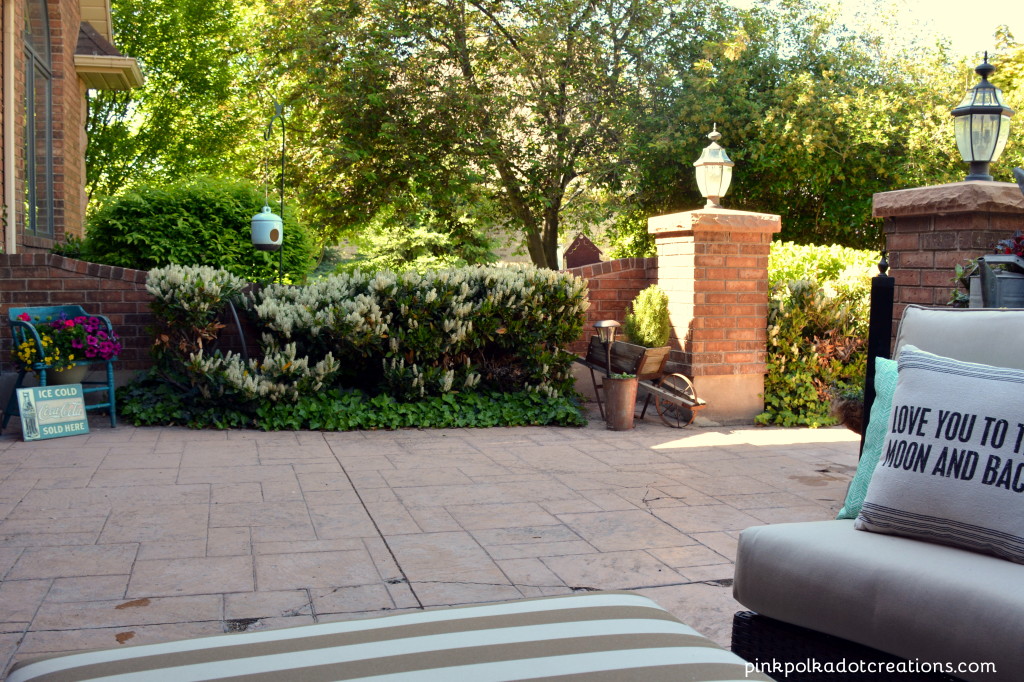 This is my view from the couch!! I love listening to the leaves in the wind, and the fragrant scents from all the flowers and just being outdoors! As you can see, it is very secluded from the road with the brick walls. This truly is my little hideout! :)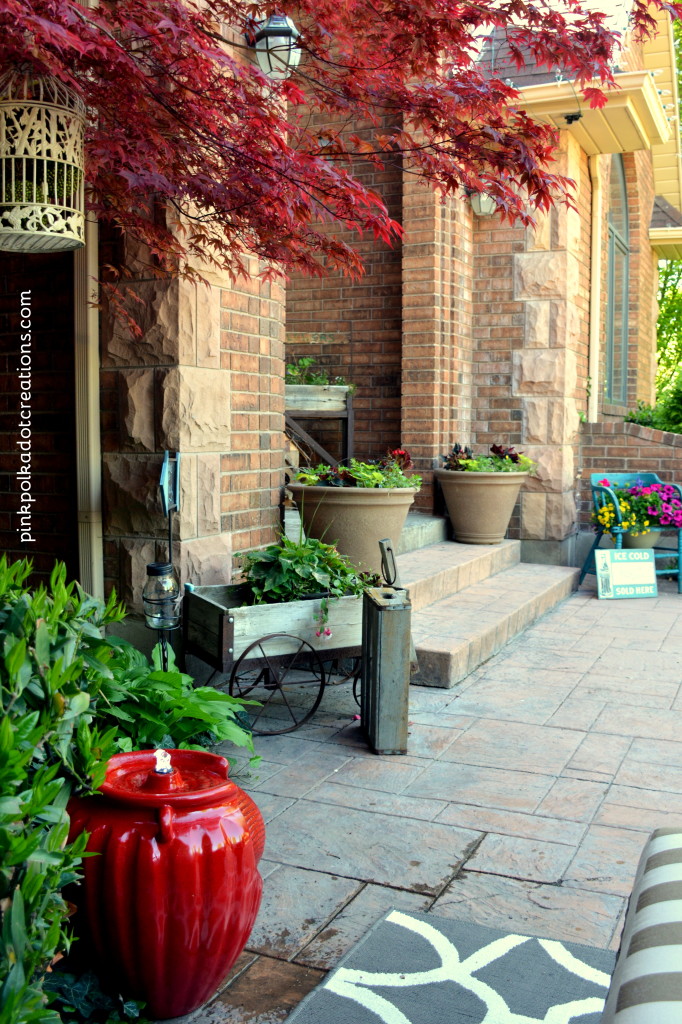 This is my view on the left side from the couch. The gurgling sound is so relaxing, I think I just might need a nap or two!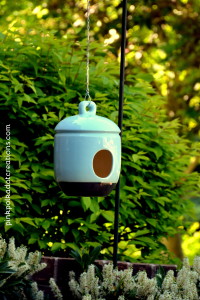 One more gift…this darling ceramic birdhouse! It doesn't get much cuter than that!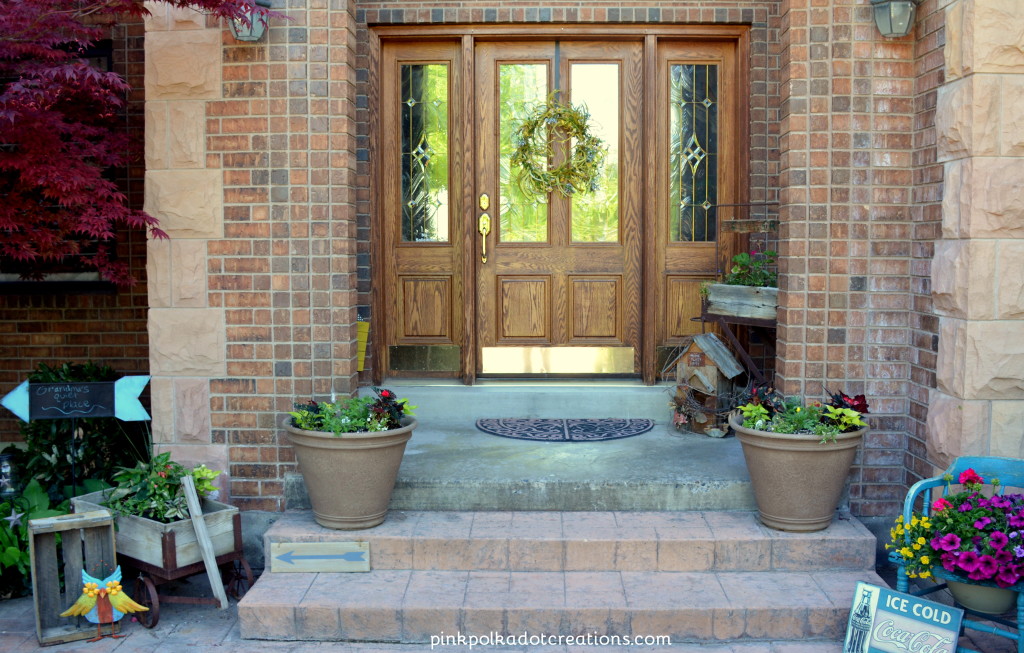 This is my entry way. The couch is off to the left. I am truly loving my outdoor living space and I just might have to take up reading a little more now!
Hope you enjoyed my outdoor living space and that perhaps you got and idea or two to decorate your own space. Do you have a favorite outdoor living space! I hope that you have a place that you can go to enjoy the great outdoors and to just be one with nature!
Thanks for Visiting!