I don't know how many of you have seen on Pinterest or out there in blog land, these spice racks from Ikea used as a book shelf. Well, I saw the idea about a year ago and I have literally been waiting that long to get some!  They have been back ordered, in stock and out again for over a year!  My cute neighbor, Susan, called me last week and said that she was at Ikea and they had some in stock and did I want her to pick some up for me!  Don't you just love friends that watch out for you!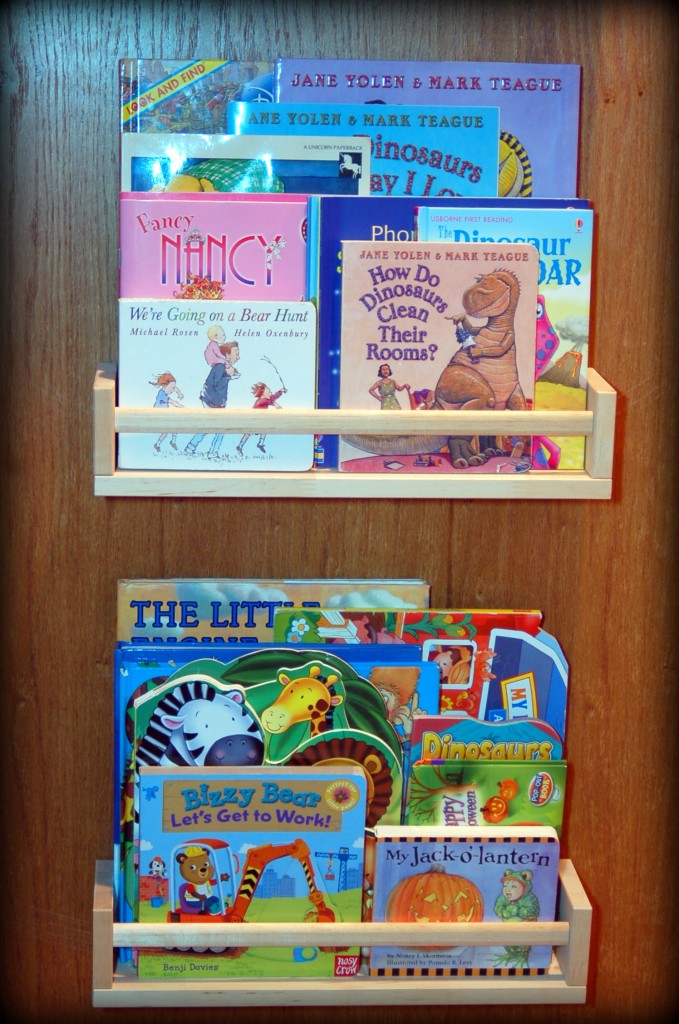 I forgot to take a picture of the package, but this is what they look like when they are put together.  They take 2-3 minutes to put together.  They are very inexpensive (only about 3 dollars each!)  I put mine up with heavy duty command strips, because they are on a hollow door and I did not want to put holes in my door!
**Note- the command strips only held up for a day or two, so I ended up putting small screws in my door.  I really have these shelves loaded up, so if you want to use the command strips, you will not be able to put a lot of books on your shelves!**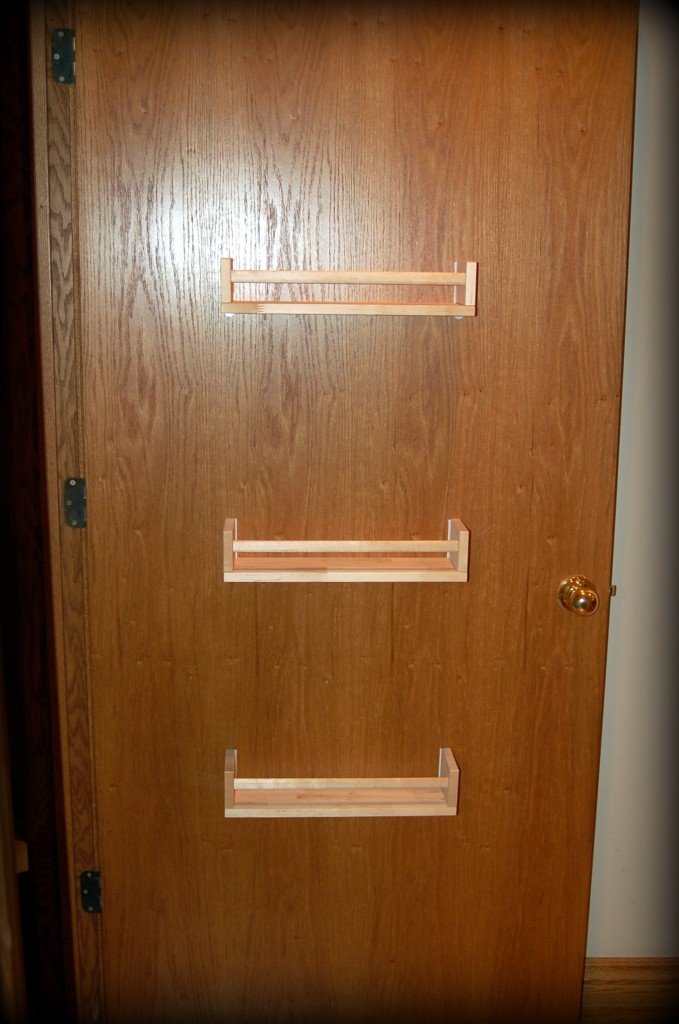 This is what my closet looked like before:  do any of you have a closet like this?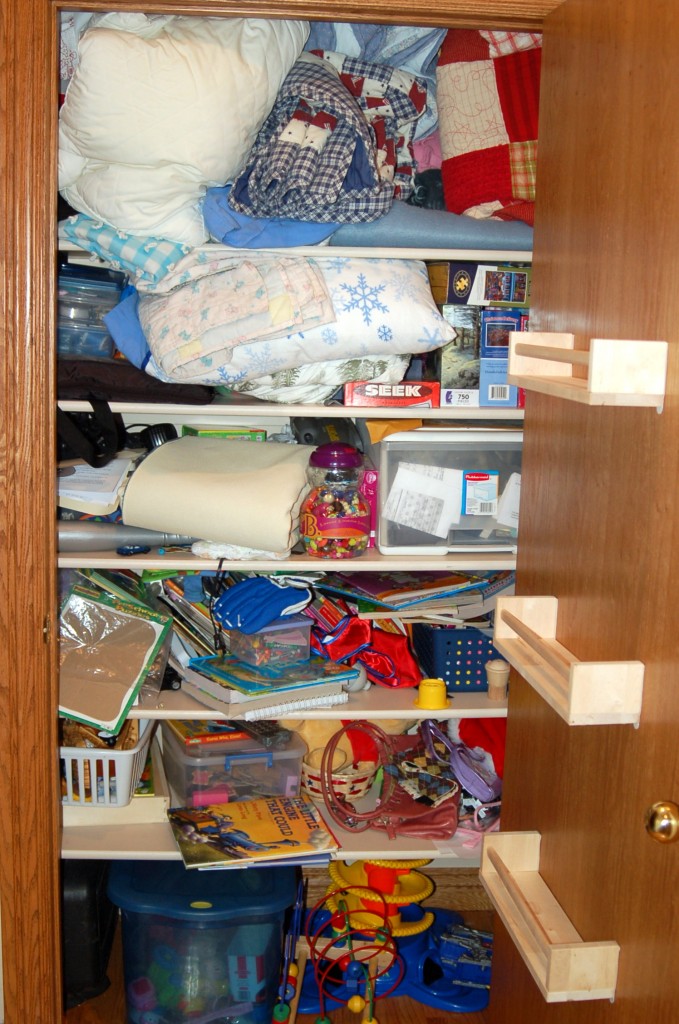 I love how a simple little project can lead to organizing my whole closet!!  This is the toy/ extra blankets/ puzzles/anything that didn't have a home closet!  But now the kids can see the books and I organized them so that the preschool books are on the bottom shelf.  The beginning readers on the middle shelf and the older readers on the top.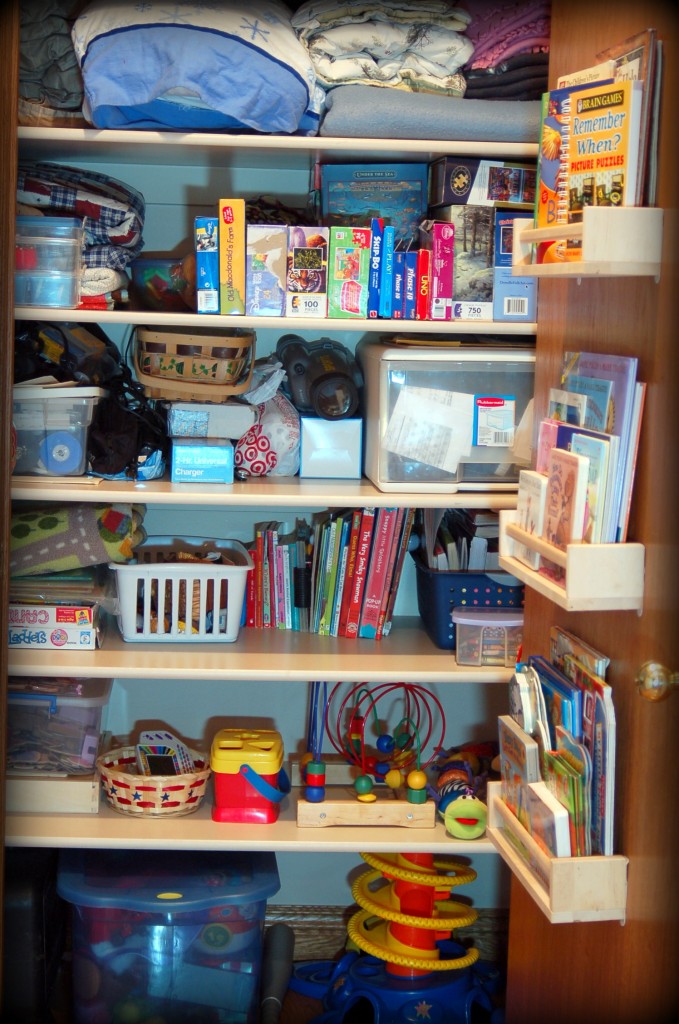 I love how organized this now looks and it will be easy for the kids to see what books are there and it makes it easy to put them away!  I will change out some of the seasonal books so that there will be new books to read.  I love children's books and I love that now they are displayed and we can see what we have!  The grandkids love this closet and they love to read books, so I think that they will love this toy closet even more the next time they come. I could throw a bean bag in this closet and have a little reading nook!
What project have you done that is so simple, yet it gets you so organized?  I would love to hear.
Have a great day everyone!  Love Ya!
This post is from pink polka dot creations. If you are not reading it from our feed, it has been STOLEN. Please contact Rita to let us know. Please enjoy the posts!