Hey, everyone…I am so excited today to have a special guest blogger! It is my 10 year old granddaughter, Kinly! She has designed a special treat for you, it is this Lucky Charm Bingo Game. She is learning how to create printables and how to edit photos and so we decided that it would be fun for her to create a post just for you!
Hi! I'm Kinly. My grandma has been teaching me how to do a lot of cool things, and I love to do it with her.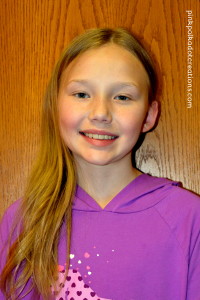 I made up this game and I hope you all like it. There are five playing boards and one calling card. You can play this game for parties, family home evening, school class parties, or at your grandma's St. Patrick's day party.
You can use lucky charm cereal, dots, skittles, pennies, or your favorite candy for game pieces. All you need to do is print the game boards and the calling card. Cut the calling card page into squares. Everyone needs a game board. Then put all the squares into a hat or mix them up and put them in a pile.
These are the game boards:
These are formatted to and 8.5 x 11 size page so you can just print your own games. To print as a jpeg, right click over the image and go to "save image as" then save in a folder. You can print from there. For those of you that would like the PDF downloads just click on the links below:
lucky charm bingo calling card
This is my Lucky Charm Bingo Game…I hope you have fun playing! I want to thank my grandma for letting me do it. I hope you can make some great family memories. At home or at school. And have a happy St. Patrick's day!
If you need another fun game check out my grandma's Don't Eat Lucky game!
Thanks for visiting!
Thanks Kinly! You did a great job and I am so proud of all the things that you are learning! She did all the editing on the photos, and created all of the game boards with very little direction on my part! Kids now days are just too smart! :)