I have a fun gift idea that I want to show you today…It is this wonderful Spa Gift Basket & Foot Warmer!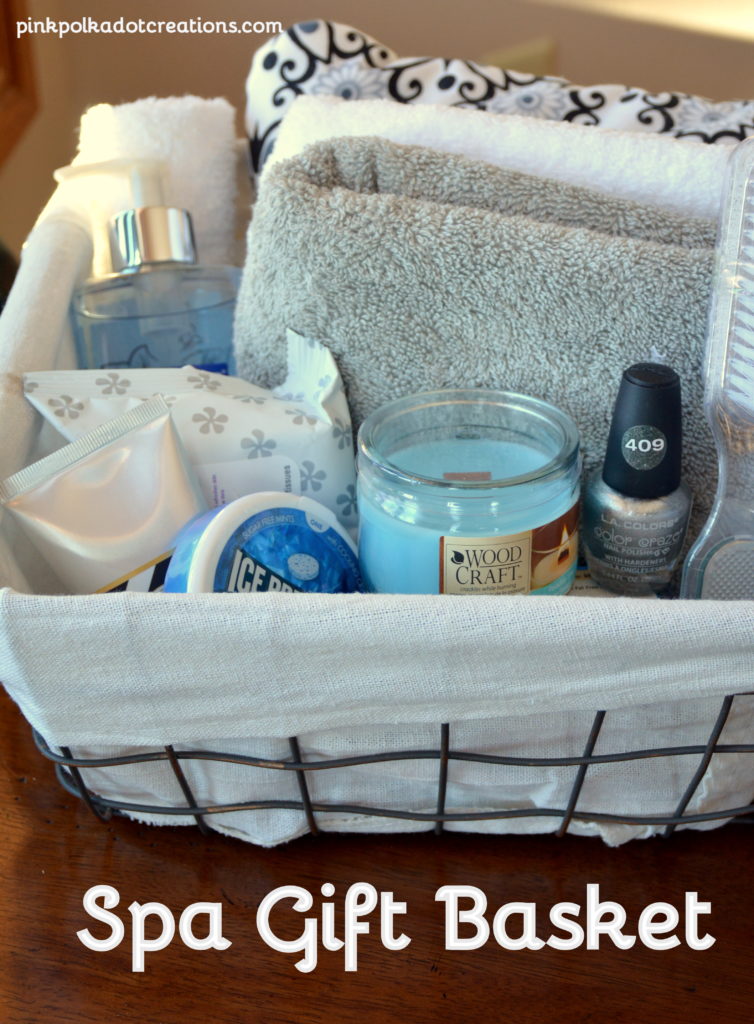 My sister gave me this basket for Christmas and I have really enjoyed it! I have one confession to make though…this basket had a bag of white chocolate candies that I devoured before I took the picture! :)
There are all sorts of goodies in here:
Pedicure Brush
Nail Polish
Candle
Lotion
Facial Wipes
Wash Cloth
Hand Towels
Liquid Soap
Mints
and a delightful foot warmer!
The foot warmer is a rice bag that has a pocket to put your feet in! My sister made the bag. It is a cozy minky fabric on the top of the bag and inside the pocket with a fun flannel on the outside of the pocket! This is perfect for our FREEZING winter weather!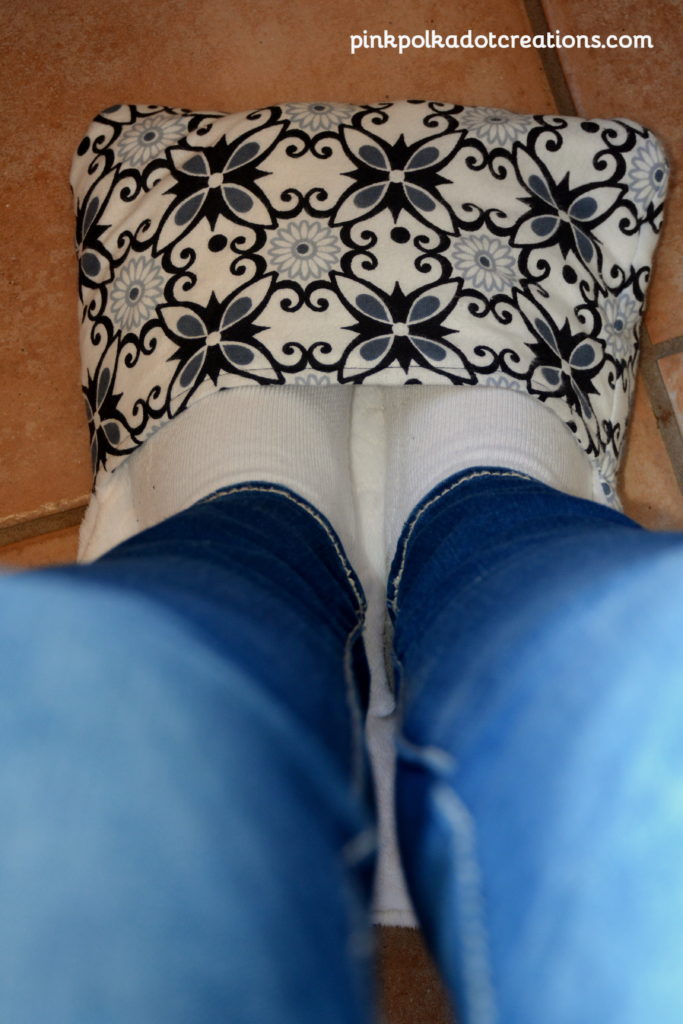 Aahhh! This feels so good!
Do you want to make a spa gift basket & foot warmer? They would be a fun birthday present. A great idea for the runner/athlete in your life! Or just a fun way to pamper yourself!
To make this basket, you will need a fun container. I love this lined wire basket with the handles. It will go with most bathroom decor.
Start filling the basket with goodies that you know you will use. The towels can be color coordinated with your home decor. My sister filled it will blue items because that is the color of my bathroom. But you can use any color that tickles your fancy!
The rice bag is about 10″ x 13″ and the pocket is 10″ x 6″. If you have simple sewing skills you should be able to make this.
First cut 2 of your fabrics for the main part of the bag, 10 1/2″ x 13 1/2 ". Then cut 2 pocket pieces 10 1/2 " x 6 1/2″ inches.
Place pocket pieces right sides together and stitch along one 10 1/2″ side. Turn pocket pieces so wrong sides are together and top stitch 1/4″ along the sewn edge.
Then layer minky piece on the bottom with the right side up. The pocket piece goes on top of that with the right side up. Lastly, the bottom piece goes on top of the pocket, right side down. Pin in place. Sew around the three sides that enclose the pocket. Turn right side out. Fill the bag about 1/2 full of rice. Turn the bottom ends in 1/4″ and top stitch across the bottom to close it up.
Easy Peasy!
I love my new Spa Gift Basket & Foot Warmer…I have the best sister ever!!!
If you need a few more ideas to put in your gift basket, check out the Marathon Gift basket that I made for my DIL.
Hope you have a Spa-Delightful Day. Thanks for visiting!