Our cabin was in the middle of a large wildfire about 10 days ago and I am so happy to announce that we were so fortunate to survive the fire with only some landscape damage and minimal damage to the inside of the cabin! After going up there and seeing how close the fire really was…it was very humbling! The Summit County firefighters were amazing! As we looked around we would see cabins that were burned on 3 or all 4 sides, but the cabins themselves were saved! So I have to say a great big THANK YOU to all those firefighters and the many others that were involved in this huge undertaking.
This collage shows how widespread and yet how close the fire came.


The picture on the left is the whole side of the mountain that burned completely! It is across the gully from us, but this picture is taken from our front deck. Top right is our driveway, so that is how close it came on this side! Bottom left is what is left of a wood pile that we had just below our lawn on the other side!

These next pictures are the back view of our cabin from the road up above us looking down and from our back steps looking up the hill. It is all pretty much gone with only black left behind! This fire came right down to our driveway by the back door! It wrapped around to the side of our cabin, so we had burn area on all 4 sides of the cabin!
But like I said, we are so fortunate to still have our cabin and the view from the deck is still beautiful! These trees were spared and our front yard still has a beautiful view!
We had a few deer friends come to visit us and it made me so happy to see them! I was quite worried about how they survived all of this disaster! We have not seen any of the baby fawns yet and I am hoping that their mothers helped them and that they will all return soon!
When we went for a little ride around to some of the other cabins we saw these two bucks walking across the road right in front of us and they are two of the bigger bucks that we have seen up here in quite awhile.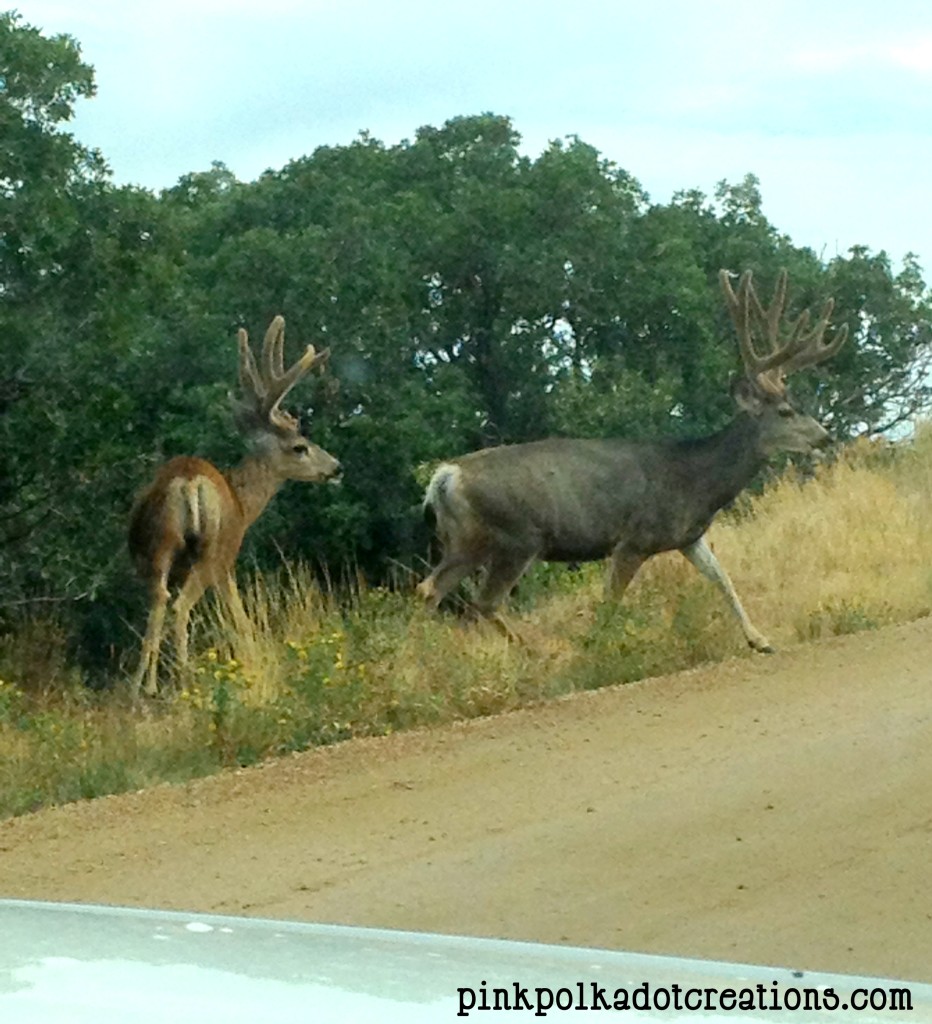 We survived the fire disaster with minimal damage to the cabin, but when we arrived we were met with another big mess! When they turned the water back on to the mountain, it blew out one of our water lines and we had a big flood in the basement! Our whole entire basement was in water! Luckily, we were meeting our insurance adjuster there and he was able to get us immediate help. Within 2 hours a disaster response unit was there and within a matter of just a few hours, they had all the carpets ripped out, the water sucked out, the floor boards and sheet rock cut out and the fans and dehumidifiers going! They hauled all the mess away and will be back in a few days to start putting it all back together!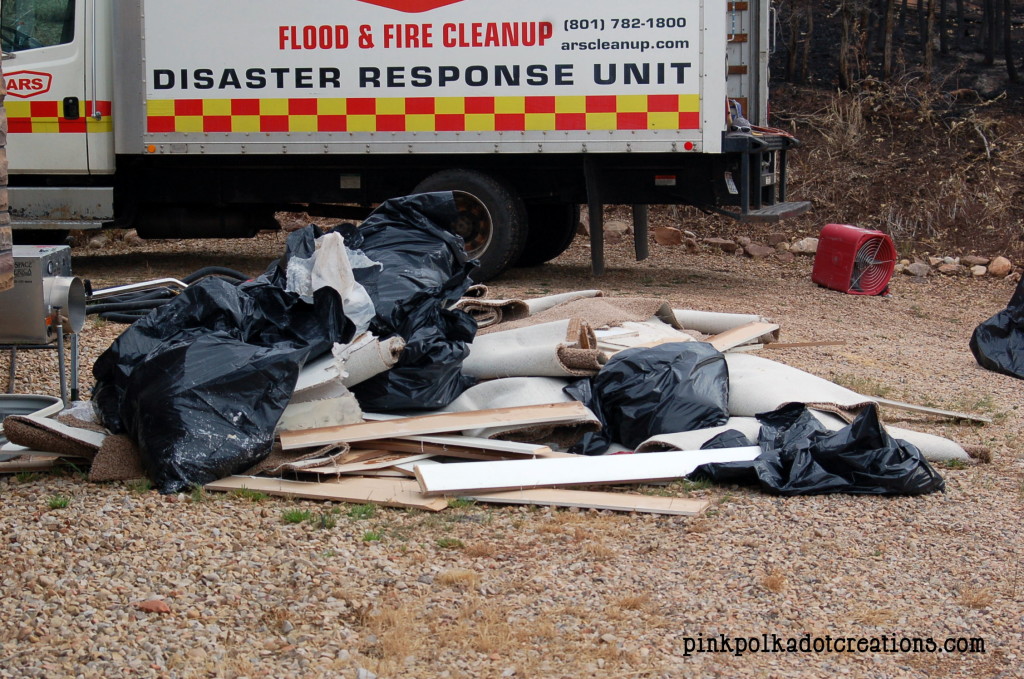 So even though it was a mess, we are lucky enough to have it well under way to being taken care of!
I am so grateful for all those that helped with this fire and my heart goes out to all those that lost their homes!
Fire is such a devastating thing and yet it creates room for new growth. There are already new blades of grass poking up through the charred ground!
I hope that you all have a great day, and that we can all have a thankful heart today!
Love Ya!
Keep in touch…Like on Facebook and Pinterest!