Pantry Organization
Have you ever heard of how people pick a word to represent what they want to work on for the new year? This is something that I have never done before, but this year I decided that my word is going to be:
Organize
Lots of people get organized right after Christmas, but I am hoping this will be a year long goal.
I have already started planning in my planner and written down different areas of my home and my life that I would like to get better organized.
The first project that I have done for the new year is my pantry organization!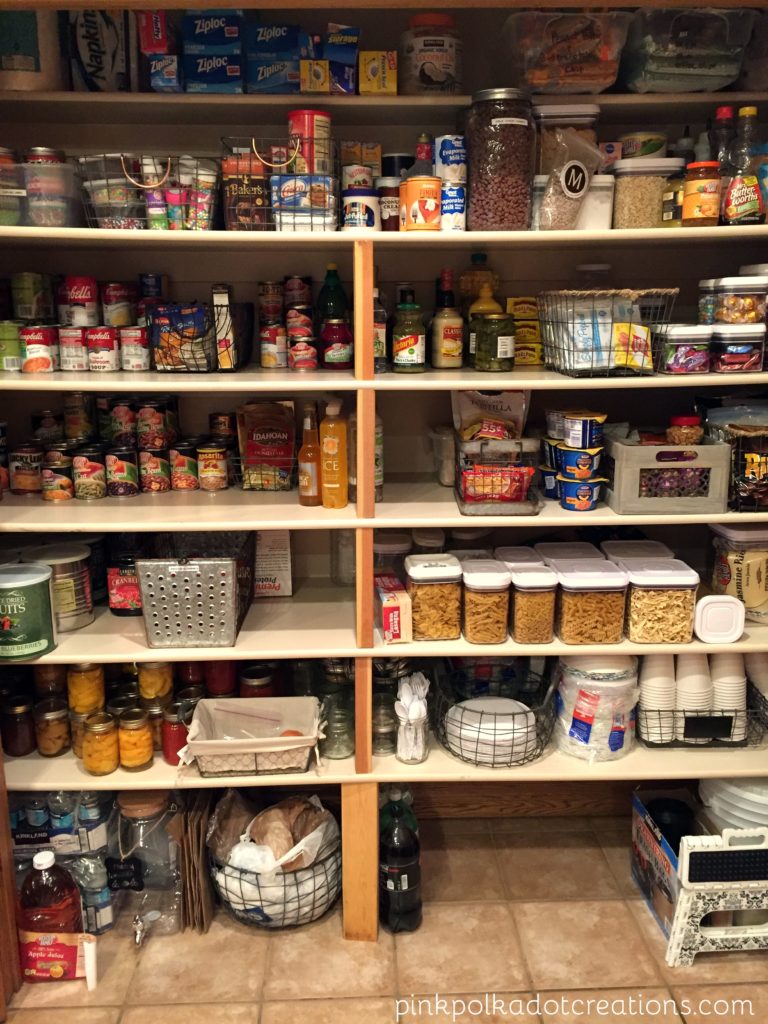 This is what it looks like now!!!
Our house is twenty plus years old, and I was thrilled to have this pantry when we moved in! It is right in my kitchen and I have always loved it.
Everything is right there…but this is not how it has always looked!!
Oh Nooooo…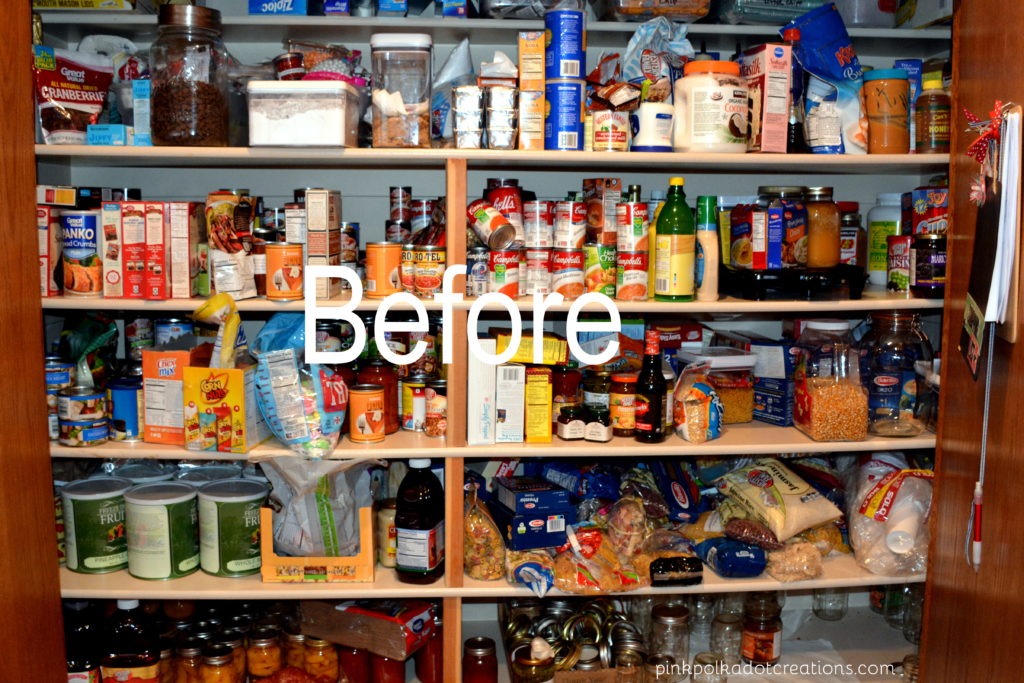 Okay…so this is how it used to look!
We would cram everything in there and then wonder why we were buying doubles when we went to the grocery store and did not realize that we already had three of what we just bought!!
Sound familiar??
With the some ideas from one of my DIL's , Anne Marie, I was able to find many solutions to my pantry organization!
These pictures are of Anne Marie's pantry.
She has a beautiful new home with a walk-in pantry. Her pantry has more room than mine does, but I was still able to incorporate a lot of her ideas.
One of her suggestions is that you should only store the things that you are currently using and to get rid of everything else!
And, she introduced me to the ideas of baskets to group certain food items together.
As you can see from the picture above, she has room to make her pantry cute as well as very functional!
(Love the straws and gumball bottles)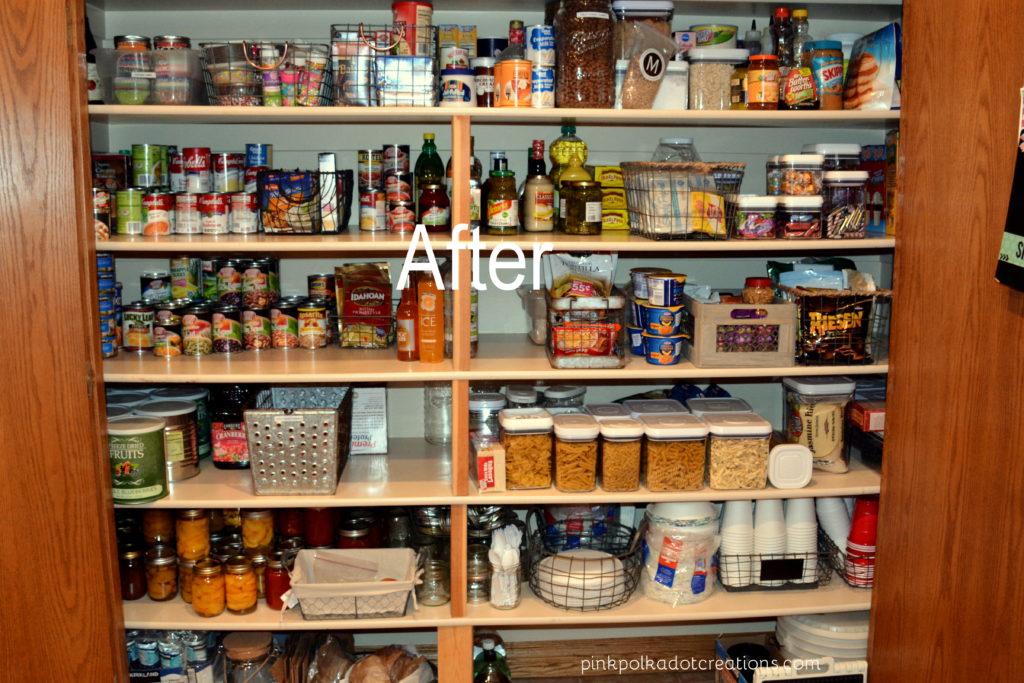 So, this is what my pantry currently looks like!
I love that I can see exactly what I have and what I need to buy when things run out!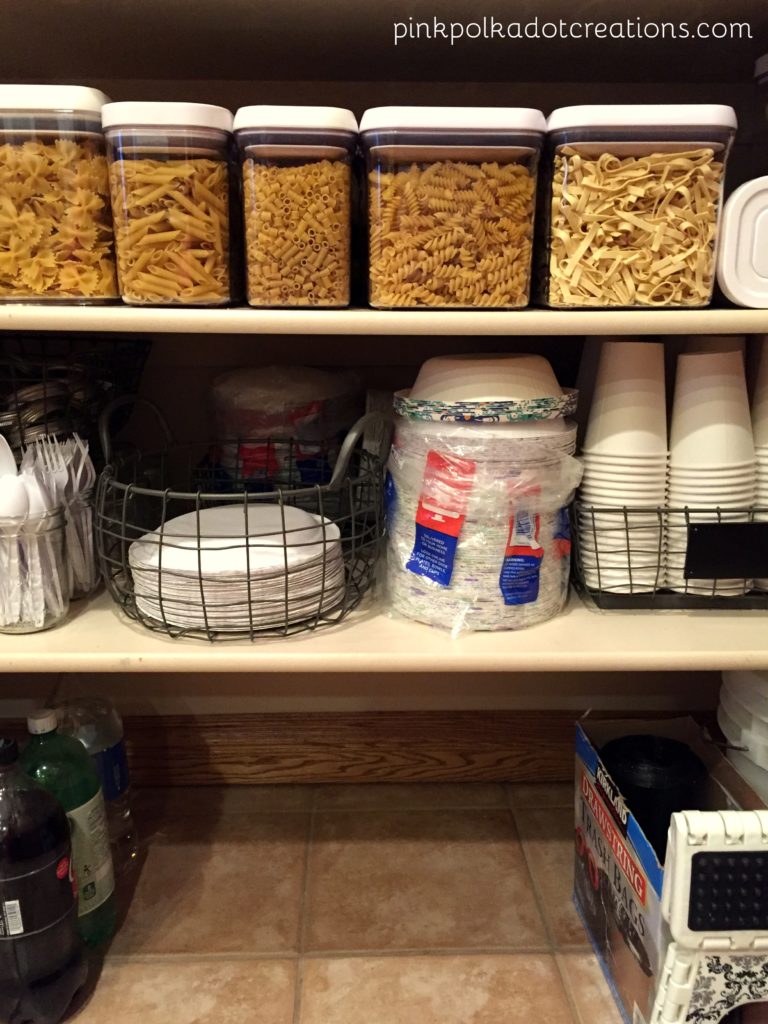 A good place for me to start was with all the pasta, beans and rice. They were just piled on the self and I had to rummage through everything to find what I needed.
XO containers are perfect for these items. If you are concerned about not having the directions or food nutrition labels in these containers…just cut them off the packaging and put them inside!
I did this with a few of the containers, but for the most part pasta is pretty basic to cook and if you are using it in a recipe, the recipe will tell you how to cook it!
The paper goods were partly stored in another cupboard. Now they are all together and every time we get together to eat the kids can get whatever they need.
Putting some of the items in baskets, not only looks nice, but will keep everything contained!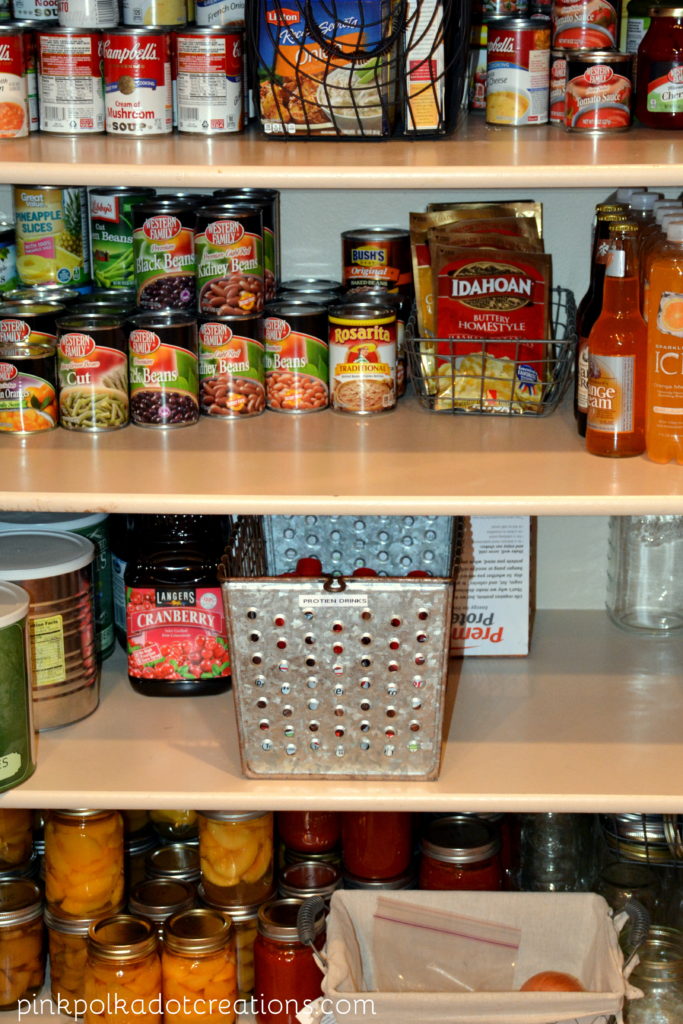 Move all the canned goods together and then sort them in a way that makes sense to you.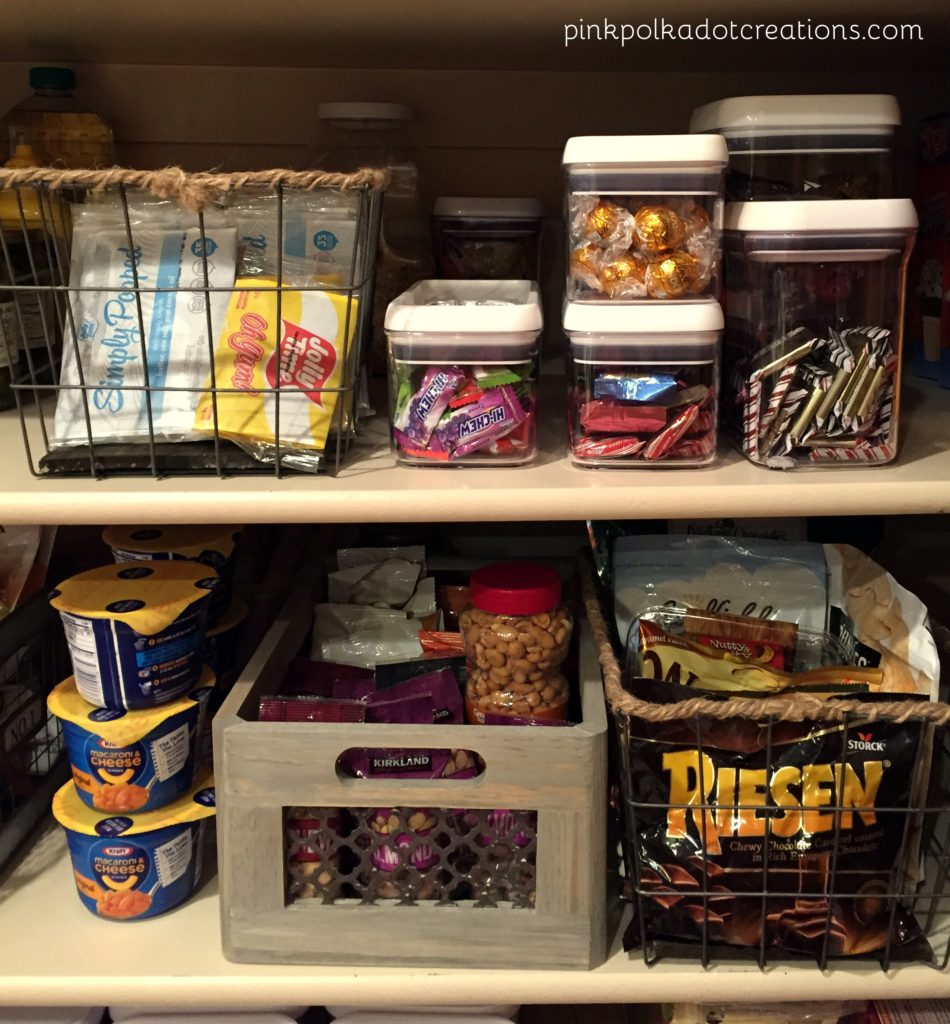 Anne Marie had treats in her pantry and I really liked that idea.
When the grand kids are here they can just help themselves! We have always had treats at our house and the kids are welcome to anything that they like.
If they know it is always going to be there, they only take what they can eat, because there is no need to hoard!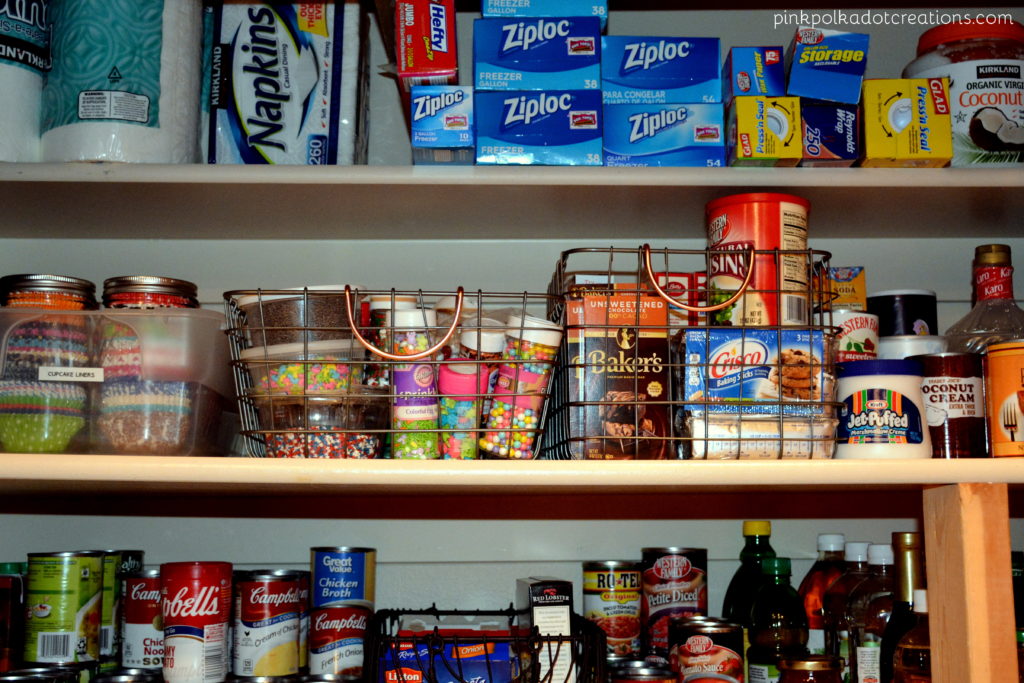 There is an entire shelf dedicated to my baking addiction! From cupcake liners, and sprinkles to bottles of chocolate chips and sugars!
Does this make you want to go bake something now! :)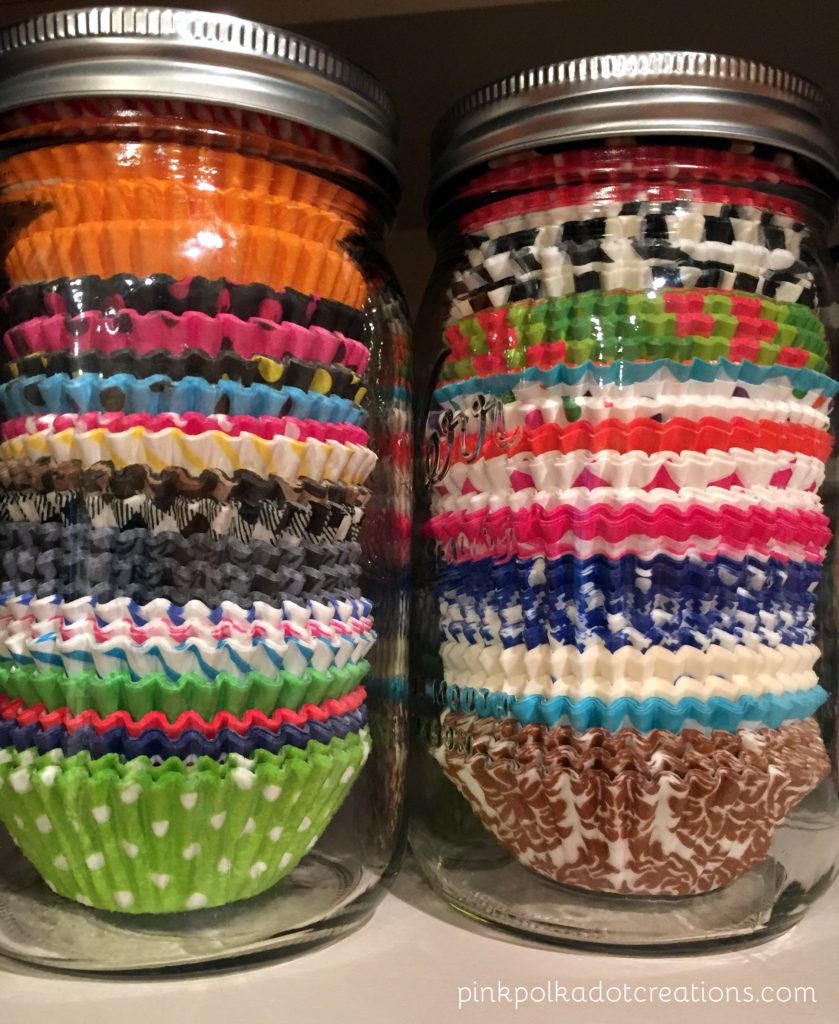 This is one of my favorite little tips!
Put all of those cupcake liners in a mason jar! They not only look pretty, but you can store a ton of papers in one jar.
As you can see, I kind of have a problem!!
I was able to take several boxes to the food bank and I know they will put it to good use!
My hope is that it will stay this way and I will always be able to see what I need and where everything is. It is fun to just open the doors and stare at my organized pantry!
What is one of the goals that you are working on for 2018?
Thanks for Visiting!