Call me insane…but I am doing the Lori Holt, "Bee Happy Sew Along"!
This is Lori Holt's newest sew along.
All of these blocks are part of a "Jump Start"!
The sew along does not even start until next week!
My oh My! What have I gotten myself into this time!!
I have discovered in this "jump start" that this quilt is very labor intensive! It is going to require a lot of time and I sure hope that I will be able to see it through to the end!
This is what the finished quilt should look like. She got me with the vintage glamper and the pickup truck with the puppy in the back!
Had a hard time finding any quilt shops that would cut a kit, because there are so many different fabrics and it was very labor intensive to cut.
So, I just bought some fat quarters and background fabrics and I am kind of doing my own colors. But that will be the fun in it!
Here is a close-up of some of the blocks. The flag one is one of my favorites.
Churn and dash quilt blocks along with pinwheel blocks. And of course there are lots of appliqued blocks!!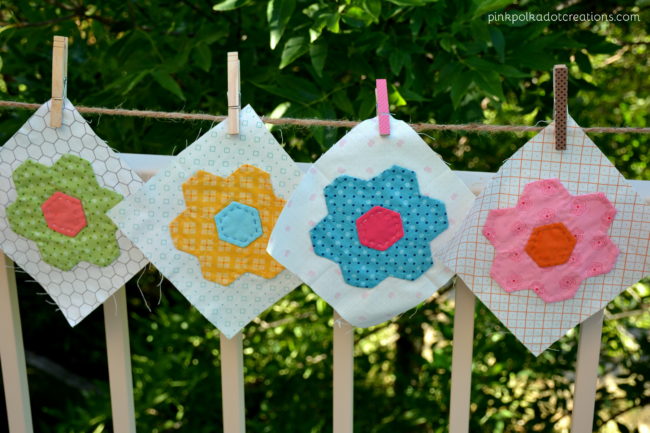 These Hexie flowers are cute…but I stitched around each of the petals and it does not even show up!
Should have done a different thread color, rather than match the fabric.
Oh well, live and learn.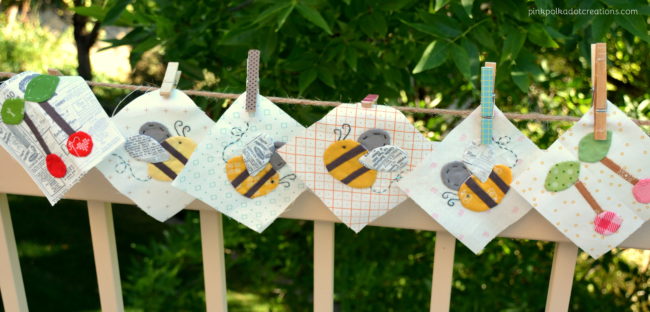 There are several of these mini blocks that are spread throughout the quilt.
A lot of details in a small square!
So these are all of the blocks that I have finished for the Bee Happy Sew Along
It is a darling quilt.
Will just have to take it one block at a time and remember that it is not a race!!!
It is more of a summer quilt, so I have until next summer to work on it…right?
Have any of you started a big project now that summer is over? It seems like the perfect time to have a fun project to work on over the cold winter months!
Thanks for Visiting…Have a "Bee Happy" Weekend!