This last weekend we had our Girl's Quilting Retreat 2015! It was such a fun 3 days and we shopped, renewed great friendships, ate wonderful food, and sewed to our hearts content…All that makes for the perfect Girl's Quilting Retreat!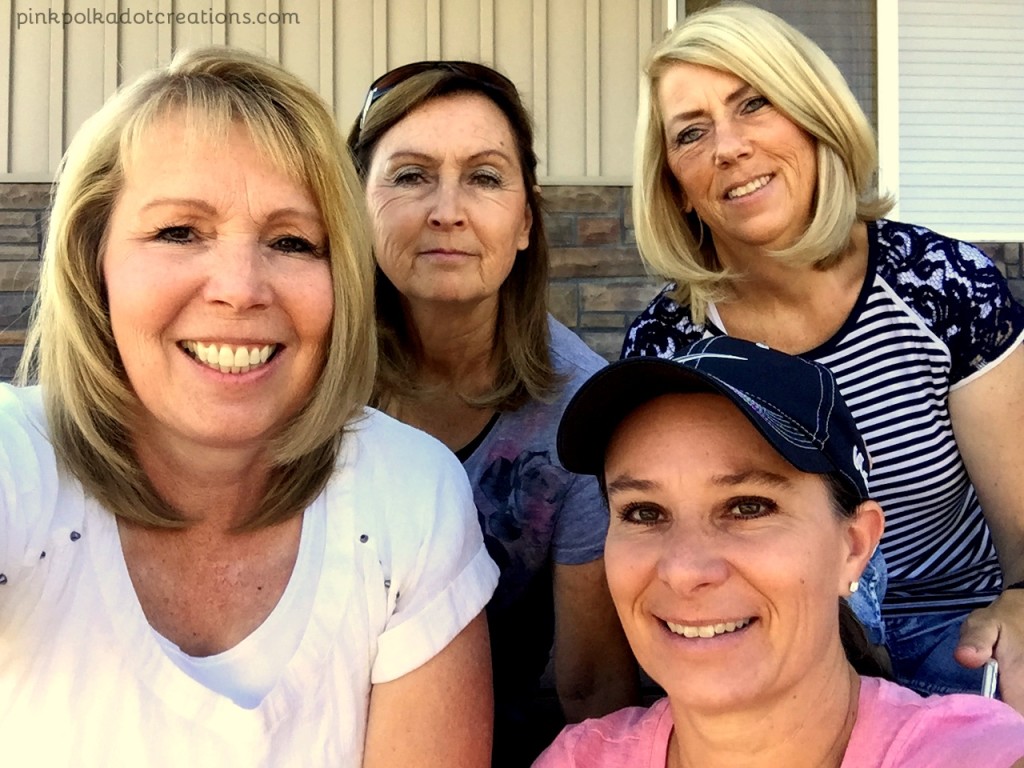 We started out on Thursday and went to Park City, Utah. We shopped at the outlets, and the shops by World Market. We ate lunch and shopped some more! One of my friend's back bumper was flapping, because she had lost a bolt…so we went into the craft store that was right there, bought some wire and wired it together! Only girls would think of a craft store to fix a bumper! Genius! We went to a quilt shop and then we headed up to the cabin, once there we just relaxed and sat and visited until one in the morning! It was so fun to be with these wonderful women. The next day we got up and the sewing machines were whirring all day long! We each got a quilt top completely put together!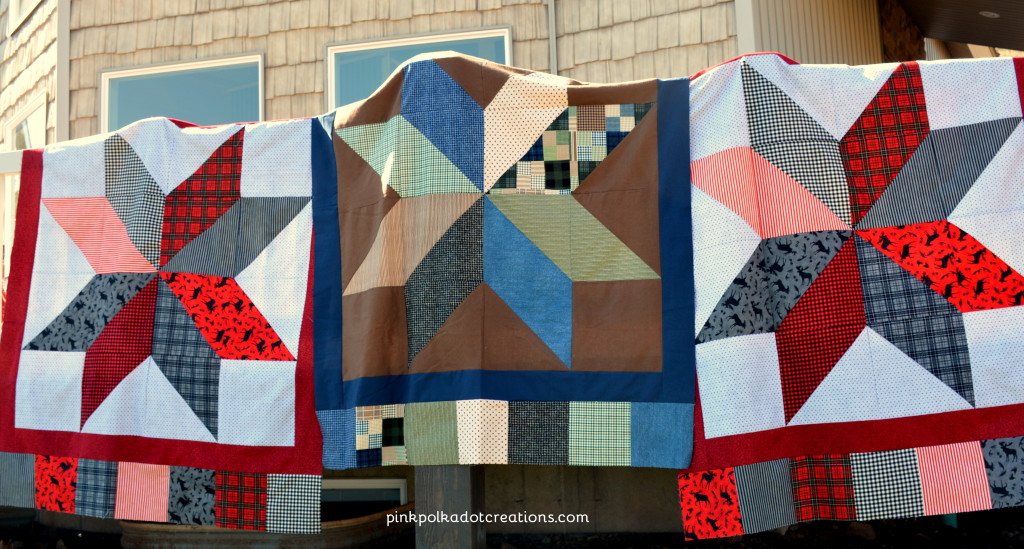 Three of us made a star quilt top. These are big pieces and we were able to get them completed in one day! Yahoo!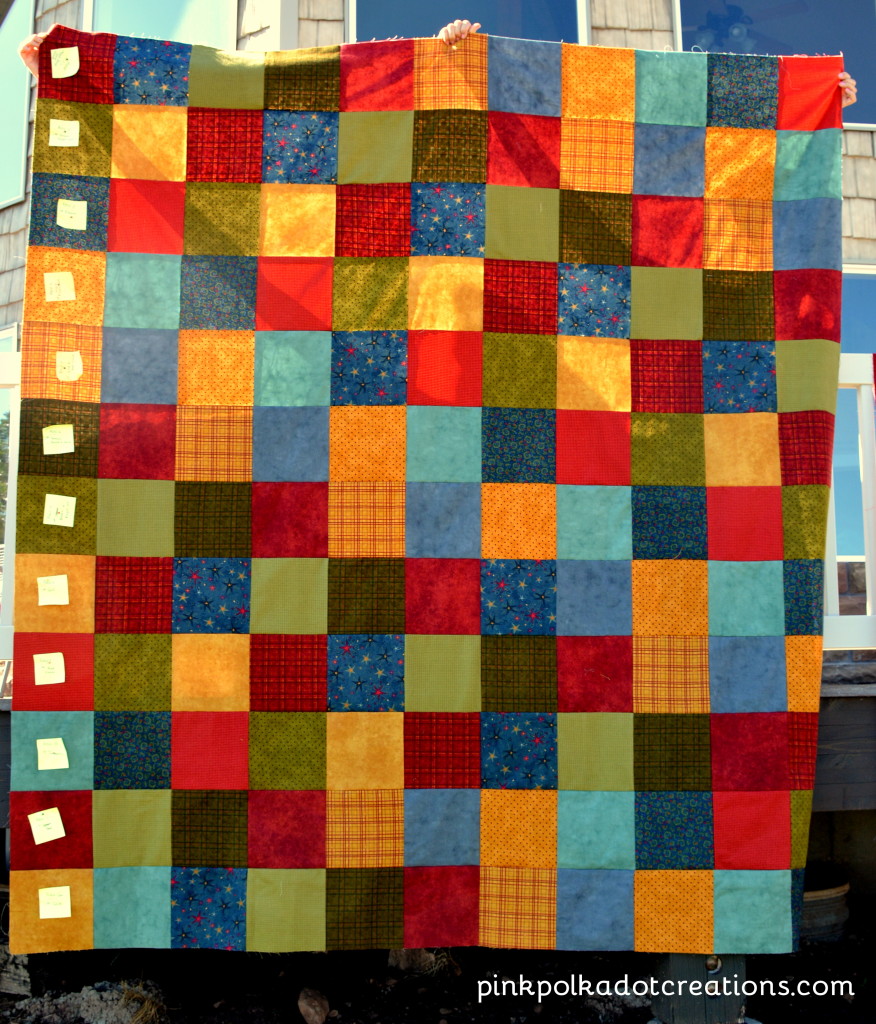 Marilyn completed this beautiful quilt top that she already had. I absolutely love the colors in this quilt!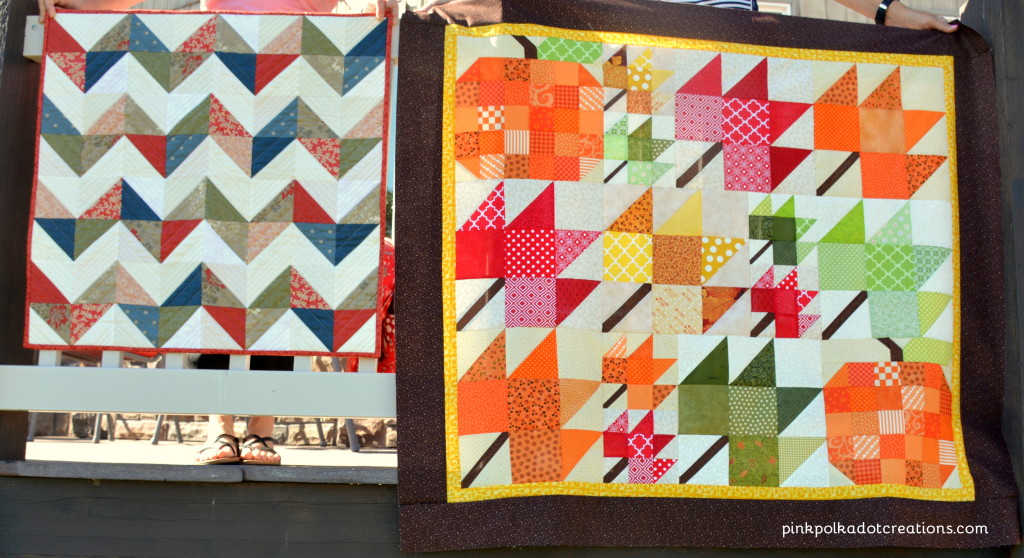 We were also able to work on some other projects that we had started. My friend, Sharee, sewed the binding on the table runner on the left. It is an everyday table quilt and I love the chevron stripes. She made this pattern up and I love how it turned out. The table runner on the right was done by my friend, Kathy, it is from the Lori Holt "Farm Girl Vintage" book. This is also a table quilt, she was able to finish this by adding the borders and it is now ready to go the the quilter! Perfect for this Autumn Season.
Both of these quilts projects just needed the binding sewn on them. The one on the right is one that I did…I will show you more details of that later. I was able to finish the binding the night that we got home. Sharee finished the Buggy Barn quilt on the left.
As usual…we had some fun visitors. The girls all had to go take pictures every time they saw them outside. The deer knew they would get fed, so they visited us often! :)
We had a great Girl's Quilting Retreat 2015 again this year. We sewed all day, ate good food, went for a hike, sewed some more, ate some more, talked, laughed, giggled, solved all of the world problems, and talked until the wee hours of the night! What more could a girl ask for?
On Saturday morning, we ate breakfast and got everything packed up to start heading home. We went to Heber City, and shopped for awhile, then we went into Midway to hit "It's all out in the Barn", a fun boutique. It was a great weekend and I am so glad that I had such fun friends to share it with! Thanks everyone!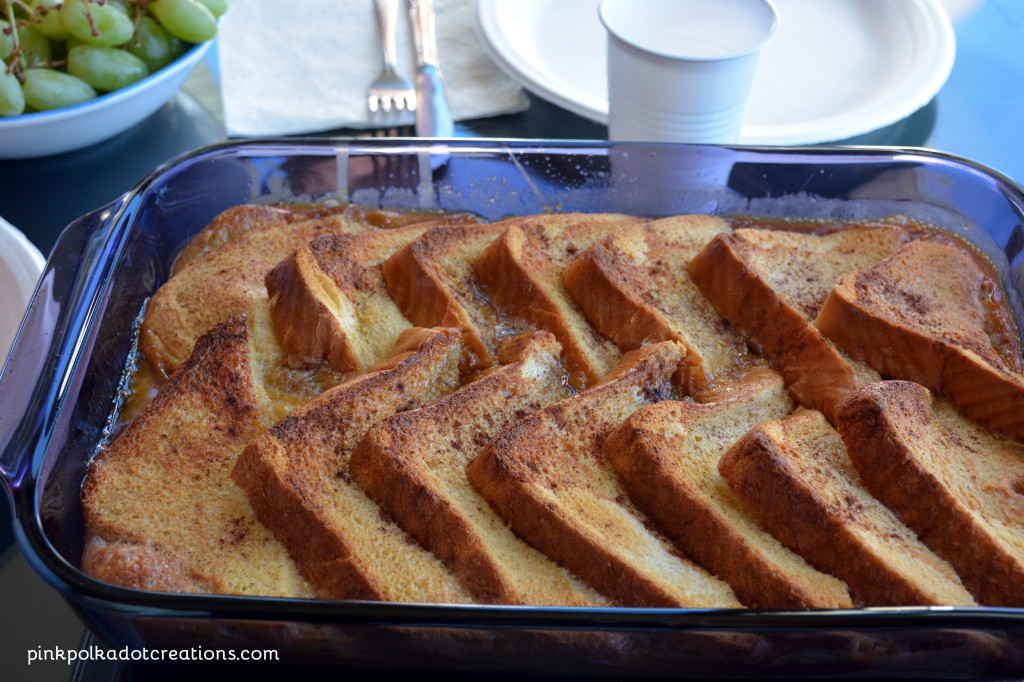 One of the recipes that is a tradition every year is the French Peach Toast. It just wouldn't be our retreat without this for breakfast one of the days! You can't see from this picture but there are peaches under the bread with a wonderful caramel sauce! I got the recipe from a Kneaders Bakery and Cafe flyer. I have altered it a bit, because that is what I do. :)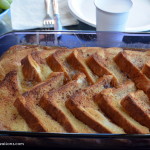 Peach French Toast
2015-09-13 22:05:26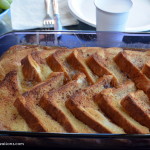 Serves 6
A delicious variation of French toast. It has peaches under the bread with delightful caramel sauce! Perfect for a special occasion.
Nutrition Facts
Amount Per Serving
Calories 682
Calories from Fat 264
Trans Fat 1g
Polyunsaturated Fat 2g
Monounsaturated Fat 8g
Total Carbohydrates 90g
30%
Sugars 47g
Protein 15g
* Percent Daily Values are based on a 2,000 calorie diet. Your Daily Values may be higher or lower depending on your calorie needs.
Ingredients
1 cup brown sugar
1/2 cup butter
2 tablespoons water
1 (29 oz) can sliced peaches drained. I used 1 quart bottled peaches drained.
7 slices french bread, cut in half
5 eggs
3/4 cup cream
1 tablespoon vanilla
cinnamon
Instructions
In saucepan, stir together the brown sugar, butter and water. Bring to a boil, reduce heat to low and simmer 5-7 minutes stirring frequently. Pour brown sugar mixture into a 9 x 13 baking dish, cover the bottom evenly. Place peaches in a layer over brown sugar mixture, then top with the sliced french bread. In a separate bowl whisk together eggs, cream and vanilla. Slowly pour over the bread slices to coat evenly. Sprinkle cinnamon over the top. Cover with foil and refrigerate for 8 hours or overnight.
Preheat oven to 350 degrees F. Remove the dish from refrigerator about 30 minutes before baking to come to room temperature. Bake covered for 30 minutes; uncover and bake 25 to 30 minutes, or until bread is golden brown.
Notes
This recipe is wonderful for those occasions that you need to prepare ahead!
Pink Polka Dot Creations http://pinkpolkadotcreations.com/
I am so lucky to have such great friends that like to do the things that I like to do! I hope that we can continue this tradition for many years to come! Do you have friends that you get together with to share in your favorite things? I hope so!
Thanks for Visiting Today! Hope you are having a Marvelous Monday!