We had our Grandma's Sewing Camp – Part 2…this week and boy oh boy did we have a good time!
This was a continuation of Grandma's Sewing Camp -Part 1
These girls are so much fun and they get along so well with each other.
They all worked hard on the first day, arranging all of their sewn blocks the way that they wanted them to be. It took a little bit of arranging and re-arranging before we got them the way that they liked!
Then they started sewing all of the blocks together in a row. When each row had been sewn, we decided it was time to quit for awhile.
Out of the blue, we decided to make slime. I had all of the ingredients on hand and my oldest granddaughter knew all the tricks to making the best slime ever!
We had pizza for dinner and they all went swimming for a couple of hours!
The girls swam, choreographed a water danced, and just had a great time!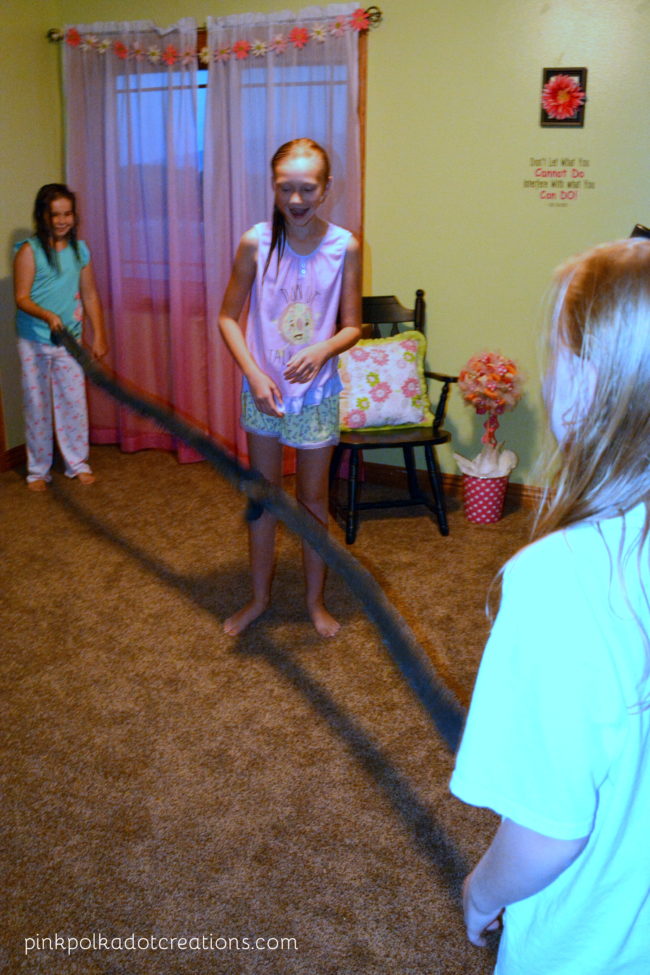 After getting cleaned up, we went back upstairs to work a little more on their quilts.
But…I couldn't find them after a few minutes…
They had gone into another room and were jump roping with a piece of minky fabric that they found and tied together so it would be long enough!
Girls will be girls!
In the morning, we made turquoise blue pancakes!! By request from a couple of blue loving girls!
(Notice the containers of slime at the end of the counter!)
Then it was back upstairs for a full day of sewing!
I had to help with sewing the rows together, because there were so many layers of fabric.
With the help of a walking foot, we were able to get a lot accomplished.
We stopped to go to lunch at Kneaders. Then the girls talked me into going to Target to try to find some newfangled toy that they had all heard about!
And of course, I am a sucker and off we went, thinking that there was no way we were ever going to find them!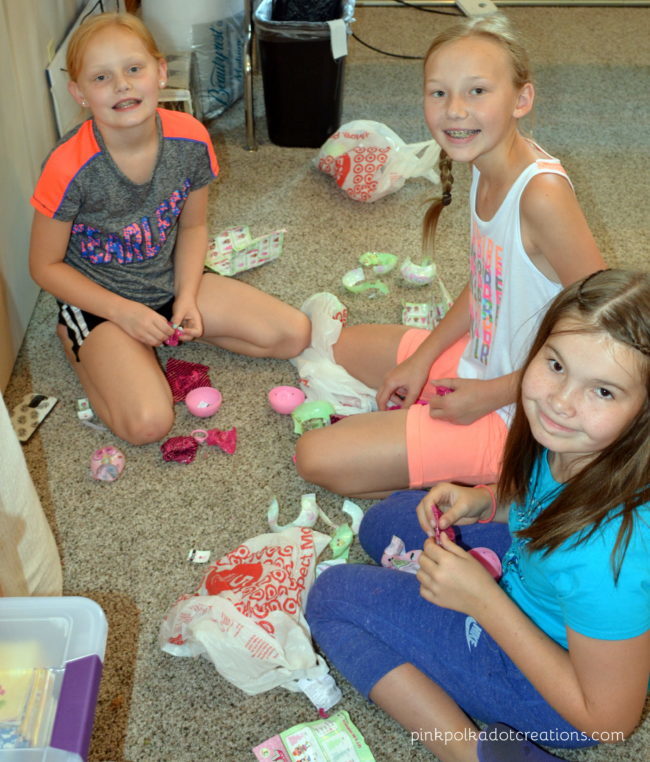 But…as you can see we did find them!
They are called LOL Surprise Dolls. Each doll is a different surprise when you open up the ball that they come in. It was fun just listening to them as they would unwrap a layer at a time and get all excited about what they found!
These are the dolls. As you can see, they talked me into a big doll and a little doll.
But the price was worth it…to be the Best Grandma EVER!!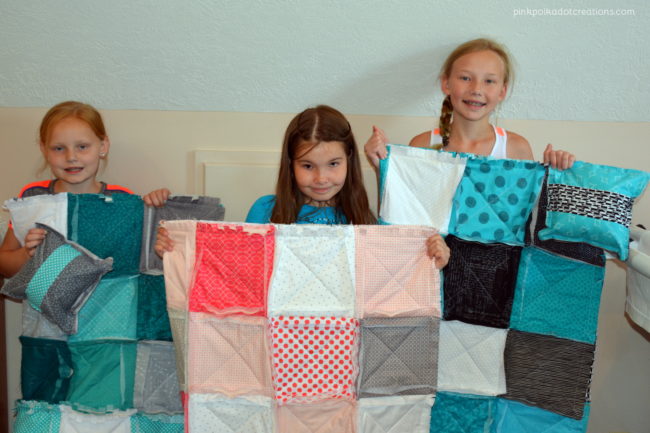 We did get all of the quilts sewn together, but not all clipped. I promised them that I would have them all done by Sunday when everyone comes for Sunday Dinner.
My hand will be worn out, but the quilts will all get done!
They each had two squares left over, so they decided to make a pillow to match their quilts. All of this was done on their own and I think they did a great job!
There will be a post next week with the finished quilts and more details on how to make your own rag quilt.
So Stay Tuned.
Having a Grandma Sewing Camp- Part 2 was so much fun!
These girls are amazing, not only in their sewing skills, but also in the way they treat each other. They are good friends and they got along so well. We had so much fun just laughing and enjoying each other.
I hope fond memories will be remembered for a long, long time!
What fun things have you done this summer to create lasting, fun memories?
Thanks for Visiting…Go Make Some Fun Memories this Weekend!