One of our grandson's was baptized this last weekend. This was a special day for him. In The Church of Jesus Christ of Latter Day Saints the children are baptized when they are 8 years old.
I have made it a tradition to make a quilt for each of the grandkids for their baptism. It has always been a minky quilt with minky fabric on the front and the back! They are so warm and cuddly! I also have their name and the year and "choose the right" embroidered in one of the corners.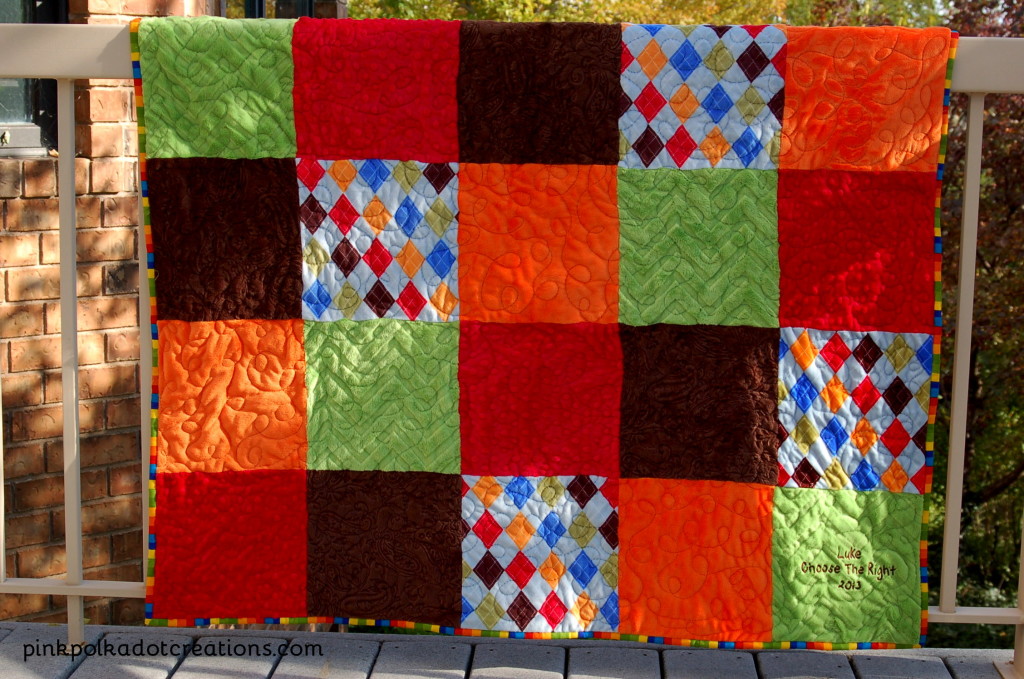 Luke loves the outdoors and bright colors and this quilt reminds me of him.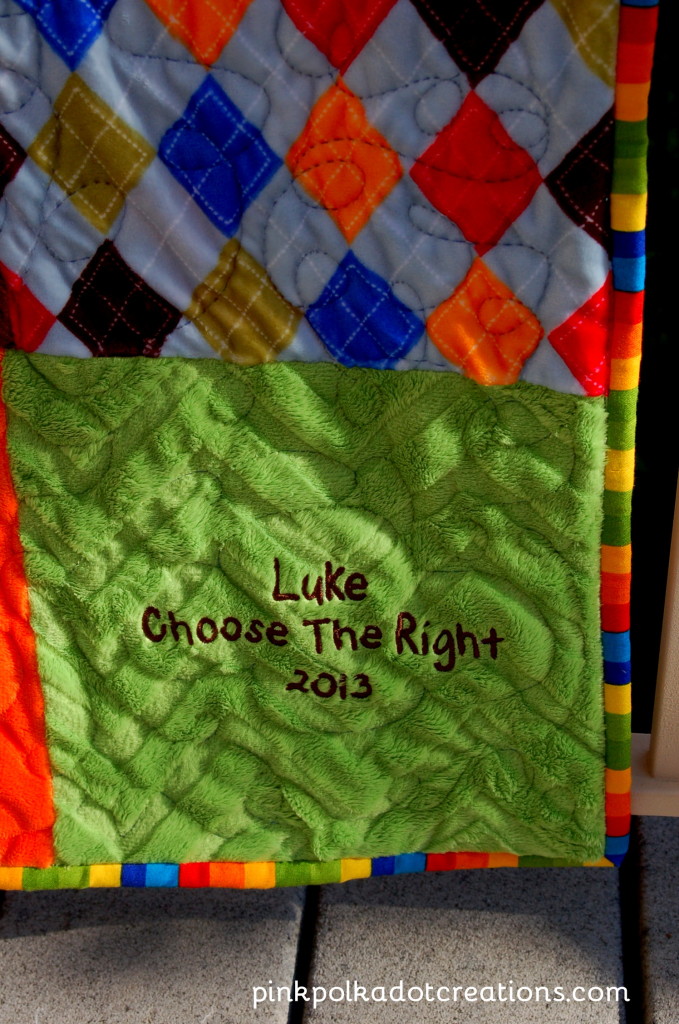 Here is the embroidery work. I hope that when he wraps up in this quilt that he will know how much he is loved by his grandparents, his family and those around him!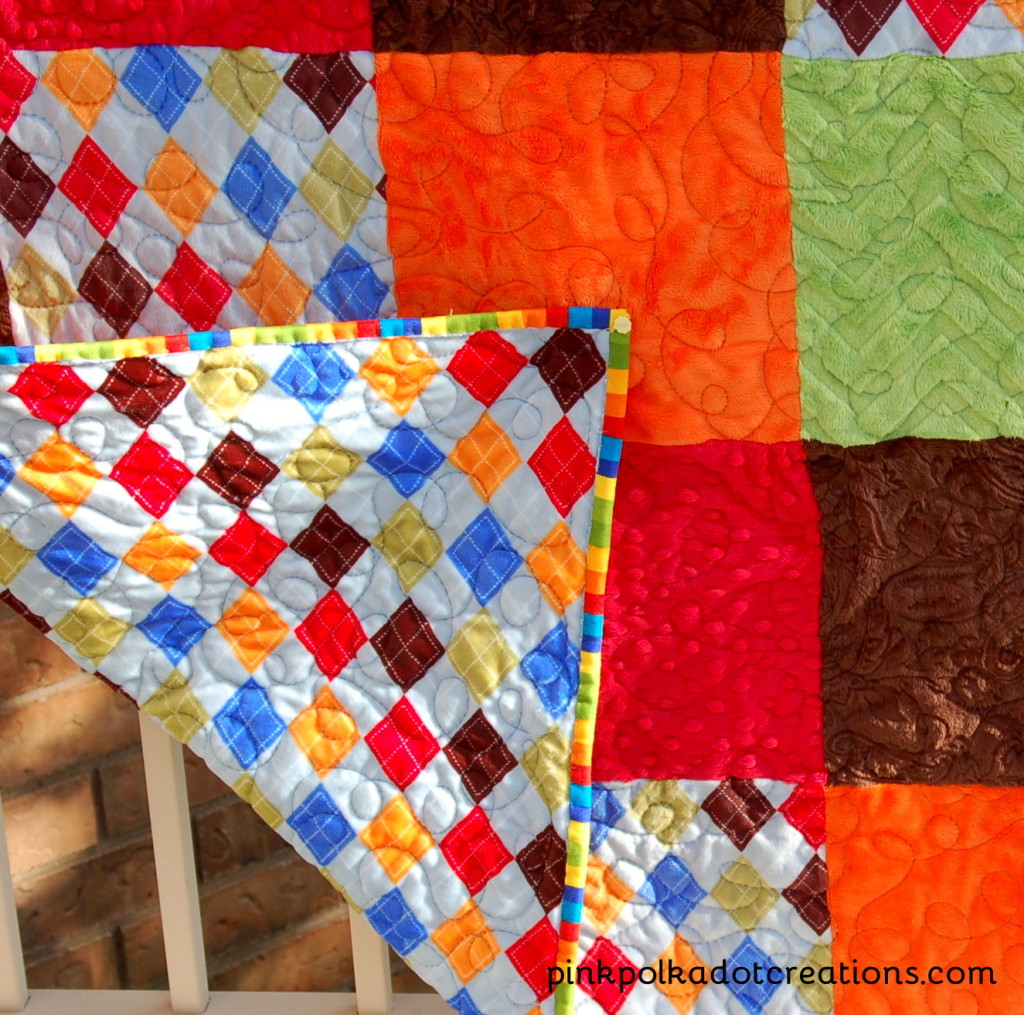 Here is the back of the quilt. Full minky! This is a fun quilt to make, because it is just squares and you can mix and match all the different colors that you want to. When working with minky, you just have to remember to pin, pin, and pin some more before you start sewing! I also quilted this quilt and I like the way that the stitching shows up. I still just do a basic all over pattern because I am not confident enough to do any other patterns yet! But that works well for this quilt anyway.
This is my cute Luke, he is such a good boy with a very kind, soft heart. He is friends with everyone and is is kind to all that he meets. He loves birds and has 2 of his very own parakeets that he has trained to do many different things. He loves hunting and fishing and all kinds of sports. He is a great brother and helps his mom out at home. We are all proud of him!
—————————————————————————————————————————————————-
I have been quilting away this past week or so, besides Luke's quilt, I quilted a quilt that my daughter put together for her daughter, I finished piecing a chevron Halloween quilt and hope to get it quilted in the next few days and I have another Fall Table quilt that I am starting, plus I have just a couple more blocks left that I am embroidering for a Christmas quilt! So I have quilting on the brain! There will be pictures coming as I get them done!
My husband and I went to St. George for a few days last week. We went to the Tuachan theater for a couple of the shows. We loved Mary Poppins, but left at the intermission on a second show. It just was not our taste, and it was very cold and windy. But my husband took me to several of my favorite quilt stores down there and I got some fabric, but I came away with some really darling patterns that I cannot wait to try! So I think that I will be sewing and quilting for quite some time! :)
Do you have any sewing or quilting projects that you are working on? I get this way every fall, I think that there is something in the air that triggers my brain into sewing mode. But that's okay, because it is a good hobby to have!
Hope you have a great Monday! Love Ya!
If you have not had a chance to check out the new Halloween printables in my shop, I would love to have you take a look, there is a complete party pack and and fun new Halloween banner, together, you have everything that you would need for that perfect Halloween get together!
Keep in touch…Like on Facebook and Pinterest!