My daughter made this Plaid Flannel Quilt for a Christmas Gift!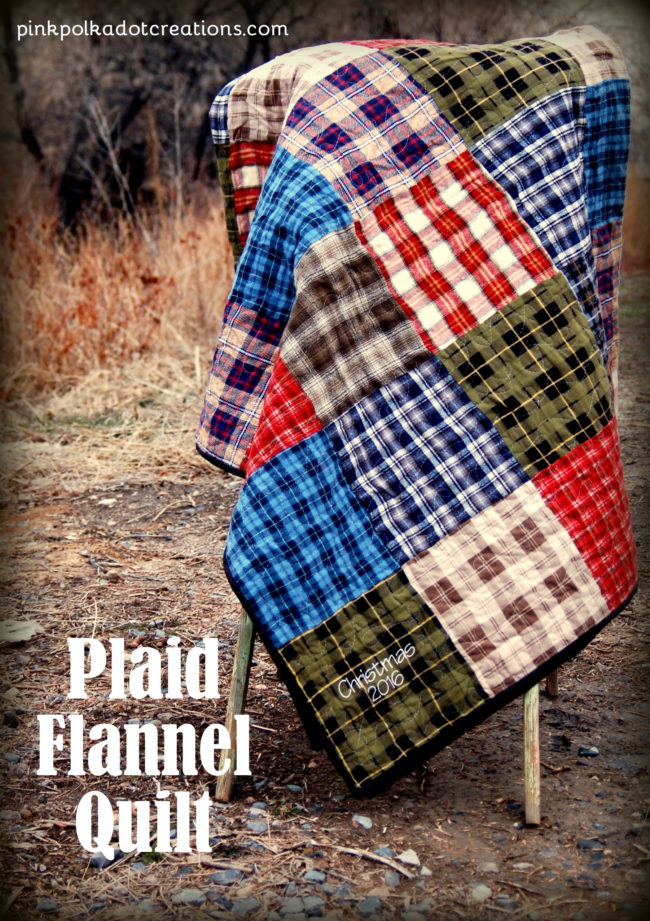 She saw something on Pinterest that she liked and just decided to copy the idea. We did not have a pattern, but it is just squares pieced together.
A quilt like this is perfect for camping, picnics, ballgames or just being outside!
The flannel makes it a nice soft quilt. And it is a durable fabric that can be washed and used over and over!
In one of the the corner blocks, she had "Christmas 2016" embroidered. So, it is documented. I love this idea. It is not quite as much information as a quilt label. But it is way better than not having anything!!!
To make this quilt, you will need to first cut the squares to 10 1/2″ x 10 1/2″.
Next, just start sewing the squares together. There are 9 squares across and 10 squares down. Sew all the squares across to make a row, then sew the rows together to make it the length that you need.
This quilt is a nice size at 90 x 100″
Next you will need to quilt your quilt, or tie it on the corners. My daughter did all of the machine quilting. I helped her with the bobbins on the quilting machine and part of the binding. But she did all of the hand stitching! :)
Last of all, you will need to sew the binding on. You can find a binding tutorial here.

The black binding on this quilt is the perfect finishing touch! It outlines the quilt quite nicely!
It makes me proud of my daughter that she took the initiative to make a quilt. She is very talented in figuring out all the measurements and putting fabrics together!
This Plaid Flannel Quilt will be useful for many things…even for a quilt on a bed! :) But it is really perfect for many outdoor activities too!
If you are looking for an easy quilt to put together, a plaid flannel quilt is a great one to do! You just simply cut fabric squares and sew them together. They can be made for any size by simply adding more squares. Or you can change the size of the squares.
Do you have a quilt on your "to-do" list for 2017?
This simple plaid flannel quilt is a great one to try!
Thanks for Visiting…Happy Quilting!