When the weather starts to cool down and the leaves start to turn colors, I get in the mood to cook again, so today I thought that I would just do a round-up of some of my favorite fall recipes that I have posted in the past. These are all tried and true recipes that my family all love!
This is a wonderful way to use some of your fresh tomatoes and veggies! The thing that sets this salsa apart from others is that it uses green onions! So yummy. Here is this cute printable recipe for you also:
2. Easy After School Cookies– (aka Andes Mint Cookies)
Do you need a quick easy snack for your kiddos when they get home from school? This recipe is about as easy as they come! It only has 4 ingredients. This link also has a fun printable recipe ready for you to use!
These are hands down my family's favorite kind of caramel apple! With the white chocolate, caramel and cinnamon sugar, they are hard to beat! Also find out how to cut a caramel apple in this link!
4. Pumpkin Chocolate Chip Cookies with Penuche.
These are your yummy, soft pumpkin cookies with a wonderful caramel penuche frosting. It doesn't get much better than this folks!
This is a great recipe to make individual servings of pie! There is also a fun printable label for the jar lid with this link!
Fall is not complete without a few pumpkin recipes and the wonderful smell of pumpkin cooking. We love pumpkin pies around here and therefore we also love this Pumpkin Pie Cake! It has this wonderful crumb topping and I usually heat it up before putting the whipped cream on top. Yummm!
7. French Cocoa
This is one of my all time favorite fall and winter recipes! I love this stuff! If you have not tried it…you are missing out! It is so creamy and comforting and it will warm your soul! This link also has a fun printable recipe!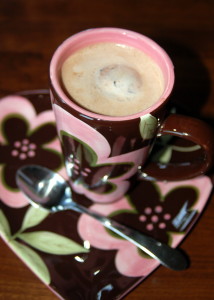 This recipe is one of those good comfort foods that I turn to quite often. It is easy to make, yet is a good hearty soup that will fill you up and make you feel oh so good!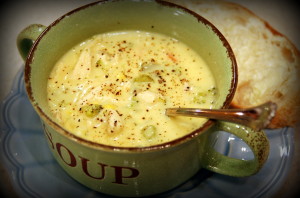 9. Crispie Caramel Marshmallow Treats.
These are so stinkin good and you will not be able to eat just one. Trust Me! You will definitely want to give this recipe a try, because who can resist a great Rice Crispy Treat? They are easy to make and with the yummy caramel and marshmallow filling, they are one treat that you will find yourself making time and time again!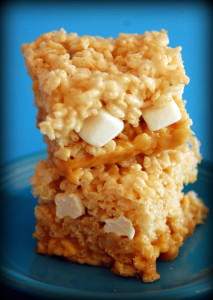 10. White Chocolate Macadamia Nut Cookies.
Of course I would end this round up with desserts! Because as my husband always says…Dessert is our best event!
These cookies are just a little bit crispy on the outside but really good and chewy on the inside! They seem to have the perfect balance, with the salty, nutty taste of the macadamia nuts and the sweet, wonderful flavor of the white chocolate. They are a like a marriage made in heaven!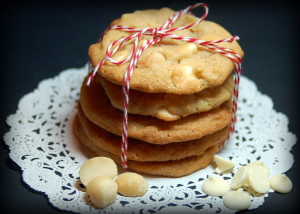 So that rounds up my roundup! I hope that you found at least one new recipe that you would like to try this fall! These are just a few of our favorites and maybe they will become one of your new favorites too! :)
Have a happy day everyone! Love Ya!
Keep in touch…Like on Facebook and Pinterest!