This morning on KUTV I am showing ways to use up your leftover Halloween Candy!
(If you missed it, here is the link to watch it!)
So get ready to raid the kids candy bags!
This 1st one: Cookie Candy Bark
is a great way to use up any candy, nuts, cookies, pretzels or anything else you want to throw into it!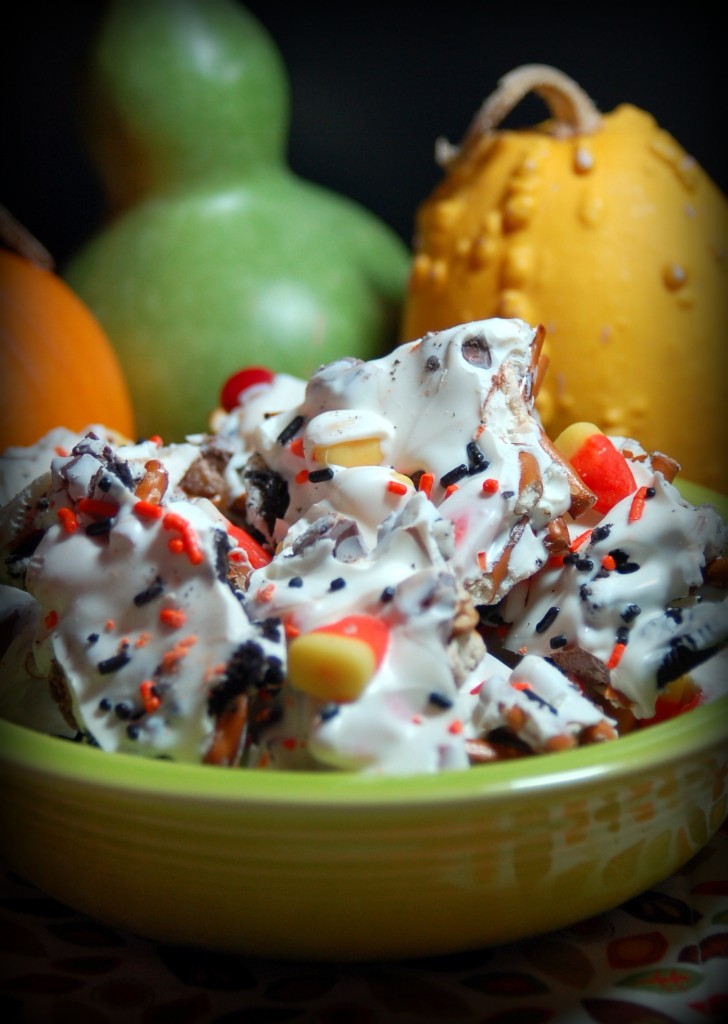 Candy Cookie Bark
14 whole Oreo cookies-broken up
1 1/2 cups pretzels-broken into pieces
8 miniature candy bars-chopped
1 cup candy corn
4 cups white chocolate melting wafers or 1 lb white chocolate-melted
Brown and orange colored sprinkles
Cover a large cookie sheet with parchment paper.  Spread broken cookies, pretzels, candy bars, and 3/4 cup of the candy corns onto the parchment paper.  Melt the white chocolate in the microwave for one minute, then stir.  If you need to melt the chocolate more, do it at 30 second intervals at 50% power.  Stir till smooth.   Drizzle the melted chocolate over the cookie mixture, spreading out if needed to coat evenly.  Sprinkle remaining candy corns and colored sprinkles while the chocolate is still wet.  Place cookie sheet in the refrigerator until set and firm.  Remove and gently break bark into small pieces.  Store in air tight container.
The recipe for the Muddy Buddies is found here.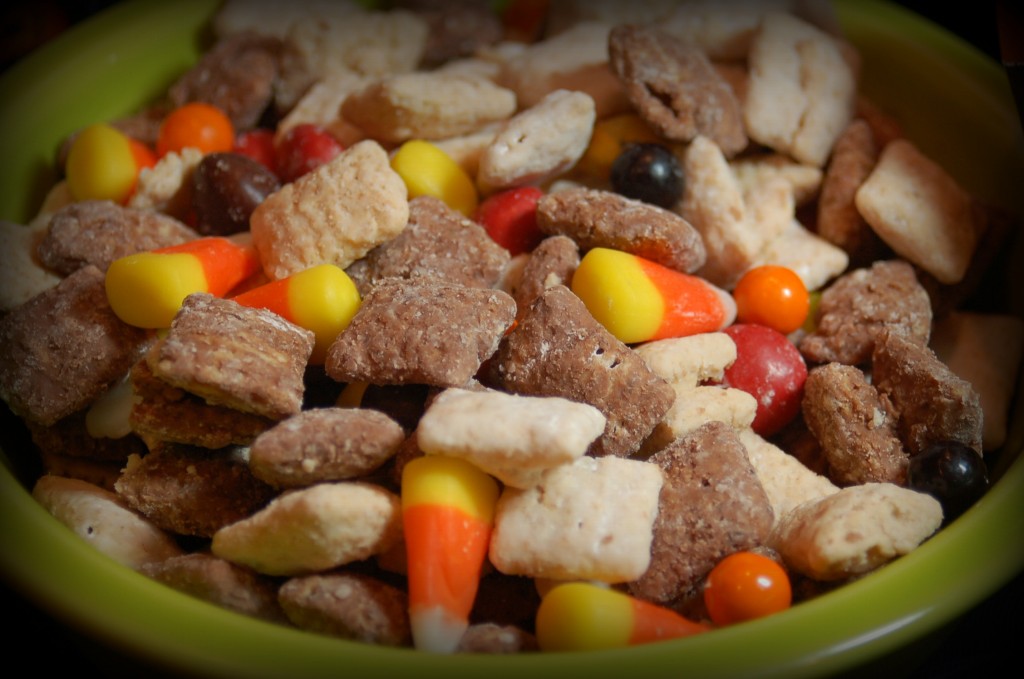 This Trail Mix is one of my personal favorites!
This one is great for lunches and is a little bit healthier with the nuts and fruit added to it!
All I did is mix nuts, Craisins, M & M's, and candy corns!  You can use any amount that you happen to have on hand.   You can add any kinds of nuts or dried fruit that you have.   I love this sweet and salty mix.
This is a great recipe to have on hand to munch on during ballgames, movies or game nights!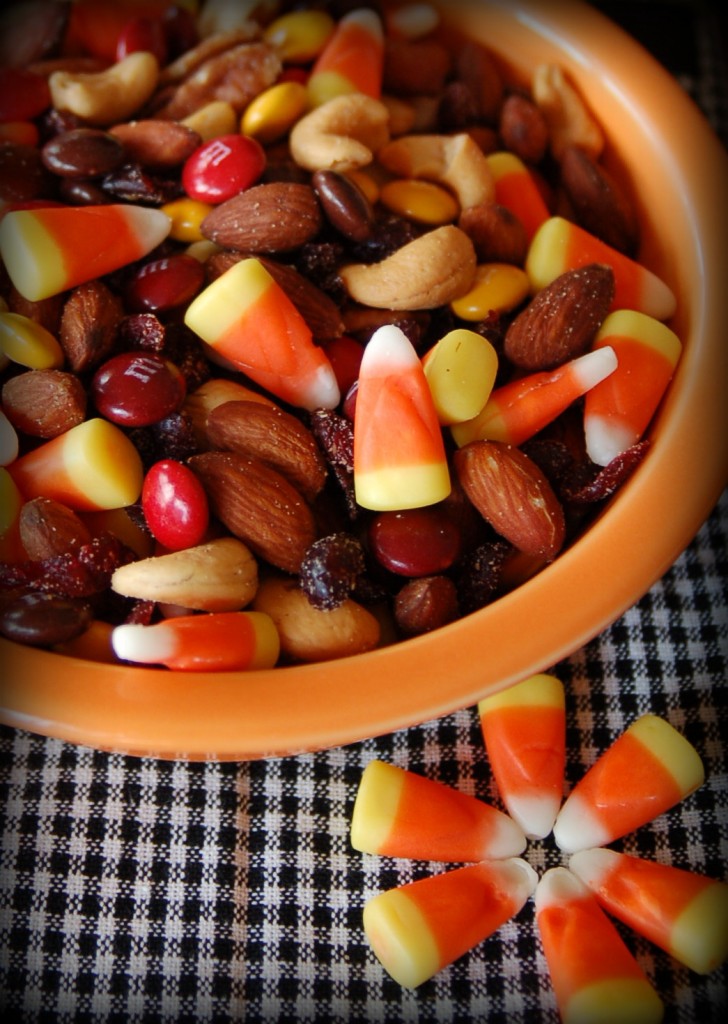 These Brownie Bites are a great way to use up some of those mini chocolate bars!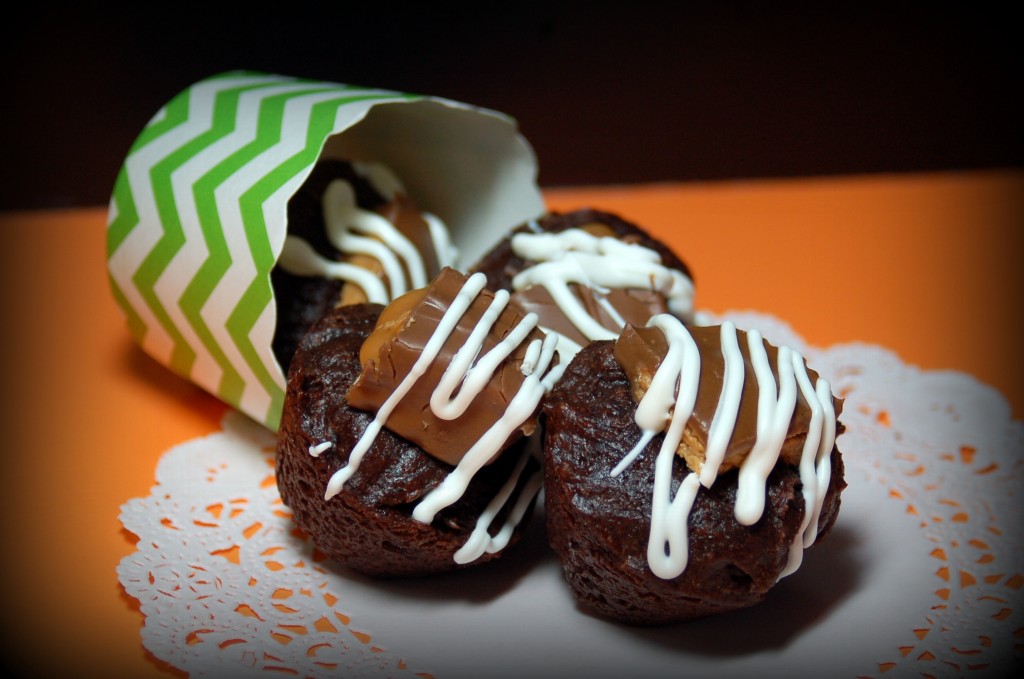 Candy Topped Brownie Bites
1 box brownie mix – plus ingredients to make the brownies (or you could make your own favorite recipe from scratch)
Assorted miniature candy bars cut in half or quarters (I used snickers, Peanut Butter cups, Milky Way, and Twix.  I think Mint ones would be good too!)
White melting chocolate (optional)
Mix brownies according to package and bake in mini muffin tins.  Bake for about 18-20 minutes or until done.  Take out of the oven and while still warm place candy piece on top.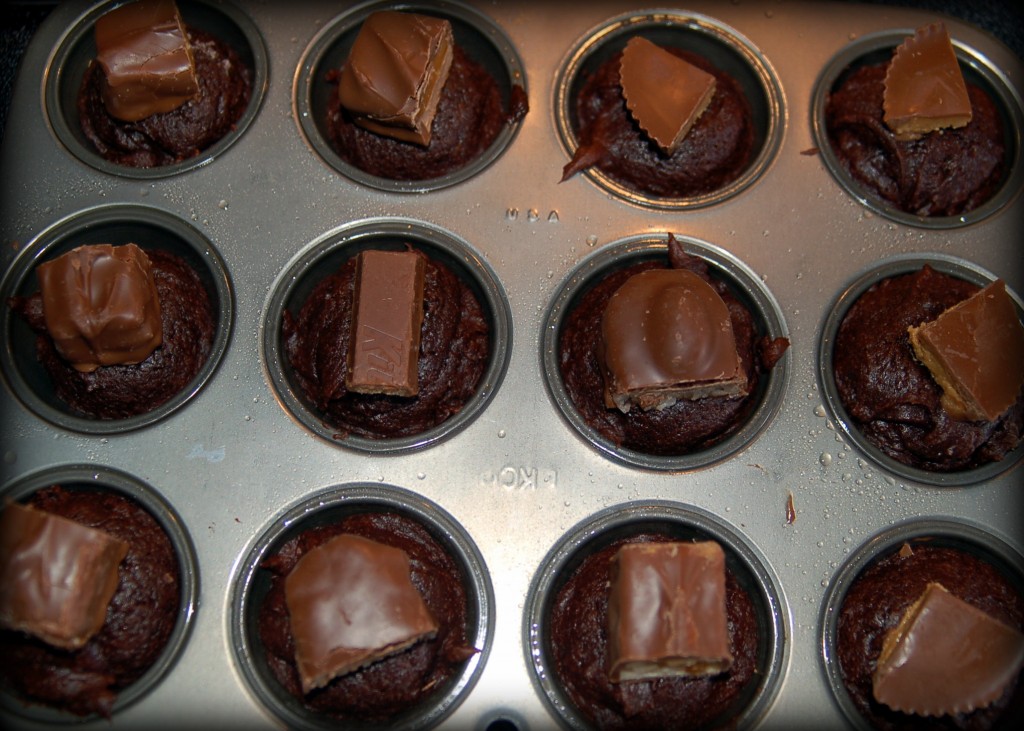 Remove to a cooling rack that has parchment paper placed under it.  When brownie bites are cool, drizzle melted white chocolate over the top.  I like to use a squeeze bottle for this and then I can just keep reusing it and I don't have to wash out the bottle every time!   But you can just drizzle it with a fork or put it in a ziplock bag with a small corner cut off and just pipe the chocolate on.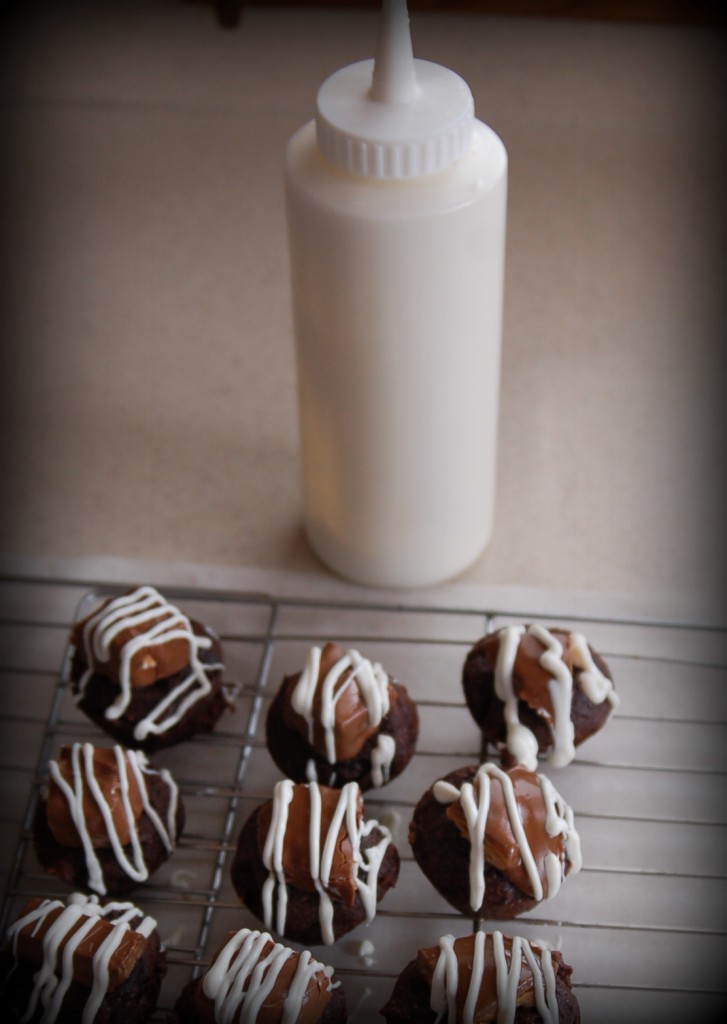 This last one is another sweet/salty mix that is great to snack on.  
White Chocolate Popcorn Mix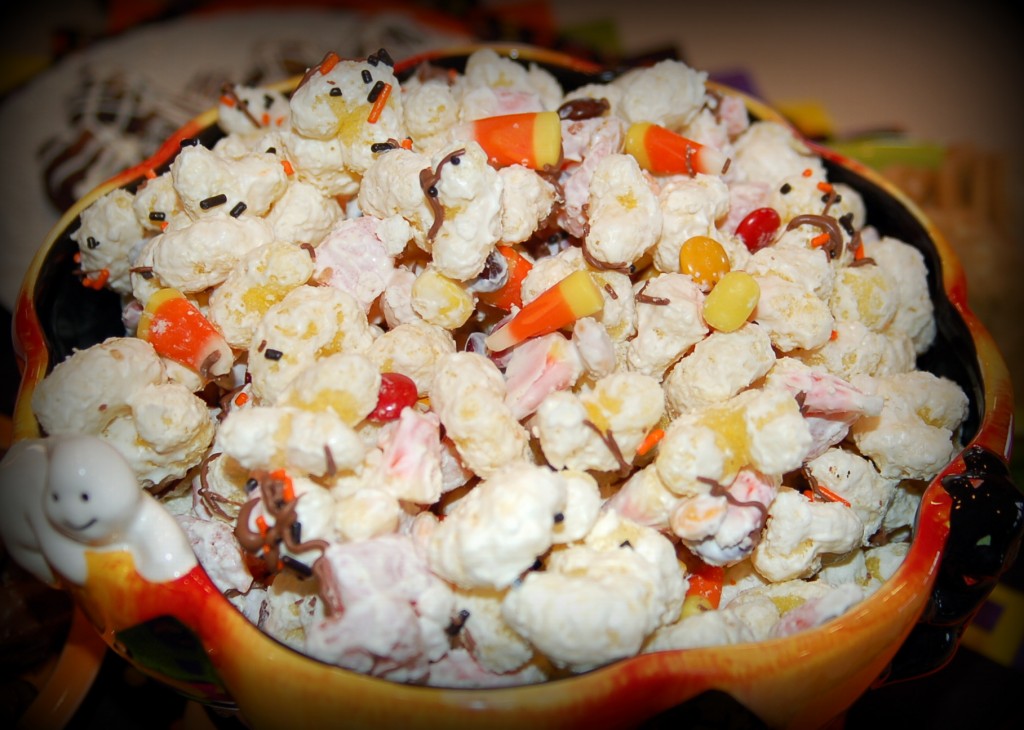 To make this popcorn mix I like to use the popcorn pops.  There are no kernels to deal with, but if you want to use popcorn, it works just as good!
White Chocolate Popcorn Mix
12-14 cups popped corn or popcorn pops
1 lb. white chocolate melts
1 cup milk or dark chocolate melts
2 cups orange slice candies-cut into pieces
1-2 cups of candy (I used M & M's and candy corn)
Brown and orange sprinkles
Put popcorn, orange slices, and candies in a large bowl.  Melt white chocolate in  microwave for 1 minute.  Stir till melted and smooth.  If you need to melt it more put in microwave for 30 seconds at 50% power.  Pour over popcorn mixture and stir until well coated.  Pour out onto a parchment lined cookie sheet.  Sprinkle with brown and orange sprinkles while chocolate is still wet.  Melt milk or dark chocolate in the microwave and drizzle over the top of all.   When the chocolate is set  break it up and enjoy.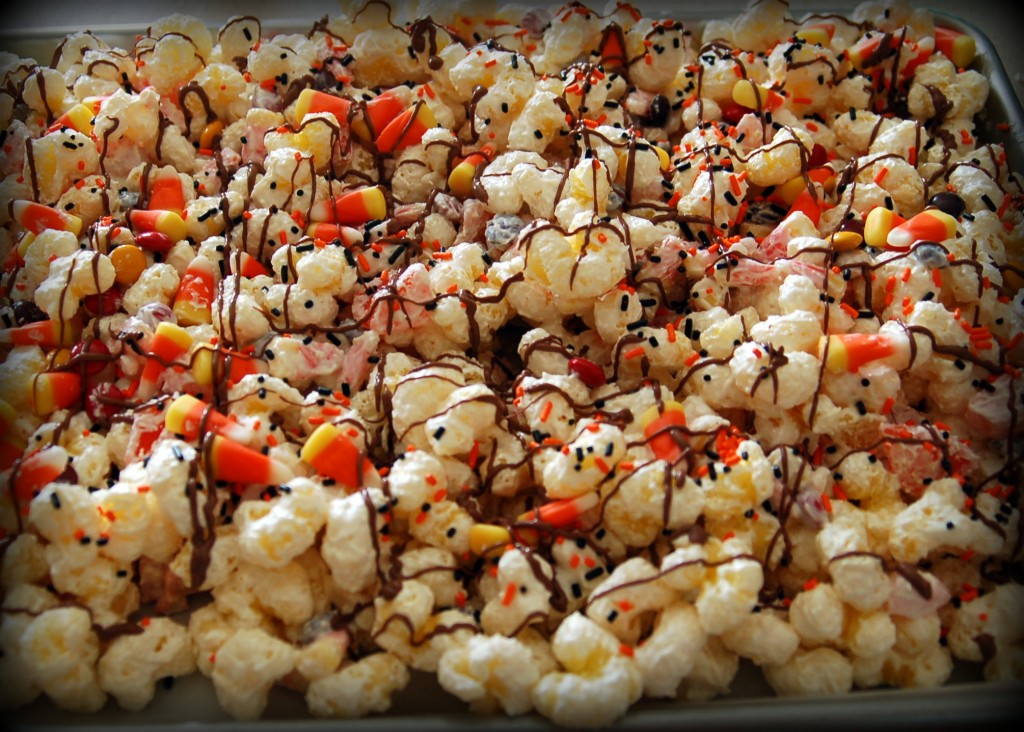 So now are you ready to raid the kids candy bags to make one or two or three of these fun recipes!
Have a great Weekend Everyone!  Love Ya!
This post is from pink polka dot creations. If you are not reading it from our feed, it has been STOLEN. Please contact Rita to let us know. Please enjoy the posts!