This recipe comes from my SIL.  We had it at a recent family reunion and I fell in love with all the flavors and had to have the recipe!  She was so kind to consent:)  This salad has everything: fruit, chicken, cheese, nuts and tomatoes, then you top it off with a yummy poppy seed dressing that has just the right balance of sweet and tangy!  Sooo Good!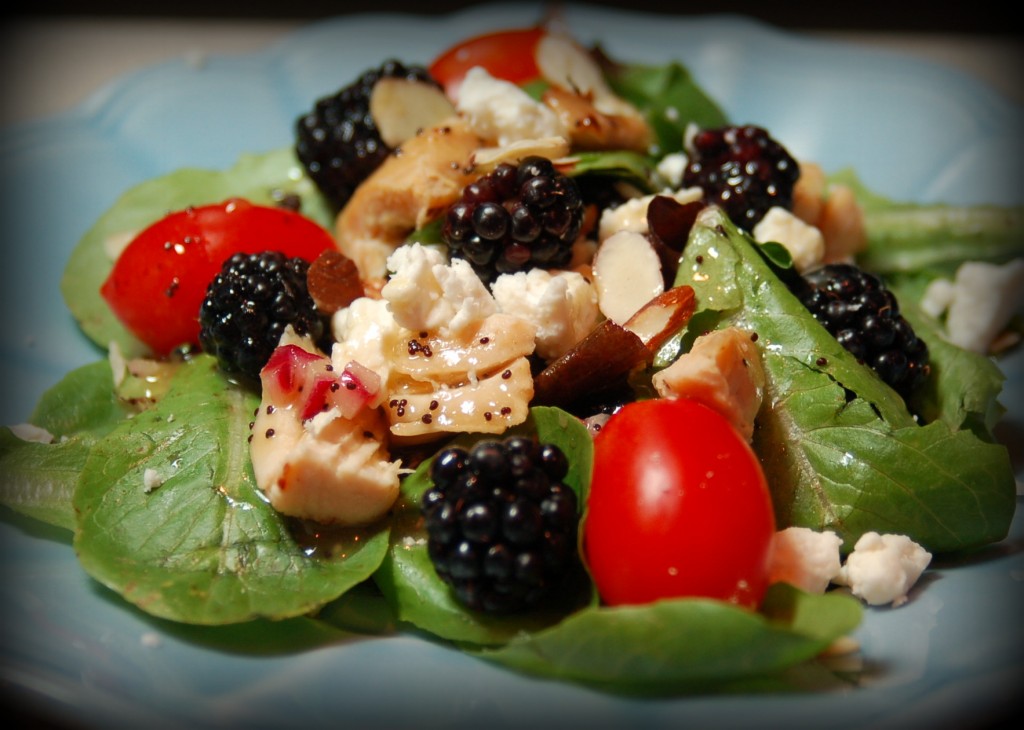 Blackberry and Chicken Salad
3 cups mixed greens, including spinach and romaine lettuce
1 pint fresh blackberries
1 pint grape tomatoes
1/4 cup diced red onion
Gently mix in serving bowl.
Just before serving, top with:
1 cup grilled chicken chunks, cooled
6 oz feta cheese, crumbled
1/4 cup sliced almonds, walnuts or pecans
Dressing:
3/4 tablespoon poppy seeds
1/4 cup red onion, minced or grated
1/3 cup white vinegar
3/4 teaspoon salt
3/4 cup olive oil
2 tablespoons Dijon mustard
1/3 cup sugar
Put all ingredients in a bottle with a lid.  Shake until well mixed, refrigerate for several hours for flavors to blend.  Drizzle over salad just before serving.  Refrigerate any leftovers.