I went on a quilt retreat this last week and my friend made this…to die for...Easy Caramel Marshmallow Popcorn!
This recipe is so easy…and it only has 4 ingredients!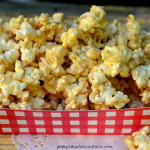 Caramel Marshmallow Popcorn
2015-06-14 20:24:39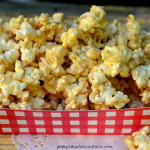 Serves 8
An easy, delicious recipe that you can make in minutes. The soft caramel makes this a chewy sweet treat!
Nutrition Facts
Amount Per Serving
Calories 309
Calories from Fat 160
Trans Fat 0g
Polyunsaturated Fat 1g
Monounsaturated Fat 7g
Total Carbohydrates 36g
12%
Sugars 21g
Protein 2g
* Percent Daily Values are based on a 2,000 calorie diet. Your Daily Values may be higher or lower depending on your calorie needs.
Ingredients
2 bags microwave popcorn(78g bags)
1/2 cup butter
1/2 cup brown sugar
14 large marshmallows
Instructions
Pop popcorn according to directions on package and place in large bowl. Remove any unpopped kernels.
Put butter, brown sugar and marshmallows in a microwave proof bowl and microwave on high in 40 seconds intervals. Stir and repeat till melted. Pour over popped corn. Stir until popcorn is coated. Enjoy!
Pink Polka Dot Creations http://pinkpolkadotcreations.com/
I have a confession to make…I did NOT stick to my "Sugar Sunday" this week! I have been trying to only eat sugar on Sunday and this last week I blew it big time! I did go walking several times, so I did not go completely off the wagon!
This last week I was a bum! I went on a quilt retreat with my best friend Kathy for 2.5 days. We started up to our cabin, but had to make a stop at the outlets in Park City! We went to the Aeropostle Store, and the Bath and Body Works store where we hit the semi-annual sale…and I had to stock up! We then went over to World Market and TJ Maxx. We ate lunch, went to the grocery store to get a few groceries and then headed up to the cabin.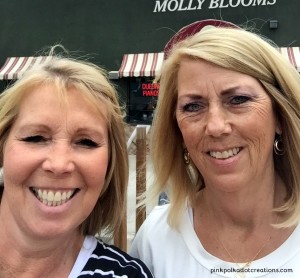 We did not get there until late afternoon, but we had a great day shopping! :) We started working on an Americana quilt. We cut out most of the pieces that night…and there were a lot of pieces…over 1,300 pieces (what were we thinking!) We got up the next morning and cut the rest of the pieces out and got to work sewing! We sewed all day long!
Here is a sneak peek of what we were working on! We are both hoping to get these quilts done and quilted before the 4th of July…we'll see how we do! We were able to get all the red star blocks completed, we figured out how to make the small blue star blocks and got a couple of those completed and we got some of the chevron stripe blocks done. The biggest challenge is going to be the small blue stars. There are 26 blue stars in this quilt that need to be put together before we can start putting all of the strips together! This is a beautiful scrappy quilt and it was not hard, once we figured out the pattern. But there is a lot of piecing and that is what makes this such a beautiful quilt. The pattern is from the book "Quilted Living" by Gerri Robing of Planted Seed Designs. The pattern that we used is called "Stars and Stripes."
On Friday morning this is the view that we woke up to:
The clouds had settled right down in the valley. This view off the deck, is one of the reasons that I love going to our cabin…I just can't seem to get enough!
We sewed for a little while on Friday morning, then we headed out to Midway for some more shopping and lunch!
We had lunch at this local "Timp Freeze" It is only open during the summer, so we thought that we would give it a try! It was delicious! We then went over to Seasons of Home, where I had purchased the pattern and they had a quilt that they had made on display. The lady that helped us was so friendly and so helpful! She even offered to help me with my quilting machine! That is the beauty of small town service!
My husband picked me up at the quilt shop and we went back up to the cabin for our weekend visit and my friend drove home. We had such a fun time and it is so fun to be with someone that is just like a sister! We have been friends since Jr. High School and we have so much fun together! Thanks Kathy for a great retreat! Now let's get sewing and get these quilts done!
I have to admit that the Caramel Marshmallow Popcorn was great to keep us going and to keep our energy up! Do you need a sweet treat to boost your energy? :) This is perfect for quilting retreats, parties, FHE, easy snacks for the kids (or for adults) or any time that you need a sugar boost! Try it today to see if you don't love it as much as I did!
Thanks for visiting today! Happy Monday!