We had a couple of birthdays last week in our family and one of the recipients requested these instead of Birthday cake!  They are so moist and full of flavor that they are hard to resist!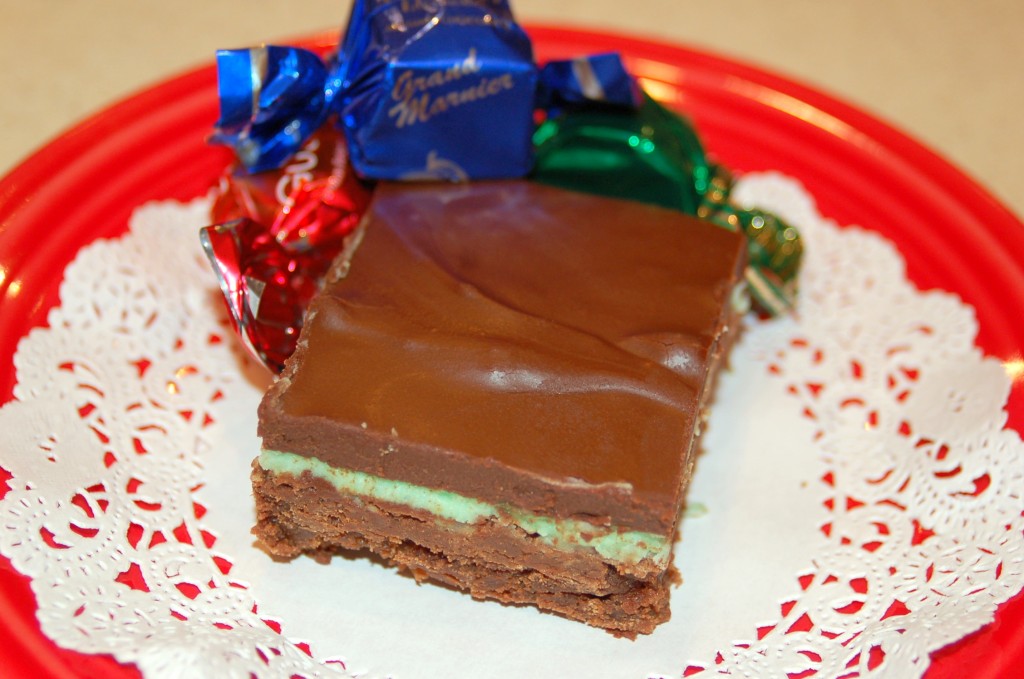 They also have an entire pound of butter in them, so they had better be good!  I feel like I am the Pioneer Woman when I make these!  Which by the way, is where I found this recipe a couple of years ago, at Tasty Kitchen, which is a sister site to the Pioneer Woman.  I hope that you can make some of these sometime.  These wonderful brownies look and taste professional. But they are so easy to make. Bake them today and share them with your friends. They may make you famous!
Famous Mint Brownies (tastykitchen.com)
Ingredients
FOR THE BROWNIES:
1 cup Melted Butter
½ cups Cocoa Powder
2 cups Sugar
4 whole Eggs Beaten
1 teaspoon Vanilla Extract
½ teaspoons Salt
1-½ cup Flour
_____
FOR THE MINT FROSTING:
½ cups Butter, Softened
2 Tablespoons Milk
2 cups Powdered Sugar
1 teaspoon Peppermint Extract
5 drops Green Food Coloring
_____
FOR THE GANACHE TOPPING:
½ cups Butter
1-½ cup Semi-Sweet Chocolate Chips
Preparation Instructions
Preheat oven to 350 degrees.
Note: Increasing amounts to 1 1/2 times the original amounts will yield a baker's half sheet (large cookie sheet) of brownies, to make 4 dozen brownies.
For the brownies, whisk together melted butter and cocoa powder. Then add sugar, beaten eggs, vanilla, and salt. Mix well and then add sifted flour. Stir in by hand. Do not over mix.
Pour into a 9×13 pan sprayed with cooking spray. If making 1 1/2 recipe, pour into a baker's half sheet (large cookie sheet).
Bake at 350 degrees for 25-28 minutes. Cool for a few minutes and then place in the freezer for 20 minutes.
While brownies are in the freezer make the first layer of topping. Mix the mint frosting ingredients thoroughly. Evenly frost brownies and put back in the freezer for 20 minutes.
Make the chocolate ganache top layer. Melt the butter and chocolate and whisk together. (I melt them together in a Pyrex measuring bowl in the microwave for one minute. Be careful not to overheat. It won't look melted but once whisked, it will.)
Drizzle warm chocolate over brownies and spread smooth with a spatula. Put back in the freezer for another 20 minutes.
I think that these would also be great with red food coloring for the holidays!