I have a fun treat for you to make for St. Patrick's Day.  I don't really decorate or do a lot for this holiday, but this is a fun treat that you could make for FHE or just to be a kind little leprechaun and surprise your family!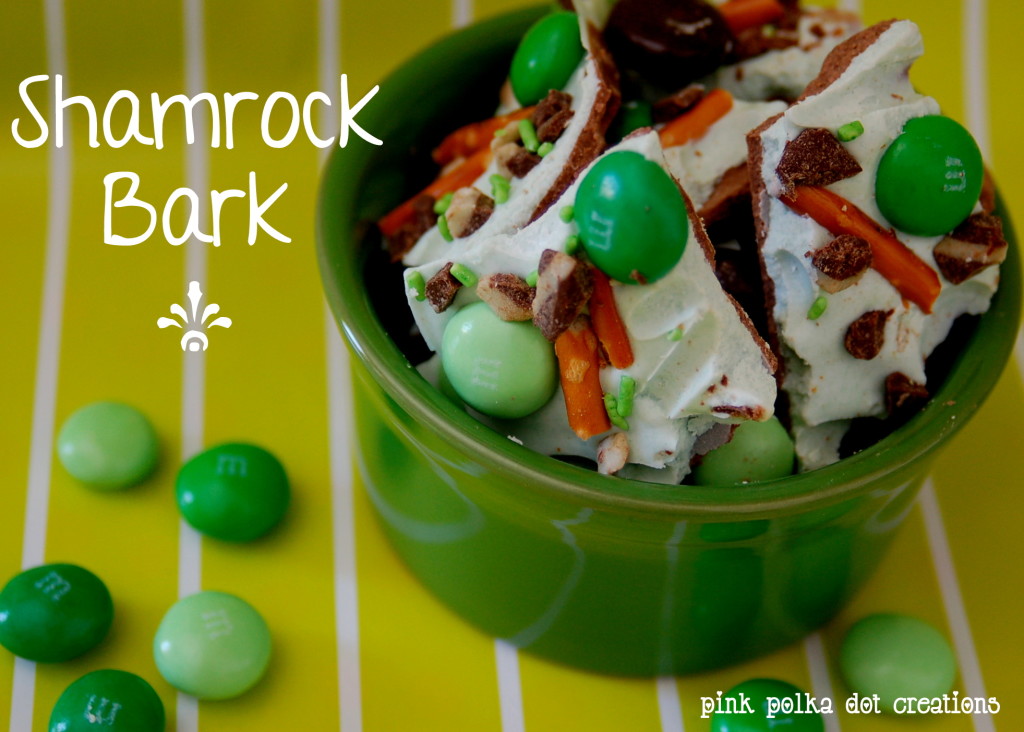 This is really easy to make, all you need is chocolate, white chocolate, mint extract, candies, pretzels, sprinkles, etc.  any green or minty goodies!
Line a small cookie sheet or cake pan with parchment paper or tin foil.   Melt 3 cups of chocolate and spread over the parchment paper.  (My oven was warm from baking something else and I just spread the chocolate chips out on the  pan, then put the pan in the oven for about 3-4 minutes to melt the chocolate and it came out perfect,  no measuring cup to clean out after melting the chocolate!)
Let that set up.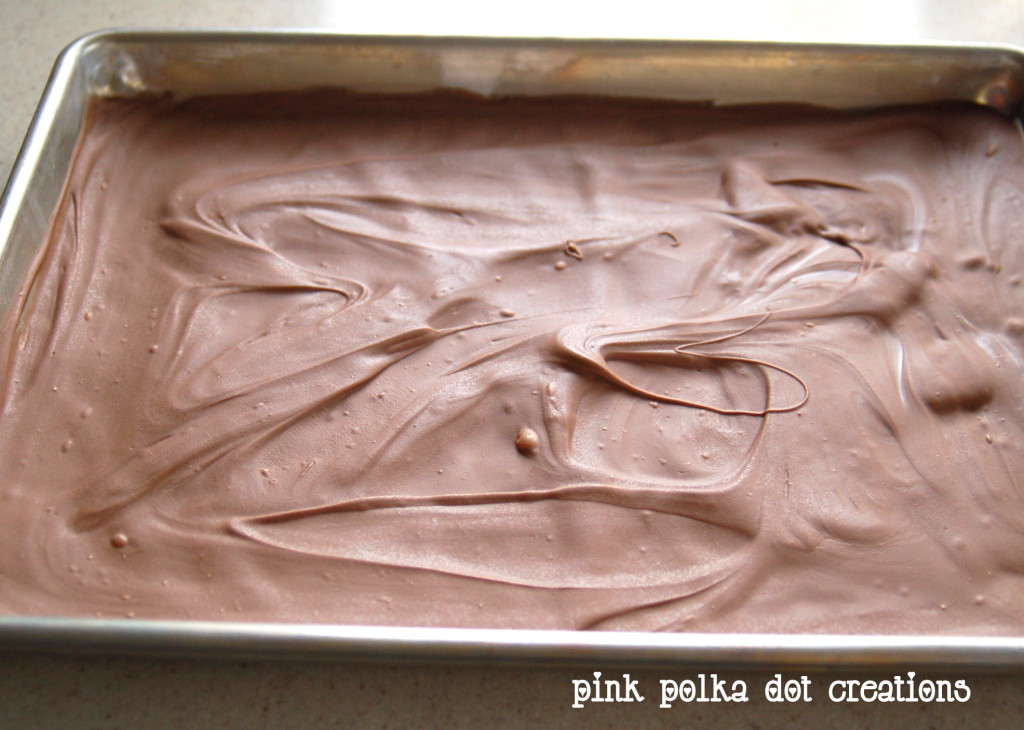 Melt 3 cups of white chocolate in a measuring cup in the microwave for 1 minute, then stir.  Microwave an additional 30 seconds at 50% power and stir until all the chocolate is melted.  Add a scant teaspoon of mint extract and green food coloring to chocolate.  (You will need to use paste coloring)  Spread over the top of the set chocolate in the pan.  (I wanted a mint green color, but I should have added just a little more color to the green!)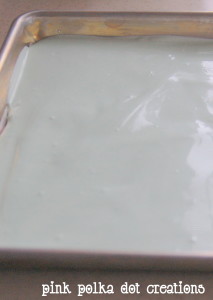 Next add any candies to the top of the  white chocolate before it sets: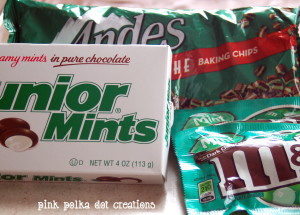 I also added pretzel and sprinkles.  This is really sweet with all of the candies and I think I should have added more pretzels.
You could also add broken up mint Oreo cookies!  They would be really good.
Press all the toppings down into the chocolate and let it all set up and harden.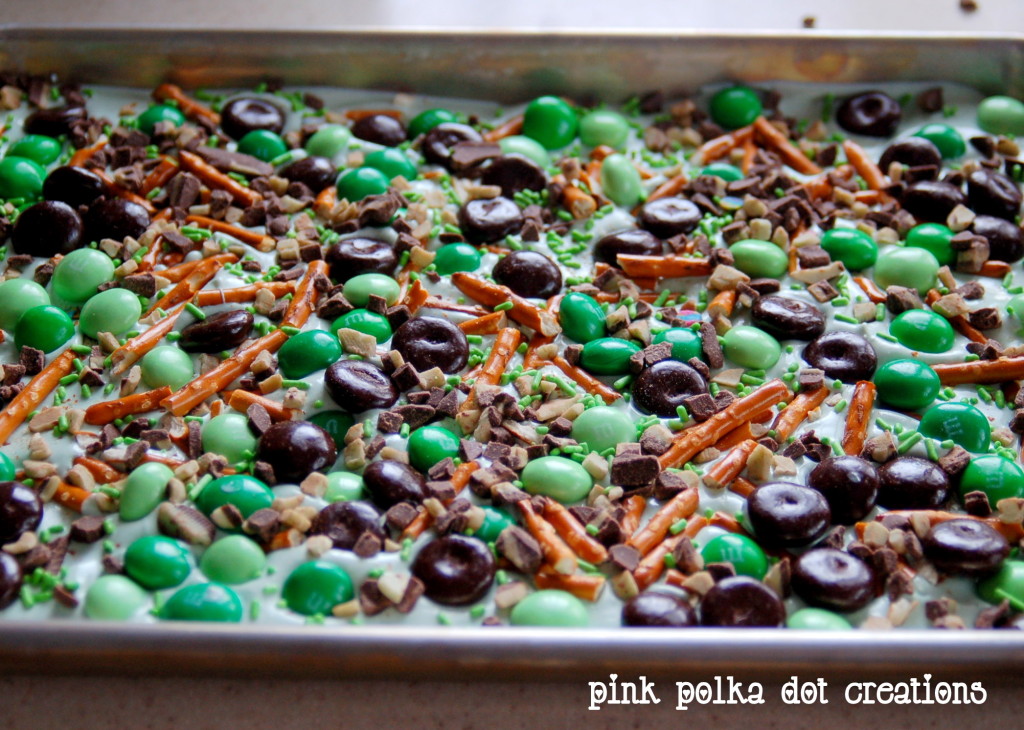 Break into bite size pieces and enjoy!  This also looks great bagged up with a fun tag, for a quick easy little gift idea for teachers, friends, neighbors etc.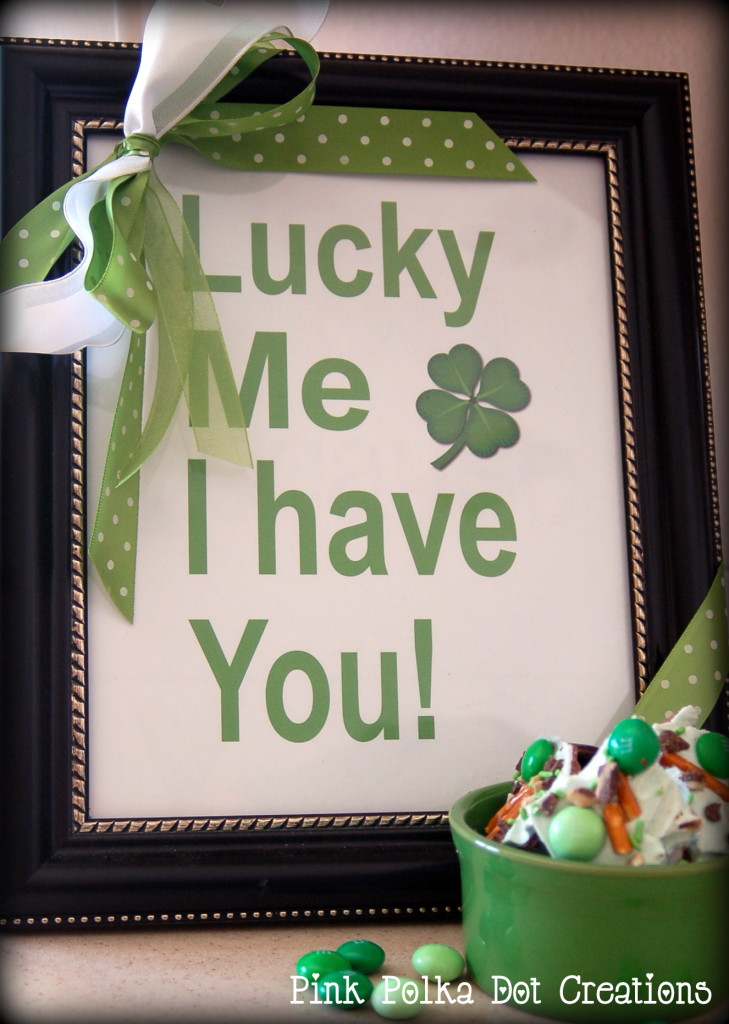 This looks fun next to my "Lucky Me"  frame.
This is the only St. Patrick's day decoration that I have out this year!
So that about does it for my St. Patrick's Day creations!
I am  ready to move on to Easter and spring!  One of my granddaughter's helped me put out all my Easter/Spring decorations and I am looking forward to spring coming and warmer weather!   But right now, that is only wishful thinking, since it snowed again and we are dealing with the cold and blowing wind!  Ugh!
But at least the inside of my house is bright and cheery, so that will have to do for now! :)
Have a great Monday!  Love Ya!
If you have not yet entered to win this fun Lime Rickey Apron, you need to get on the ball because  the giveaway ends in 1 day!