I have a couple of vegetarians in my family. So, I like to try out a few recipes every now and then, that are perfect for them to eat! This is what I came up with…a Mushroom Spinach Pasta Bake with pine nuts!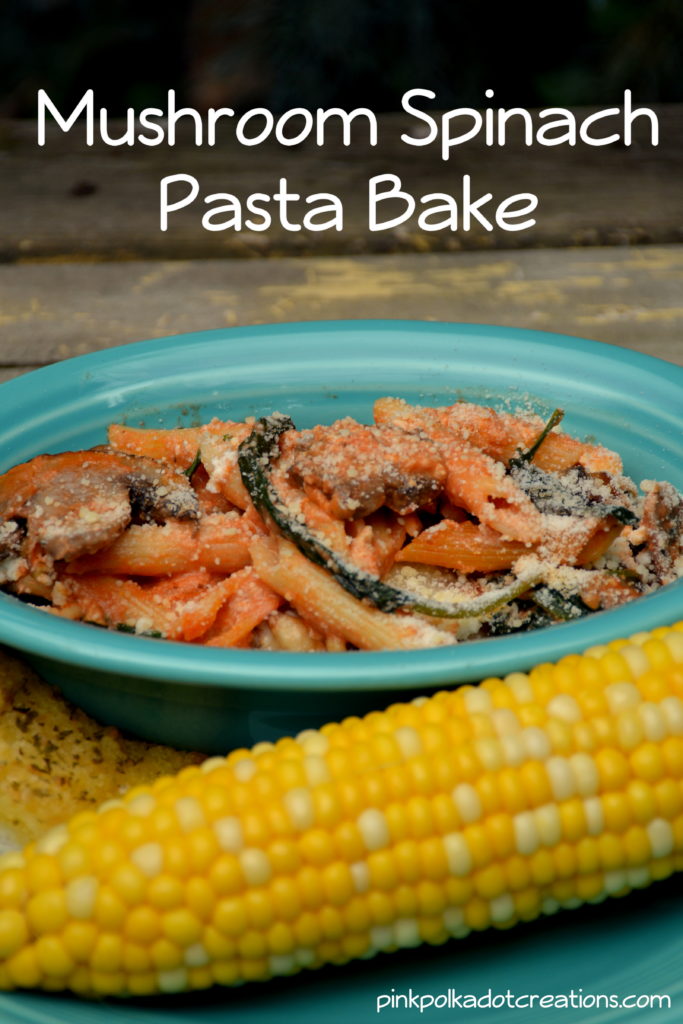 I came up with this recipe with the help of a couple of Pioneer Woman recipes! We changed up two different recipes to come up with this one. It was a winner and everyone that tried it liked it! The original recipe had an Alfredo sauce with the mushrooms and spinach. Another recipe had the marinara sauce with cream. So I combined parts of two recipes to come up with this recipe!
The pine nuts are just a delicious bonus!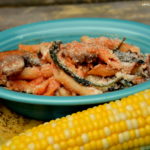 Mushroom Spinach Pasta Bake with pine nuts
2016-09-20 21:33:15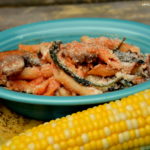 Serves 10
A delicious pasta dish with mushrooms, spinach, pine nuts and three different cheeses. A great comfort food!
Nutrition Facts
Amount Per Serving
Calories 384
Calories from Fat 147
Trans Fat 0g
Polyunsaturated Fat 3g
Monounsaturated Fat 5g
Total Carbohydrates 42g
14%
Sugars 5g
Protein 17g
* Percent Daily Values are based on a 2,000 calorie diet. Your Daily Values may be higher or lower depending on your calorie needs.
Ingredients
1 pound penne pasta
1 cup ricotta cheese
2 tablespoons chopped fresh parsley or 1 tablespoon dried parsley
3 tablespoons butter-divided
1 teaspoon olive oil
1/3 cup pine nuts- toasted
One 10-ounce container mushrooms, sliced
Salt
Pepper
One 8-ounce bag fresh spinach
1 clove garlic-minced
2 cups bottled spaghetti sauce
1/2 cup heavy cream
1 cup grated Parmesan
1/2 cup grated mozzarella cheese
Instructions
Melt one tablespoon butter and the olive oil together in medium pan. Add pine nuts and stir over medium heat until toasted golden brown, stirring constantly. Remove from heat and set aside.
Bring a large pot of water to a boil. Cook the pasta in the boiling water, draining it about 2 minutes before the time on the package. It should still be a bit firm. Rinse it in cold water to stop the cooking process and set aside.
Mix the ricotta with the parsley in a small bowl and set aside.
Preheat the oven to 350 degrees F. Grease a 9 x 13 inch baking dish.
In a large skillet over medium-high heat, melt 2 tablespoons of butter. Add the mushrooms and season with salt and pepper. Cook until the mushrooms have given up their liquid, 5 to 6 minutes. Add the spinach and garlic and cook, stirring frequently, until the spinach has wilted. Remove the veggies from the liquid and set aside.
Add jar of spaghetti sauce to pan and boil to reduce liquid, a minute or two. Add heavy cream while whisking it all together. Add 3/4 cup of Parmesan and mix together.
In the prepared dish stir together the pasta, vegetables, pine nuts and sauce. Add spoonfuls of the ricotta mixture, pushing them a bit into the pasta. Sprinkle the remaining Parmesan and mozzarella cheese over the top.
Cover and bake for 20 minutes. Uncover and bake until the top is brown and the mixture is bubbling, about 20 minutes more.
Pink Polka Dot Creations http://pinkpolkadotcreations.com/
This pasta is a wonderful comfort food with the deliciousness of 3 different cheeses! The flavors all compliment each other and pine nuts give this dish a delightful nutty flavor!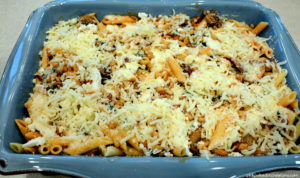 Here is a picture of it before I baked it. You can see all the different cheeses…ricotta, Parmesan and Mozzarella.
I used my homemade bottled spaghetti sauce, but you can use any bottled spaghetti or marinara sauce.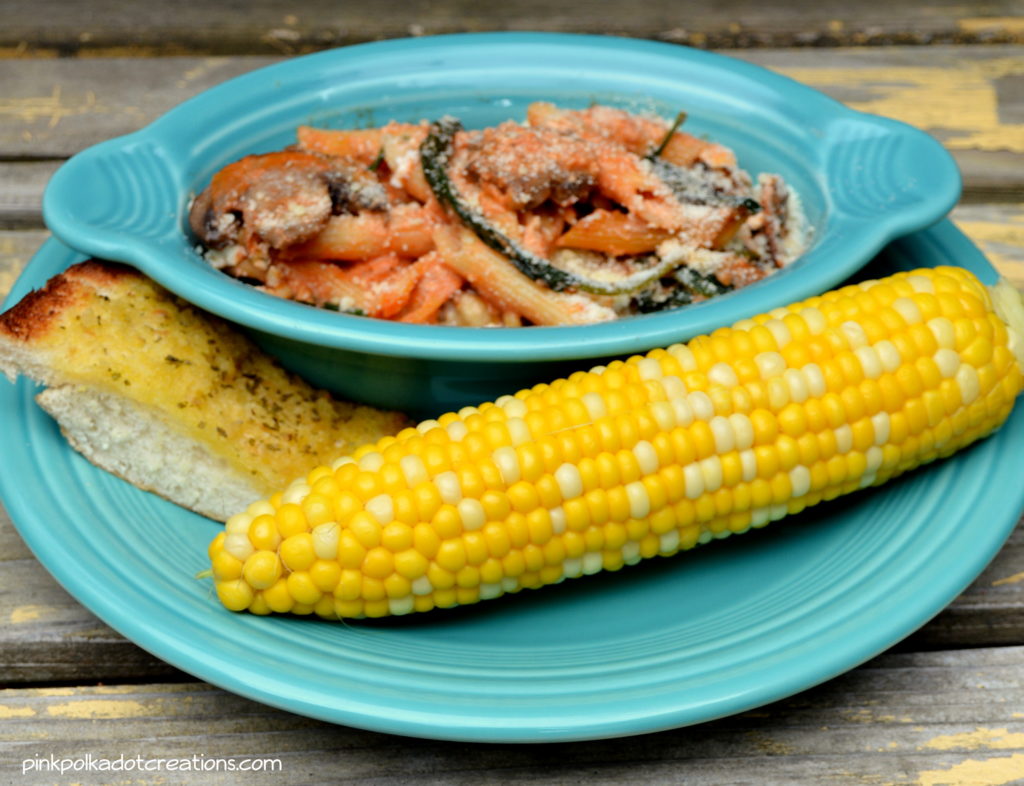 I added a cob of corn and a piece of garlic bread to round out this delicious meal!
Even the kids ate this and some of them even asked for more. It was delicious the second day for leftovers!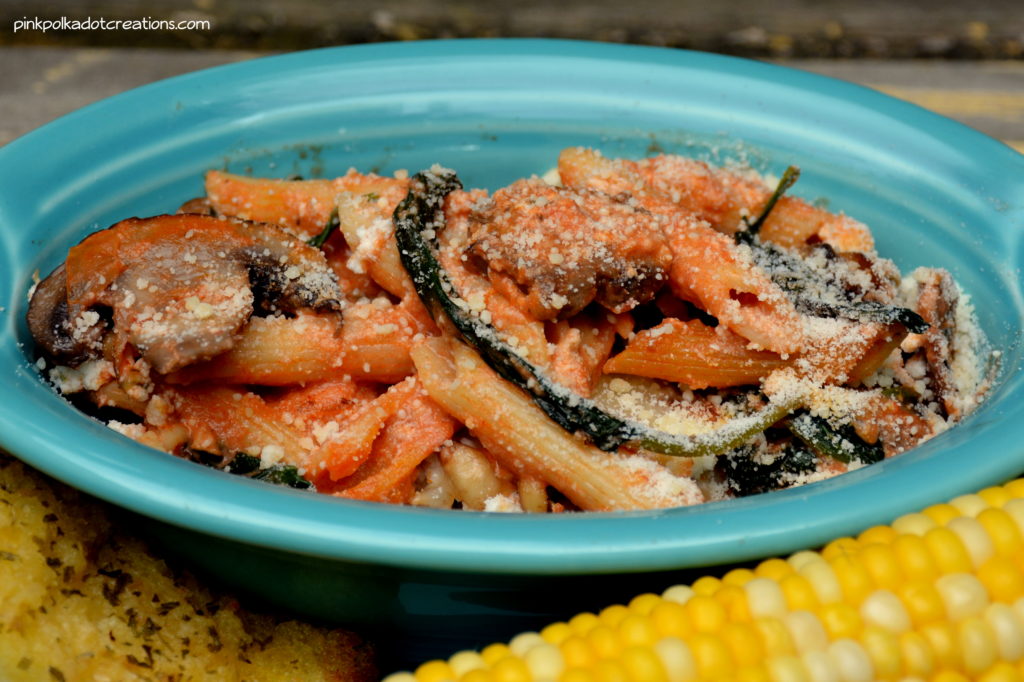 Do you have a favorite pasta dish that is vegetarian? I loved this Mushroom Spinach Pasta Bake with pine nuts and I will be adding it to my arsenal of recipes. The pine nuts are what put this over the top for me, I love any kind of nuts! (I kept sneaking the toasted pine nuts out of the pan before I got them into the dish!)
The weather is starting to cool down, so we can start making more of these delicious comfort foods! I am excited that I have one more dish that I can serve my family!
Thanks for Visiting…Is it a Pasta-Kind-Of-Day for you too?