For some reason I have just had a craving for a cream puff!
Weird, I know.  But I have had it for several days and so last night I decided to do something about it!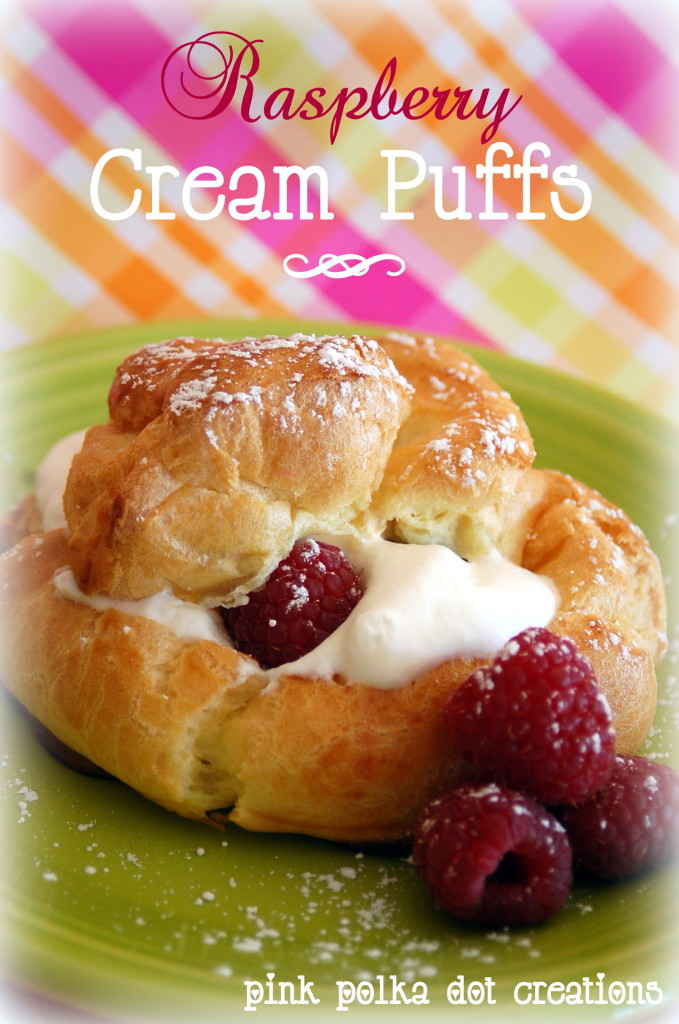 These tasted so good with the addition of the fresh raspberries!   I also added almond extract to the cream instead of vanilla and they really just hit the spot!
So does anyone else happen to have a craving for Cream Puffs?
Raspberry Cream Puffs: recipe adapted from Taste of Home
1 cup water
1/2 cup butter
1/4 teaspoon salt
1 cup all-purpose flour
4 eggs
2 tablespoons milk
1 egg yolk, lightly beaten
2 cups  whipping cream
1/3 cup confectioners' sugar
1 teaspoon almond extract
Additional confectioners' sugar
Fresh Raspberries
Directions
In a large saucepan, bring the water, butter and salt to a boil over medium heat. Add flour all at once and stir until a smooth ball forms. Remove from the heat; let stand for 5 minutes. Add eggs, one at a time, beating well after each addition. Continue beating until mixture is smooth and shiny.
Drop by 1/4 cupfuls 3 in. apart onto greased baking sheets. Combine milk and egg yolk; brush over puffs. Bake at 400° for 30-35 minutes or until golden brown. Remove to wire racks. Immediately cut a slit in each for steam to escape; cool.
In a large bowl, beat cream until it begins to thicken. Add sugar and vanilla; beat until almost stiff. Split cream puffs; discard soft dough from inside. Fill the cream puffs just before serving with cream and top with fresh raspberries.   Dust with confectioners' sugar. Refrigerate leftovers. Yield: 10 servings.
———————————————————————————————————————————————————————-
These would be perfect for any party, shower, or just a fun dessert to surprise your family with!  They would be great with any fresh fruit, such as strawberries, blueberries, peaches, blackberries, etc.  If you were making a bunch of these for a special occasion, you could also add vanilla or cream cheese pudding to the cream to make it go farther.
They are really a light, refreshing treat for anytime and they make such a pretty presentation!
Hope you have a Great Day!  Love Ya!
I just had to add this picture today!  We went to one of our grandson's basketball tournaments this last weekend and my grandson  is the tallest kid on his team, (# 51)  but this is who he was supposed to guard in the championship game!?  Seriously?   This other kid was not only tall, he was also a really good player!