I made these potatoes for dinner on Sunday when I had all my crew here.  My grandkids kept saying that they were big french fries!  And I say, whatever it takes to get them to eat  is OK by me!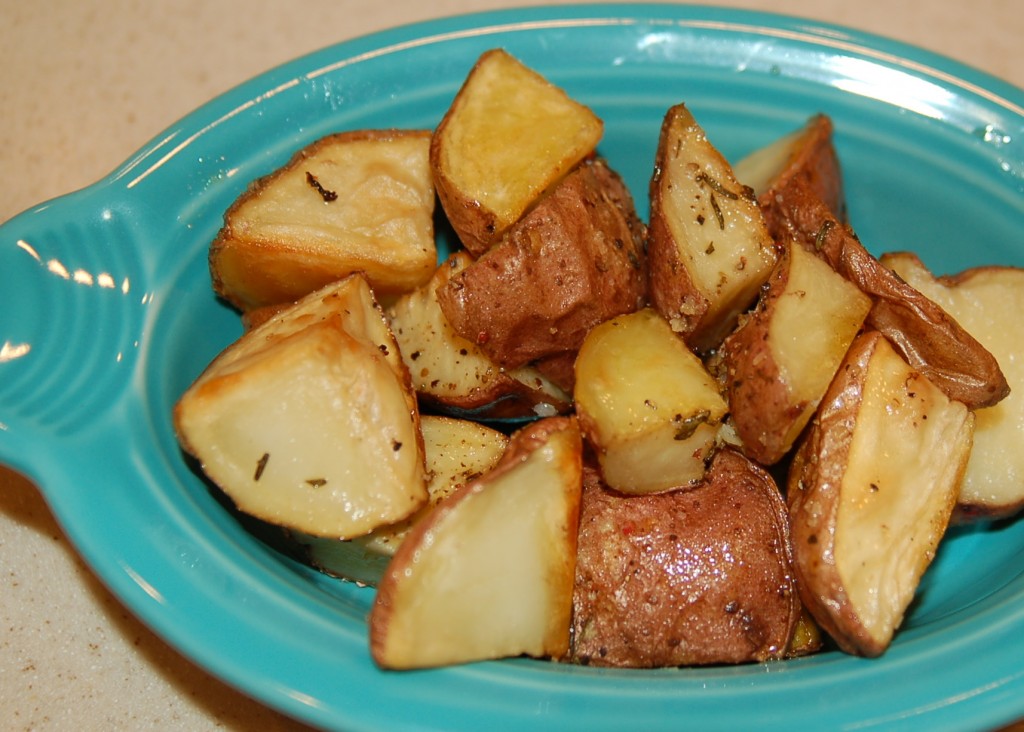 These are very simple to make and they have so much good flavor to them,  I paired them up with whole roasted chicken, cabbage salad and my DIL's yummy crescent rolls!  So does anyone want to make Roasted Red Rosemary Potatoes?
I covered my baking sheet with tin foil before I started, only because I am lazy and don't like a lot of clean up.  You do not have to do this step unless you are lazy like me!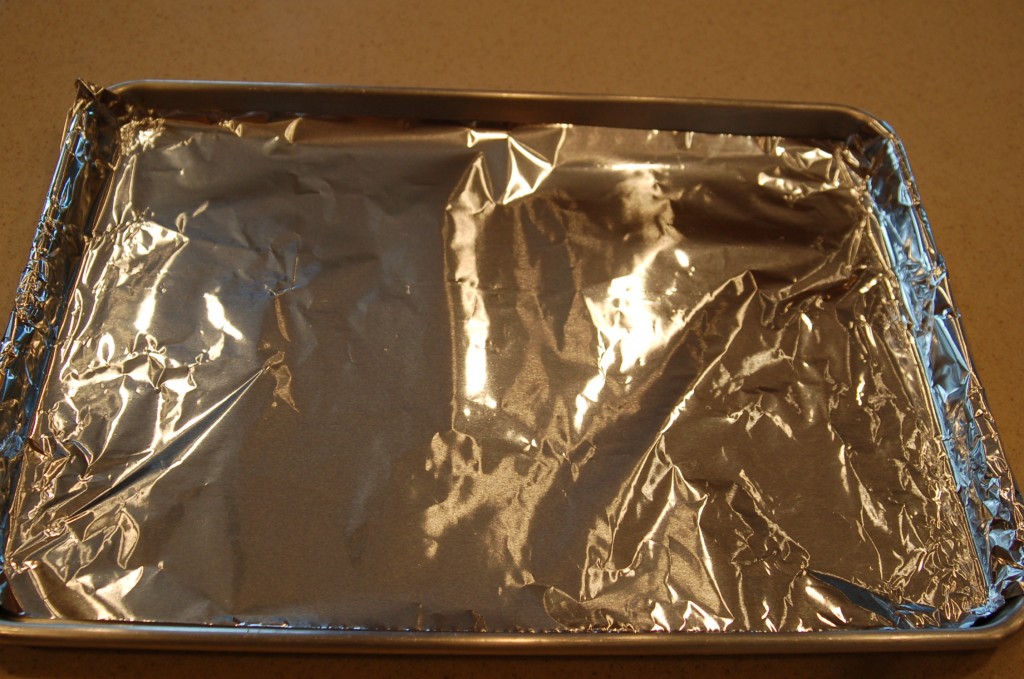 Next I went to my rosemary plant in my kitchen and cut a few sprigs off the top.  Don't you love my little statue!  It says "She Who Has A Great Attitude!"  It is my reminder everyday to look for the good things and to be happy and have a Great Attitude.  It does not always work, but I find myself smiling at it a lot and it is a fun little reminder!
I used 4 sprigs, but you can totally use as much or as little as you want.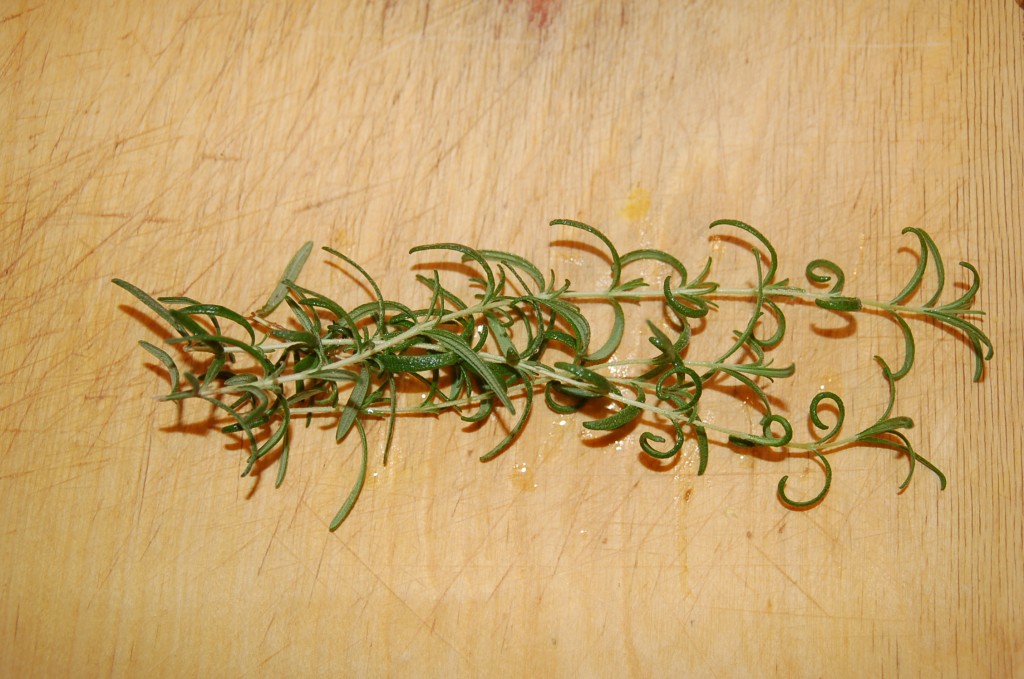 Strip all the leaves off the stem.  These stems were pretty tender and not woody at all, but I still stripped them off and then chopped them up.  You can buy fresh rosemary at most groceries stores, or you could use dried.  (If you use dried, you will want to use less than if you use fresh)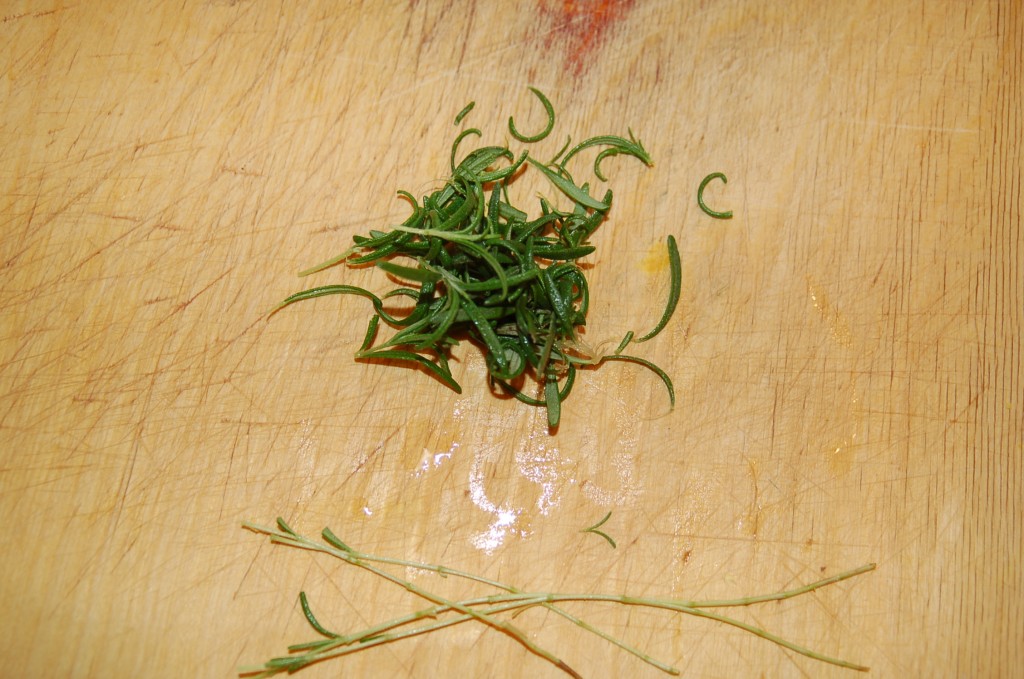 Wash and chunk your potatoes and put into a big ziplock bag.  Then drizzle the potatoes with olive oil.  If you are trying to watch your weigh you can just use a little drizzle, if you want a little more flavor and crunch, add a little more oil. :)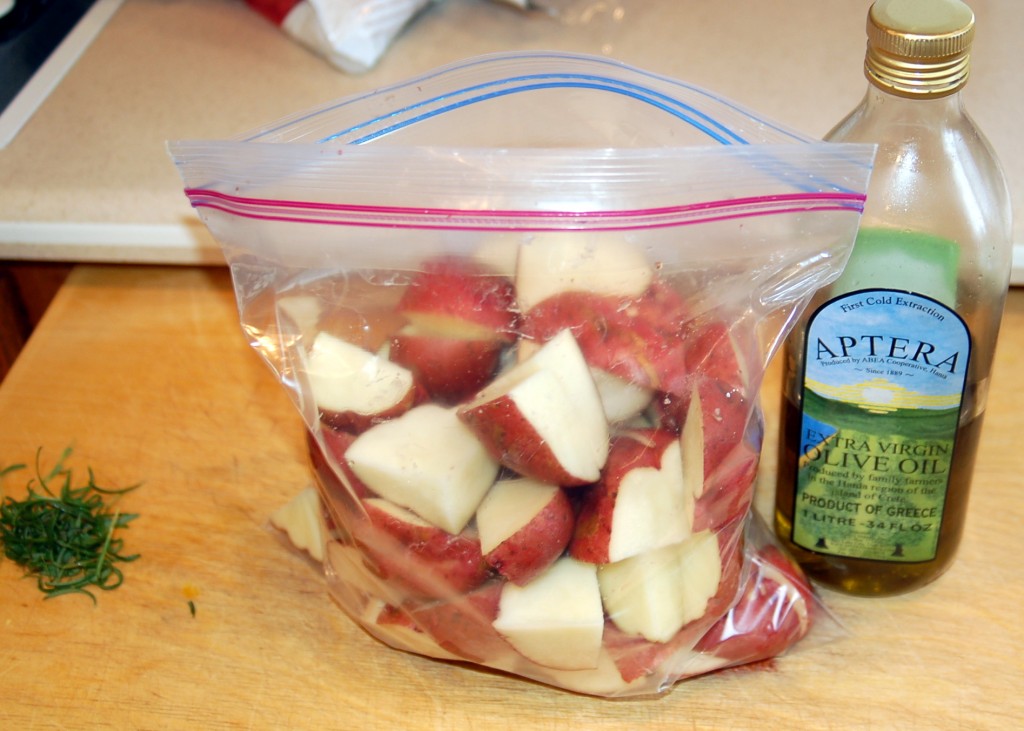 Next, spread them out on your prepared baking sheet.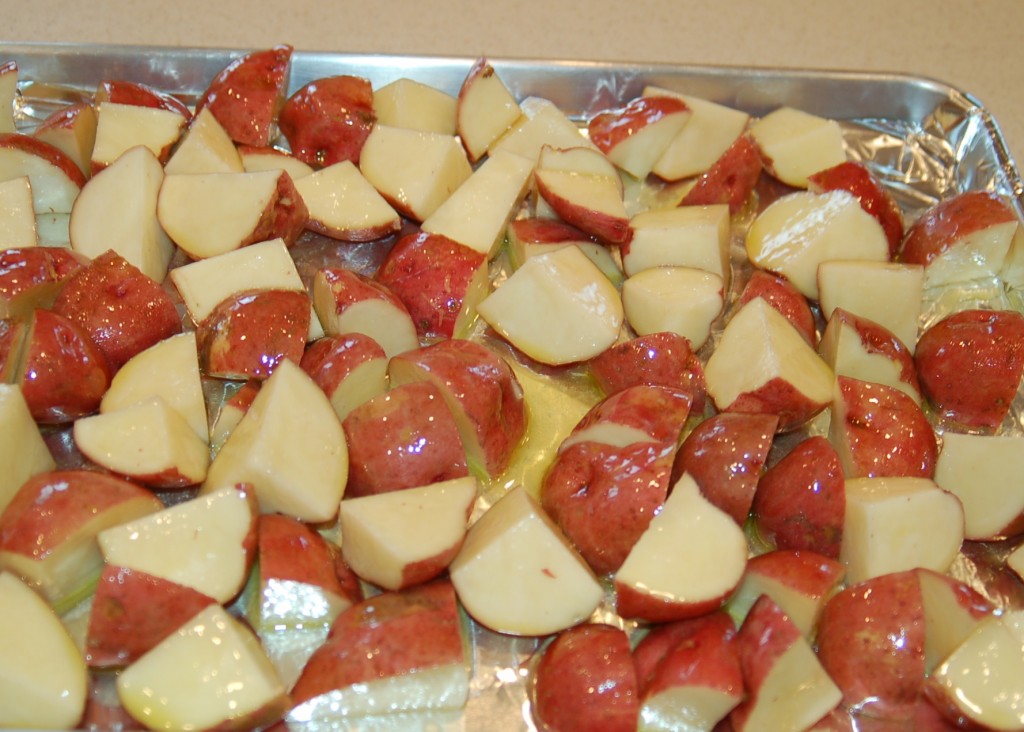 Sprinkle with the rosemary, Kosher salt, pepper, and garlic, to taste.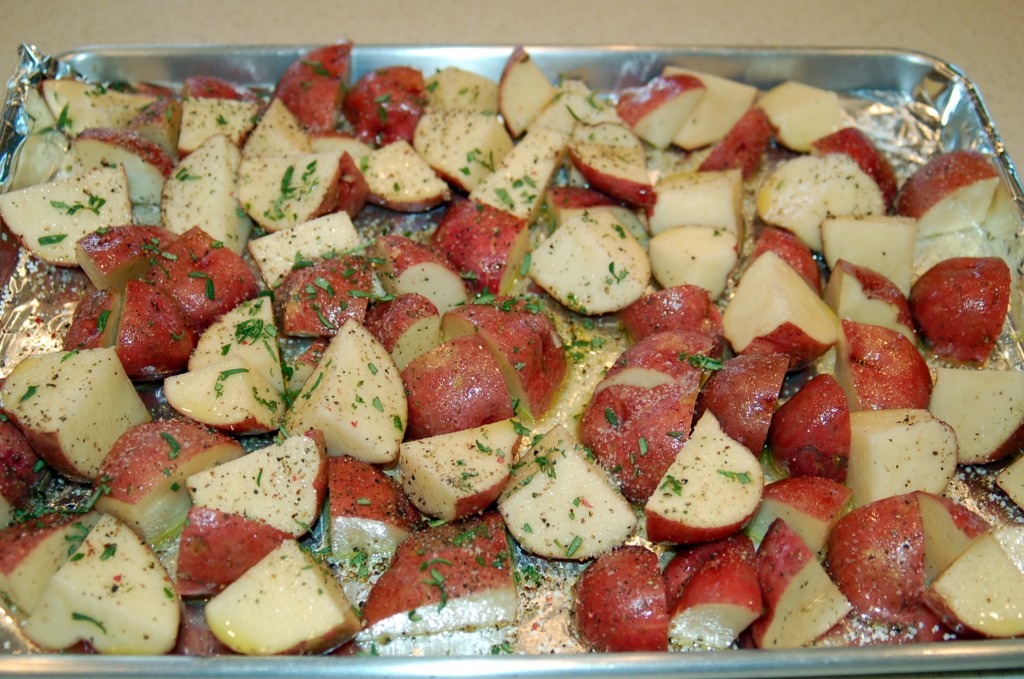 Bake at 375 degrees for 1 hour.  Most recipes say to bake for about 40 mins, but I like my potatoes mushy in the middle and more crispy on the outside, so I baked them for a little more than an hour and they were perfect!
I made that big pan full for my crew and I thought that I was going to have way too much, and this is what I had left over!  (I forgot to take a picture right before we ate, so I was glad that there were at least this many left over!)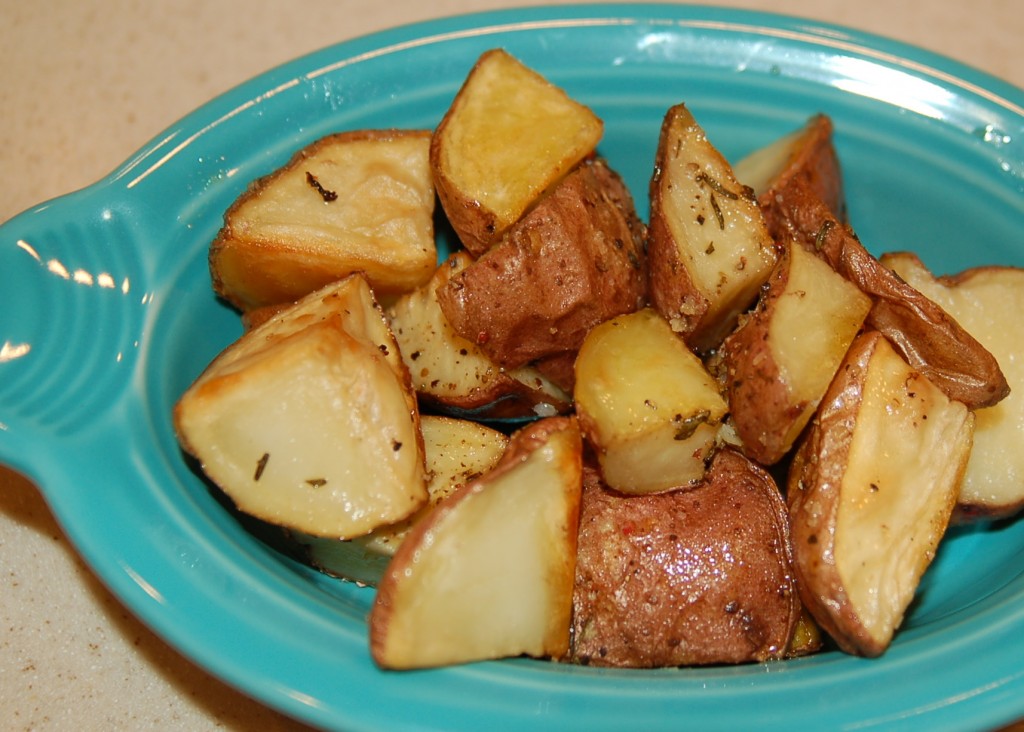 This is a great way to make potatoes that can go with a lot of different dishes and they are yummy with all the different spices on them.  You could also add whatever spices your family likes…seasoning salt, parsley, dill, crushed red pepper etc.
So go make some for your dinner tonight, your taste buds with thank you!