Today I thought that I would just do a little roundup from last year of my St. Patrick's day printables and recipes.
So here we go:
Yummy mint and chocolate cupcakes with a ganache frosting! Doesn't get much better!
Perfect for framing!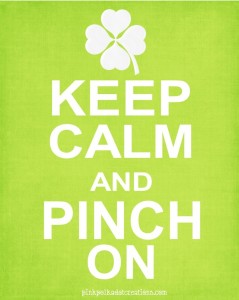 Yum! Salad with grilled chicken, oranges, cranberries, pine nuts and blend of Romano, Asiago, and Parmesan cheeses. Plus make your own dressing, that can also be used for a marinade!
4. Lucky Me.
Another fun printable, that could be framed.
A fun family game and also great for school class parties!
So there is my St. Paddy's day roundup.
Come back on Monday and I'll have a fun, minty St. Patrick's Day candy bark.
It's Friday! It's Friday!
Have a great weekend Everyone! Love Ya!