Do you need a last minute table runner for your Thanksgiving dinner, or perhaps you would like to make one for Christmas…or any occasion for that matter. Well, here is a tutorial on how to make a "Super Easy Table Runner!" This project is wonderful for a beginning seamstress or great for someone that is advanced!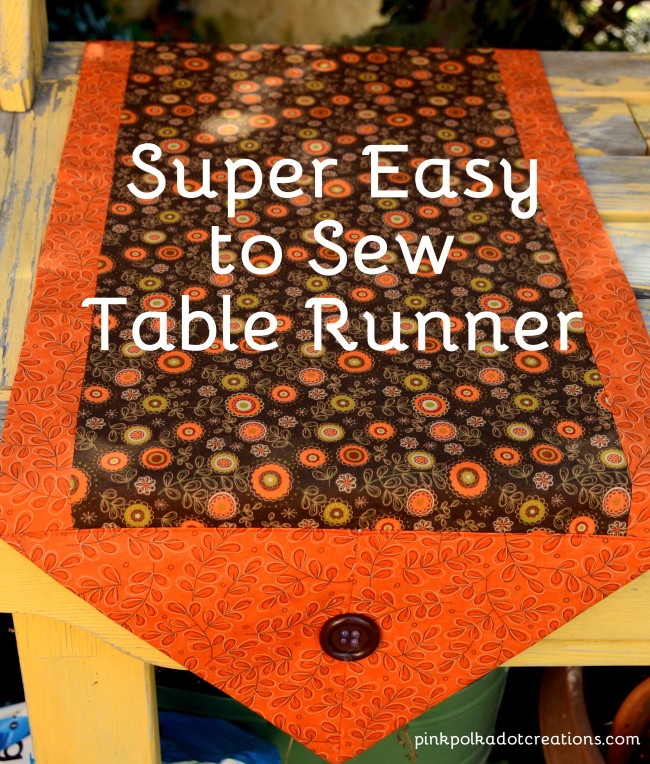 So does anyone want to make one of these Super Easy to Sew Table Runner?
You will need: 12″ of fabric for the front – 18 " fabric for the back – matching thread -2 buttons or other embellishment.
1. Cut your top fabric 12″ x width of fabric (WOF) Cut the bottom fabric 18″ x WOF.
2. Lay the two pieces right sides together (RST) and sew a 1/4 inch seam down the long side.
3. Now bring the other two sides together. You will still have the right sides together and sew 1/4″ along the side making a cylinder.
4. With the wrong side of the fabric still out, press the seams open.
5. Turn right sides out and press flat. You should have about 1.5″ inches on each side for the border.
1. After you have pressed it, trim the ends so that they are even.
2. Fold in half with the back sides together, pin and sew 1/4″ seam through all thickness.
3. Turn out the point and press well.
4. Topstitch across the bottom of the "triangle" to hold in place. Hot glue or stitch a button or other embellishment.
Enjoy! Now wasn't that easy?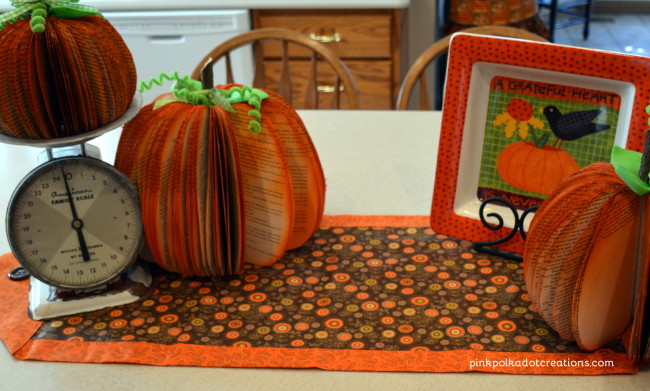 Here is my table runner on my kitchen counter…does that mean it should be called a counter runner??? :)
If you want to make this into a fun tote like the ones for Halloween: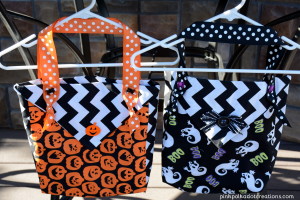 All you do is fold in half and sew up the sides. Add two ribbon handles and you have a darling tote bag!
So are you ready to go out a purchase some fun fabric so that you can make a table runner or two…or perhaps you need some tote bags for Christmas gifts???
Thanks for Visiting Today! I appreciate You!