This post brought to you by Avocados from Mexico. All opinions are 100% mine.
I love, love, love avocados… in salads, on sandwiches, with tomatoes, in guacamole and just about with anything!  So when I got the opportunity to write about avocados, I said count me in!
You can visit Avocados from Mexico and find all kinds of recipes and tips using avocados, there are also games for kids to play and videos to watch.  Be sure to check it out, it is a fun site to browse.  I have already checked out several of the recipes and pinned them!
During the month of February you can "Share the Avocado Love" with this fun: Share the Avocado Love Facebook app.  I sent a virtual bag of avocados to some of my friends and family.  I know that they will enjoy the avocados that I sent to them!  Check out this fun app and send some of your friends a virtual gift.
You can also download ringtones, wallpapers, screensavers or blogging badges.
I  was able to purchase this fun apron from the Avocados from Mexico Cafe Press store
Now I can proudly announce my love for avocados in great style!  They have all kinds of fun items that will promote your love for avocados, from mugs, to t-shirts, to aprons, to bags!  Check it out!
Here is my cute apron!  I love it!  What do you think?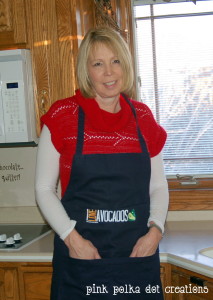 On February 7th  between 3-4 pm EST you can participate in the #iloveavocados Twitter party. Just follow @guacgrl or hashtag #iloveavocados to be part of the fun!  There will be prizes such as gift cards and Cafe Press gift cards-over $500 in prizes!  Should be lots of fun!