Posts Tagged by
Don't Eat Cupid
Today I have one of the Valentines Day projects that I have been working on.
A Don't Eat Cupid Game!
(This is a Valentine's version of Don't Eat Pete!)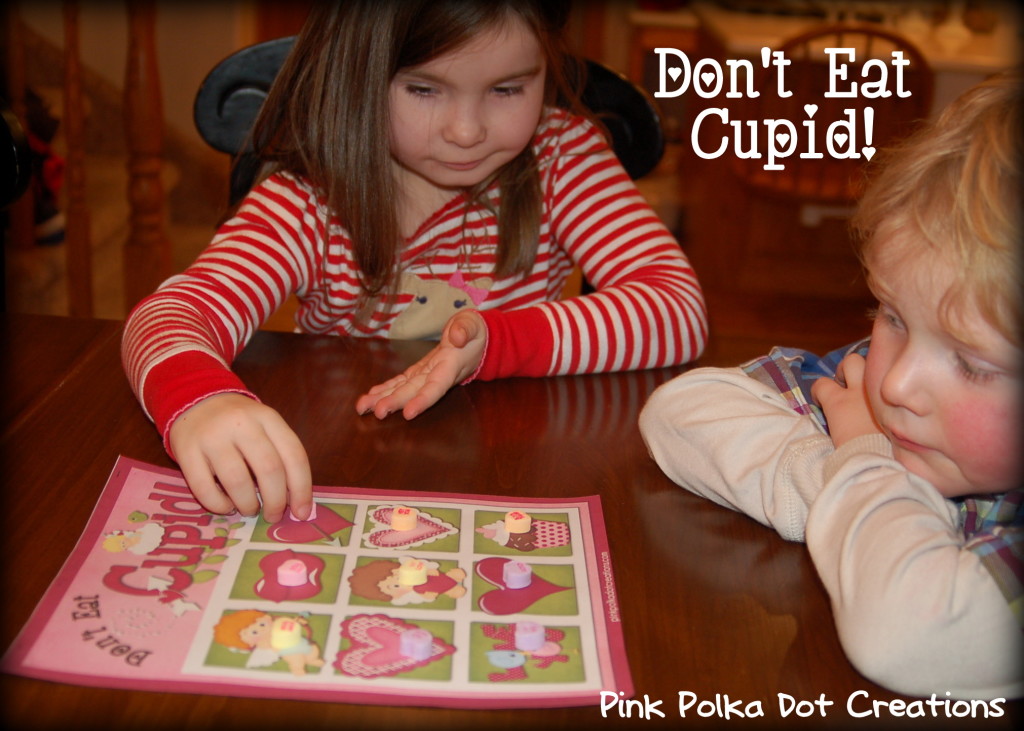 This game is perfect for all ages, and for big or small groups.
It is a great game for school parties, Valentines Day parties, family night or just to entertain the grandkids as I was doing here!
And who doesn't love a game that involves eating candy?!
Here is the printable:
This is formatted so you can just print it out on an 8 1/5 x 11 paper.  To print, just right click over the image and go to "save image as" and save in one of your pictures files. Or right click over image and go to copy, then open your favorite program like word or presentations and right click again and go to paste.  You can then print from there.
You will  want to print on a card stock weight paper, so that it is a little more durable.  You could also laminate it if you want to protect the game board for extended use.
If you have never played the game, here are the directions:
Items Needed

• A supply of M&M's candies, conversation hearts, or any candies that can be picked up and eaten.

• A printed game board

How to Play:

Place one M&M in each square of the game board. Send the first child away from the game board, then have the remaining children choose which M&M will be "Cupid" for the round. Have the first child come back and begin picking M&M's from the game board. As soon as the child tries to pick "Cupid" everyone yells "Don't Eat Cupid!"  The child keeps all the M&M's picked up before trying to get Cupid. Refill the game board and play again with the next child.
So print up a game board and grab a bag of candy and see what kind of fun memories that you can create tonight!
Have a great day everyone!  Love Ya!
Pin It