Today I have a wonderful Caramel Pecan Apple Pie to add to your Thanksgiving Pies arsenal!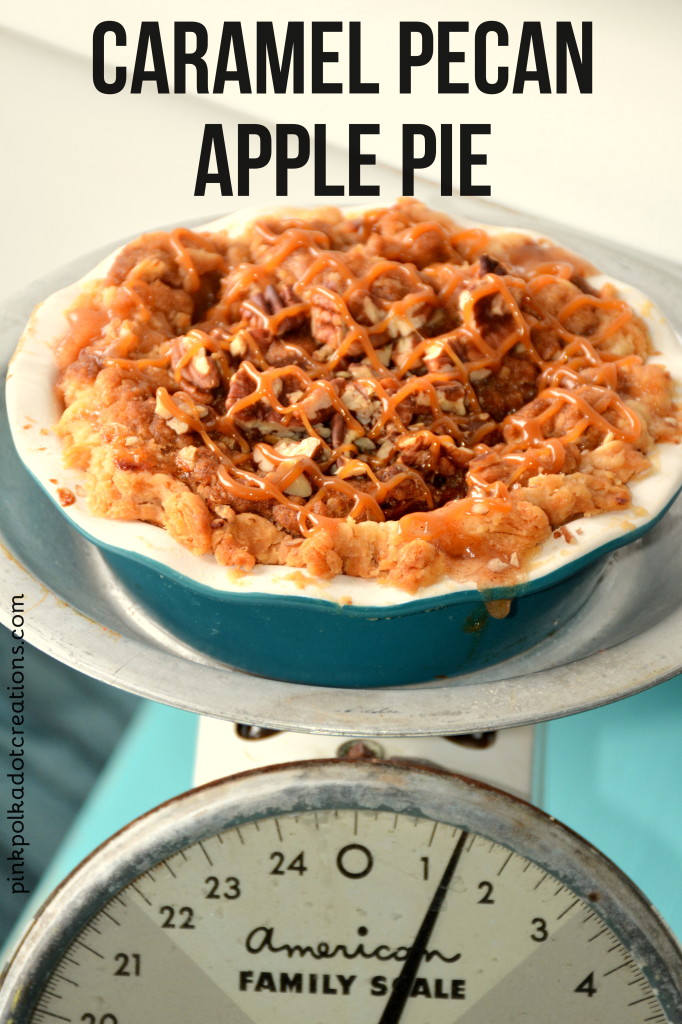 This pie is a wonderful mix of sweet, tart and nuttiness! It will have your taste buds singing! This is a great pie to make ahead and freeze if you are crunched for time!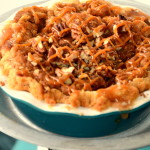 Caramel Pecan Apple Pie
2015-11-03 20:16:50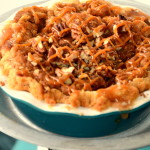 This is one pie that you will want to add to your Thanksgiving Pie arsenal! It is sweet, tart, and nutty with a melt in your mouth goodness!
Nutrition Facts
Amount Per Serving
Calories 8003
Calories from Fat 4811
Trans Fat 53g
Polyunsaturated Fat 122g
Monounsaturated Fat 207g
Total Carbohydrates 717g
239%
Sugars 204g
Protein 81g
* Percent Daily Values are based on a 2,000 calorie diet. Your Daily Values may be higher or lower depending on your calorie needs.
Never Fail Pie Crust
4 cups flour
1 3/4 cup shortening
1 tablespoon sugar
2 teaspoons salt
1 egg
1 tablespoon vinegar
1/2 cup cold water
Caramel Pecan Apple Pie
6-7 cups peeled, sliced apples-I used Honey Crisp apples, but Granny Smith work well too.
1/2 lemon-juiced
1/2 cup sugar
1/4 cup flour
1/4 teaspoon salt
1/2 teaspoon cinnamon
Crumb topping
1 1/2 sticks (3/4 cup) butter
1/2 cup flour
1 cup brown sugar-packed
1/4 teaspoon salt
1/2 cup rolled oats
1/2 cup pecans, chopped
Caramel: 1/2 jar caramel topping or 1/2 cup Peter's caramel-melted
Pie Crust
Mix flour, salt and sugar together. Beat egg, vinegar and water until thoroughly blended. Cut shortening into dry ingredients until it is the size of peas. Sprinkle egg mixture over it, a tablespoon at a time, tossing and stirring lightly with a fork. Mix until dough is just moist enough to hold together. Form ball. Let stand for 15 minutes. Makes 4 shells or 2 double crust pies. (If using shells for cream pies-Bake shells 8 to 10 minutes at 450 degrees F.)
Preheat the oven to 375 degrees F.
Divide Crust into 4 balls, on a lightly floured surface, roll out one ball to the size of a 9 inch pie tin. Press dough into the tin and trim edges slightly larger than the tin. Go around the edges pinching the pie dough to crimp the edge.
For the filling
In a bowl, mix the apples, lemon juice, sugar, flour and salt. Set aside.
For the Crumb topping
Cut the butter into the flour with a pastry cutter, then add in brown sugar, oats and salt.
Add the apples to the prepared pie shell and top with the crumb topping. Bake for 1 hour, covering the edge of the crust with foil it it starts to brown too quickly. After an hour, sprinkle the chopped pecans over the pie, then bake for another 5 minutes.
Remove the pie from the oven and drizzle caramel sauce or melted Peter's caramel over the the top! Allow to cool slightly before serving. Serve with ice cream or whipped cream!
Notes
Can make 4 mini pies or one 9 inch pie. There is enough Pie crust dough for 4 shells or 2 double crust pies. Wrap the extra dough in plastic wrap and freeze for a later date!
Pink Polka Dot Creations http://pinkpolkadotcreations.com/
Don't pay attention to the calorie count in this recipe, because it is for all 4 pie shells. I could not figure out how to change it, so just ignore that. It is pie and has calories…just not quite that many! :)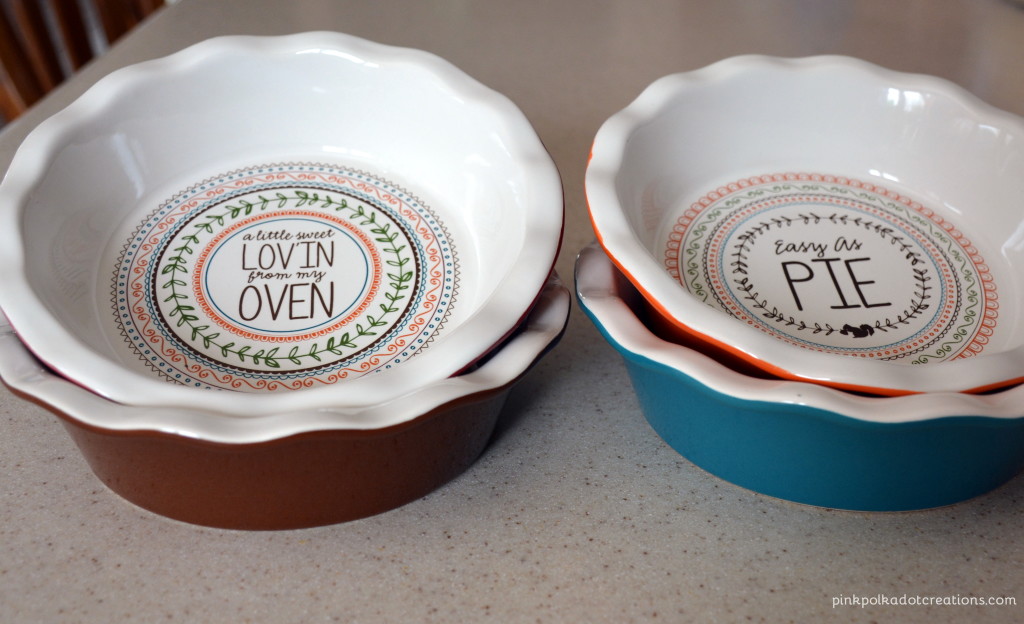 I found these darling pie dishes when we went on our Girl's Retreat a couple of months ago. I was going to maybe use them for gifts, but decided that they were the perfect size to make mini pies for my husband and I! I love the cute saying in the bottom of each pie dish and the fun fall colors! :)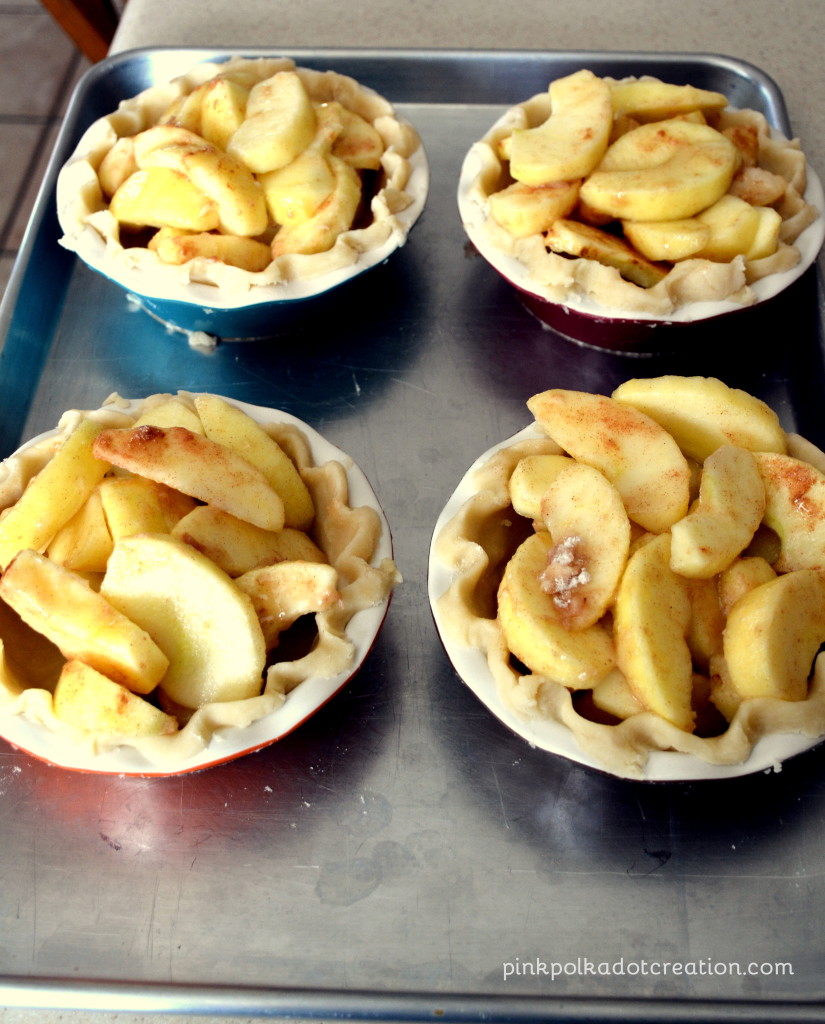 I made 4 mini pies and piled the apples high in each dish!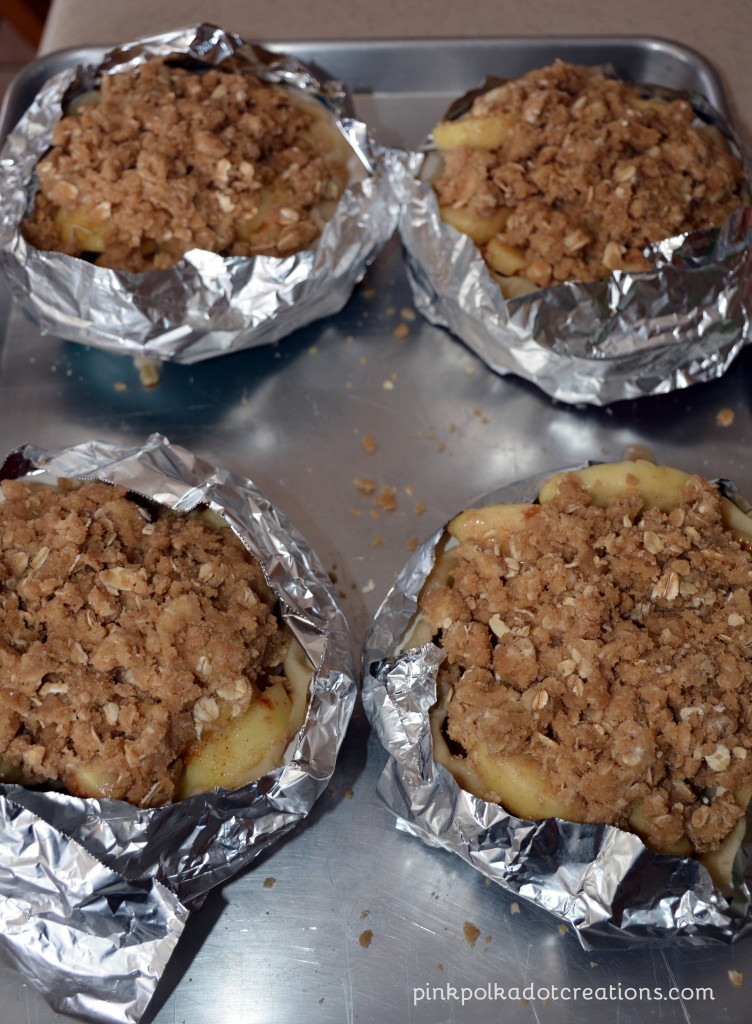 You can cover the edges of the pies with tin foil if they brown too fast. I did not have to use the foil very much because the pies were very full and the crust did not brown too fast!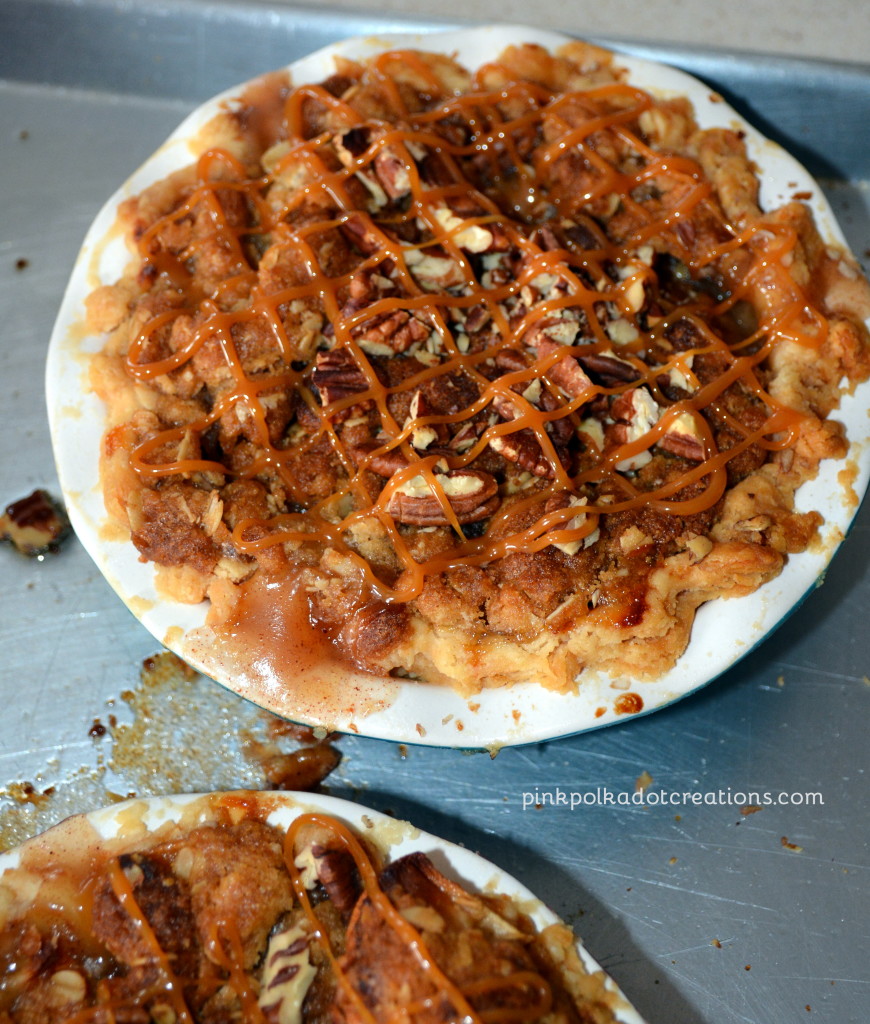 You add the pecans at the end of the baking time and then bake for an additional 5 minutes. I let the pies cool just a bit before drizzling the melted caramel on the top. You can use jarred caramel topping if you do not have the Peter's caramel, but it is more of a sauce and will melt down into the pie more.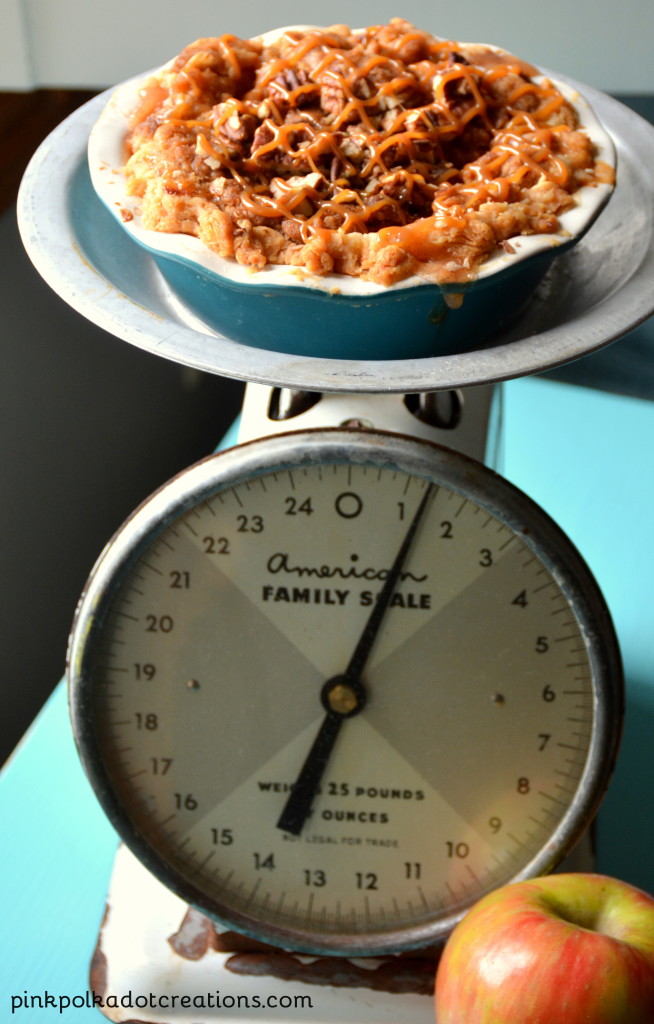 I love these little mini pies. They are the perfect size for my husband and I. I cut one pie in half and added a couple of scoops of butter pecan ice cream and my husband declared that "This is the best apple pie you have ever made!" So I guess that means this one is a keeper! :) I put the other three pies in the freezer for a later date…all I have to do is thaw it out and warm it a bit and I have dessert all taken care of!
Do you make pies for Thanksgiving? I am always looking for good pie recipes and I think that this Caramel Pecan Apple Pie will be around for many years to come!
Thanks for visiting! Hope you have a great day!