We made our caramel apples last weekend.  They are so yummy and really quite easy to do.  My family all prefer these caramel apples to the ones dipped in milk chocolate and candies.  So this year, this is the only kind we made.  But you could definitely use milk chocolate instead of the white, and candies or nuts, instead of the cinnamon/sugar!
First you need to wash your apples to get all of the wax off.  You can use warm soapy water.  Then make sure that they are completely dry.  Put a wooden stick in the center of each apple and then refrigerate for at least an hour to make sure the apples are cold. I used Fuji apples because they are my very favorite kind of apples!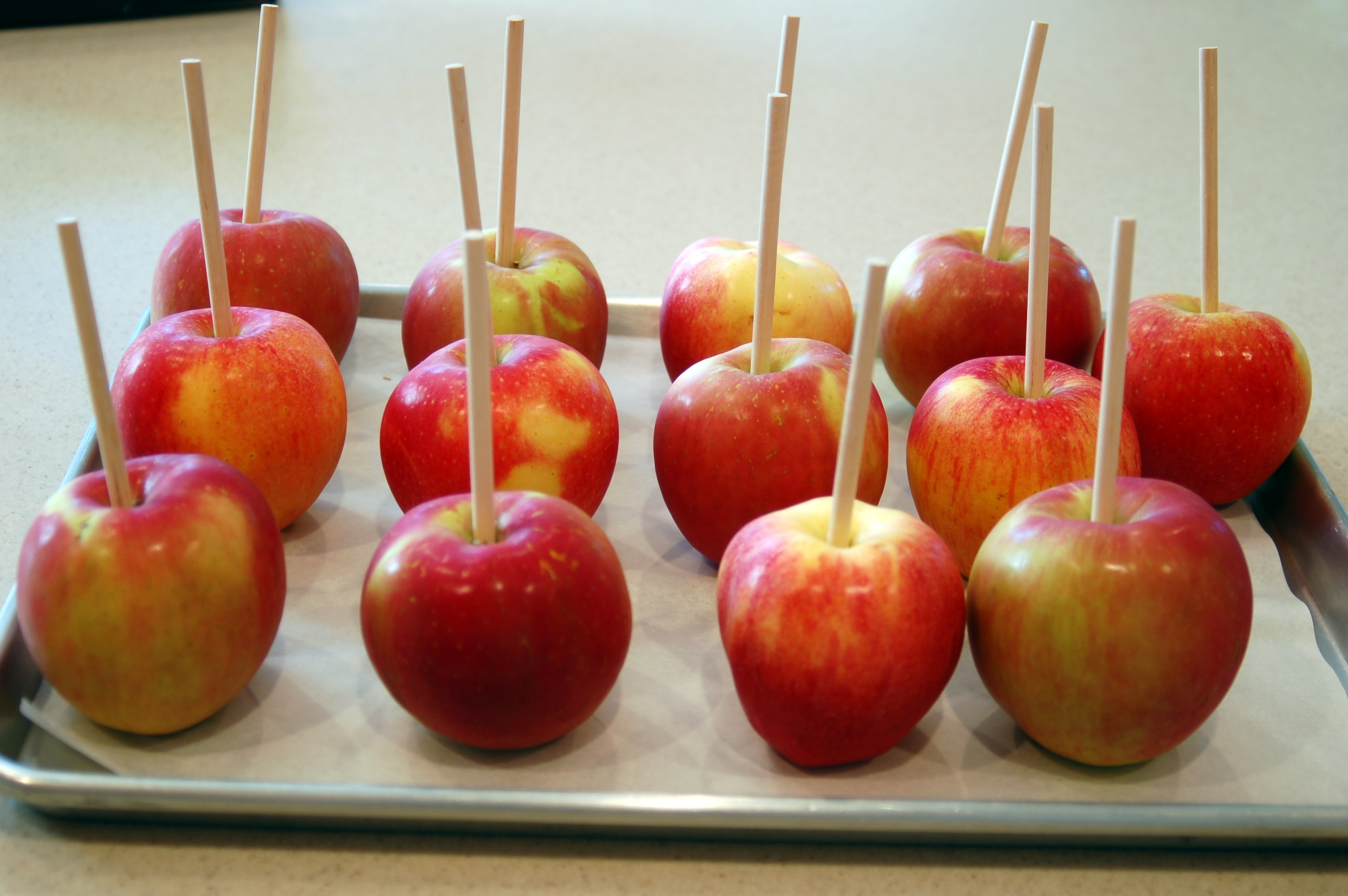 To make "Apple Pie" caramel apples you will need this yummy Peters Caramel that you can buy here.  I also used the Guittard Vanilla Flavored  white chocolate from the same place.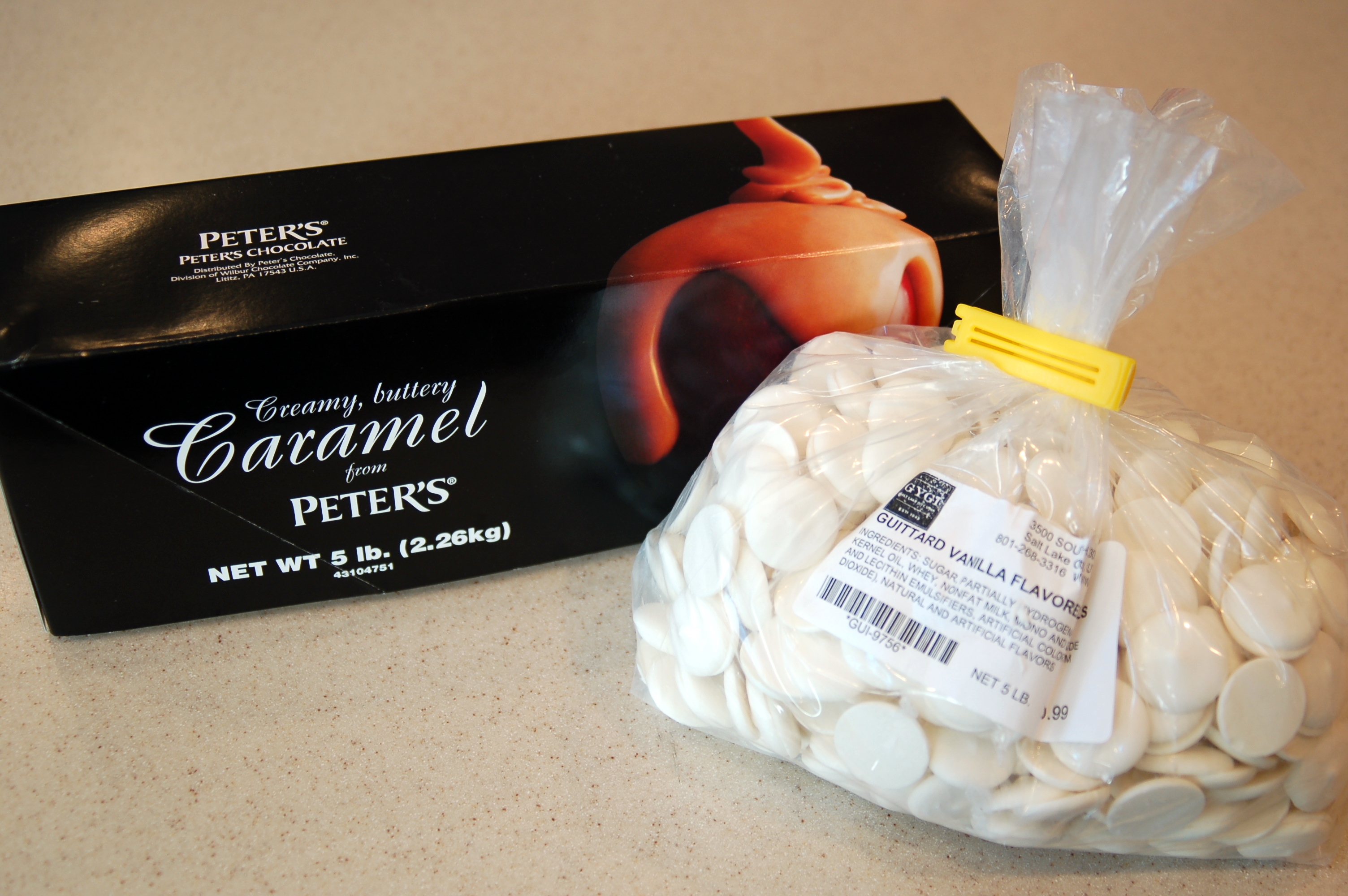 Cut off about 1/4 of the loaf of caramel and put into a large microwaveable measuring cup or bowl.  I like to use a 1 1/2 quart bowl that I have because it is kind of skinny and tall, just right for dipping an apple into!  A 4 cup measure will work also.  Melt your caramel in the microwave.  Cook on high for 1 minute.  Stir.  Cook on 50% power for 1 minute.  Stir again.  Repeat at 50% until thoroughly melted, being careful to avoid scorching.  Dip apples into melted caramel and let caramel drip off the end of apple.  You can dip all the way or about 3/4 of the way, whichever you prefer.  I take a spoon and scrape off the bottom of the apple so there is no carmel on the bottom.  This helps so there is not a big puddle of caramel on the bottom of the apple. Repeat until all the apples have been dipped in caramel. Place dipped apples on a parchment covered baking sheet. Depending on how many apples you are making, you may have to melt more caramel.  A 5 pound box of caramel will cover about 15-18 large apples. Put apples back in fridge to cool.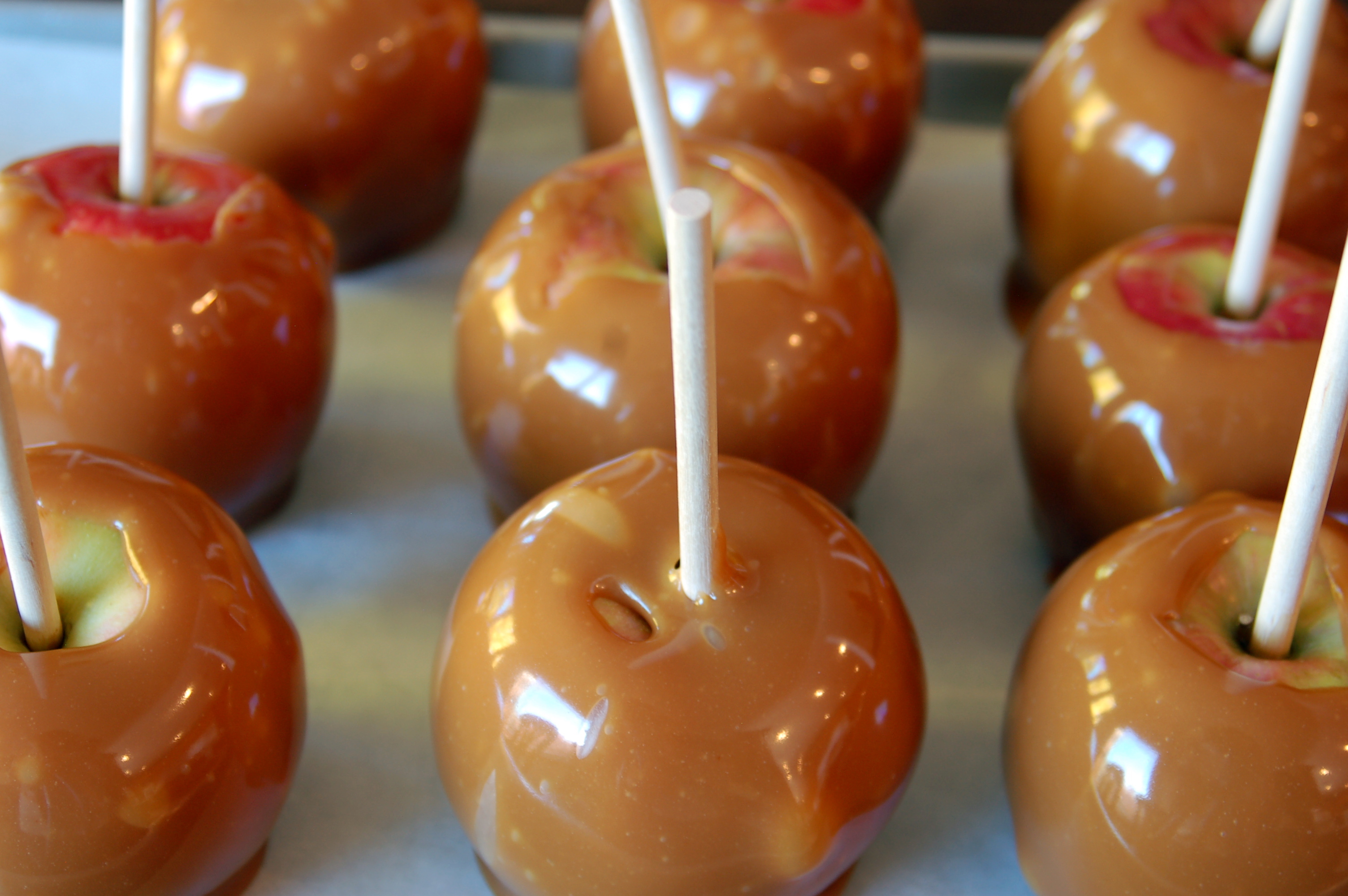 Prepare a bowl of sugar and cinnamon mix.  I used about 3/4 cup of sugar to 1 tablespoon of cinnamon. (That is really just a guess, because I just dump until it looks good!  I like quite a bit of cinnamon in mine.) Melt your chocolate in microwave on 50% power for about 1 min.  Then stir.  Repeat until chocolate is melted.  Be careful not to burn!  Dip the caramel apples into the chocolate and let the excess drip off.  Then immediately spoon the sugar/cinnamon mixture over the chocolate.  I do this over a wide bowl, this is like sprinkling glitter onto glue.  It will only stick where the chocolate is.
Put some of the melted white chocolate into a ziplock baggie with the corner cut off very small, or use a pastry bag with a small tip.  Pipe squiggly lines up and down the apple to make it look oh so pretty!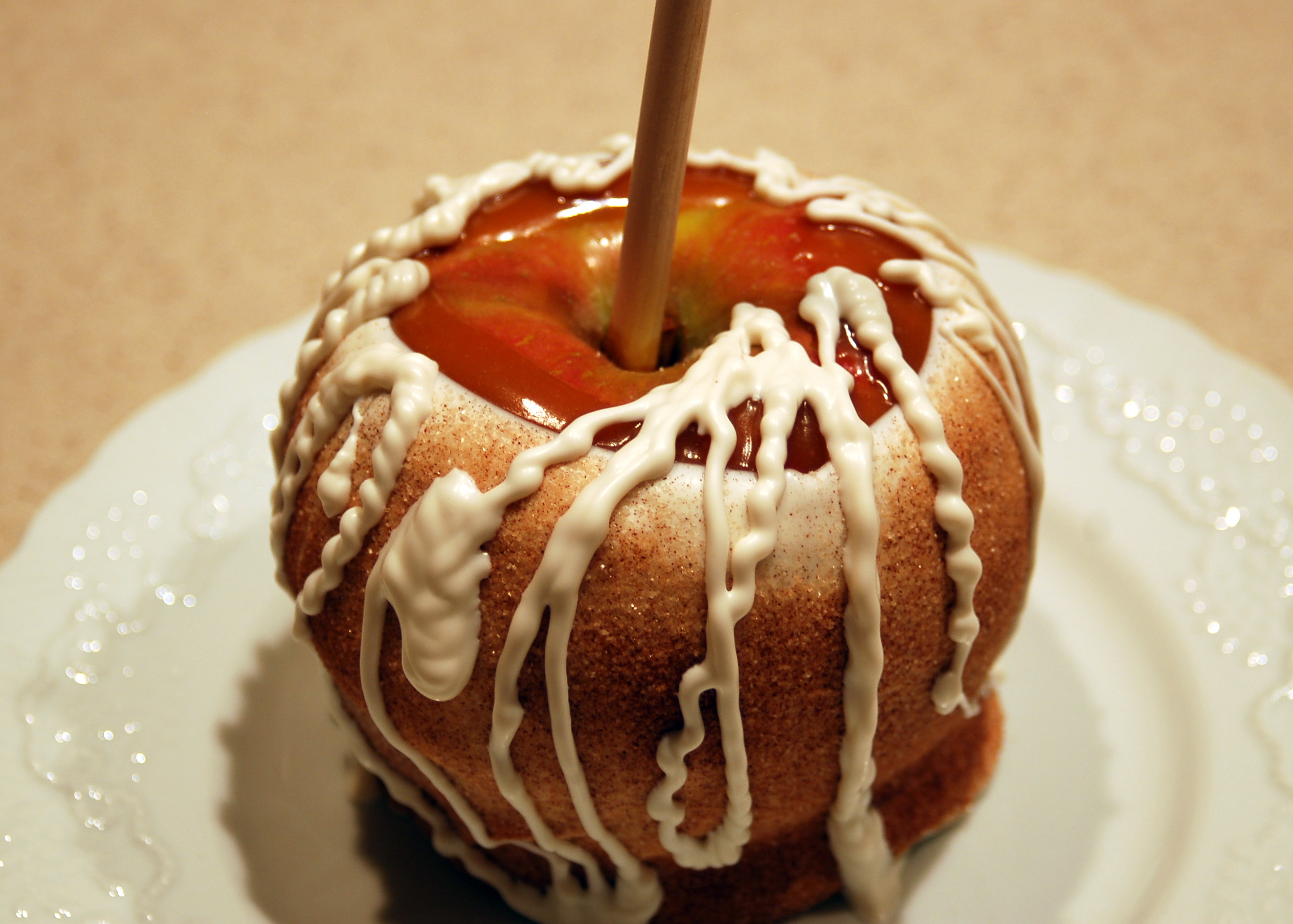 Let all the chocolate set up and then you can tie them up in a cellophane bag with a cute ribbon!   YUMMM!
This is a great gift idea for teachers, friends or heck, is there anyone who would not love to recieve one of these?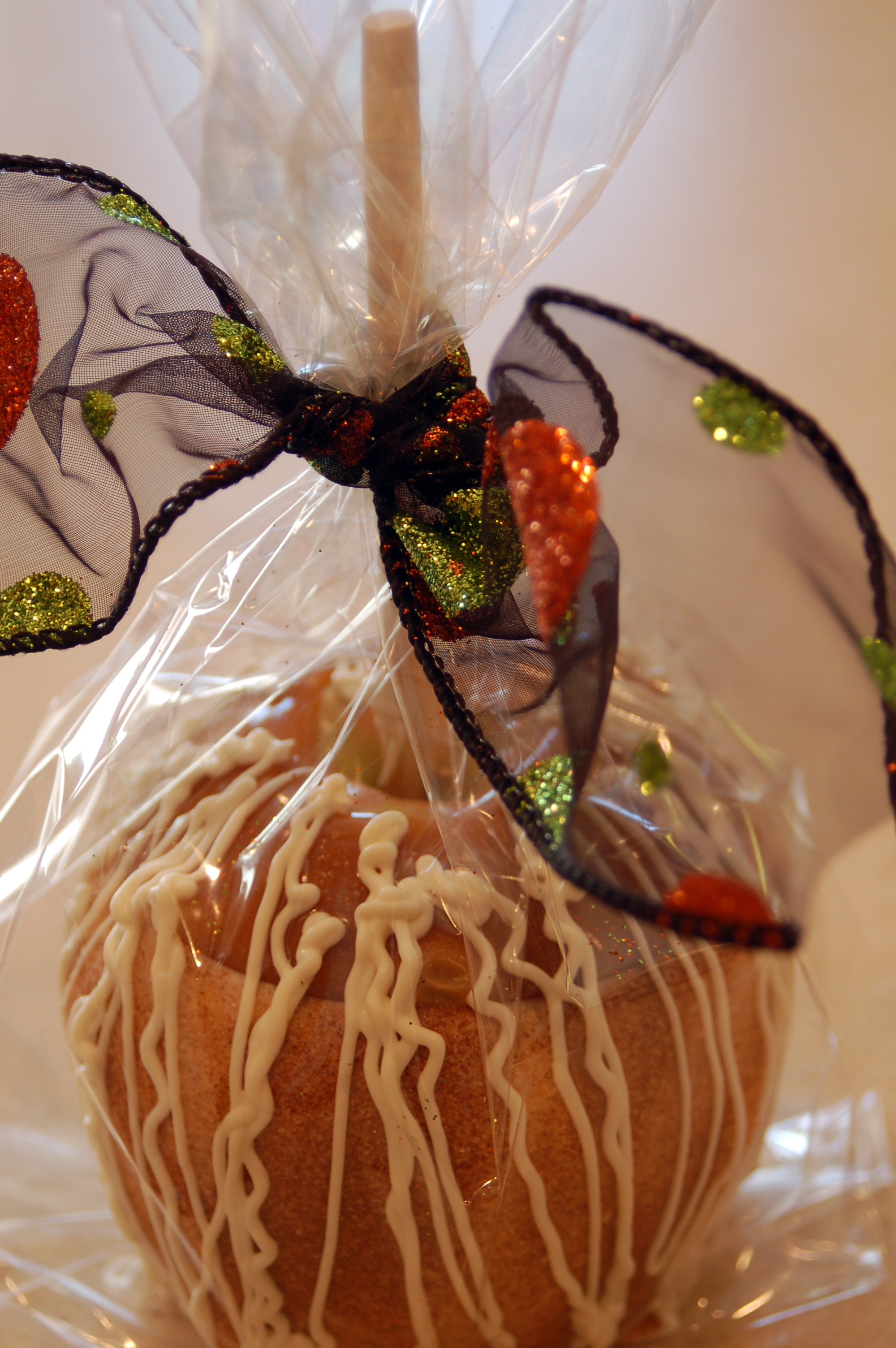 Next is how to cut a caramel apple!
First you cut on both sides of the stick, along the core.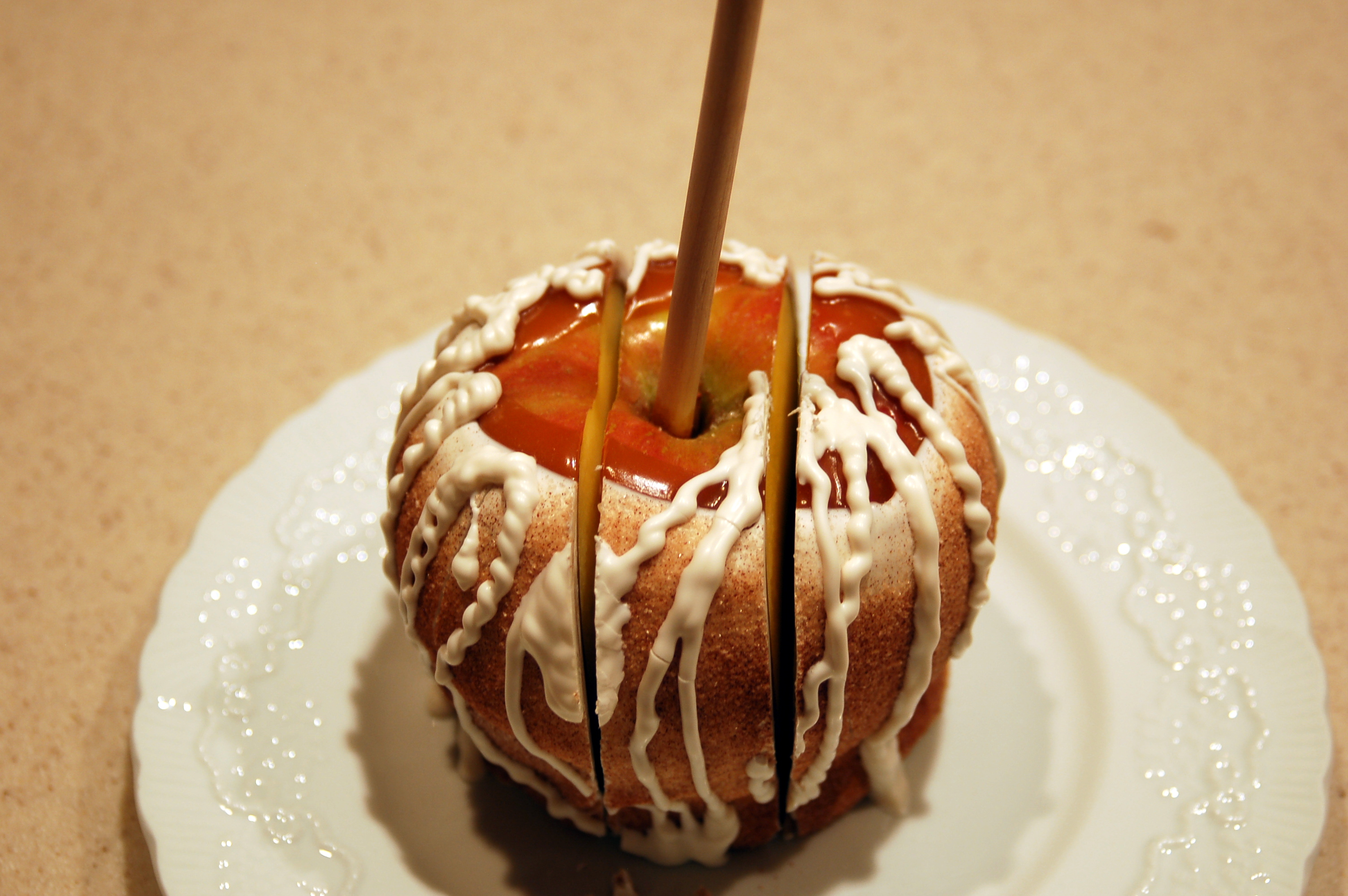 Then turn the apple 90 degrees and cut again on both sides of the stick, along the core and you have perfect little wedges that are just the right size for serving and EATING!