Today I have a yard tour for you. I was going to do this earlier…but a hail storm shredded some of my flowers to shreds and they are just now starting to look good again! Mother Nature is a curious creature. :)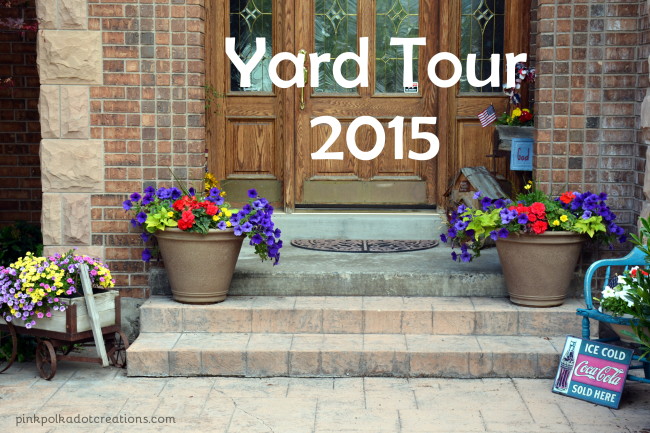 This post is a a little picture heavy…so you have been warned! I get just a little bit crazy when it comes to planting pots each spring. My husband just shakes his head (but then he tells me I need to add more!)
This yard tour starts at my front door. The flower cart is on the right of the door and the sunflower basket on the left. I always plant this chair in red, white and blue. The blue Lobelia is just beginning to bloom, but by the 4th of July this chair should be in full bloom! So, Happy Birthday America! I love having a bit of an Americana theme in some of my flowers!
All of these flowers are in my front court yard. The old wagon is full of yellow and purple miniature petunias. It has just been full of blossoms from the time I purchased it. The old wheelbarrow is chock full of all kinds of shade flowers. My old bench has a flag quilt and fun pillows and my hanging flower stand finishes off this little summer vignette.
I found these old ammo boxes at Highland Gardens. I had to drill holes in the bottom of the boxes for drain holes. They have a metal liner, so I am hoping that these boxes will last me for many years. I love the yellow writing on these boxes! I told my husband about these boxes and I was thinking about getting one to plant…he was the one that suggested that I needed to get two! I put them on the side of my driveway and they welcome me every time I come home!
These pots are at the end of my driveway. I have been waiting for the Geraniums to bloom in these pots. I bought them as little plants and they have finally gotten to big enough to have blossoms! I have shown my table and chalkboard door already, but we are loving this table in the afternoons that I tend grandkids. This is our "Popsicle" table, where the kids enjoy a cold treat!
The top picture is from my table looking down on the patio. I love to look over the driveway because we have a small pond down in the corner and the sounds of the waterfall are so soothing and relaxing. We have lots and lots of birds in our yard so my pet owl keeps them at bay. They still come to visit…but I don't think there are any nests in my trees! The other picture is my herb garden that is right outside the garage door. I love this here because I can just run outside and snip what I need when I am cooking! I have more herbs in my garden, but these are ones that I use quite a bit, so they are placed right outside the door.
Here is a picture of the pond that I just told you about. We have some gold fish in there that have wintered over for two years now! We love looking at them and watching them grow! All of these pots are on the patio. It is shaded a lot in the afternoon, so when I have the kids, we like to eat lunch down here! We use the fire table for Smores and occasionally we just build a fire on a summer's night!
This is my newest addition to my yard this year! It is this antique ladder that I found while antique shopping with my best friend! I was also able to find the two watering cans. The long pan on the bottom was bought at a DI store a few months ago and the green can I already had. I love this new addition! My friend already has one in her yard, so that is where I got the idea! Thanks Kathy! This ladder is also down on the patio, and has lots of shade, so therefore I put all shade plants in them!
And last, but definitely not least is my potting table. This table is so old, but I just absolutely love it! You may recognize this table, because I take a lot of my pictures right here! The lighting is perfect and I love the distressed wood. So it is a win-win place to take pictures!
So that is my very lengthy yard tour! I think that I planted or bought 30 pots in all, I did not give the names of all the flowers, but if you want to know the names of any certain one, just leave a comment and I will try to answer for you. So when my husband just rolls his eyes at me…you can see why! :) I have to hand water all of these pots, so it takes me a little bit of time…but I enjoy nothing more than being out in my yard and taking in all of the beauty around me and the smells of summer!
Thanks for visiting today! Happy Monday!
If any of you would like to plant a pot, here is a great tutorial on how to get started!