Here is my July 2015 Visiting Teaching Handout.
I cannot believe that it is July already! I am having a hard time keeping up with summer and trying to get in all the fun activities that I want to do! :) I took last week off and I spent one of those days with my foot on ice! I do not know exactly what I did, but I pulled a muscle or tendon or something in my foot. (I know…I'm terribly coordinated!) It is doing much better now, but I still have a bit of a limp. I had better get it better real soon because I am going to be chasing a 2 year old around the rest of the week! Well, so much about me…
This month the visiting teaching message for the Church of Jesus Christ of Latter Day Saints is: Divine Attributes of Jesus Christ: Forgiving and Merciful. You can read the entire message here. I chose to focus on President Uchtdorf's message. I absolutely love this message…because after all aren't we all in need of forgiveness??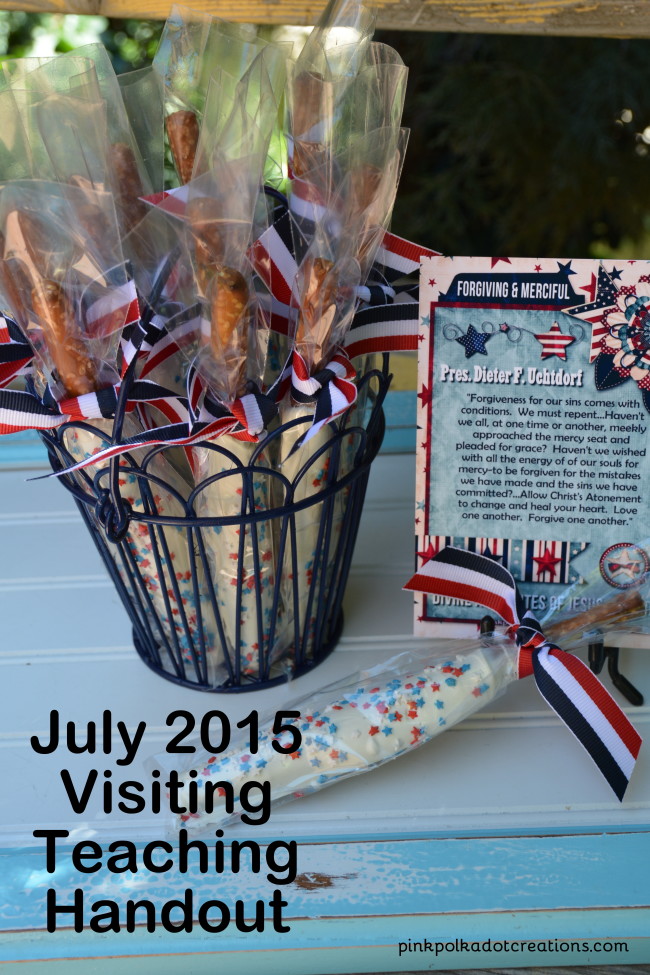 I thought that it would be fun to make something Americana for the month of July and so I chose to do these fun dipped pretzels for a small treat. They are really easy to make and look so festive tied up in their pretzel bags with a fun ribbon!
I melted my caramel in a tall drinking glass. Dip the pretzel rods into the caramel. I tilted the glass so that the caramel could get right to the top of the glass. Let them cool on a parchment lined cookie sheet. Then repeat the process with white chocolate. I used another tall glass for the chocolate. Sprinkle red, white and blue sprinkles on while the chocolate is still wet. Let dry and tie individual pretzels in a pretzel bag. These bags can be found at Wal-Mart or party stores in the party aisle.
Here is the printable message. Both of these cards are formatted to a 4 x 6″ size.
And here is the blank version for those of you that would like to translate, or for those of you that need a fun Americana card!
To print as a JPEG, right click over image and go to "save image as" then save in a folder. You can then print your own or send it out to your favorite photo processing center. For those that would like the PDF format here is the download:
July 2015 VT
These pretzels also make a fun display for your July 4th party! Look how fun they are in this blue wire basket!
As always…please remember that your visit is far more important that the handout that you take! Your sisters need to know that you love and care for them!
Happy Visiting This Month!
The clip art that I used is from Just So Scrappy from the "Let Freedom Ring" Collection