July 2017 Visiting Teaching Handout
Is it just me, or is the summer just flying by???? I cannot believe that we are almost into July!
It is time once again for the visiting teaching handout for The Church of Jesus Christ of Latter Day Saints.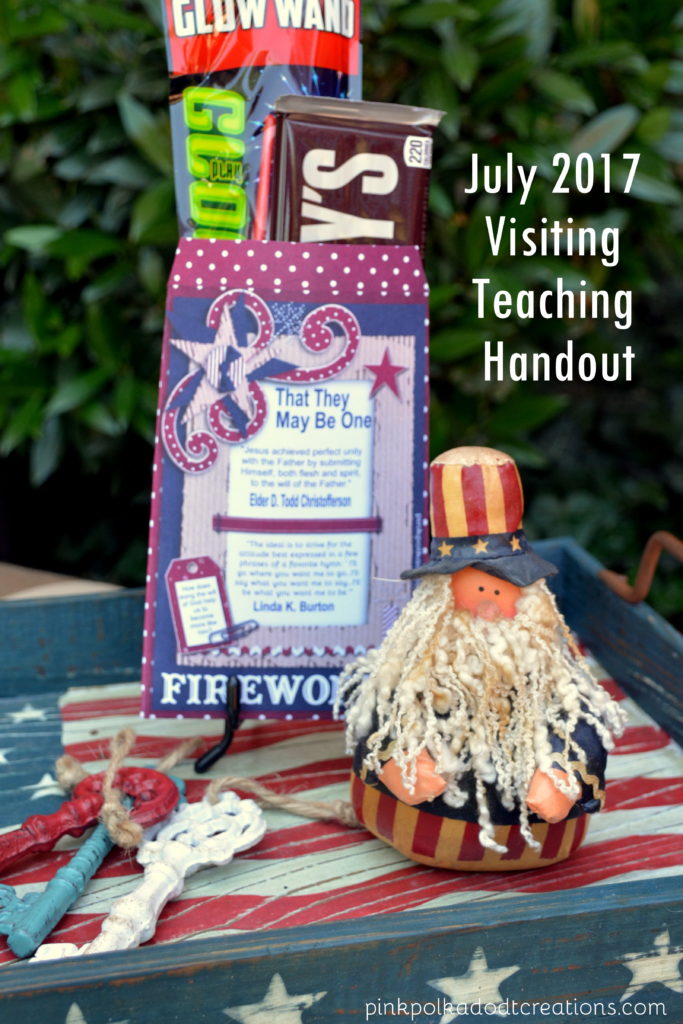 This month the message is: "That They May Be One".
Included are parts of two different quotes. The first quote is from Elder D. Todd Christofferson and the second is from Sister Linda K. Burton.
Also included, is the Ponder This Question…"How does doing the will of God help us to become more like him?"
This month I have included the regular 4 x 6 fomatted card and I have also made the card into a small bag/envelope. You can pick which format you would like to use.
To print this as a jpeg image, right click over image and go to "save image as" then save in a folder. You can now print this or send it out to your favorite photo processing center.
The bag/envelope ONLY comes in the PDF format, so you can simply click on the link and print. It is in an 8.5 x 11 format, so you can print your own.
Here is the PDF download of the card only.
2. July 2017 VT
There is also a blank format for those of you that would like to translate.
Again, I have the PDF download for the blank bag:
And for the blank card:
4. July 2017 VT-blank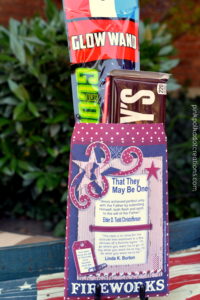 You could fill the bag/envelope with anything patriotic, or just put in a simple treat!
The envelope does not hold a lot, but is perfect for tucking a small trinket, note, or treat into it.
If you choose to use the card, you could tie it to a box of Cracker Jacks, licorice, any red white and blue candies, flowers, lotion, or let you imagination run wild!
That is my July 2017 Visiting Teaching Handout.
I hope that you enjoy it. As always, remember that all my printables are for personal use only. But feel free to share with the sisters you visit!
Please remember that it is the visit that is important…not the handout! Make sure the sisters you visit, know how much you love and care about them!
Happy Visiting!
Images for these handouts are from "justsoscrappy.com", from the "Fireworks" collection. They are used with a CU license.