Before I begin my post with the visiting teaching message, I would like to wish you all a very safe and fun Labor Day! It is always fun to celebrate the last summer weekend and I hope that you get to spend it with someone you love…doing something that you love to do! I spent the weekend at my most favorite boutique…Swiss Days! I will share some of my finds with you tomorrow. But let's get on with the visiting teaching message for the Church of Jesus Christ of Latter Day Saints: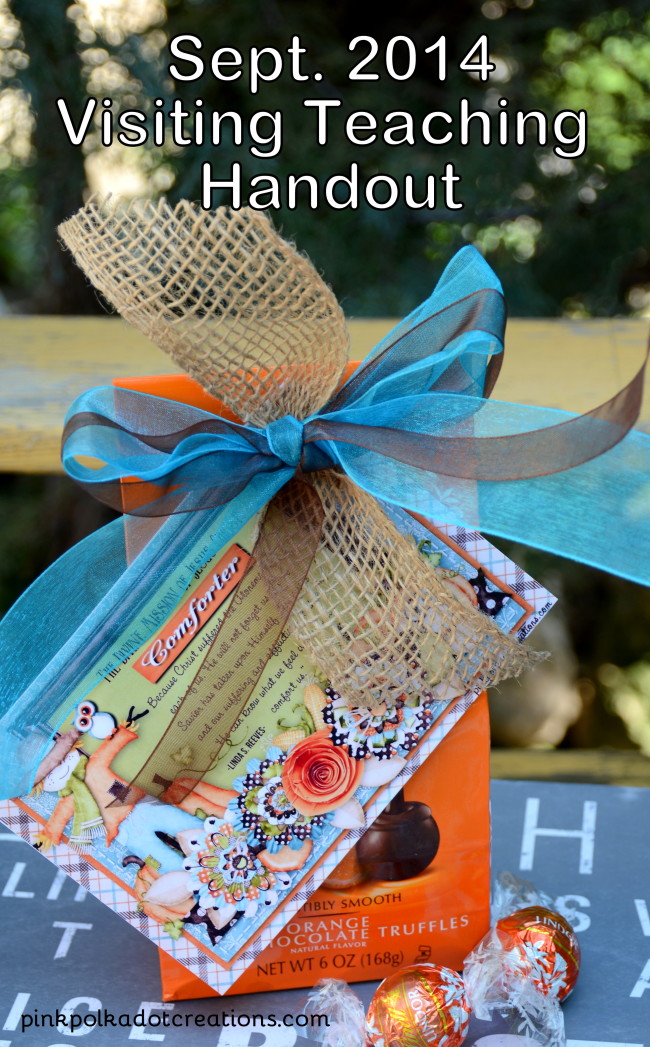 This month the message is "The Divine Mission of Jesus Christ: Comforter" I chose the message from Linda S. Reeves;
Here is the blank version for those of you that would like to translate, or if you just need a fun fall card for another handout, invite, or a cute note!
Click on this link for the download: Sept 2014 VT PDF These are formatted to a 4 x 6 card, you can print your own or if you want to save on your ink, send them to your favorite photo processing center to be printed!
I chose to just pair this card with a fun chocolate treat…because chocolate is comforting…right??!
Also this bright orange package of Lindt/LINDOR truffles matched the card so perfectly that I thought it was another good reason to pick this treat!! But seriously these truffles are to die for!
Happy visiting this month and remember that the visit is the most important part, not what you take with you! Make sure that your sisters know how much you love and care about them… that is the most important part!
Thanks for visiting today!