I hope that everyone had a great weekend and that you were able to do at least one small service for someone!  (Your family counts…and I know that most of you serve your families everyday!)
Today I have a super yummy cupcake recipe for you.  My friend, Renee, made some of these for our Relief Society Birthday activity and she was kind enough to give out the recipe!  The cake along with the filling and the frosting is sooo good!  It is a nice moist, dense cake, just how I love it, but then you add all the other goodies and it just puts these over the top!  I love that this cake recipe starts with a cake mix!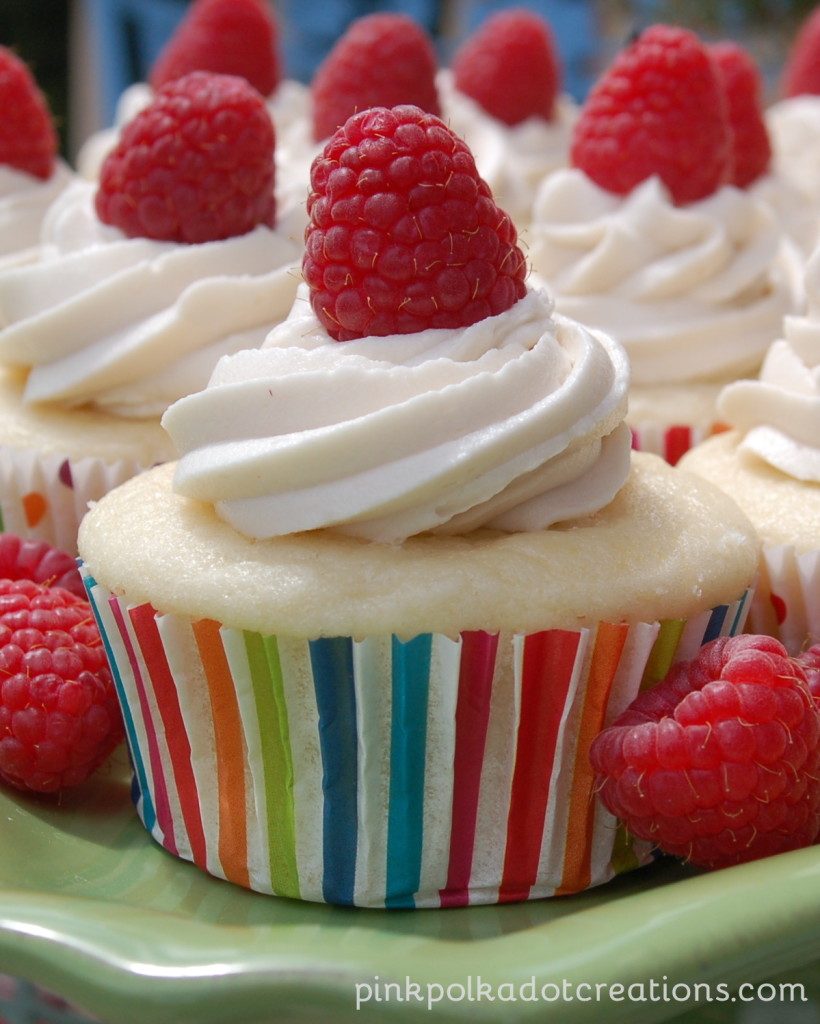 White Almond Wedding Cake
Ingredients:
1 pkg white cake mix
1 cup all purpose flour
1 cup white sugar
1 1/3 cup water
1 cup sour cream (I used fat free)
2 tablespoons vegetable oil
1/2 teaspoon salt
1 tsp almond extract
1 tsp vanilla extract
4 egg whites
Directions:
Preheat oven to 325 degrees F.  Grease and flour 11 x 13 cake pan or line cupcake pan with liners.
Stir together white cake mix, flour, sugar, and salt in a large bowl until well mixed.  Pour in the water, sour cream, vegetable oil, almond and vanilla extracts, and egg whites.  Beat with electric mixer on low until all the ingredients are moistened but some lumps still remain (about 4 minutes)
Pour the batter into pan or cupcake liners.  If doing cupcakes, use 1/4 cup measuring cup or food scoop to fill so that each cupcake is the same size.  Bake in preheated oven until top is light golden brown and center comes out clean with a tooth pick inserted in the middle.  Bake cake for about 25 minutes.  Bake cupcakes for about 15-20 minutes.  After baking, let cool on wire rack.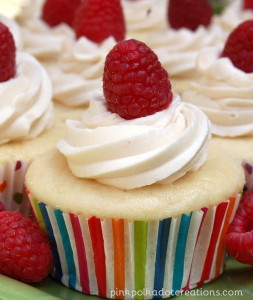 Basic Buttercream Icing
1 cup butter softened to room temperature
1 cup shortening
2 teaspoons vanilla extract
3-4 cups powdered sugar (or enough to thicken icing)
milk (if needed)
Beat butter and shortening until smooth and creamy.  Add in vanilla and combine.  Add powdered sugar one cup at a time to get the texture and taste desired.  If frosting gets too thick, add milk a teaspoon at a time.
Raspberry Cream Cupcake Filling
1 1/2 cups basic buttercream icing
4 tablespoons raspberry jam
3/4 cup raspberries (fresh or frozen)
2 teaspoons raspberry flavoring syrup (I like Torani)
fresh raspberries (optional for decorating)
Combine jam and berries in a pan and combine in a saucepan on a low heat until raspberries are broken down and not in large chunks.  Let cool to room temperature.  Once cooled, add berry mixture to the buttercream and add 2 teaspoons of raspberry syrup.  Fold in gently.  To use as a filling for cupcakes, once cupcakes are cooled, take a butter knife and make a slit in the top of the cupcake.  (Or you can use a cupcake corer!)  Put the filling in a pastry bag and squeeze filling into cupcake.  Frost cupcakes immediately following.  Optional-you can garnish each cupcake with a fresh raspberry.
My oh my!  I wish that I could just pass this bite through the computer to you!  These are truly one of my most favorite cupcakes!  The cake is wonderfully moist and each bite is so full of delicious flavor that it is literally like a party in my mouth!
You will just have to try these out for yourself!  Go get some big raspberries and make these babies to share with someone you love!
Have a great Monday Everyone!
Thanks for visiting!  Love Ya!
Keep in touch…Like on Facebook and Pinterest